Explore the creativity and elegance of balloon valances as we delve into a variety of styling ideas for these unique window treatments.
Balloon valances are an excellent way to add a touch of elegance and sophistication to your windows. They are versatile window treatments that can be customized to fit any design aesthetic from classic to contemporary.
This article will provide you with a plethora of balloon valance ideas, covering different styles, fabrics, and installation methods. Whether you're looking for a dramatic statement piece or a subtle accent to your existing decor, you'll find the perfect solution here.
Plus, we'll delve into practical tips and tricks to ensure your balloon valances not only look fantastic but also function efficiently. Stay tuned for a comprehensive guide filled with inspiration and expert advice.
What's Inside
Floral Print Balloon Valance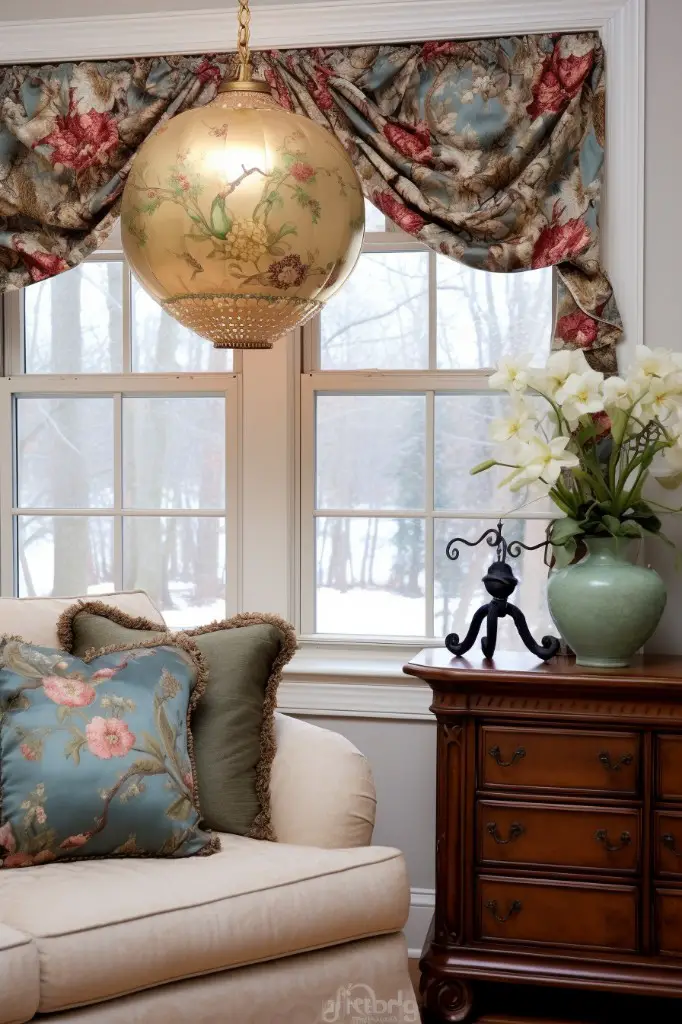 A Floral Print Balloon Valance adds an enchanting look to your interiors. These stylish window treatments effortlessly blend elegance with an authentic garden-inspired atmosphere.
Perfect for Spring: A floral print valance brings spring indoors, no matter the season outside. They offer a cheery ambiance to any room.
Complements Any Room: Whether it's a kitchen, living room, bedroom, or bathroom, the floral theme fits perfectly.
Versatile Style: The variety of available floral designs means you can match your balloon valance with any décor style, from country cottage to modern minimalism.
Mix and Match: Combine your floral print balloon valance with other window treatments such as shutters or drapes for a layered, textural effect.
Easy Installation: Most floral print balloon valances come with a rod pocket for easy installation. Slip the rod through the pocket and voila! Your window is instantly transformed.
Care and Maintenance: Most can be gently machine washed and tumble dried. Bolder colors should be spot cleaned to prevent color bleeding.
Implementation Tip: For the perfect look, ensure the floral design colors compliment your room's color palette. If your space is brightly colored, neutral or pastel florals may work best. For neutral spaces, consider bold, vibrant floral designs.
Striped Fabric Balloon Valance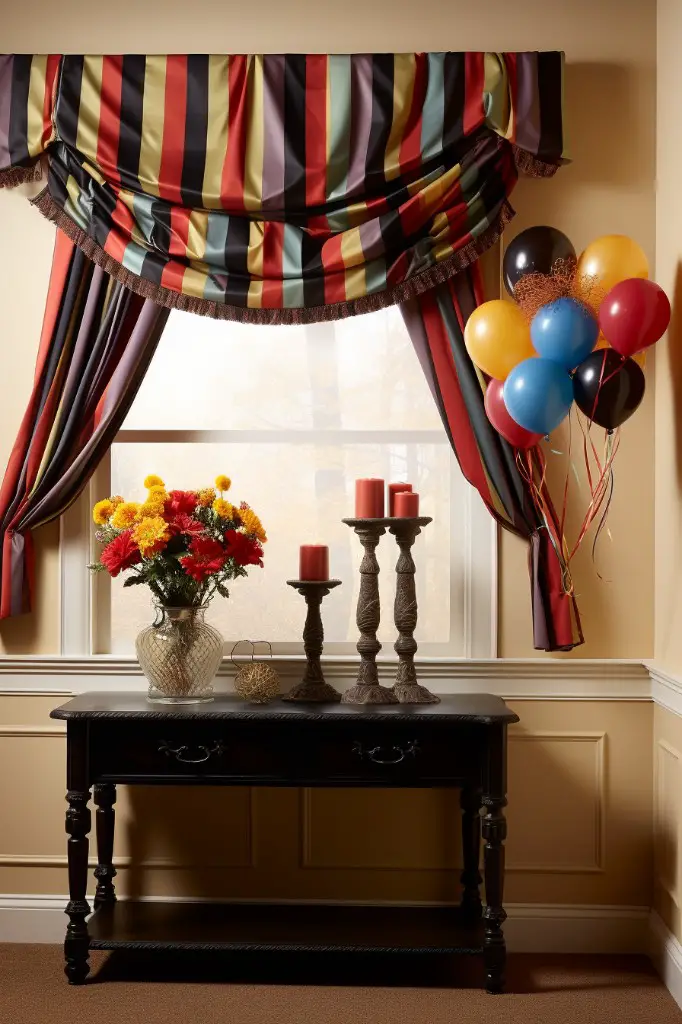 Incorporating striped fabric into your balloon valance can add a fresh visual appeal to your window area. It integrates simplicity and sophistication, making it suitable for almost any type of home decor.
Choose stripes in bold, contrasting colors for a vibrant statement, or opt for subtle tones for a more relaxed feel. Consider vertical stripes to create an illusion of taller windows.
Proper measurements are essential to ensure a perfect fit. Measure the window's width and desired drop length before purchasing or sewing the valance.
When installing, ensure stripes are uniformly displayed for a neat appearance. It's noteworthy to remember striped fabrics can be more challenging to align than solid colors, but with a bit of patience and precision, the end result can be stunning.
Maintenance is straightforward for many types of fabric. Regular dusting can prevent buildup and occasional gentle washing can keep your valance looking fresh and bright.
Lastly, striped balloon valances can effortlessly transform any room, offering the perfect blend of functionality and aesthetic appeal.
Lace Edge Balloon Valance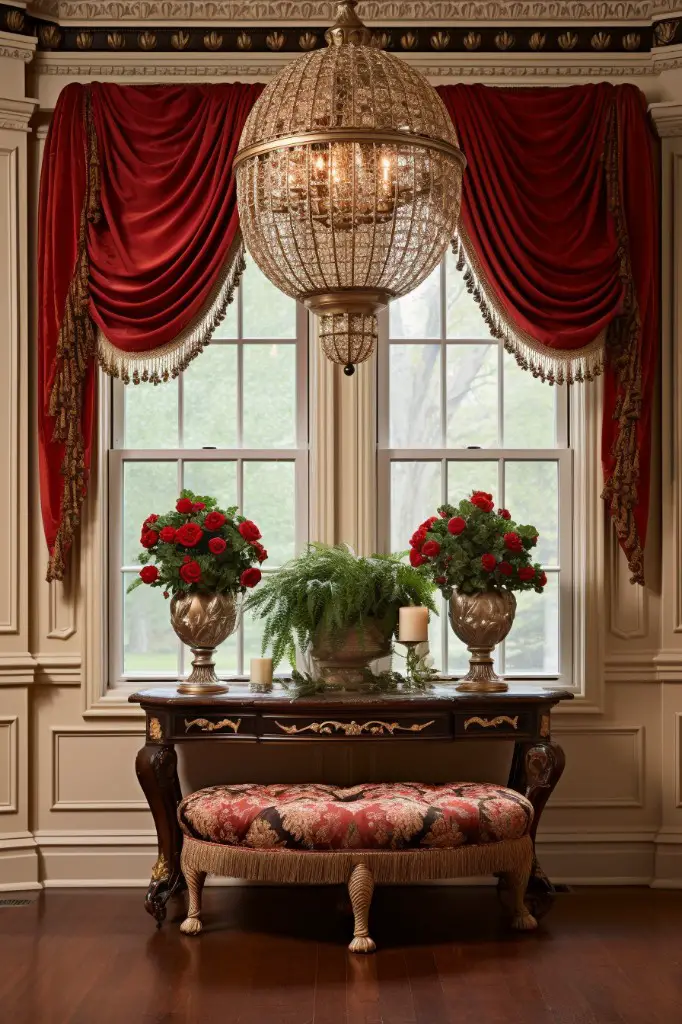 Lace edge balloon valances add a touch of elegance and softness to any window setting. Combining the classic charm of lace with the playful puffiness of the balloon valance, they can easily transform the aesthetic of a room.
Key elements to consider in lace edge balloon valance:
Material: Opt for high-quality lace for the valance as it will add a vibrant flair to your home decor.
Pattern: Intricate lace patterns will create a more antique look, while simpler patterns result in a chic, modern feel.
Colour: Commonly, these valances are available in white and off-white hues, ensuring they can blend well with diverse colour schemes.
Light Control: Even though these valances have a sheer nature, they do a decent job of filtering sunlight, best for spaces where diffused light is preferred.
Room Theme: Ensure the lace edge balloon valance aligns with the current room decor—rustic, vintage, or romantic themes pair well with lace.
Mounting: It's best to hang them from a curtain rod. An oversized rod will give a grander look, while a simple rod provides a minimalist touch.
Maintenance: Although these are ordinarily low-maintenance, do check laundering instructions— some may require delicate washing or professional cleaning.
Remember to measure your window before purchasing the valance for a perfect fit, considering whether you want the valance to extend beyond the window frame or fit within it.
Nautical Theme Balloon Valance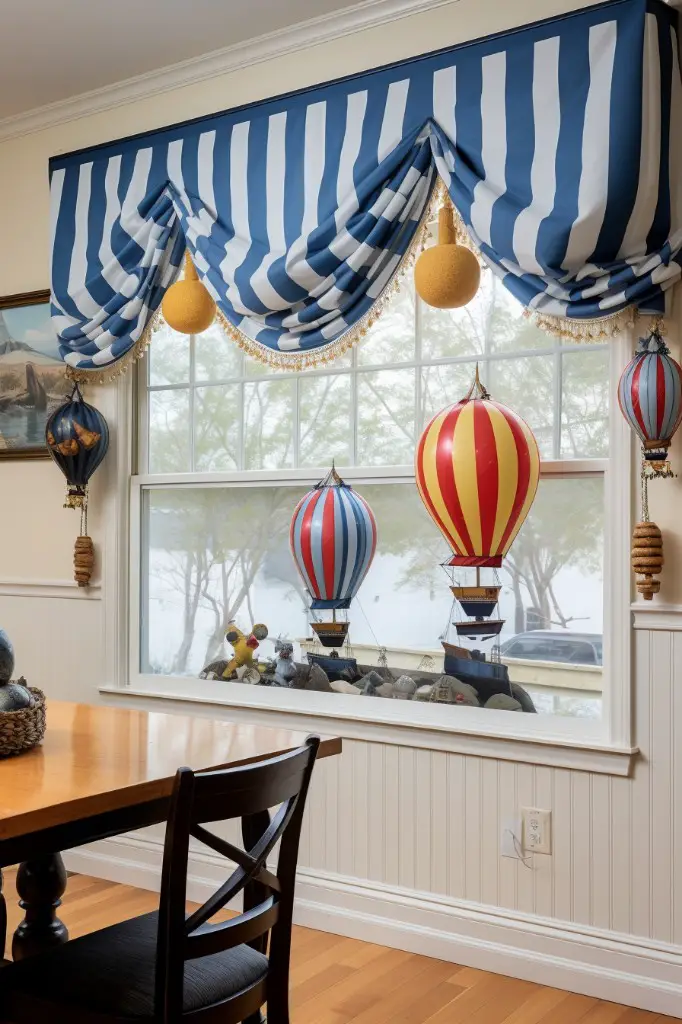 Taking cues from the serene sea, the nautical theme balloon valance is a classic choice for diverse house styles – be it coastal, cottage or contemporary. Its essence lies in the use of marine-inspired colors and patterns.
Primary colors for this style include navy blue, white, and red. Patterns might feature iconic nautical symbols such as anchors, ships, or lighthouses. Stripes, particularly horizontal, are also commonly used.
Fabrics used often have a robust and weather-worn feel, mimicking the sails of a ship – materials like cotton, denim, or burlap are excellent options.
For a personalized touch, consider adding related accessories like rope tie-backs or seashell embellishments.
To successfully incorporate this into your space:
Choose your materials wisely, more durable fabrics will withstand fading from sunlight and ensure longevity.
Select a pattern that matches your room's existing decor, it should complement, not conflict. Balance is key.
Remember, less is more. Make it the centerpiece of the window but avoid overcrowding it with too many nautical elements.
Consider the curtain rod style, which should ideally be simplistic and rustic, avoiding overly ornate details to keep with the nautical theme.
Through strategic selection and placement, the nautical theme balloon valance can effortlessly bring a refreshing oceanic feel to your home.
Polka Dot Balloon Valance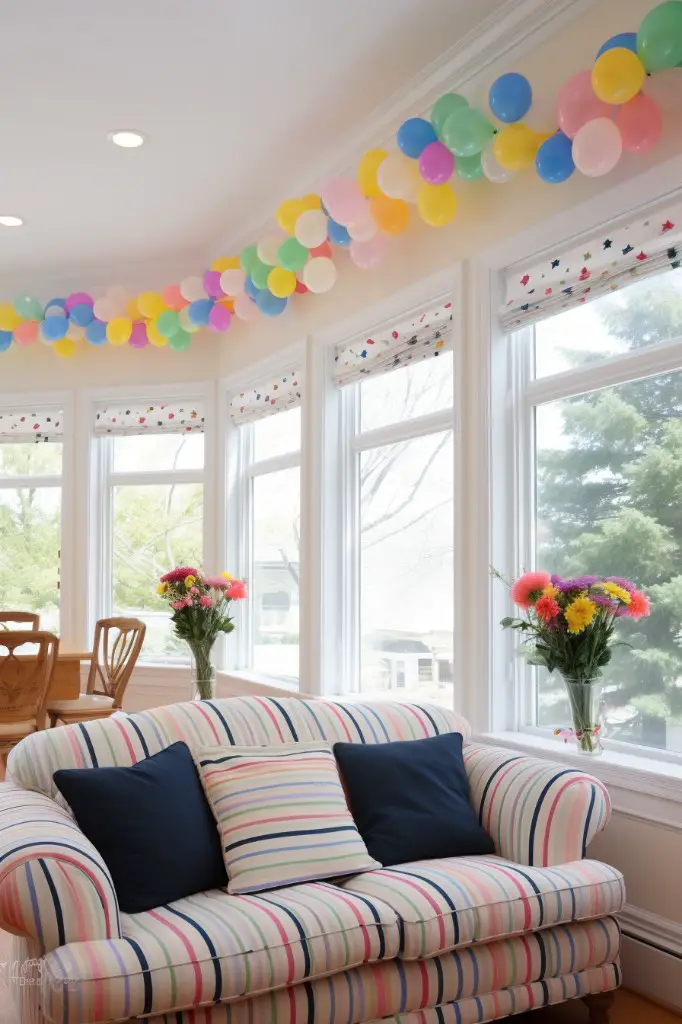 A polka dot balloon valance can add a playful, yet classic touch to any window. Perfect for a retro aesthetic, it provides charm with an ambiance that is vibrant yet comforting.
To pull off this look, consider the following:
Select fabric according to room décor: The color and scale of the polka dots should complement the existing room palette and design elements. Smaller dots may be suited for a subtle effect, while larger ones can add a striking visual impact.
Choose the right hanging style: Predominantly there are two styles – gathered, where the fabric is slightly pulled together creating soft, balloon-like bumps or tailored, which has a more structured and crisp pleating.
Decide on the valance length: Ideally, it should be between one-sixth and one-fourth the total window length for a balanced appearance.
Consider the underlying treatment: A polka dot balloon valance can be paired with matching or contrasting drapes. If privacy or light control is not a concern, they can be used alone for a more airy, minimalist look.
Inspect the hardware: Ensure brackets, rods, and rings are sturdy enough to hold the valance's weight.
Install appropriately: Installation will vary depending on whether the valance is inside or outside mount. The former means the valance will be installed inside the window frame, while the latter signifies it will hang over the window.
Regular maintenance: Cleaning will depend on the chosen fabric, so always check care instructions to maintain its vibrant look over time.
Tartan Plaid Balloon Valance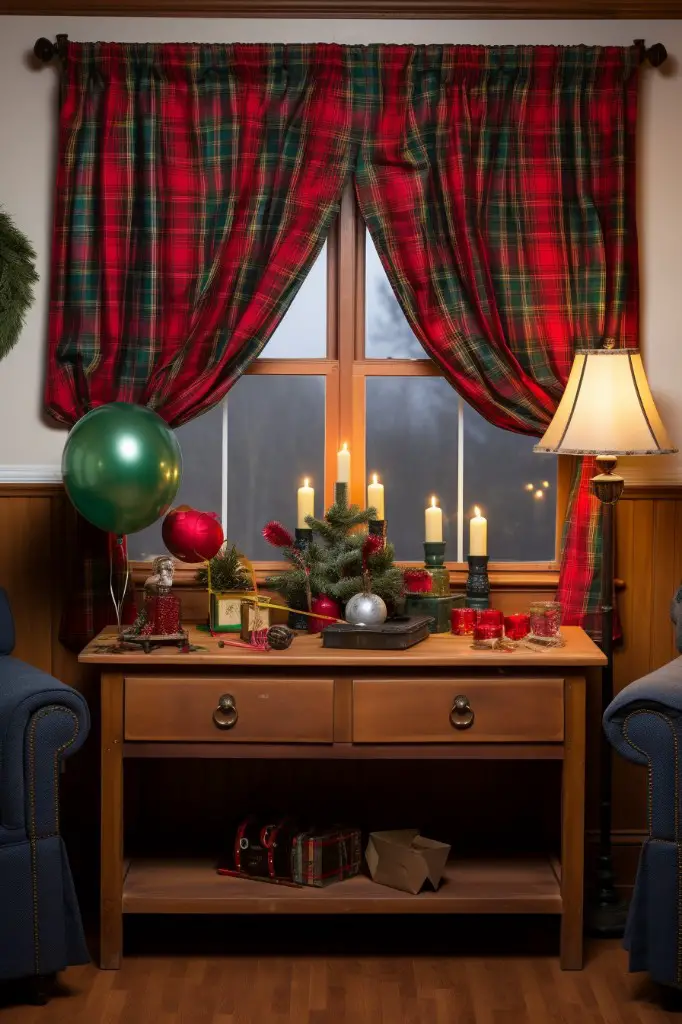 Incorporating tartan plaid into a balloon valance brings both warmth and charm to any space. The classic pattern originates from Scotland and is now easily recognizable around the world, evoking feelings of comfort and sophistication.
Here's how to make the most of a tartan plaid balloon valance:
Select harmonious colors: Depending on your preference, you can choose tartan plaid patterns with bold or subdued colors. Just ensure the colors blend well with your existing decor.
Understand your fabric options: Tartan plaid can be printed on various fabrics such as cotton, polyester, wool, and even silk. Keeping your room's functionality and desired aesthetic in mind, choose a fabric that fits your needs.
Opt for custom sizing: Measurements are critical for balloon valances. For the most visually pleasing result, consider opting for a custom-sized valance that perfectly fits your window.
Choose suitable hardware: Use rods and hooks that complement your tartan plaid pattern, adding a cohesive touch to your decor.
Tie-up option: Depending on your preference for privacy and light control, considering the tie-up option can be functional and add an extra stylistic element.
Clean and maintain properly: To keep the colors vibrant and the fabric undamaged, follow proper cleaning instructions, which usually entail gentle, cold-water hand-washing or dry-cleaning.
Remember, tartan plaid balloon valances are more than just window treatments; they represent a unique blend of tradition, style, and personal expression.
Silk Satin Balloon Valance
Choosing silk satin as your material of choice elevates your balloon valance adding richness and sophistication to any room. This type of valance creates a sense of refinement with its inherent elegance that silk satin exudes, working particularly well in formal zones such as living or dining rooms.
For a more dramatic effect, opt for bolder, deeper tones like emerald or ruby which shimmer brilliantly when catching the light. If subtlety is your aim, consider pastel shades or whites that lend a serene aura.
To care for your silk satin balloon valance:
Dry clean only as washing can damage the delicate fiber, compromising its shine and appearance.
Keep out of direct sunlight to avoid color fading.
Regularly dust or vacuum to prevent accumulation of dust that can dull the sheen.
For a custom look, consider embellishments like:
Contrasting piping around the edge to highlight the ballooning effect.
Coordinating the silk satin valance with other window treatments such as roman blinds made from the same material.
Layering with a second valance in a complementary color or a sheer fabric for added opulence.
Remember, silk satin is more than just a fabric choice; it's a design decision that can bring majesty to any room.
Denim Blue Balloon Valance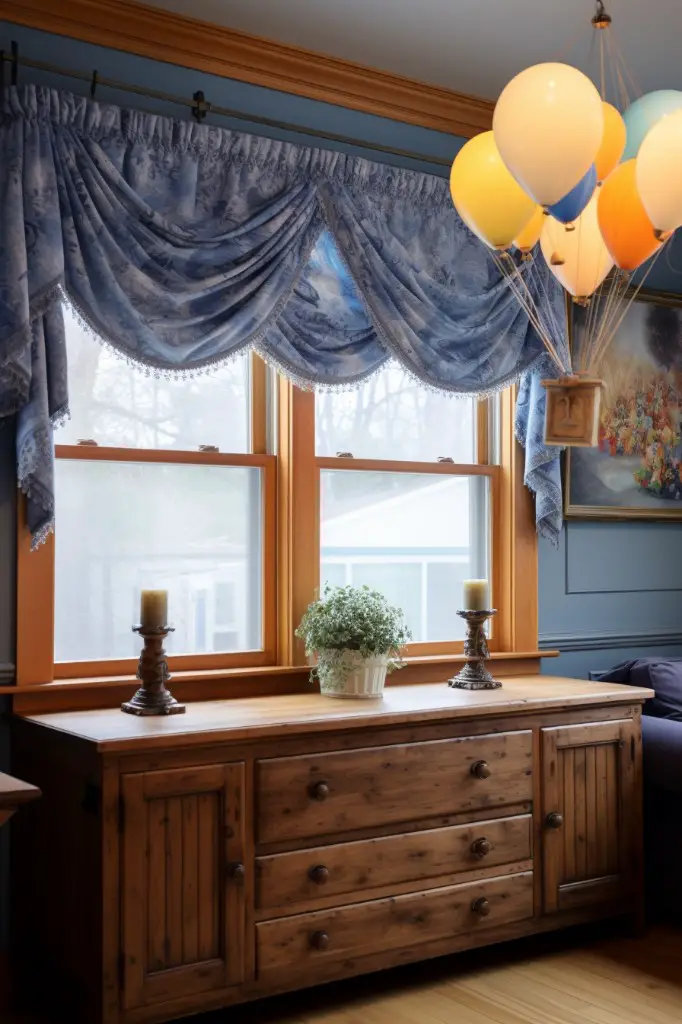 Denim blue is a bold yet versatile color that can properly accentuate most room themes. A denim blue balloon valance serves as an excellent way to add a casual, relaxed feel to an environment while offering a degree of sophistication.
Creating a denim blue balloon valance involves measuring the window, cutting the fabric, marking for pleats or gathers, sewing channels for rods or clips, and installing the finished product.
The process should start with accurate dimensions of the window. Ensure both width and length measurements are correct to create the perfect fit.
Next, cut the denim fabric, leaving extra for hem allowances and rod pockets. It's crucial to use a durable fabric like denim, mainly known for its longevity and low maintenance.
Then, mark the fabric for pleats or gathers to add a voluminous look to the balloon valance. This part of the procedure can be adjusted based on personal taste and the overall room decor.
The sewing process is next. Build channels at the top and attach clips or rods to these channels. This step ensures the balloon valance hangs correctly and maintains its balloon-like appearance.
Lastly, install the balloon valance, ensuring it drapes nicely. Proper installation guarantees it provides an aesthetic appeal while blocking out excessive sunlight.
Remember that while denim is a good choice for a balloon valance, other fabrics that complement the existing decor and personal preference should also be considered. The fabric's thickness may affect the room's light, so choose based on how much natural light you want to let in. For those not confident in their sewing skills, ready-made balloon valances are available in stores or online.
Velvet Balloon Valance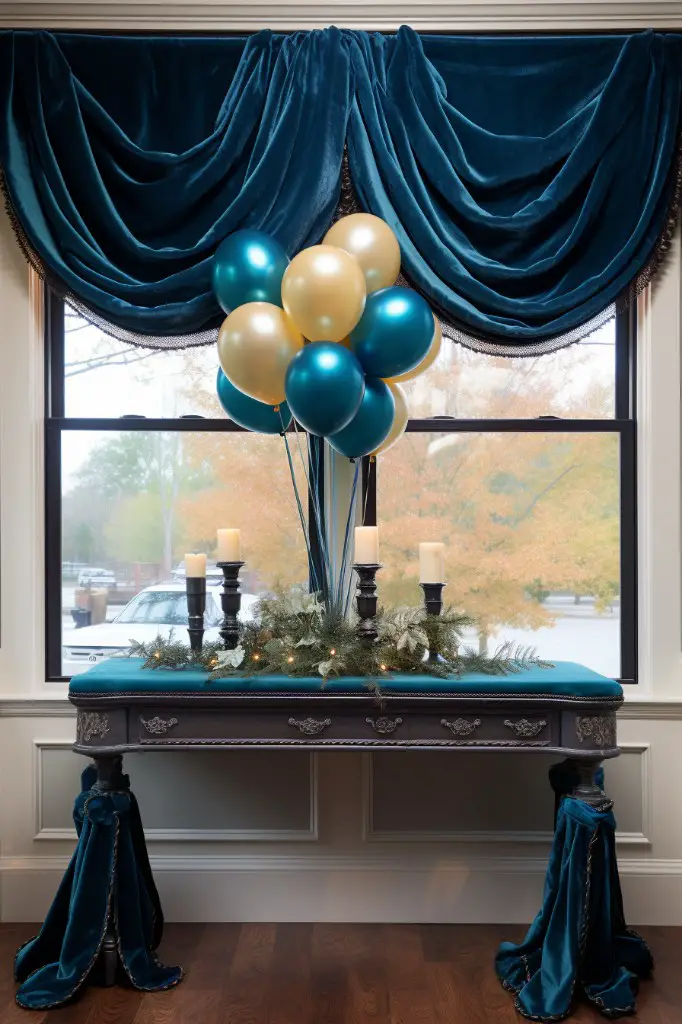 Choosing velvet as the fabric for a balloon valance offers a rich, luxurious feel. It's an option that's often favored in formal spaces due to its deep color saturation and subtle sheen. To achieve a dramatic effect, dark hues like midnight blue and emerald green are most preferred.
An interesting way to use a velvet balloon valance is to pair it with light, sheer curtains. This combination allows the velvety texture to pop even more against the delicate fabric, creating a beautiful contrast.
One key thing to remember when opting for a velvet balloon valance is the care and maintenance it needs. Velvet fabric can be quite delicate and it might require professional cleaning to maintain its luster and avoid damaging the fabric.
Also, while velvet balloon valance pairs well with luxury fittings and fixtures, it can also elevate simpler window treatments. Just be sure to choose a color that complements the rest of the room. The heft of the fabric helps the valance maintain its puffy shape, which can add an elegant touch to your windows.
These are some ideas to explore with a velvet balloon valance:
Create a vintage charm by using a dusty rose or muted gold velvet valance.
For a modern approach, consider a metallic velvet in silver or champagne.
Layer it over roman shades for extra depth and warmth.
Experiment with different fastening styles, such as ties or clips.
Enhance a holiday theme by using a festive red or green valance.
Remember, every aspect of your window treatment can reflect your personality and style, and a velvet balloon valance is a versatile choice that can bring a unique and stylish touch to your windows.
Paisley Pattern Balloon Valance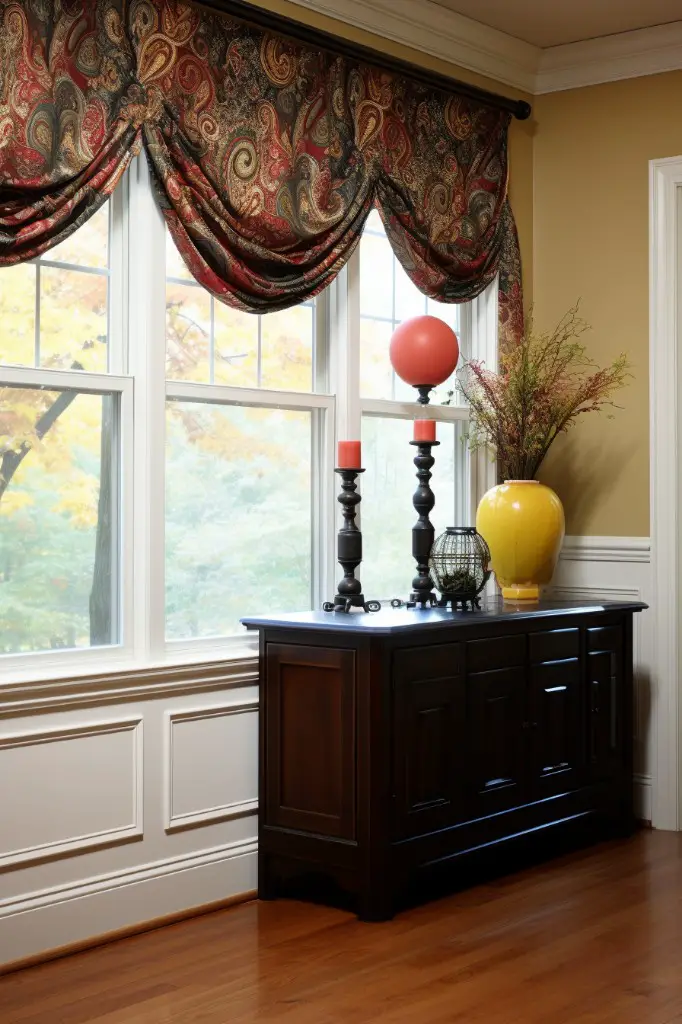 A Paisley Pattern Balloon Valance is characterized by intricate, swirling patterns originating from ancient Persia. Set against a variety of color palettes, it infuses an elegant, eclectic vibe into any room.
Sourcing the paisley fabric: Consider fabric stores, online retailer or even antique shops for unique finds. Look for earth-toned paisley prints for a subdued, classic feel or bright, multi-colored patterns for a bold statement.
Measurement: Make sure to accurately measure your window before purchasing fabric. The width should be double the window's width while the length depends on your preferred look. Most balloon valances hang down about one-fourth of the window's length.
Creating the "balloon" effect: This involves sewing a series of evenly spaced loops on the backside of the fabric. When the valance is hung and the fabric is pulled up through these loops, it creates a ballooning window valance effect.
Installing your valance: A curtain rod is often used. Make sure to select one that complements your window and paisley fabric.
Experimenting with various paisley patterns, colors, and fabrics allows the addition of aesthetic charm to your room with a Paisley Pattern Balloon Valance. It doesn't just provide a window covering, it becomes an artistic statement.
Neutral Linen Balloon Valance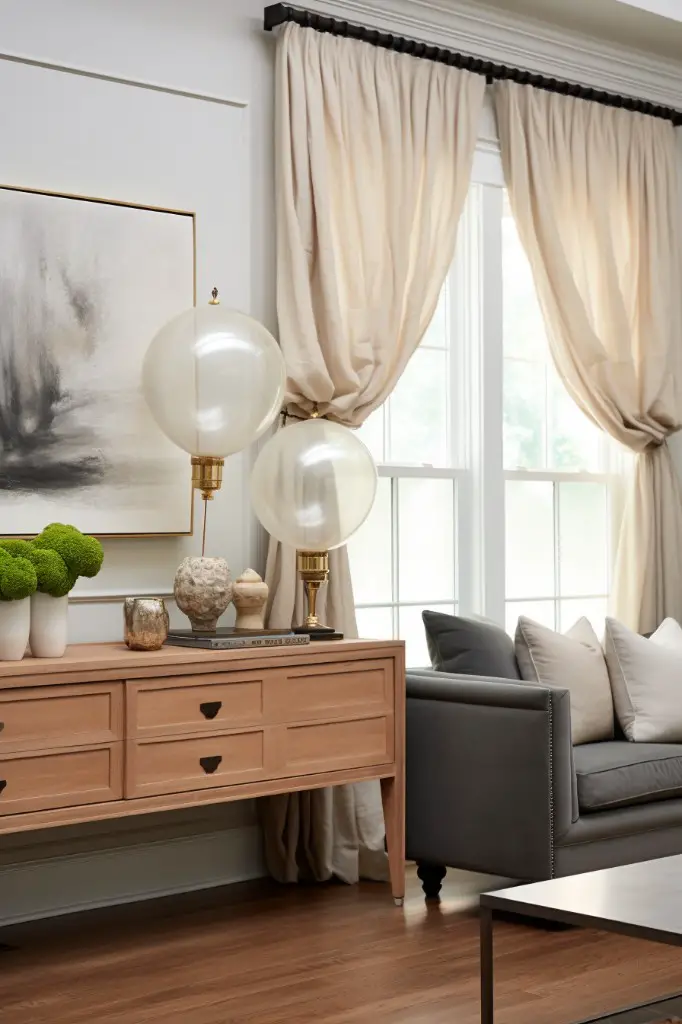 Neutral in color yet rich in textural detail, the linen balloon valance offers versatility in any home interior. This window treatment can either add a touch of understated simplicity or emphasize a more rustic ambiance through its tactile quality.
Key components of the neutral linen balloon valance include:
Linen Material: Known for its natural look and feel, linen offers a crisp, clean, yet inviting aesthetic to any window. Its semi-sheer quality allows natural light in, warming up the space while still maintaining an element of privacy.
Neutral Coloring: The use of beige, cream, or light gray helps create a calming and cohesive backdrop. These soft, versatile shades can complement any color scheme and room style, from modern minimalist to rustic country.
Balloon Silhouette: The inflated, rounded look of the valance provides a dramatic framing for the window. It adds a touch of soft elegance and can often be adjusted to desired fullness.
Easy Installation: Hanging a balloon valance is typically straightforward and can be done as a DIY project. A rod pocket is sewn into the top of the valance, allowing it to slide onto the curtain rod easily.
Consider pairing this valance with matching neutral linen curtains for a cohesive look, or mix and match with different textures and colors to add visual interest. Remember, the neutral linen balloon valance serves as a functional and aesthetic detail, controlling light while adding a decorative element to your window.
Embroidered Balloon Valance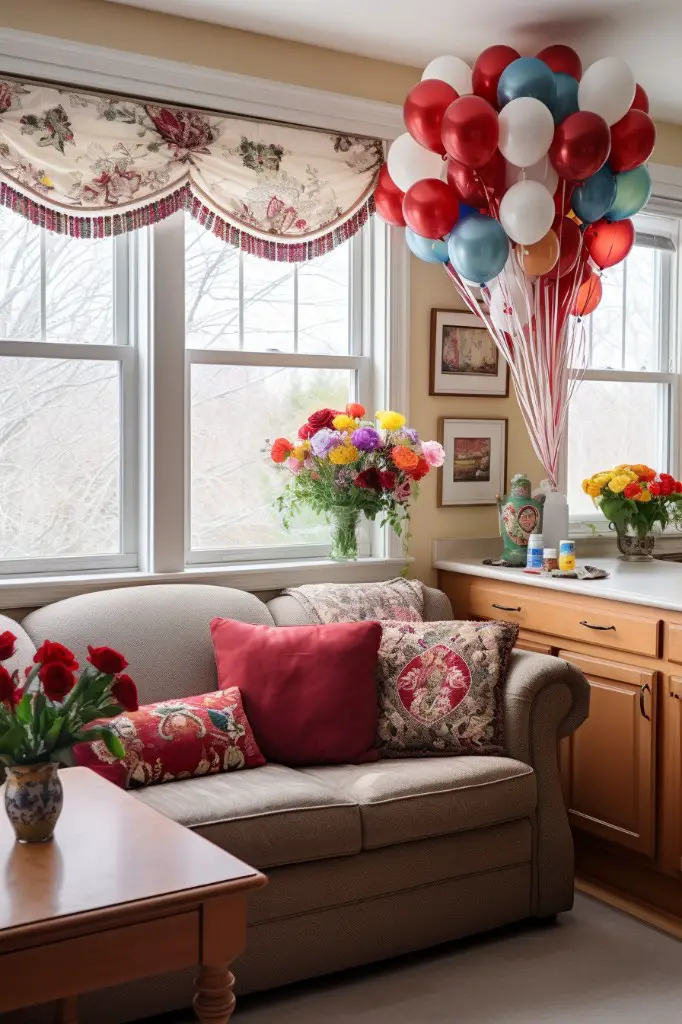 Embellished with intricate stitchery, this design style adds an elegant touch to any room decor. It's a classic example of an accessory that infuses both character and charm.
Embroidery patterns can vary from intricate florals to geometric shapes or even personalized monograms, allowing you to customize your living space to reflect your unique style.
Select a fabric that complements interior hues, or, for an unexpected pop, opt for a vibrant accent color. This attention to color scheme enhances the visual appeal and seamlessly blends this type of window treatment with the space's overall design aesthetic.
Choosing a high-quality base fabric helps ensure the longevity of the embroidery, protecting your investment's appearance and durability for years to come. Remember though, embroidered fabrics may need special care when cleaning to preserve the thread work.
Installation follows the typical balloon valance setup – it's often hung on a standard or decorative rod, covering the uppermost part of a window. To create the signature 'balloon' effect, fabric is stuffed within the individual sections, however, the amount of stuffing can be adjusted to provide more or less volume depending on your preference.
Incorporating this elegant type of window dressing can create a focal point, drawing the eye upward, and accentuating high ceilings. It also softens the look of angular windows, providing a perfect blend of style and function.
Gingham Check Balloon Valance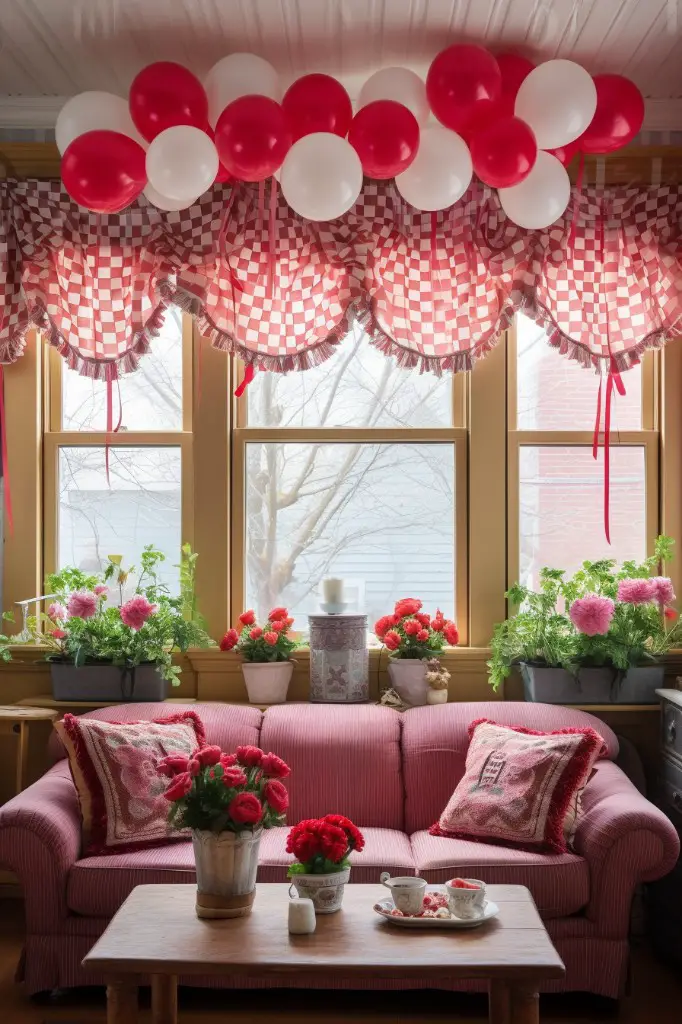 Pairing a gingham check balloon valance with matching curtains creates a unified, streamlined look. Gingham, a timeless print, can bring a country chic feel or a modern twist depending on its color and size.
For traditional décor, opt for dark blues or reds. If you're seeking a more contemporary vibe, light grays or softer colours could be the perfect choice.
Gingham check can be easily matched with solid colors, florals, or other patterns to create depth and interest. Making it versatile and extremely handy in interior styling.
Maintenance is straightforward. Gingham fabric is durable and machine washable, ensuring your window treatments remain fresh and vibrant.
If you're handy with a sewing machine, consider creating your own gingham check balloon valance.
Choose your fabric: Purchase gingham fabric in your chosen color and ensure it's the correct size for your window.
Cut & Iron: After the fabric is cut to size, iron it to remove any wrinkles.
Sew: Attach a lining to the back, hem the borders, and create a casing at the top for the curtain rod.
Install: Slide your newly created balloon valance onto the curtain rod and hang it on your window brackets.
Remember, using a lining can help the valance hold its "ballooned" shape better, giving your window a fuller, more aesthetic look. With a little effort, you can achieve a fresh and appealing window treatment to enhance and frame your home's view.
Damask Print Balloon Valance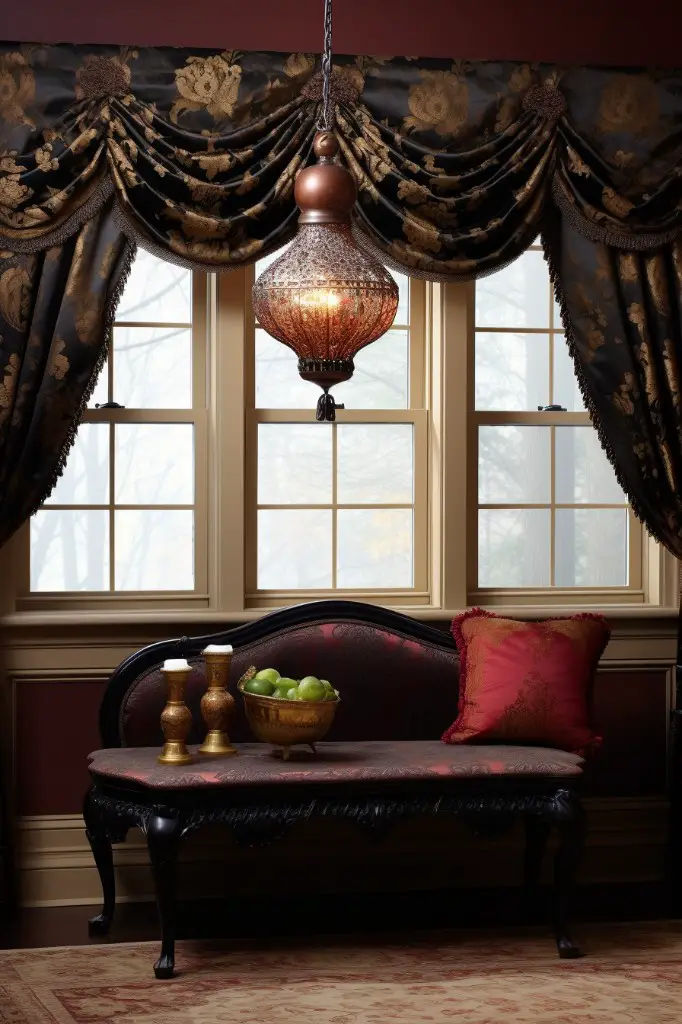 Decidedly rich in design, a damask print balloon valance exudes a strong air of sophistication, instantly elevating any room's décor.
Deep-rooted in history – Originating from the Middle Ages, the damask pattern signifies opulence and adds a classic flair.
Versatility – Available in various colors and fabrics, it synchronizes easily with different styles.
Complementing complex patterns – Pairing this valance with solid-colored curtains creates a visually appealing contrast.
Fabric selection – Often crafted with silk, velvet, linen or brocade for maximum luxury.
Diffused light – The ballooning effect helps filter light subtly, providing a gentle ambiance.
Easy maintenance – Depending upon fabric choice, these can be vacuumed, hand-washed or dry-cleaned.
Including proper installation – Equipped with a rod pocket for easy setup on standard curtain rods.
Ruffled Balloon Valance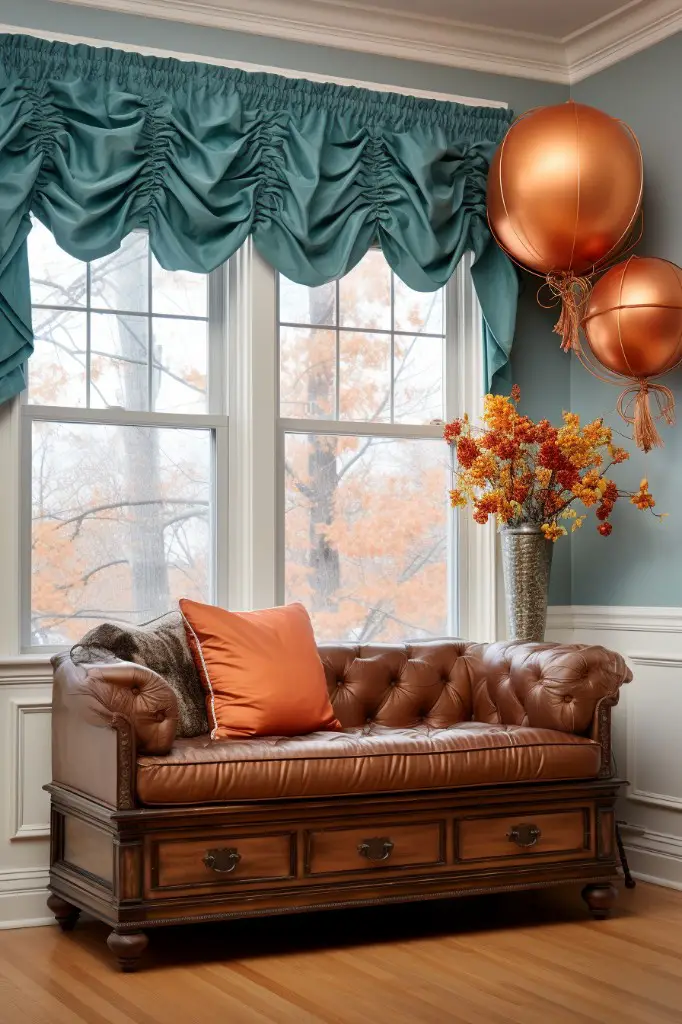 A ruffled balloon valance can add a layer of stylish complexity to your window treatment. Selecting predominantly solid or subtly patterned fabrics will allow the ruffles to take center stage. Fabric choice is key; lightweight fabrics create a softer look, while heavier fabrics result in more structured ruffles.
To achieve a consistent look, ensure your ruffles are uniform in size. Different levels of fullness and spacing between the ruffles will create unique effects.
Installation requires a curtain rod and several evenly spaced curtain rings to support the valance. Pre-made options are widely available, but DIY enthusiasts may enjoy creating their own design.
Care for your ruffled balloon valance requires regular dusting and occasional washing. Be sure to follow the fabric care instructions to maintain the item's longevity and appearance.
Consider pairing with simple, unadorned curtains or drapes to let the ruffled valance shine.
Toile Print Balloon Valance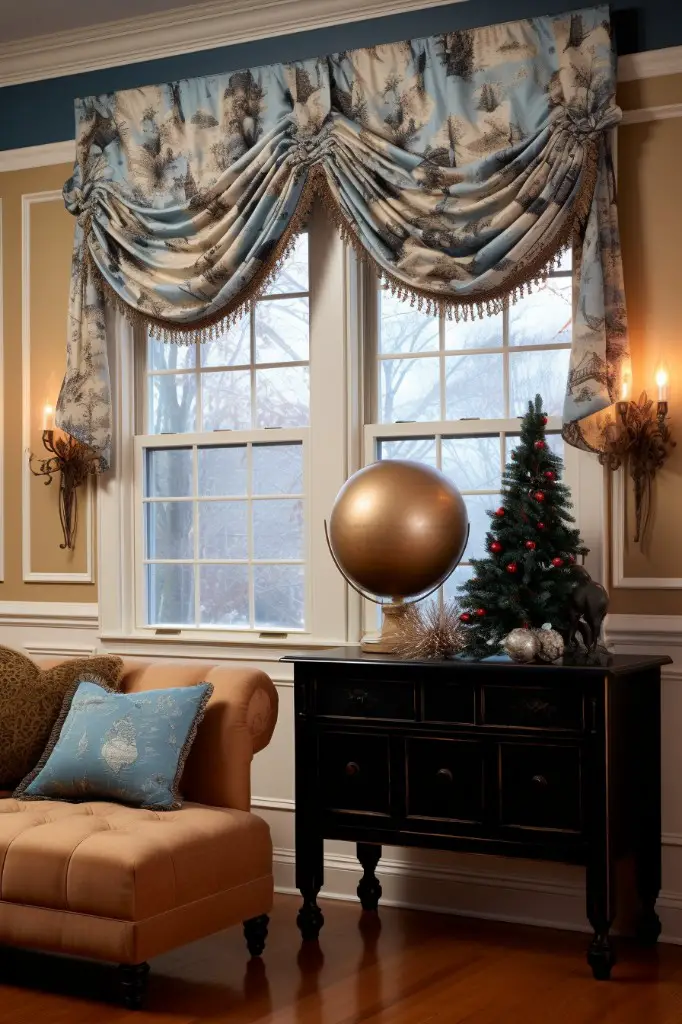 Showcasing an intricate pattern that mirrors scenes from the French countryside or pastoral life, Toile print adds a touch of elegance and antiquity. The print's detailed imagery can often narrate stories or depict historical events, adding charm and conversation points to your decor.
Choose high-quality Toile fabric: It's important to select durable, fade-resistant fabric, ideally a blend of cotton and polyester.
Match or contrast your home decor: Toile prints come in various monochromatic color schemes. Black, blue, or red on a white or cream background are traditional and popular choices.
Decide on the size: Measure the window accurately before getting the valance stitched. Toile prints can be overwhelming if the valance size is not proportional to the window.
Consider lining: Toile prints can be semi-transparent. A lining not only offers a polished look from indoors and outdoors but also helps maintain privacy.
Pair with simple curtains: Toile valance instantly becomes the focal point of a window. To avoid competition, pair it with simple, solid-colored curtains.
Keep maintenance in mind: Toile prints should be dry cleaned or carefully washed to maintain their vibrancy over time.
Implementing these key ideas can help transform your room with an elegant, conversation-starter window treatment that brings the charm of yesteryears into your home.
Tassel Trim Balloon Valance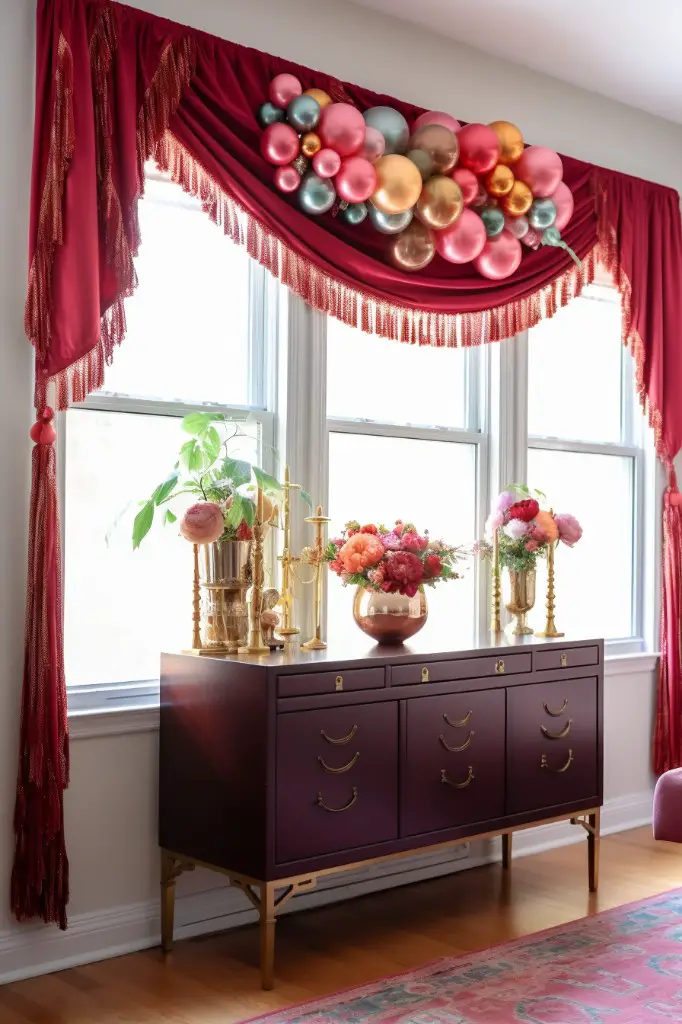 A tassel trim can truly elevate the grandeur of a balloon valance, integrating a playful touch to its sophistication.
Begin by choosing the fabric. Consider a sturdy yet gorgeous fabric, such as velvet, silk, or damask. Remember that the fabric should harmonize with the rest of the room's décor while being heavy enough to create the plush balloon effect.
Next, focus on the tassel trim. Match it to the tone of the valance fabric or use it to add a contrasting color pop.
Measure the width of the window and add sufficient allowance for gathering. The height will depend on personal preference, but bear in mind that a balloon valance typically extends down to about one-third of the window.
Don't forget to provide extra material for the top and bottom hems, around two inches should be fine. For the balloon effect, channels or casings are made along the width of the valance.
Sew the tassel trim along the bottom of the valance before gathering the fabric for the balloon effect. Once the channels are created, slide in curtain rods or dowels through each channel to create the balloon effect. Finally, attach the valance onto the curtain rod above the window.
Take time to fuss and fluff to achieve your desired balloon effect. Remember, a tassel trim balloon valance offers flexibility. Make changes until you're delighted with your window's stunning new look!
Sheer Voile Balloon Valance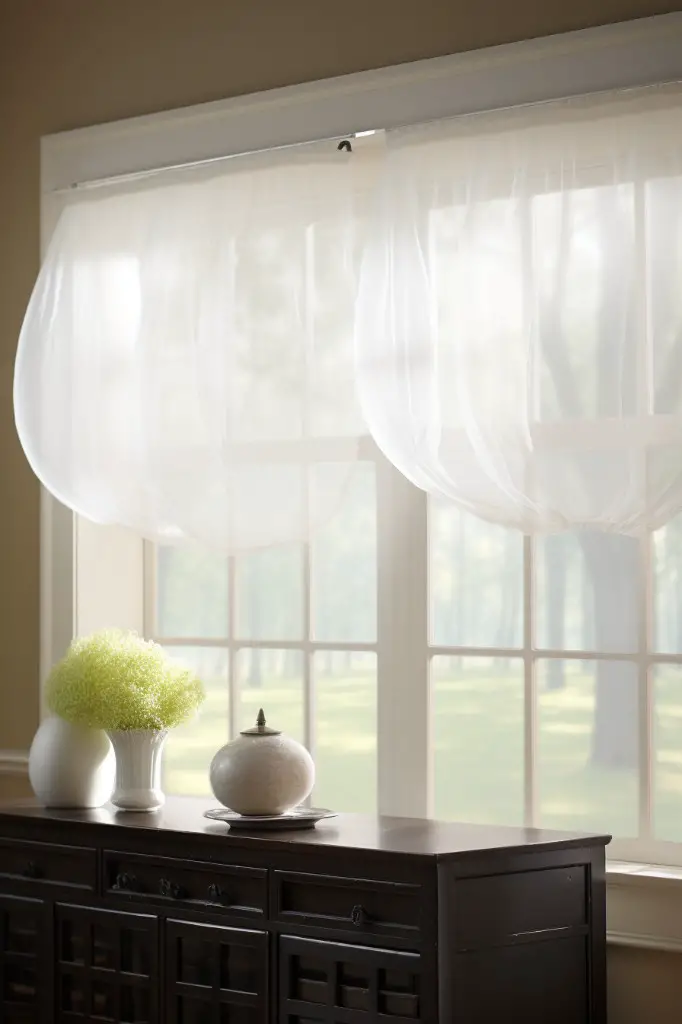 Sheer voile is a lightweight, semi-transparent fabric that offers a delicate, breezy aesthetic. This fabric is perfect for those preferring a casual, stylish look with minimal maintenance. Its translucency allows just enough sunlight, ensuring the room doesn't get too bright or too dim during the day.
A balloon valance made of sheer voile is rather elegant and versatile. It combines well with almost any room decor, ranging from modern minimalist to boho-chic. Moreover, despite its elegant look, it's surprisingly easy to clean – a simple machine-wash cycle can take care of most stains.
Here are key points and steps to grasp the concept better:
Pick a coordinating color: Select a color that complements the rest of your room. White or cream-colored voile is popular due to its universal fit. You might also try coupling two sheers of different shades for a gradient effect.
Adjust the puffiness: The balloon effect is adjustable. More fabric will result in puffier "balloons," while less fabric reduces the poof and gives a sleeker, more modern look.
Install the hardware: Balloon valances can be hung from regular curtain rods. Ensure the hardware is installed securely for the best look and functionality.
Mix with heavier drapes: To add a bit of pizzazz, layer your voile valance over heavier drapes. It adds depth and keeps the room cozy during colder months.
Keep it clean: Regularly dust your valance and occasionally machine wash it on a gentle cycle to keep it looking fresh and bright, full of its original charm.
Experiment with these points until you find the design and care routine that suits your needs the best. It's all about personalizing the space and integrating elements that resonate with you.
Animal Print Balloon Valance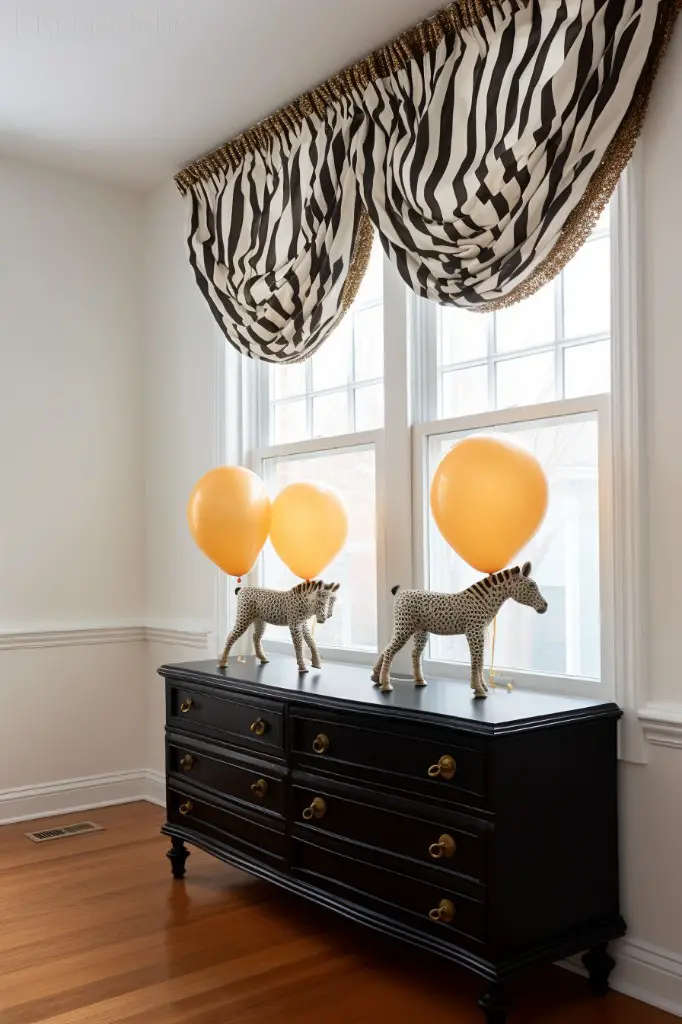 Animal print adds a touch of glamour and wild beauty to any space. When combined with the elegance of a balloon valance, it can create a striking feature in any room.
The bold patterns of animal print can greatly complement plain wall colors.
Zebra, leopard, or tiger prints are some popular options to consider for an animal print balloon valance.
Blend elegance and adventure by pairing an animal print balloon valance with matching or solid-colored drapes.
This style is not just limited to natural colors. For a more modern and unique look, consider animal prints in non-traditional colors such as blue or pink.
Animal print balloon valances are available in a variety of fabrics to suit your home decor needs, including cotton, faux fur, and silk.
For a perfect fit, measure your window carefully before ordering or making your animal print balloon valance.
If making a DIY animal print balloon valance, select a fabric that's easy to work with, and ensure the pattern runs in the direction you desire.
Consider the overall design and color scheme of your room before choosing the print and color of your valance.
Ensure the animal print chosen is in harmony with other patterns in the room to create a cohesive look.
Balance the rest of the decor in the room with the valance, ensuring that it doesn't overwhelm the space.
Balloon Valance With Beaded Detail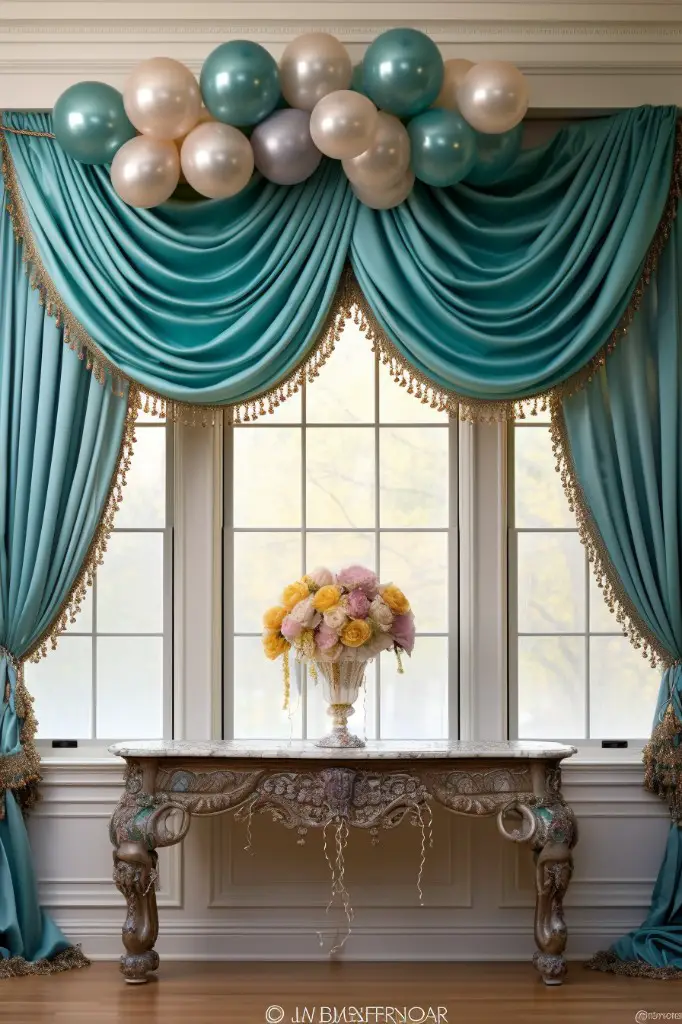 Adding beaded detail to a balloon valance brings in a touch of elegance and charm. The beads can be chosen to either match or contrast with the fabric color for desired aesthetic effects.
– Start by selecting beads that complement the valance design, such as crystal beads for a white or light-colored fabric, or darker beads for a stark contrast against a light background.
– The stringing pattern can be kept simple, or arranged in clusters or geometric designs to create a more elaborate look.
– The beads can be attached to the lower hemline of the valance, or strung up in the middle sections creating a distinct cascading effect.
– The bead size should be chosen to match the scale of the valance – larger, chunky beads for a large window and valance, or delicate, smaller beads for a petite window treatment.
– The beads should be securely fastened to the valance fabric to prevent easy removal or breakage.
– Existing balloon valances can also be embellished with beaded details to provide an easy and budget-friendly update.
Remember, careful consideration of bead choice in accordance with the overall room decor can elevate the aesthetic appearance of the balloon valance.
Related Stories