Explore the charm of toile valance ideas that can transform your house windows into a classic aesthetic delight.
Toile valances can add a touch of elegance and sophistication to any window in your home. They are versatile, coming in a variety of patterns and colors, and can be styled in numerous ways to match your interior decor.
Whether you're aiming for a classic, contemporary, or rustic look, toile valances can be the perfect finishing touch. In this article, we will explore a range of toile valance ideas, discussing different styles, patterns, and color schemes. We'll also delve into the best ways to incorporate them into your existing decor, and provide tips on how to hang and care for them.
By the end, you'll have all the information you need to choose and style the perfect toile valance for your home.
What's Inside
Floral Patterned Toile Valance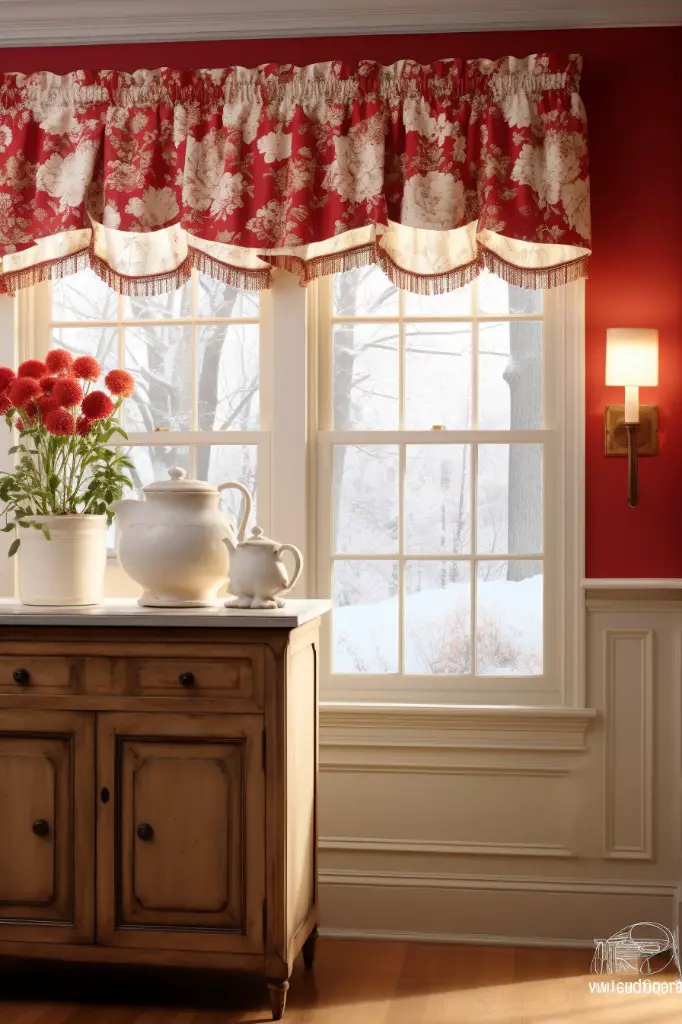 Incorporating a floral pattern into a toile valance can breathe life into a room. Think lush rose blooms, tulips, or even palmettos swaying in the wind, depending on personal taste. By choosing the right palette, these contrasts of nature can accentuate existing décor or introduce a new theme.
Select the fabric carefully, ensuring high-quality cotton or linen to ensure durability. Opt for intricate, delicate designs for a sophisticated feel or large, bold patterns for a striking focal point.
Consider a contrast trim to highlight the floral design. This could be a simple plain color that matches one from the pattern or a complementary pattern.
The hanging method should be chosen based on the desired aesthetic. Rod pocket or rings can facilitate a more casual look, whereas a pinch pleat might be perfect for a more formal setting.
Installation height plays a crucial role in the overall look. Placing the valance higher can create an illusion of a larger window and a more dramatic effect. Conversely, setting it closer to the window frame provides a cozy and intimate feel.
Lastly, ensure the floral pattern ties together the entire room, picking up colors from the furniture, walls, or accessories. This adds a cohesive touch, making the window appear as a thoughtfully designed element of the room rather than just an afterthought. Remember, cohesion is key.
Vintage-inspired Toile Valance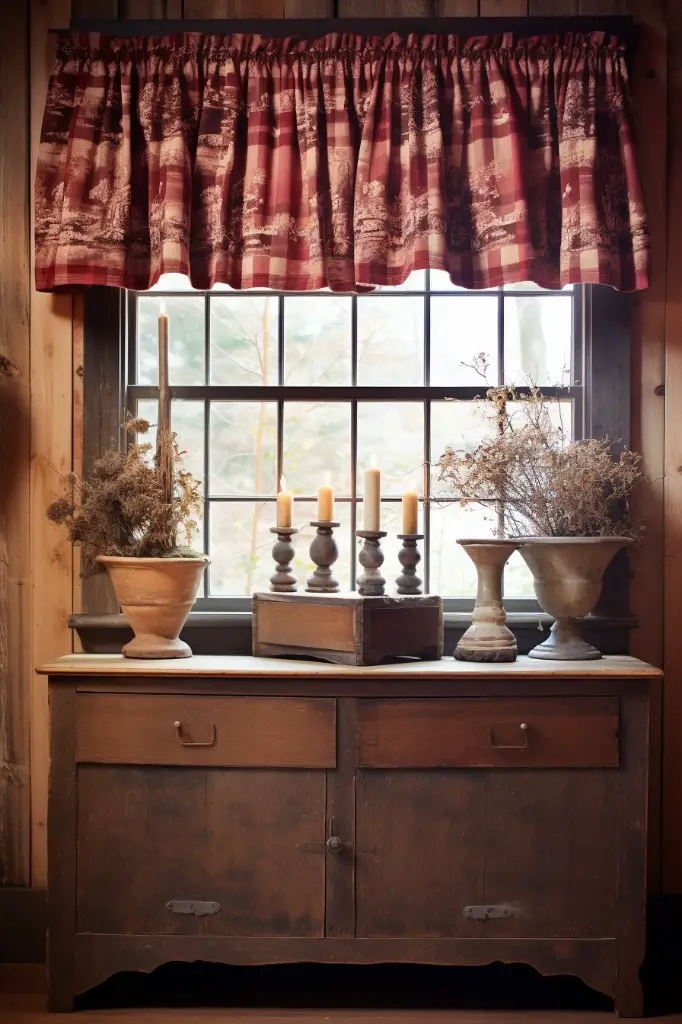 Incorporating a vintage-inspired toile valance in your decor can add a touch of nostalgia and elegance. Here's how to make the most of this design:
Choose a warm, earthy color palette. Check out a variety of patterns like pastoral scenes or intricate florals which were typical in bygone eras.
Texture is crucial in creating a vintage aesthetic. Look at fabrics with a worn or antiqued finish.
Keep in mind the size of the room. Large, dramatic designs work well in ample spaces, while more subtle, delicate patterns are suitable for smaller rooms.
If your room decor includes wallpaper or other patterns, ensure the toile valance complements those designs. It could mean matching color tones or themed prints.
Incorporate antique or older styled curtain rods and accessories to further enhance the vintage feel.
Layering your toile valance over plain curtains or blinds can provide depth and add to the vintage aesthetic.
Remember, the key to a well-balanced vintage-inspired theme is to mix old and new elements tastefully. With these tips, your vibrant, vintage-inspired toile valance can transform any room into a stylish, inviting space.
French Country Toile Valance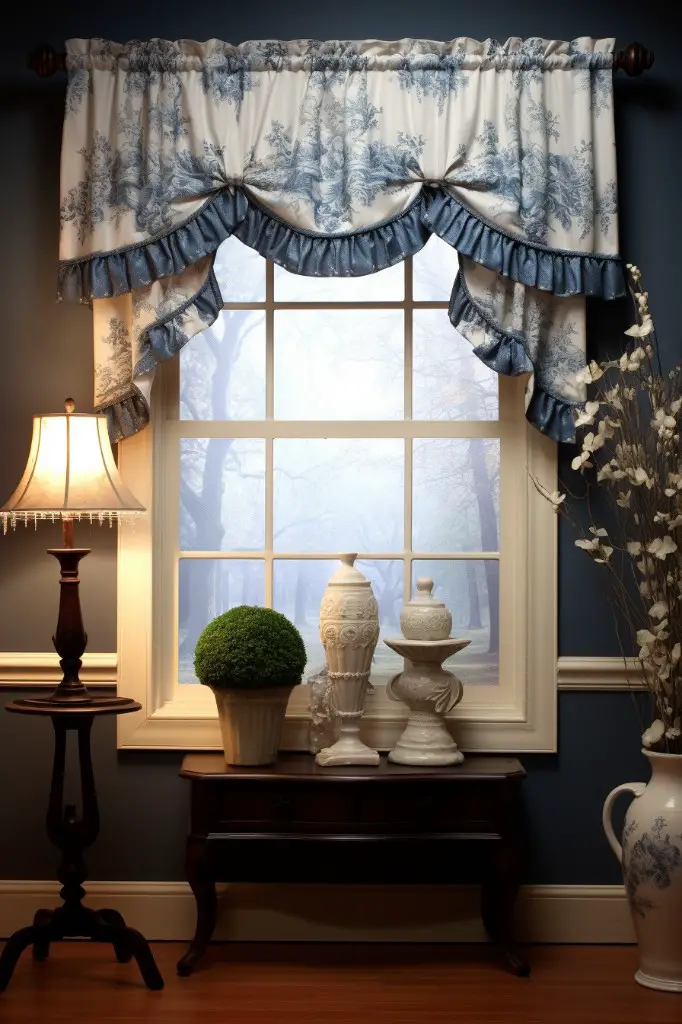 A characteristic staple of this style is the charming pastoral scenes depicted in the patterns. French country toile valances typically showcase rustic scenes such as farms, animals, or classic French chateaux in intricate detail. These valances bring a touch of classic elegance and provincial charm to the decor.
Whether in blue and white or black and beige, these valances contribute to create a timeless and tranquil ambience. The repeating pattern lends a sense of continuity, visually connecting different parts of a room.
Few ways to incorporate this valance into your home include:
Pairing with matching curtains for a coordinated look.
Layering over neutral-colored blinds to bring out the pattern.
Combining with solid-color panels for contrast.
Using alongside vintage furniture to harmonize the antique allure.
Adding alongside French country accessories such as rustic metal chandeliers, distressed wood furniture, and antique ceramics.
While purchasing these valances, consider elements like fabric quality and the detailing in the pattern. Ensure that the fabric is durable and the colors do not bleed upon washing. Remember not to overshadow the design with too many competing elements, the valance should be a highlight, not hidden.
Blue and White Toile Valance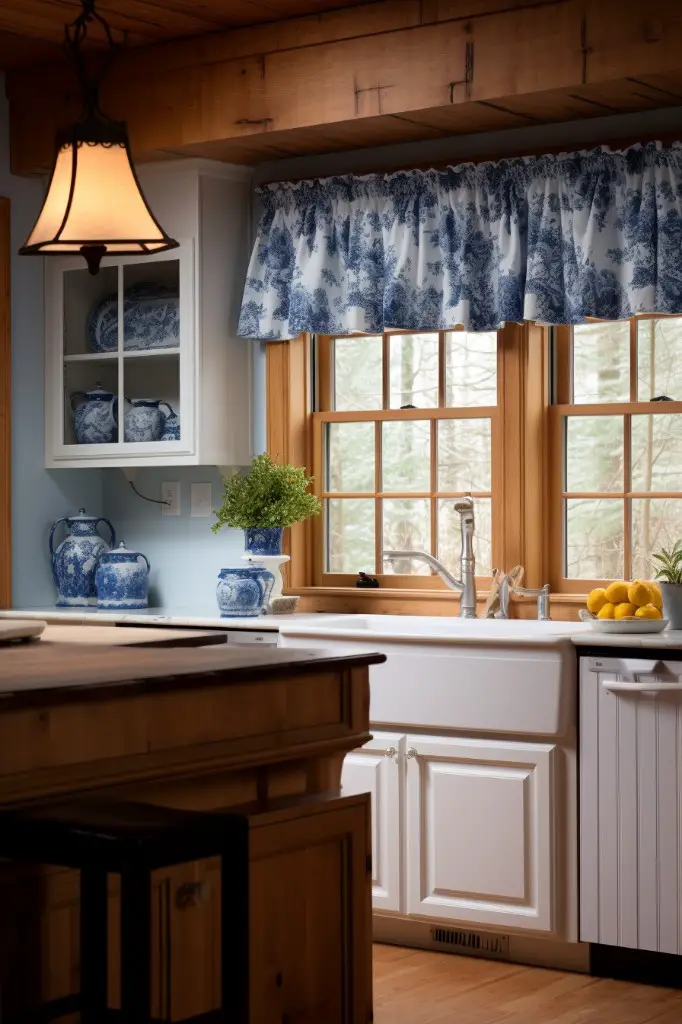 A unique interpretation of traditional style, this choice employs a crisp, cool color scheme of blue and white. Reminiscent of porcelain, the intricate designs lend a sense of cultural history.
Achieving this style can be simplified into three major elements:
Select the Pattern: Start by picking a pattern that suits your personal style. Toile designs vary, featuring pastoral scenes, floral arrangements, or oriental motifs. Opt for smaller designs if your window is narrow, or larger prints for wider spans.
Choosing the Right Material: Cotton or linen provide vibrant, clear prints, and also stand the test of time.
Installation Considerations: More casual spaces may accommodate a simple rod pocket, while a more formal setting may call for a valance with a header, which adds elegance and structure. The size of your window determines the length. Generally, it should be no more than one fifth of the overall window height.
By focusing on these key factors, you can ease your decision-making process, steering away from overwhelm towards an outcome that is distinctive and reflective of your taste.
Scalloped Edge Toile Valance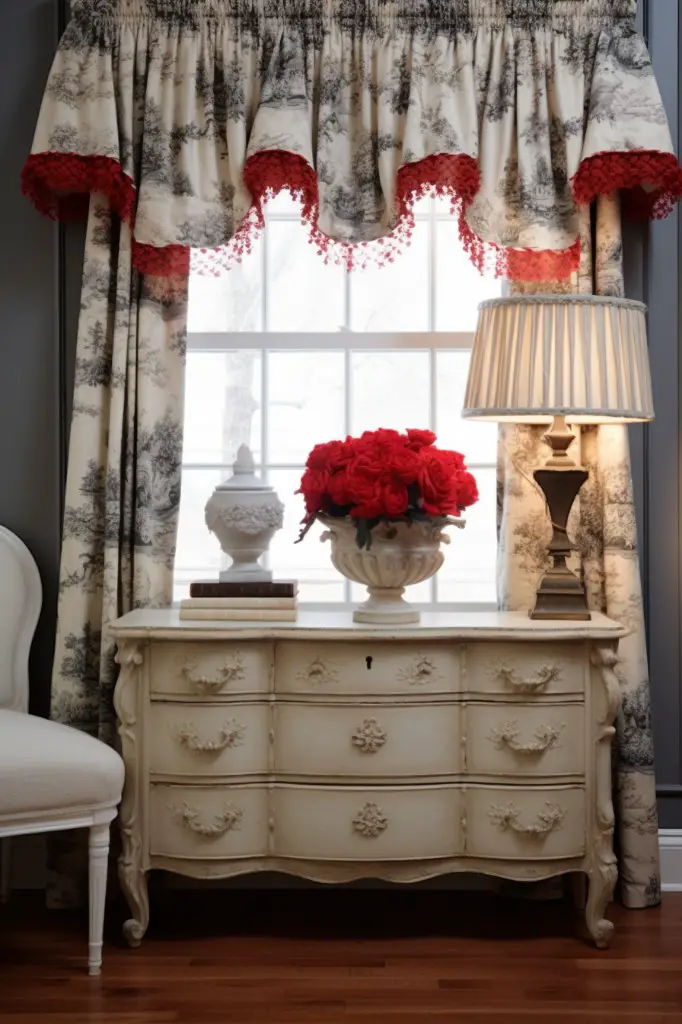 A scalloped edge toile valance adds a whimsical and chic touch to a window. The sweeping scallops are inherently pleasing to the eye and make a room appear more inviting. The toile pattern, on the other hand, adds a hint of sophistication and flair.
Here are some tips to get started:
Choose a quality fabric with an eye-catching toile design. For a refined look, consider a fabric that features scenes from nature or pastoral life, or, for a more modern aesthetic, you might select a geometric toile pattern.
When hanging the valance, consider a rod that complements the toile pattern and the overall design of the room.
The size of the scallops should be proportional to the window. Larger scallops may overwhelm a small window, while smaller scallops could be lost on a large window.
Coordinate the colors of the valance with the rest of the room for a cohesive look.
Consider combining the scalloped edge toile valance with curtains or drapes. This can add depth and texture to your window treatment.
Consistency is key. If you have multiple windows in one room, use matching valances to create a consistent and harmonious look.
Remember, a scalloped edge toile valance can add a unique and elegant finish to your windows, enhancing the overall aesthetic of your home.
Toile Valance With Tassel Fringe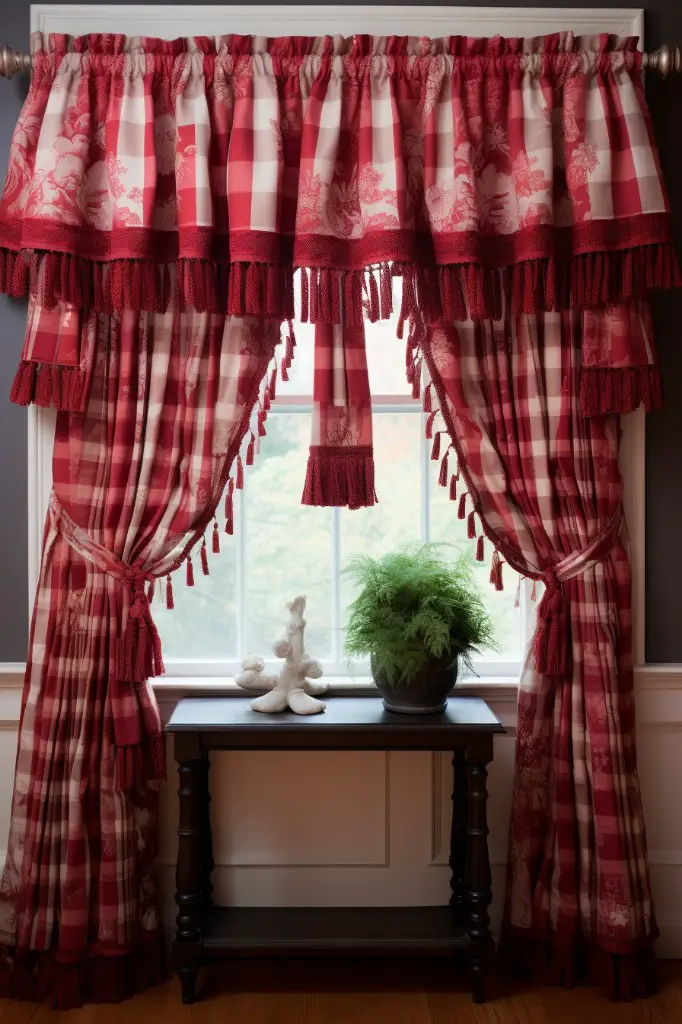 Tassel fringe can take a standard toile valance to the next level by providing a touch of classic elegance. It's usually attached to the lower edge of the valance, giving it a sophisticated look. There are a few key considerations when deciding to add tassel fringe to your valance:
Choice of Color: Coordinate the color of your tassel fringe with the dominant color of the toile fabric. A well-matched combination enhances the overall aesthetic impact of the valance.
Type of Tassels: Tassels come in various types, such as bullion fringe, brush fringe, or beaded fringe, each offering a distinctive look. Choose ones that best match your home decor theme.
Method of Attachment: You can either sew the tassels directly onto the valance or use a trim adhesive for a no-sew option. Be sure that the fringe is securely attached to withstand regular use.
Overall Theme: The tassel fringe should complement not just the style of the toile valance but also the room's overall decor.
Installing a toile valance with a tassel fringe can add a unique elegance to any room. Just be sure to consider the color, type, method of attachment, and overall theme to ensure it fits seamlessly with your design scheme.
Ruffled Toile Valance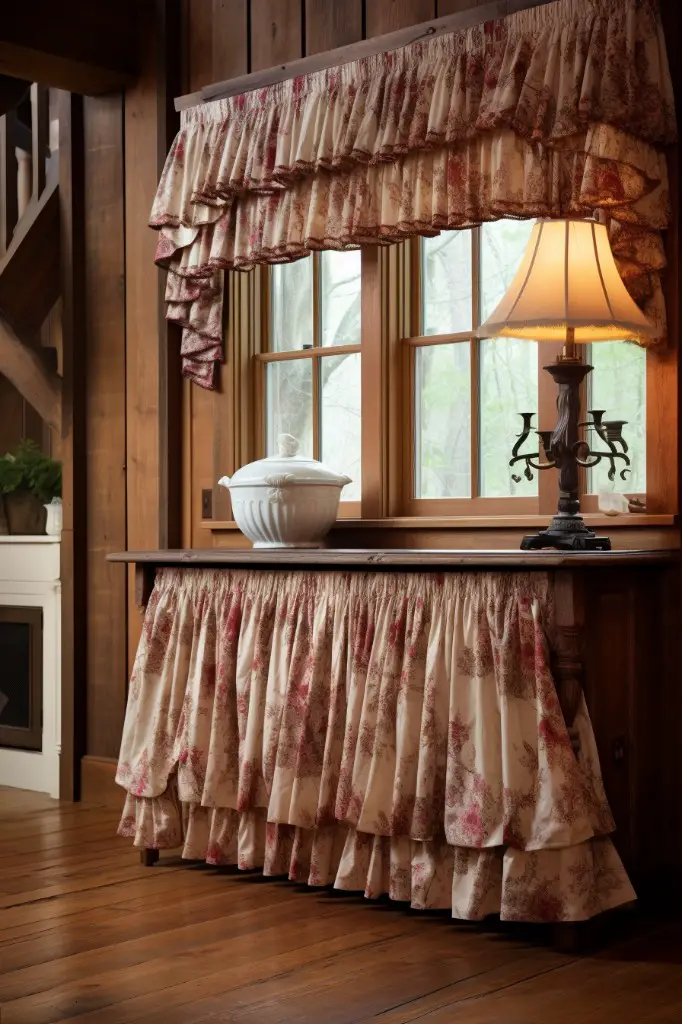 A ruffled toile valance is a delightful addition to any room. Its blend of elegance and charm brings a timeless aesthetic appeal. Combining the classic French toile fabric with frilly ruffles results in a valance that feels both romantic and chic.
Key features of a ruffled toile valance include:
Intricate Print: Toile fabric often features complex scenes that add depth and interest.
Elegant Ruffles: The addition of ruffles brings an element of femininity.
Versatility: Suitable for a range of interior styles, from country kitchens to elegant drawing rooms.
Easy Installation: Despite its complex appearance, fitting a ruffled toile valance can be a simple task.
For an uplift in the overall decor, match the valance with other toile elements such as cushions or bedding. To extend the luxury look, consider using a linen or silk toile fabric. Keeping the color palette neutral will allow the design of the toile fabric to take center stage. But, for a more impactful look, consider using brightly colored toile fabric. The balance between the elaborate toile print and the girly ruffles is what makes this style of valance charmingly unique.
Black and White Toile Valance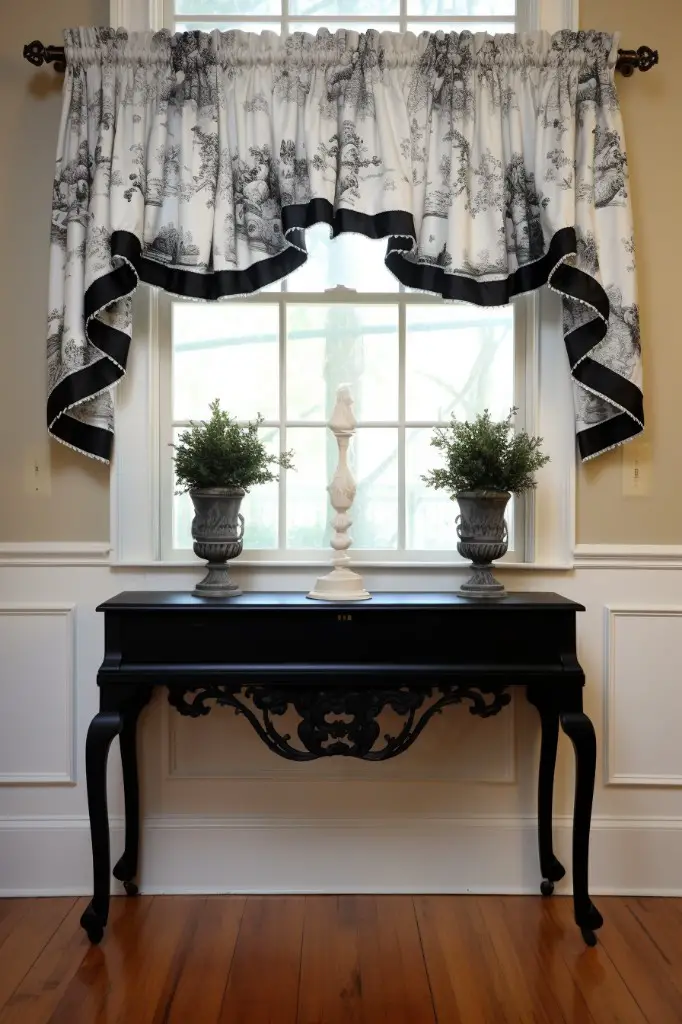 Creating drama and elegance in your window treatment, a black and white toile valance adds an element of sophistication. The contrasting color palette establishes a striking focal point, drawing attention to your windows. With this valance design, the intricacies of the toile print become more pronounced, giving your room an artistic flair.
Consider the following ideas when incorporating a black and white toile valance:
Choose a design that appeals to your aesthetic. Toile patterns can range from pastoral scenes to intricate floral motifs.
Use a solid black or white curtain beneath to enhance the valance. This will create visual distinction and allow your toile valance to truly shine.
Coordinate the valance with room décor. Perhaps introduce other black and white elements for a balanced, elegant feel.
Opt for a lined valance. The lining can help accentuate the pattern and provide additional window insulation.
Think about the ideal length. While a valance typically covers the top part of the window, a longer valance can create a dramatic draping effect.
Remember, when integrating a black and white toile valance, the goal is to highlight the window while seamlessly blending the window dressing with the existing room décor.
Toile Valance With Matching Curtains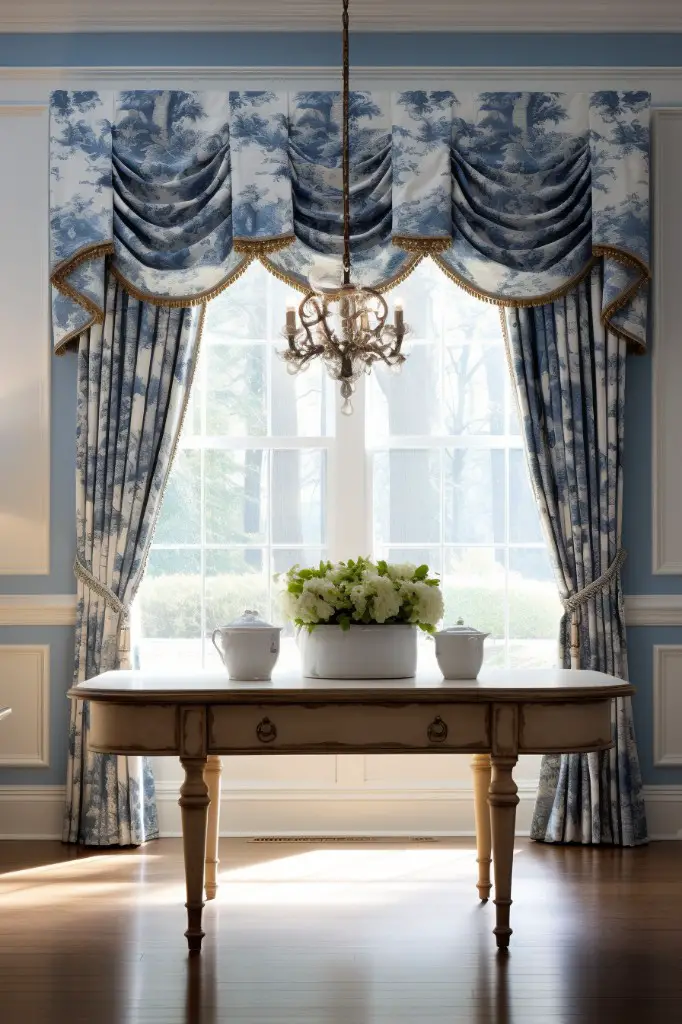 Having matching curtains can create a professional and cohesive look. When choosing your toile valance, make sure to find a matching curtain set as it can elevate the overall aesthetic of your interiors.
Select a color: It is essential to choose a color palette that will complement the current design of your room. Toile patterns often come in a variety of colors ranging from traditional blues and reds to more modern hues like grey or green.
Pattern style: Consider the size and proportions of the toile pattern on the valance and curtains. Both should feature a similar design to create symmetry and rhythm.
Fabric choice: Cotton is a popular choice for toile fabric due to its durability and ease of maintenance. Linen also gives a more relaxed and casual vibe, perfect for a French country-style decor.
Curtain length: Depending on your window size, you can choose window-length curtains for a traditional look or floor-length ones for a dramatic effect.
Layering: Layer the toile valance over the matching curtains for depth, and to soften the light entering the room.
Remember to consider the hardware too. It should be in harmony with the toile valance and matching curtains for a unified appearance.
Farmhouse Style Toile Valance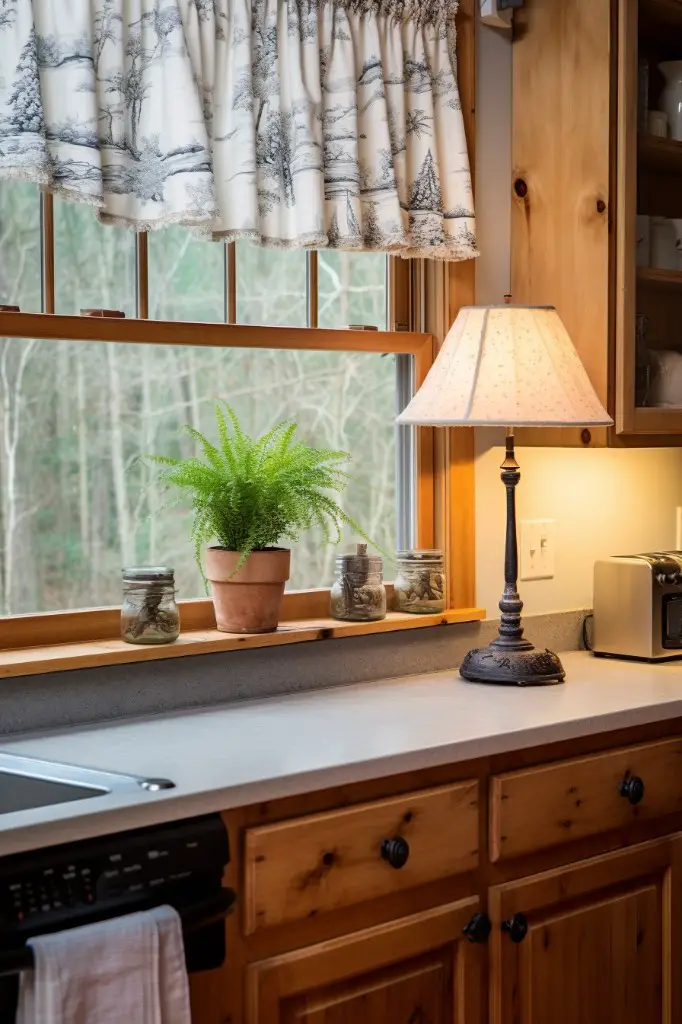 Instilling a timeless appeal, the farmhouse style toile valances harmonize with a range of color schemes and window shapes. They add a simple yet versatile touch to your window decor, effortlessly blending with your farmhouse or rustic interior aesthetic.
Harnessing familiar elements like natural textures, distressed finishes, and muted color palettes, these valances can serve as a visual impressario in any room. Here are some key ideas to consider when selecting a farmhouse style toile valance:
Prioritise Natural Materials: Choose valances made from materials like cotton or linen to enhance the rustic appeal.
Opt for Subdued Colors: Stick to earthy and neutral shades like beige, cream, or soft white for a perfect farmhouse vibe.
Consider a Bold Pattern: While toile is typically detailed, choosing a design that features a bold farmhouse-related scene can further emphasize the style.
Match with Suitable Curtains: Pair the valance with matching curtains in similar hues, made from the same material, to achieve a cohesive look.
Install Correctly: Ensure a proper installation that allows the valance to elegantly skim the window top, accentuating its rustic charm.
Complement Room Decor: Aim for a balance between the window dressing and the rest of the room decor. If the room is busy with decorations, opt for a simpler pattern and vice versa.
Durability Check: Ensure the material is robust and can withstand regular cleaning without losing its quality and appeal.
Pastel-colored Toile Valance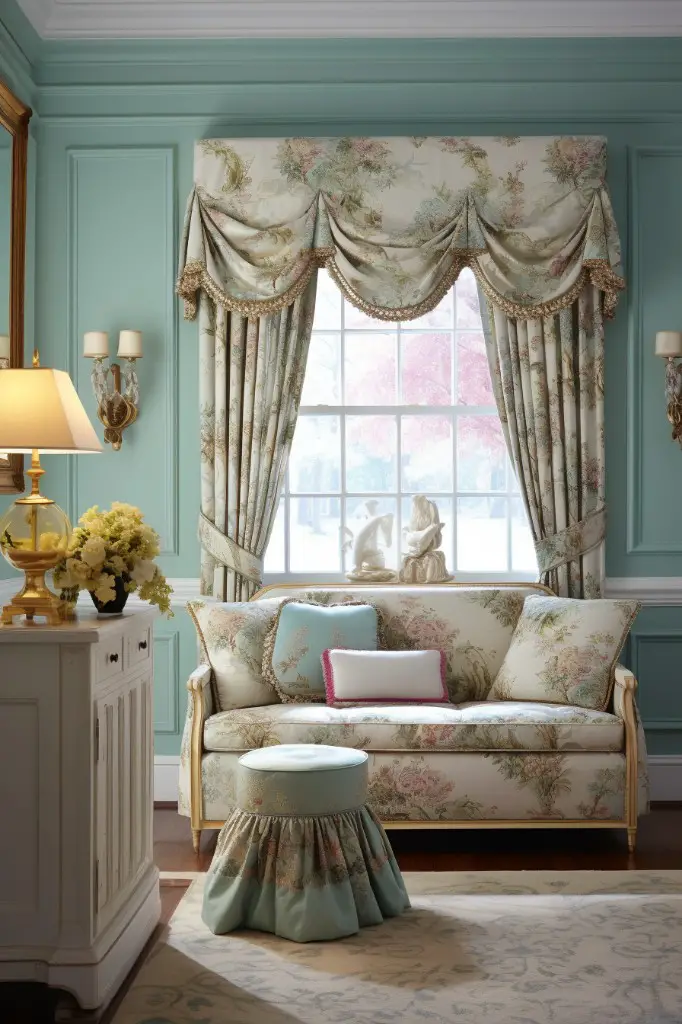 Soft, soothing, and visually appealing, pastel-colored toile valances serve as exceptional window adornment in any room. To enhance your interior decor, you may consider incorporating these tips:
Opt for light shades such as baby blues, pinks, or yellow; these can brighten up a room and give it a refreshing look.
Pair them with neutral or light-colored curtains to balance out the pastel colors and maintain an overall soft aesthetic.
Use them in rooms that receive ample natural light; pastel colors look best in bright spaces.
Match the pastel-colored toile valance with other decor elements in the room for cohesion — such as cushions, rugs or wall color.
If too much pastel doesn't align with your personal taste, opt for a pastel toile valance with a minimalist or geometric pattern to tone down the sweetness a bit.
Remember to measure your windows before purchasing or creating your valance to ensure a perfect fit and create a professional-looking window treatment.
Layered Toile Valance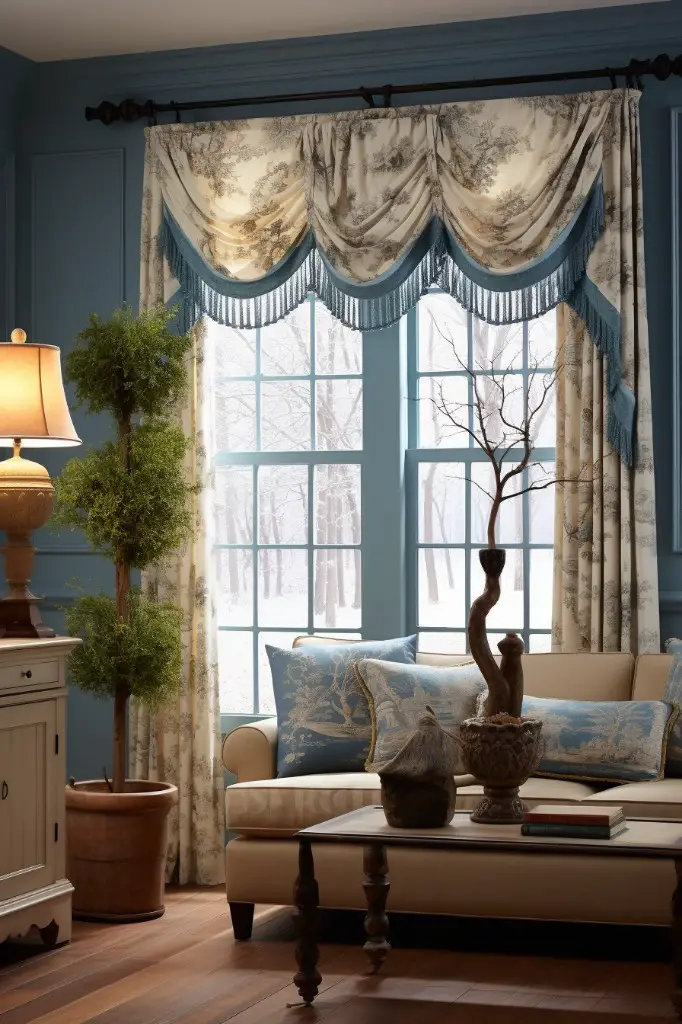 Creating a layered look with a toile valance can add depth and visual interest to a room.
Choose two fabrics that complement each other. The fabrics could either be in the same toile pattern but different color schemes or combine a toile pattern with a solid color or even a bold, contrasting pattern.
Measure the window to calculate fabric requirements. Pay attention to not only the width but also the intended valance length.
Cut the fabrics to the correct dimensions, leaving extra for hems. The underlayer can be slightly longer to hang down below the top layer.
Sew the hem on all sides of each piece of fabric, then attach each layer to the curtain rod separately.
Arrange the valance layers. Usually, the decorated or patterned toile fabric layer is placed in the front while the secondary layer peeks out from beneath.
Using a layered toile valance can dramatically enhance the aesthetics of your windows, creating a beautiful focal point whether the blinds are open or closed.
Rustic Toile Valance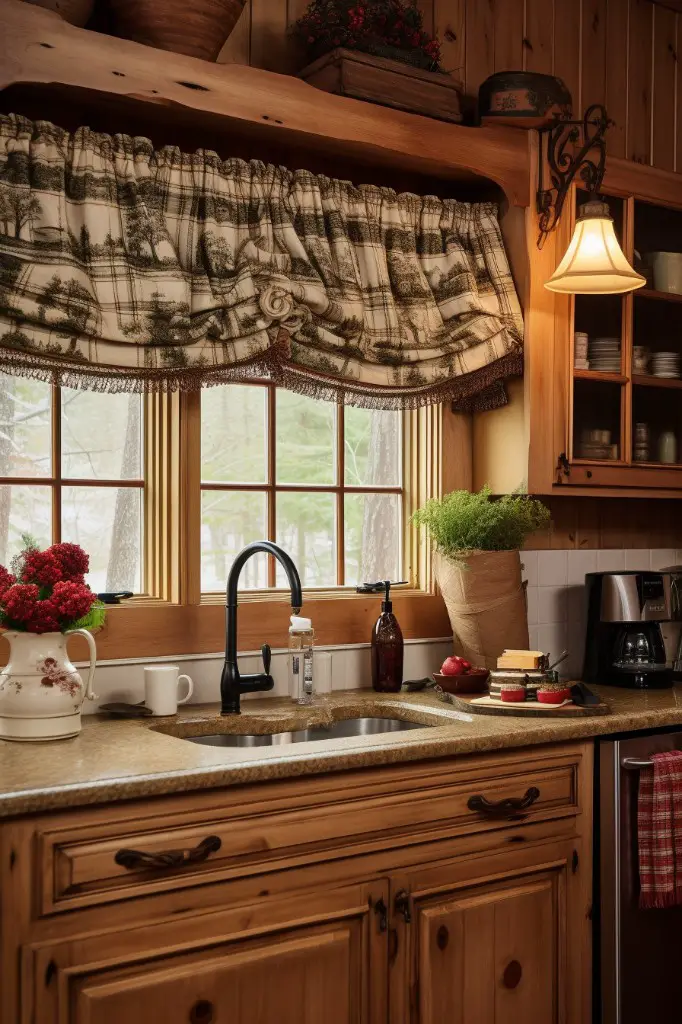 Incorporating a rustic toile valance adds character and warmth to a space. Ideal for homes that embrace the charm of countryside living, these pieces blend perfectly with natural materials and earthy tones.
Choose traditional toile prints: Toile prints typically have pastoral or colonial scenes. These prints harmonize well with the rustic style due to their historical narrative and intricate designs.
Opt for earthy colors: Browns, greens, rusts, and creams are excellent choices. They complement other rustic elements in the room, such as wooden furniture or stone fireplaces.
Pair it with wooden rods: For a truly rustic look, hang the toile valance with rods made from real or faux wood.
Think about fabric texture: Cotton toile fabric has a tactile quality that fits well with the rustic decor. It adds another layer of visual and sensory appeal, contributing to a cozy, homely atmosphere.
Layer it: Layering your toile valance with coordinating solid color curtains can provide depth and a more defined rustic appeal. It also provides extra privacy and light control.
Be creative with small elements: Consider adding small touches like a lace edge or tab tops, which can make your valance unique while still remaining traditional.
Remember, there is no right or wrong way when it comes to personal taste. The goal is to create a space that feels inviting and reflective of the rustic charm that defines your home.
Striped Toile Valance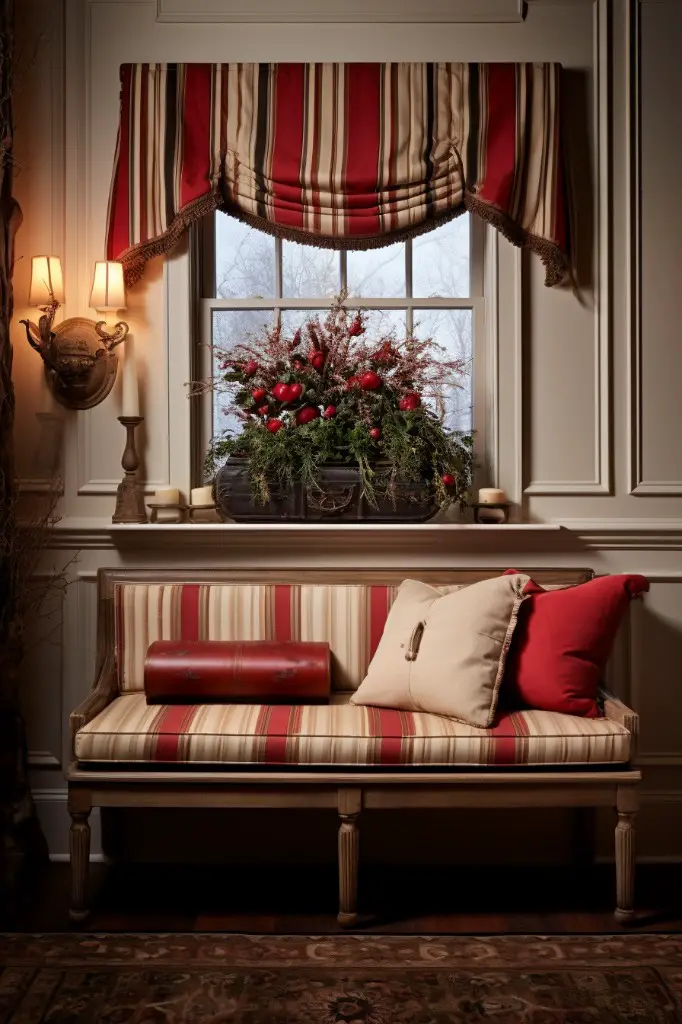 Incorporating stripes into your toile valance can give your window an elegant, refined look. Here's how:
Select a Stripe Direction: Horizontal stripes can make a window look wider, while vertical stripes may add the illusion of height.
Choose Your Colors: Go for a classic black and white pairing, or consider earth-toned stripes for a rustic feel. Alternatively, pastel stripes can inject a dose of soft, pleasing hues into your décor.
Pattern Size Matters: Opt for wide stripes for a bold, modern look or thin stripes for a more delicate, intricate appeal.
Integration with Room Decor: Ensure your striped toile valance ties in with the rest of your room. It could either be a matching element or a contrasting piece, but it should never clash with your existing décor.
Customize the Length and Design: You can decide on a valance that barely clears your window, or one that sweeps all the way to the floor. Consider whether you want your stripes to take the spotlight, or if you would like to add in scallops, tassels, or ruffles for extra character.
Quality of Fabric: High-quality cotton or linen toile fabric is usually the best option. It hangs well and adds texture, while also being highly durable.
Care and Maintenance: Regular gentle vacuuming should suffice for maintenance. Professional cleaning is recommended for deep stains or at least annually.
Geometric Patterned Toile Valance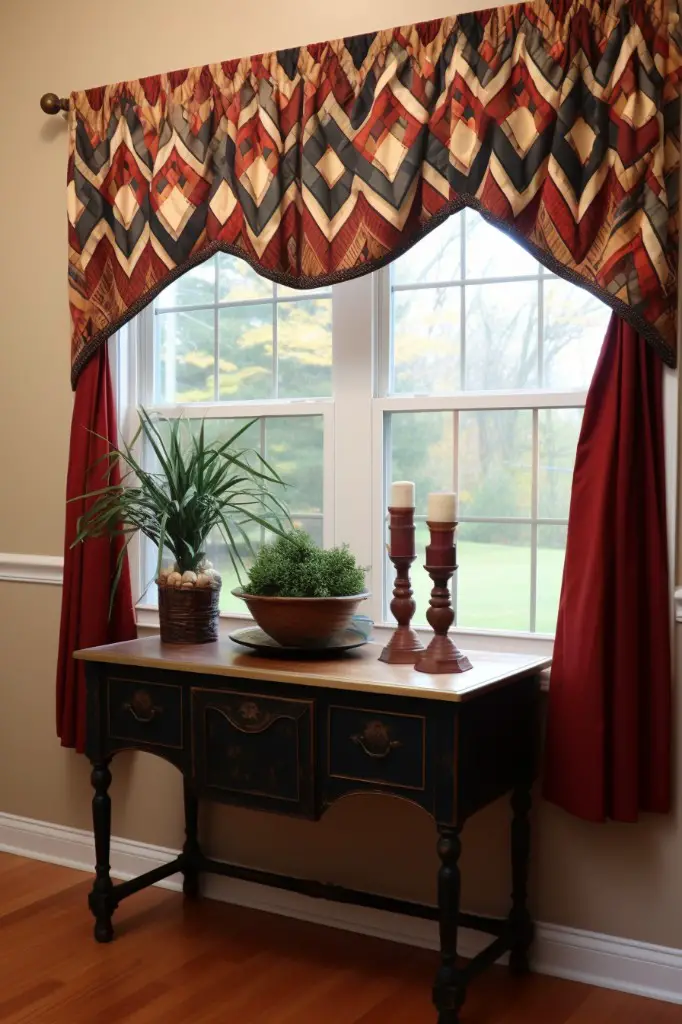 Incorporating a geometric pattern into your toile valance infuses a modern touch into the traditional fabric. The symmetrical designs often create an engaging and dynamic visual interest. This can be especially effective in contemporary or minimalist interiors where clean lines and shapes are a dominant design feature.
Choosing the right color can also emphasize the geometric design. For a dramatic effect, opt for high contrast colors. Subtle, monochromatic schemes lend a more understated, sophisticated look.
There are several ways to utilize a geometric toile valance effectively:
Pair it with solid colored drapes to create a balanced aesthetic
Use it in a neutral room for a pop of pattern
For a unique approach, pick a mirror pattern valance that matches other geometric patterns in the room
Remember that the toile valance should not overwhelm the room. Allow the geometric pattern to accentuate without overpowering your existing décor.
Pleated Toile Valance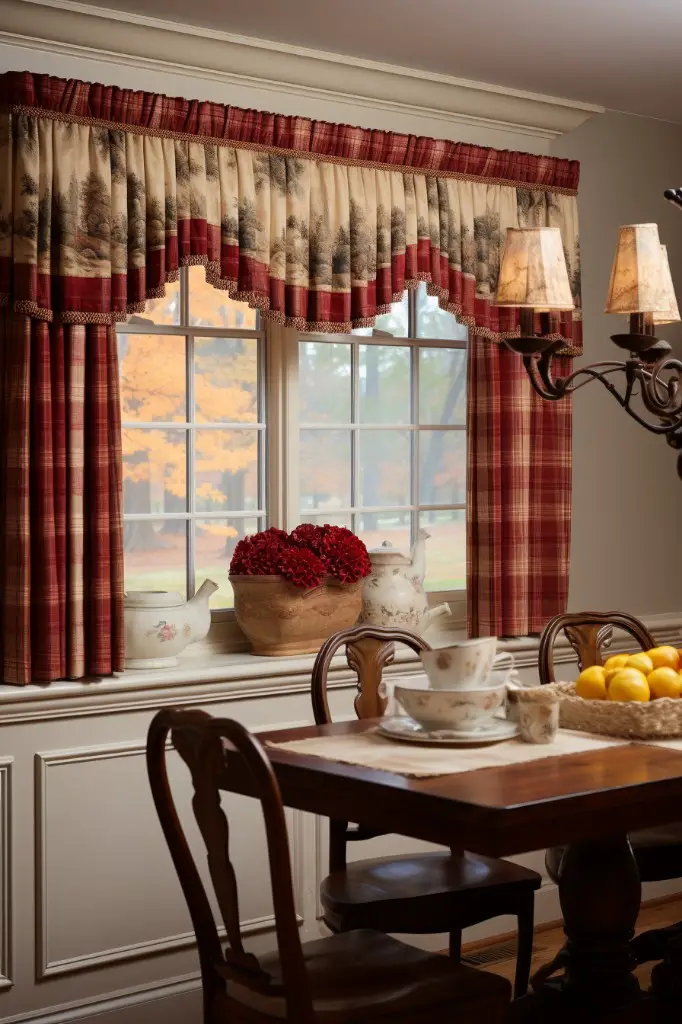 Pleated toile valance offers an elegant and neatly tailored look to your windows. A key characteristic is its series of uniform folds, lined vertically across the fabric. This feature injects an enticingly orderly aesthetic.
Here's how this design can upgrade your space:
Accentuates Height: The vertical lines create an illusion of height, making windows appear taller and more imposing.
Traditional Appeal: The pleated design assigns a timeless, classic appeal, perfect for traditional, transitional, or vintage-style interiors.
Versatility: Comes in a variety of colors, prints, and fabric choices, offering versatility to complement different decor styles.
Ease of Installation: Mostly, pleated valances are hung using a standard curtain rod or a specially designed track, making the installation straightforward.
Customizable: The depth and spacing of the pleats can be adjusted for a fuller or more subtle look, depending on personal preference.
Light Control: The depth of pleats can also help control the amount of incoming light, offering a balance between privacy and natural lighting.
Incorporating a pleated toile valance in your window treatment decisions can provide your room with an upgraded, stylish look while retaining functionality.
Toile Valance With Tie-up Design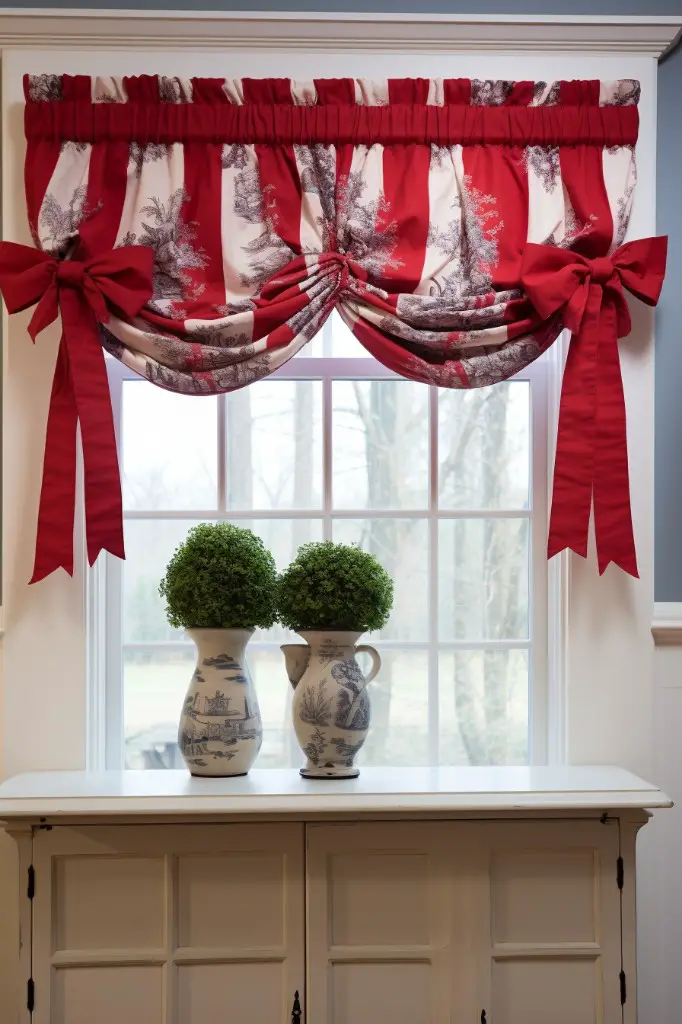 Exploring the tie-up design of toile valances can truly create a unique look for any window. This design essentially involves fabric fasteners, such as ribbons or cords, stitched to the valance for adjustments.
Versatility: This design boasts the flexibility of modifying the appearance and the amount of light entering a room. Tying the valance higher provides more light, while lowering it offers a dimmer atmosphere.
Aesthetic appeal: The tie-up valance introduces an element of charm and can be arranged in various visually pleasing designs. A straightforward bow or a more elaborate floral knot can significantly change the overall impression.
Easy adjustment: It's simple to change the height of the tie-up toile valance. Loosen the tie, adjust the fabric, and then secure the tie again.
Customizable: The ties themselves can be customized. For instance, silk ribbons or rustic rough cords could be used to match the room's decorations.
DIY option: For those who enjoy a hands-on approach, this design can easily be recreated at home. Select a toile fabric, cut it to the necessary size, and stitch on ties at the required points.
The tie-up design option certainly offers a stylized approach to toile valances, providing both functional and aesthetic attributes to enhance any window dressing. Note, though, it may not be an ideal choice for windows that require frequent privacy adjustments due to its manual nature.
Nautical Themed Toile Valance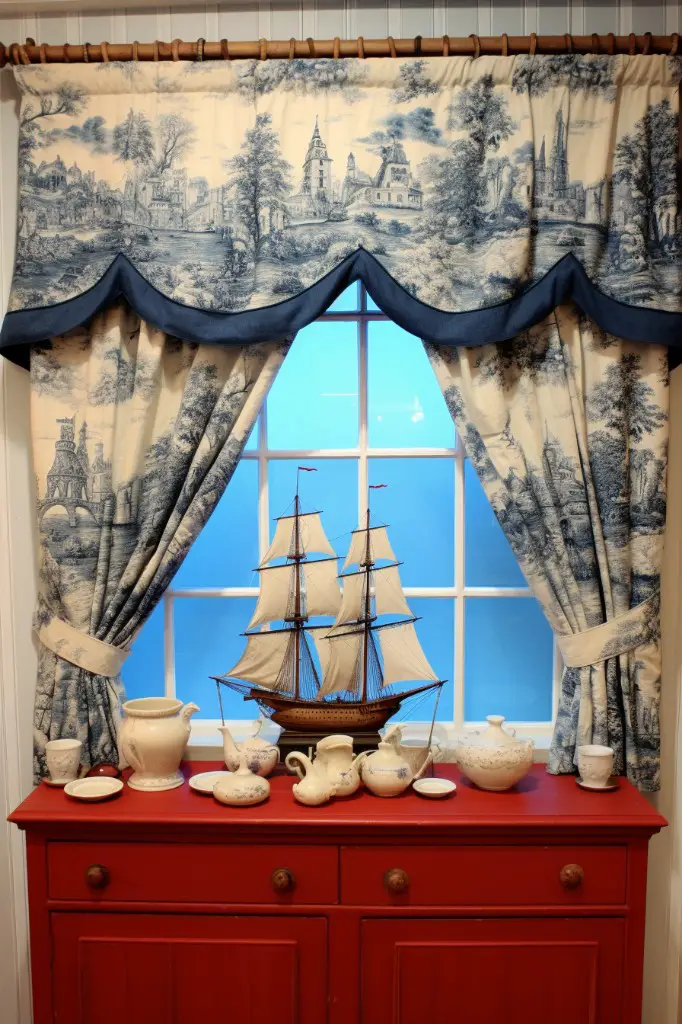 Embracing a nautical theme can introduce a refreshing, coastal touch to your space. Incorporating this design in toile valances accentuates this theme effectively.
A touch of nautical symbols, like anchors or ships, printed against a clean, bright toile fabric conveys the theme impeccably. Look for hues of navy blue or classic white when selecting fabric, as they complement the marine concept well.
Another approach could be using patterns inspired by maritime signal flags. The unique design and vibrant colors add a distinctive charm to your window.
Choosing rope-style tiebacks would complement the nautical toile valance, enhancing the theme. These tiebacks can easily be found in stores or can be handmade at home with some basic macrame techniques.
Remember to mix other nautical accessories around the room to achieve coherent decor. Items such as ship wheels, marine-inspired artworks, or navy-striped cushions reinforce the theme established by the valance.
Embrace this style to create a light-filled room with an oceanic ambience, delivering a timeless appeal of a soothing sea-side getaway.
Polka Dots Toile Valance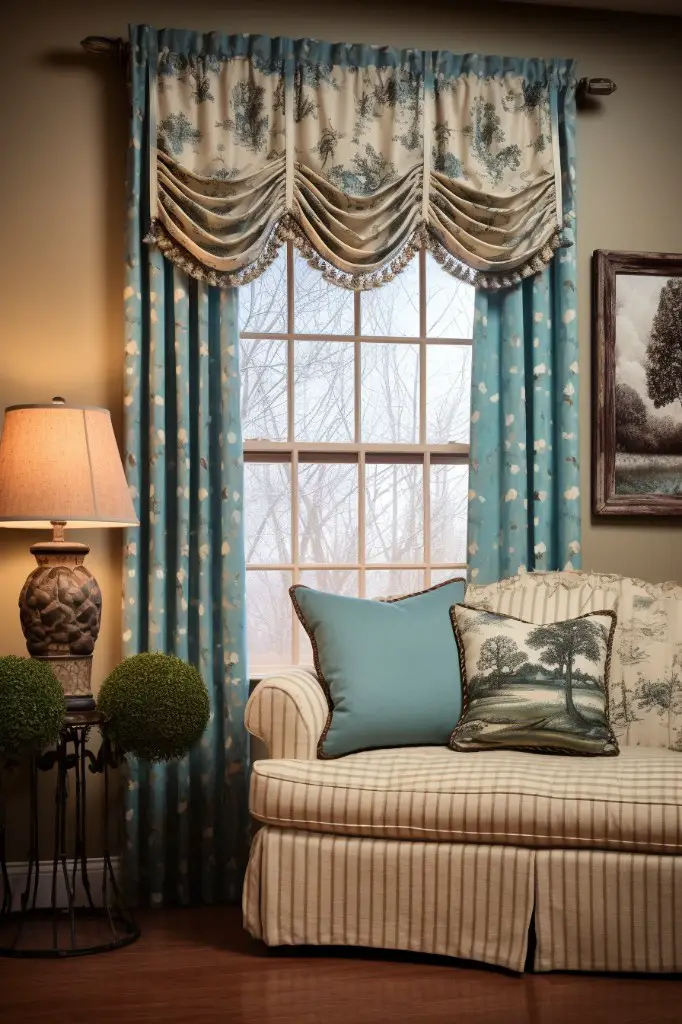 In creating a playful infusion of retro sensibilities and modern aesthetics, consider integrating a classic color pairing, such as red and white or black and white, to keep the look timeless. Use the polka dots as a fun, eye-popping element without overwhelming the room.
For a balanced appearance, select a dot size in proportion to the room's scale and the surrounding furnishings. Small, densely packed spots can create a more contemporary mood, while larger, widely-spaced dots lean toward a more vintage style.
In implementing this look, ensure harmonious coordination with your overall decor. Pairing this valance with plain curtains or shades can be a minimalistic yet impactful step to maintain simplicity, while coordinating toile curtains incorporating the polka dot pattern can create a bold, cohesive aesthetic.
For an alternative arrangement, consider draping the valance asymmetrically or gathering it in the center with a decorative tieback for a touch of whimsy and informality.
Be reminded that toile, while beautiful, can show dirt and stains easily due to its thin and often light-colored fabric. Frequent gentle cleaning and taking necessary precautions to reduce, discoloration, and wear can help sustain the life and beauty of your toile valance. This ensures that your windows keep their charming appeal for the longest possible time.
Bird Print Toile Valance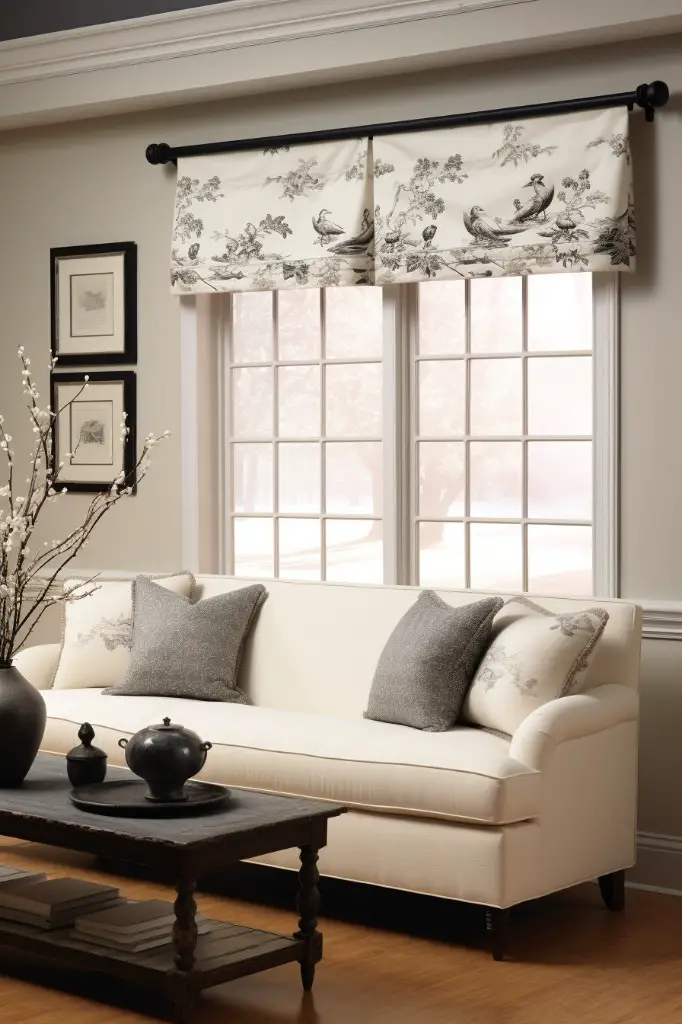 Bird print toile valance combines the elegance of classical French design with the cheerful avian-themed print. Ideal for rooms needing a dash of nature-infused sophistication.
Selecting this style adds a whimsical touch without sacrificing elegance. It suits various settings such as living rooms, bedrooms, kitchens, and bathrooms. There's flexibility in choice, from subtle, delicate bird prints to bold, captivating designs.
The installation process resembles that of any standard valance. Space the curtain rod brackets evenly, fix them securely above the window frame, and slide the rod through the valance before placing it on the brackets. It's a straightforward DIY project.
Maintenance is typically hassle-free. Regular dusting, occasional gentle vacuuming, or professional dry cleaning services will suffice. Adhere to cleaning instructions on the label to maintain the valance's longevity.
Creating a cohesive room theme with this valance is achievable. Pair it up with similarly themed decor items such as cushion covers, wall arts or furniture upholstery in coordinating or complementary colors.
A bird print toile valance truly infuses charm, liveliness, and sophistication into any room it adorns.
Related Stories