Explore the creative world of window dressing as we delve into various innovative blinds with valance ideas to spruce up your home interiors.
Blinds with valances are a stylish, functional option for window treatments that add a touch of elegance to any room. They not only provide privacy and light control but also enhance the aesthetic appeal of your space.
This article offers a plethora of ideas, from classic to contemporary, on how you can incorporate blinds with valances into your home decor. Whether you're looking for a sleek, minimalist design or a more traditional, ornate style, you'll find a wealth of inspiration here.
Dive into the details to discover the perfect blend of style and function for your windows.
What's Inside
Wooden Blinds With Matching Wooden Valance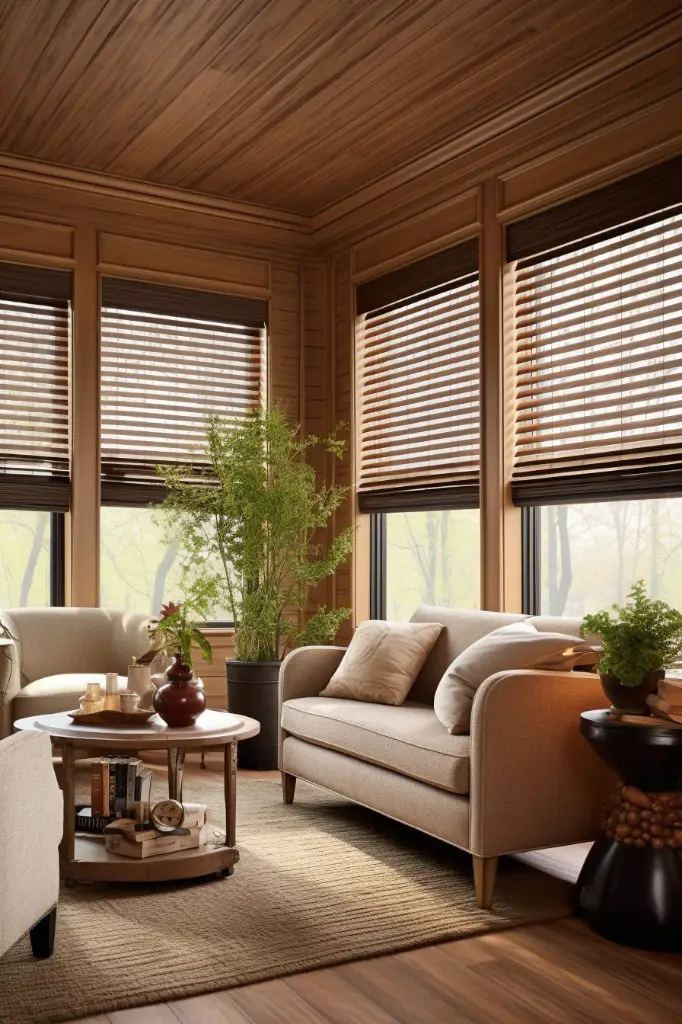 Wooden blinds and matching wooden valances bring a warm, natural aesthetic to a room. This design is particularly fitting for traditional or rustic interiors. There's an inviting quality to the wooden texture, effortlessly blending into a space while adding elegance.
Choose between different types of timber such as oak, maple, or pine for matching sets. Each wood type carries unique grains and coloring, providing a myriad of design possibilities.
Coordinate with existing wooden furniture or flooring in the room for a harmonious look.
Opt for a faux wood option for wet areas like kitchens and bathrooms. They imitate the grain and color of real wood while offering better resistance to moisture and humidity.
Consider the slat size for your blinds. Larger slats give a clear outside view when open while smaller ones provide more privacy and light control.
Given wood's natural properties, a secured fixing of the valance is crucial to prevent warping. Rather than just gluing, screws or brackets are a better choice.
Stain the wood in a variety of finishes from light to dark or even painted to tailor it to your specific design preference.
Use wood preservers and polish to help maintain their life and shine. Regular dusting can also keep them looking new for years.
When installing, ensure proper alignment of the blind and valance for a neat appearance.
Remember that while wooden blinds and valances marry style with functionality, they require careful handling and maintenance due to the material's natural characteristics.
Vertical Blinds With Contrast-colored Valance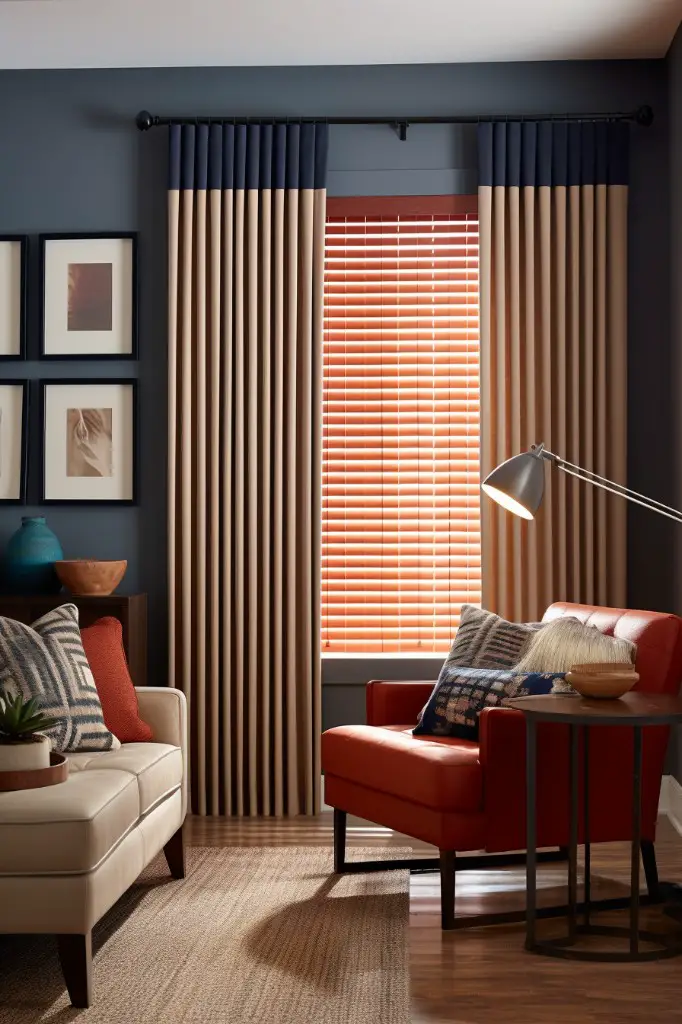 In choosing contrasting colors for your vertical blinds and valance, tap into color theory basics. For a bold, attention-grabbing window treatment, select complementary colors from across the color wheel, like blue blinds with an orange valance.
Should you prefer a more harmonious, subtly layered look, opt for analogous colors, such as greens and yellows. Consider the amount of natural light received and the overall color palette of the room, as these will influence how the contrast appears.
In terms of material, you could match the fabric of your valance with your room's decor while selecting blinds in a durable material like vinyl or faux wood. Accentuating the vertical patterns of these blinds with the softness of a fabric valance results in a beautiful juxtaposition.
There are different styles of valances from which to choose. A box valance provides a structured look whereas a swag valance delivers a touch of elegance. Experiment with eye-catching designs, from ruffled finishes to inverted box pleats.
For maximum impact, professionally install your blinds and valance. However, if you are handy and confident, DIY installation is certainly possible. Follow manufacturer's instructions carefully, ensuring the valance hangs evenly over the blinds, concealing the headrail without obstructing the movement of your blinds.
Roller Blinds With Fringed Valance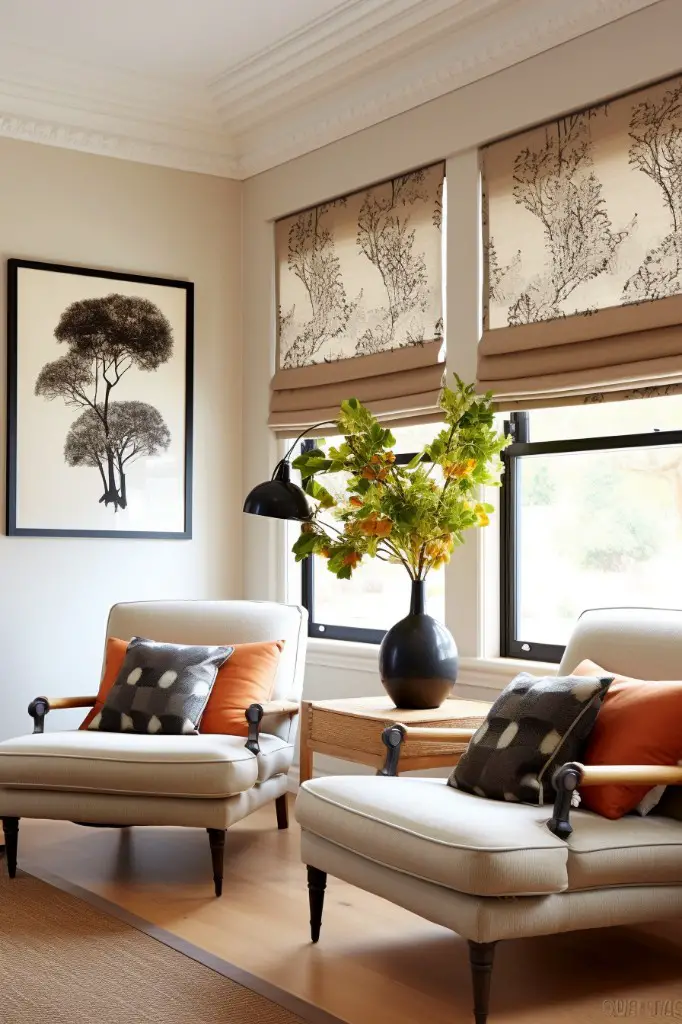 The striking allure of roller blinds lies in their simplicity. They are a superb choice for maintaining a minimalistic and modern theme within your home. But, pairing them with a fringed valance adds an intriguing design element.
Choose the Material: Roller blinds come in a variety of materials, from plain fabric to vinyl. Select one that suits your room ambiance.
Select the Fringe: Fringe for the valance can be simple and uniform, or elaborately patterned. Keep in mind it should complement the blind material.
Use a Professional or DIY: Installation is fairly straightforward and can be done with standard tools. If you're handy, DIY is an option. But professionals can ensure perfect fitting.
Maintenance: Both the blinds and the fringe valance require cleaning. Regular gentle vacuuming keeps dust at bay. But, for a deep clean, check whether your chosen materials are machine washable.
Automation: Consider adding motorization capability to your roller blinds for easier operation.
Remember, the prime objective of coupling fringed valances with roller blinds is to strike a fine balance of style and functionality, enhancing your room's aesthetic while controlling light and privacy.
Bamboo Blinds With Woven Valance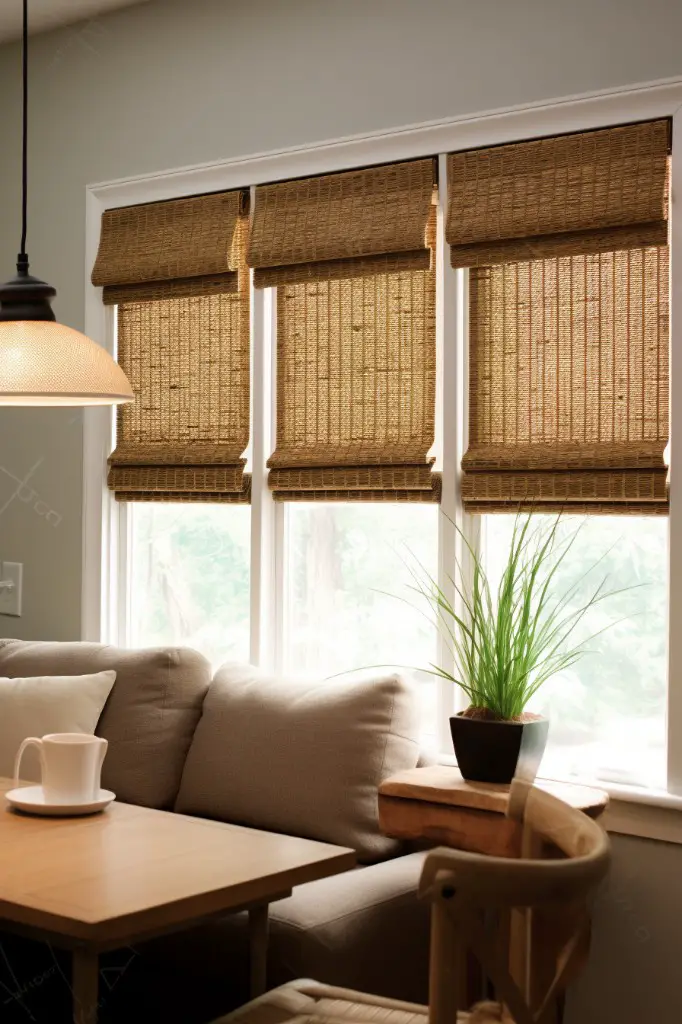 Selecting a bamboo blind is a great choice for an eco-friendly choice, providing a unique and natural aesthetic to your space. The material is known for its durability, sturdiness, and resistance to sunlight. Coupling it with a woven valance not only adds a layer of opulence to your window but also elevates the overall decor with a rustic charm.
Key Ideas:
Bamboo Blinds: Factors for selection can be durability, eco-friendliness, and resistance to sunlight, in addition to adding an element of natural beauty.
Woven Valance: This aids in enhancing the overall look of the window, contributing to a rustic charm.
Steps:
Measure your window: Accurate measurements ensure that the bamboo blind and the woven valance fit perfectly.
Choose the bamboo blind style: Determine the shade to match your interior before purchasing.
Select the unique woven valance: Find a well-crafted design of woven valance that complements the blind.
Installation: You can opt for professional assistance or follow the manufacturer's installation guide to set up your window treatment.
Remember, incorporating different textures like that in bamboo blind and a woven valance can augment your window decorations, adding a dramatic yet elegant finish.
Blackout Blinds With Patterned Valance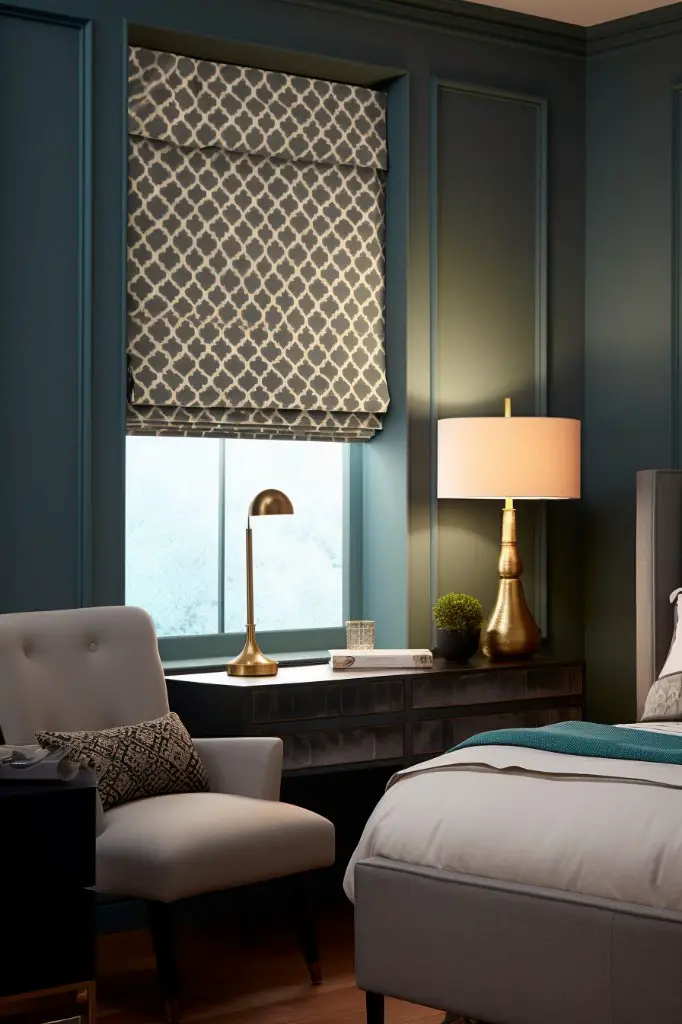 First, choose a bold pattern for your valance. This can serve as a focal point in the room and create a visual interest. Consider patterns that match your decor, whether they might be geometric, floral, or abstract prints.
Opt for robust materials like cotton, linen, or polyester with tight, flat weaves. These fabrics are durable and can block out light efficiently.
Select the width of your valance to fit your window size. Standard suggestions are to make it between one-third to one-half the length of the window.
Decide to mount your valance inside or outside of the window frame. Inside-mount valances will give a streamlined look, while outside mount could be ideal for wider windows as they can visually extend the window size.
Nail the valance in place, ensuring it is level. Opt to hire a professional if this task is daunting.
For the blinds, blackout models are recommended. Made from thicker materials, they effectively block light from entering the room. This feature makes them perfect for bedrooms, media rooms, or any space that needs to be kept dark.
Measure your window size carefully before purchasing the blinds. They should cover the entire window for maximum efficiency.
Install the blinds according to the manufacturer's instructions. Again, seek professional help if necessary.
Lastly, ensure that your blinds can move freely beneath the valance. This will allow you to control the amount of light in your room conveniently.
In summary, blackout blinds with a patterned valance combine functionality and style. These blinds effectively block out light, and the patterned valance adds an aesthetic touch. With careful selection and proper installation, they can enhance the look and comfort of any room.
Mini Blinds With Embroidered Valance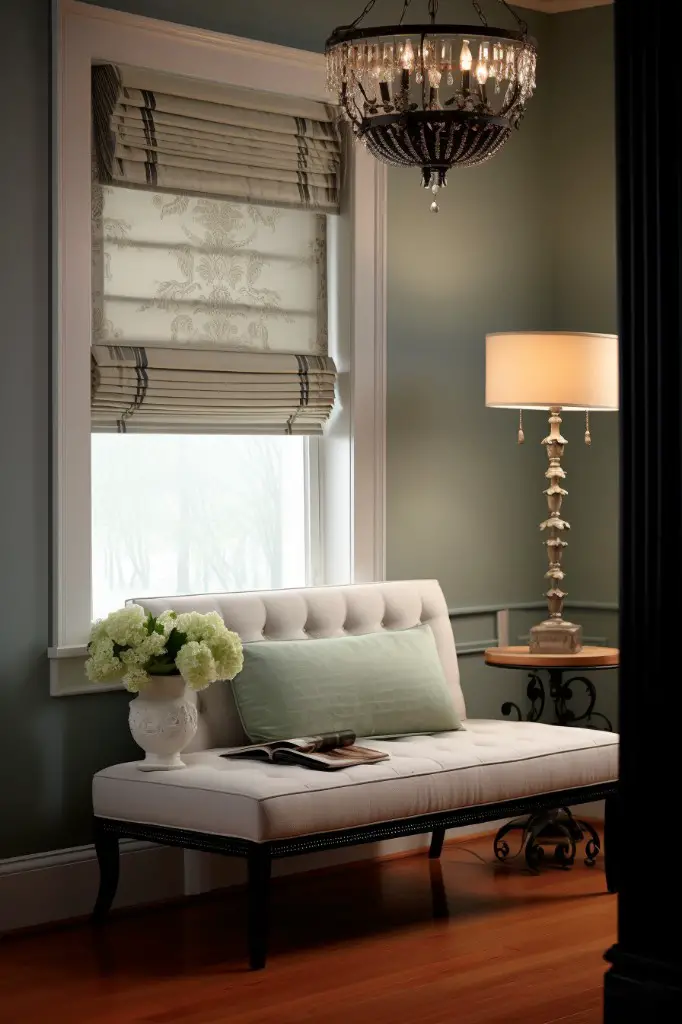 An embroidered valance introduces an aspect of refinement and individuality to mini blinds. While the blinds themselves offer practicality and a sleek, minimalist aesthetic, the addition of embroidery lifts the overall design, making this style quite versatile.
Selecting the right embroidery:
Intricate or Geometric Design: This depends on your interior style. Traditional houses might go for intricate patterns, while modern homes often lean towards simpler geometric designs.
Color: The color of the embroidery should either match or contrast tastefully with the mini blinds. The choice of color can greatly influence the ambience of the room.
Material: Ensure that the embroidery thread is durable and can withstand sunlight without its color fading over time.
Installing Valance:
To fit the embroidered valance, first, measure the width of the blind casing. The valance should be the same width as the outer edges of the blind's casing for it to sit correctly. Secure it in place with the provided clips or brackets, ensuring the embroidered detail faces the room.
Maintenance:
Mini blinds are easy to clean, using a duster or vacuum. For the valance, hand washing is usually recommended due to the delicate embroidery. Always check the cleansing instructions related to the specific fabric of the valance. Reverse it before washing to protect the embroidered section and avoid using harsh chemicals or bleach which can harm the fabric and embroidery. Air dry it and iron on a low setting (inside out) if needed.
Remember, the embroidered valance should enhance the room's decor by adding texture, color, and a visual point of interest to your window dressing.
Metallic Blinds With Sleek Chrome Valance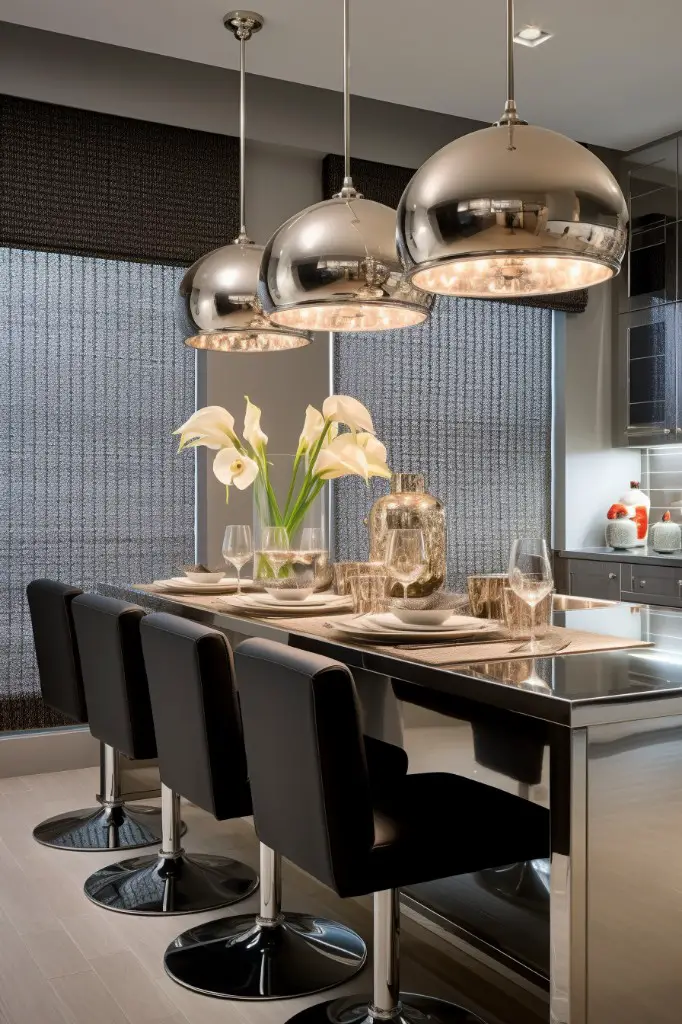 Metallic blinds bring an urban, modern vibe into any room. Their reflective surfaces contribute to enhancing the amount of light in the space, creating a radiant and spacious effect. On the other hand, a sleek chrome valance serves as a contemporary accent, subtly complementing and elevating the overall aesthetic. This combination is particularly beneficial for spaces with a more industrial or minimalist design aesthetic.
Choose suitable measurements: Ensure the width and length of your blinds fit the window. This will ensure maximum functionality and a neat appearance.
Pick a shade: Metallic blinds come in a variety of colors. Choose one that matches the overall color scheme of the room.
Go sleek with chrome valance: A sleek chrome valance adds a touch of sophistication. It can either match or contrast with the shade of the blinds.
Decide on slat size: Depending on your preference for light filtering and privacy, decide on the appropriate slat size.
Professional installation: While DIY is possible, professional installation can assure perfect fit and functionality.
Regular maintenance: Use a soft cloth or a duster to maintain the luster and ensure longevity of the blinds and valance.
Integrating metallic blinds with a sleek chrome valance into your space not only adds to its style quotient, but also maintains practical functionality.
Roman Blinds With Pleated Valance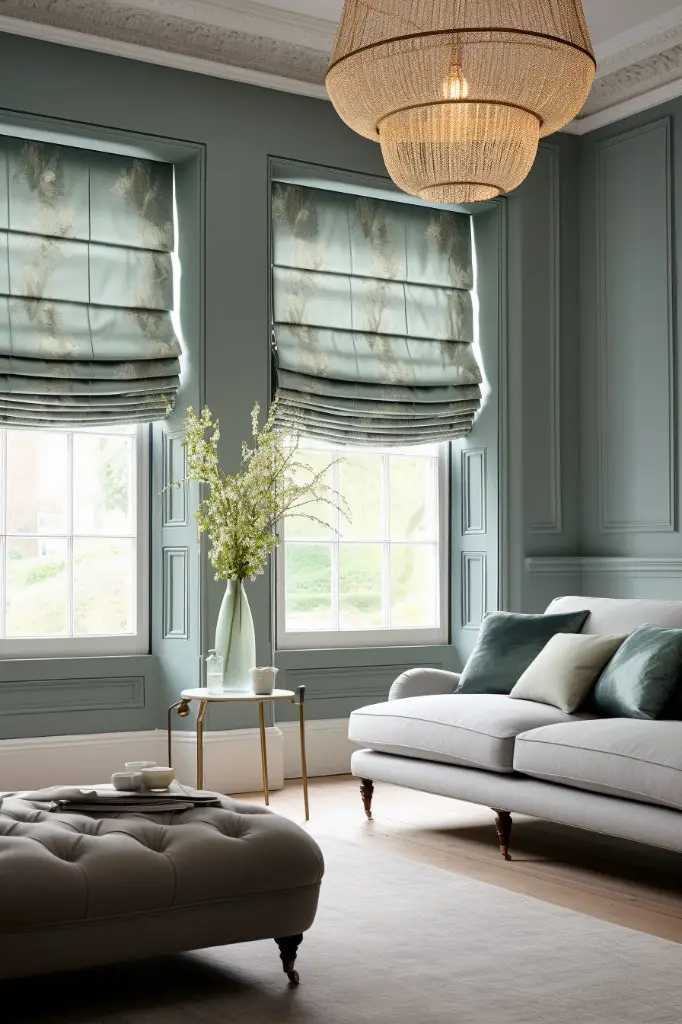 A pleated valance brings a dash of elegance to Roman blinds, adding depth and interest to what already is a stylish window treatment. This option ensures cohesive aesthetics, while offering a functional solution to light control and privacy.
1. Complementing Decor: Pleated valances pair particularly well with Roman blinds, blending seamlessly with various decor styles ranging from traditional to rustic or modern. The trick is to choose fabrics that align with your overall room design.
2. Customizable Width: Pleated valances can be adjusted to cover just the top part of the blind mechanism or extend further to add an element of drama.
3. Enhancing Light Control: The additional layer of a pleated valance can help fine-tune the amount of light entering the room, increasing overall functionality of the window covering.
4. Ease of Installation: While installing a valance might seem complex, it's typically as simple as sliding it onto the headrail of the blind. Some may require a few additional fasteners for security.
5. Maintenance: Regular dusting will keep your pleated valance and Roman blinds looking fresh. If deeper cleaning is required, check manufacturer's instructions to prevent damage to the fabric or mechanism.
6. DIY or Professional Help: For the DIY-inclined, sewing a custom pleated valance and installing it can become a satisfying project. If you prefer an expert's touch, many window treatment specialists offer valance customization and installation services, which can take some of the stress out of the process.
7. Cost: Depending on size and fabric, adding a pleated valance can be a cost-effective way of enhancing the look of your Roman blinds. Whether you choose a ready-made or custom-made valance, it's an investment that pays off in added style and function.
Remember to approach this upgrade with your personal style in mind; choose a pleated valance that not only goes well with the Roman blinds but also coordinates with the rest of your room decor for the most aesthetically pleasing result.
Venetian Blinds With Scalloped Valance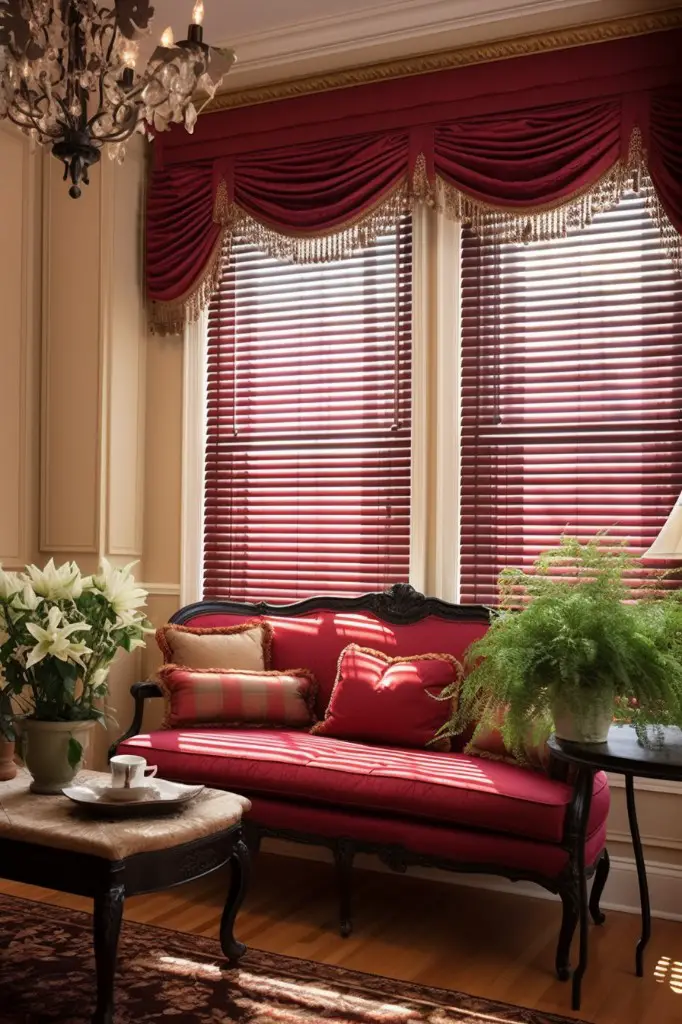 Venetian blinds are a timeless choice that offer ultimate control over light and privacy. Incorporating a scalloped valance adds both style and function. The following ideas highlight how this combination can enhance your space.
Choose material wisely. Consider the room's humidity levels. For instance, faux-wood Venetian blinds work well in damp conditions, while real wood is ideal for drier environments.
Select colors to match your decor. Neutral shades offer versatility. A bold color choice on the other hand, can be a focal point.
Consider the slat size. Larger slats create a contemporary look. Smaller ones feel more traditional.
Home installation. Measure accurately to ensure a good fit. DIY installation can be more economical but a professional ensures perfection.
Functionality. Tilt mechanisms should be simple to use. Ensure cords are reachable and safely away from children's reach.
The scalloped valance creates a finished, polished look. It hides the headrail and mechanisms, providing an added aesthetic beauty to your blinds.
Identify fabric for the valance. Durable, easy-to-clean fabrics are often best. Coordinate shades, considering contrasting or matching colors with the blinds.
Stylize the scallops. Choose the degree of curve to enhance the room.
These tips offer a starter guide to exploring the beauty and function of Venetian blinds with scalloped valance, elevating the look of any room.
Solar Blinds With Geometric Printed Valance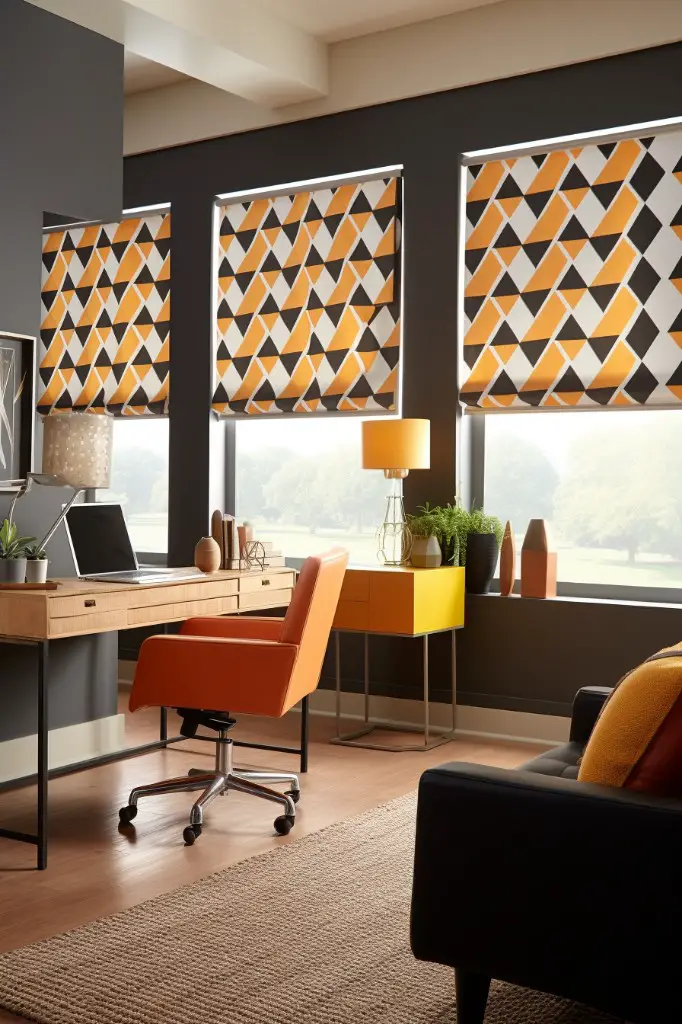 Including a unique, geometric printed valance with your solar blinds can significantly enhance your room's aesthetic.
Optimal light control: Sunlight filtering through the geometric prints offers both interest and functionality. The blinds efficiently regulate natural light, while the valance's geometric design adds a visually pleasing dimension.
Temperature regulation: Solar blinds with this addition effectively maintain indoor temperatures by providing an additional, stylish layer of insulation.
Personalized design choice: Geometric prints vary from minimalistic styles to intricate designs, providing a range of options for unique interiors.
Versatility: This combination suits diverse room aesthetics to modern, eclectic to traditional. Choose prints matching your room's color scheme for added harmony.
Easy Installation: Solar blinds with valance often come as a ready-to-install unit. Simply follow the manufacturer's guide to secure it to your window frame.
Maintenance: Cleaning should be straightforward with the right tools—a soft cloth or a vacuum cleaner with a brush attachment for the blinds, and a mild detergent for the valance fabric.
Before starting any installation or cleaning operation, always refer to the manufacturer's detailed instructions.
Cellular Blinds With Ruffled Valance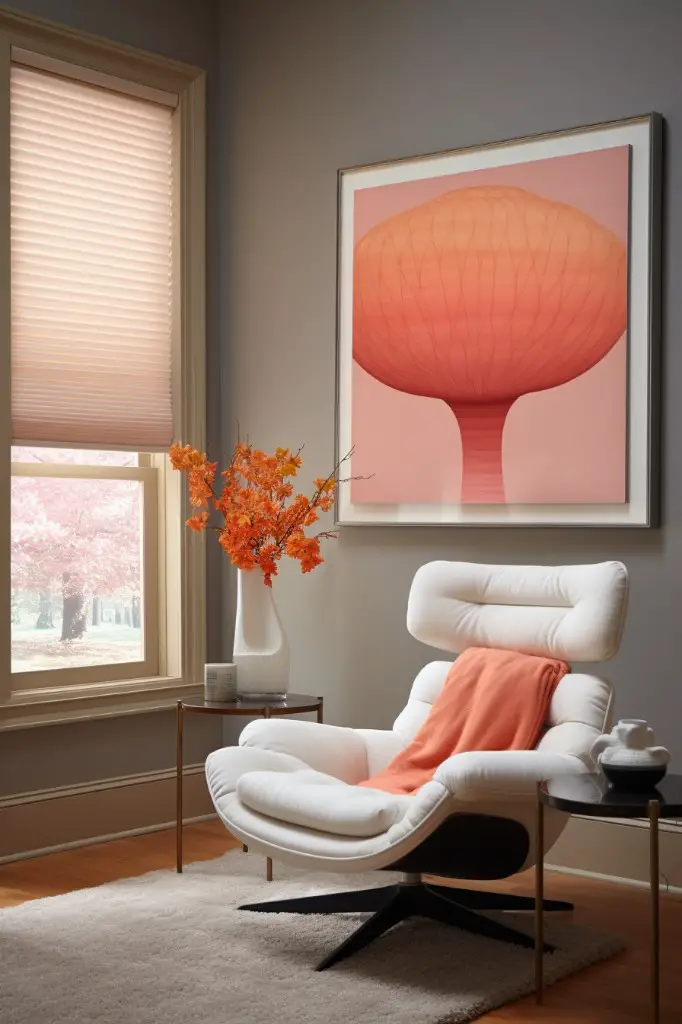 Touted for their energy efficiency, cellular blinds effectively regulate room temperature by trapping air in their unique honeycomb structure. Complementing them with a ruffled valance provides an elegant finish and a softening touch to the structured lines of the blinds.
Here are some key insights into this style and possible actions to implement:
The ruffled valance serves as a stylistic transition from the blinds to the room. It can be created by gathering fabric at regular intervals to achieve a voluminous, ruffled effect.
The color choice for the valance can make a difference. Traditional white complements any room, but bold colors can add a statement.
Opt for a semi-transparent material for the valance to allow soft light filtration when the blinds are pulled up.
Carefully measure the window frame for a tailored fit. The valance should be wide and long enough to cover the top of the blinds.
Secure the valance on the mounting bracket of the blinds. It can either be sewn, stapled, or glued, depending on the chosen fabric and personal preference.
Maintain the look by lightly dusting the blinds and valance regularly. If the fabric permits, the valance can be washed, otherwise dry-cleaning may be necessary.
Plantation Blinds With a Natural Jute Valance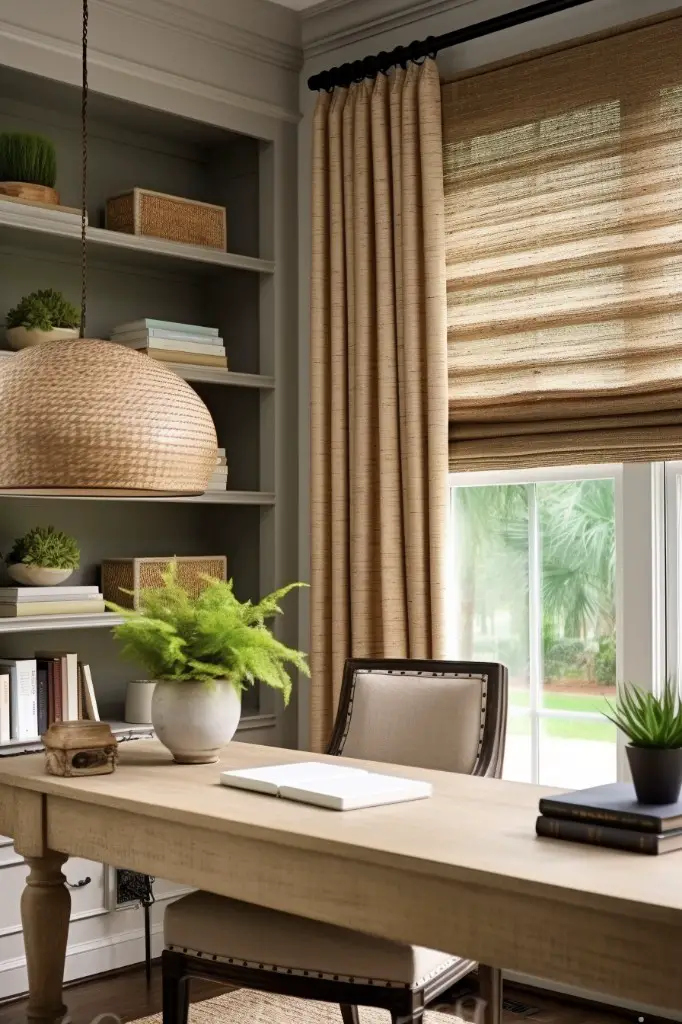 Adopting a stylish yet eco-friendly touch, Plantation blinds paired with a natural jute valance offer a unique blend of aesthetic appeal and functionality. Known for their wide, angled slats and ease of operation, Plantation blinds provide optimal light control and privacy.
A natural jute valance adds a rustic element to the blinds. Its earthy tones and rough texture play off beautifully against the smooth finish of the blinds. Apart from enhancing the overall appearance, this choice of material is highly durable and relatively easy to maintain, providing practical value.
Key aspects to consider when opting for this style include:
Ensure the blinds and valance suit the overall décor of your space. An overly modern room may clash with the rustic feel of jute.
Opt for high-quality jute material for the valance to withstand continuous exposure to sunlight.
Customize the width of the plantation blind slats according to the desired level of light infiltration and privacy.
While installing, ensure the jute valance is securely fixed to prevent fraying or loosening over time.
Regularly dust the blinds and lightly brush the jute valance to maintain a clean, fresh look.
Lastly, hiring a professional for installation is advisable to ensure correct fitting and alignment of the blinds with the valance.
Vinyl Blinds With Striped Fabric Valance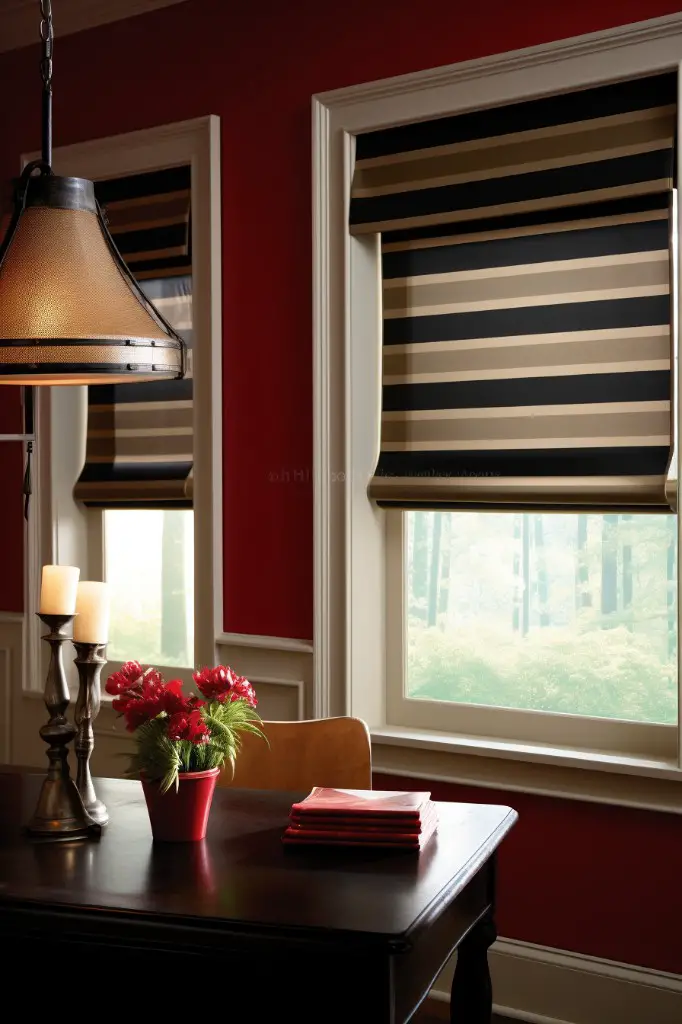 Vinyl blinds are highly popular due to their durability, cost-effectiveness, and low maintenance. They are available in an array of colors, giving homeowners the chance to match them with room aesthetics perfectly. Pairing these with a striped fabric valance adds a great design variation while contributing to the overall window appeal.
Opting for a valance in a bold striped fabric injects a dash of character and visual interest. Stripes are versatile; they can harmonize with many design elements, whether your room decor is modern or traditional.
Key Components: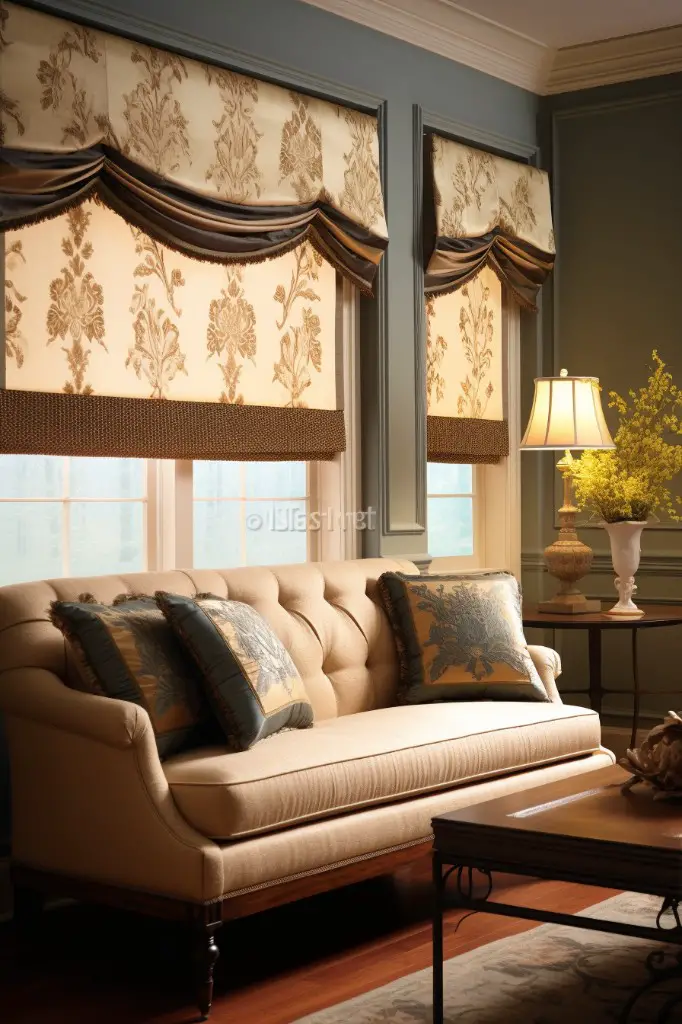 Choosing the right vinyl blind: Select blinds that complement the interior. Opt for slats that are easy to clean and maintain.
Valance Design: The striped patterns can be either horizontal or vertical. Select the stripe width and color variations based on room decor and personal preferences.
Valance Fabric: Opt for durable fabrics that can withstand dust and sunlight without fading.
Installation: Ensure the valance is correctly installed at the top of the window for an elegant look.
Enhancements for Optimal Look: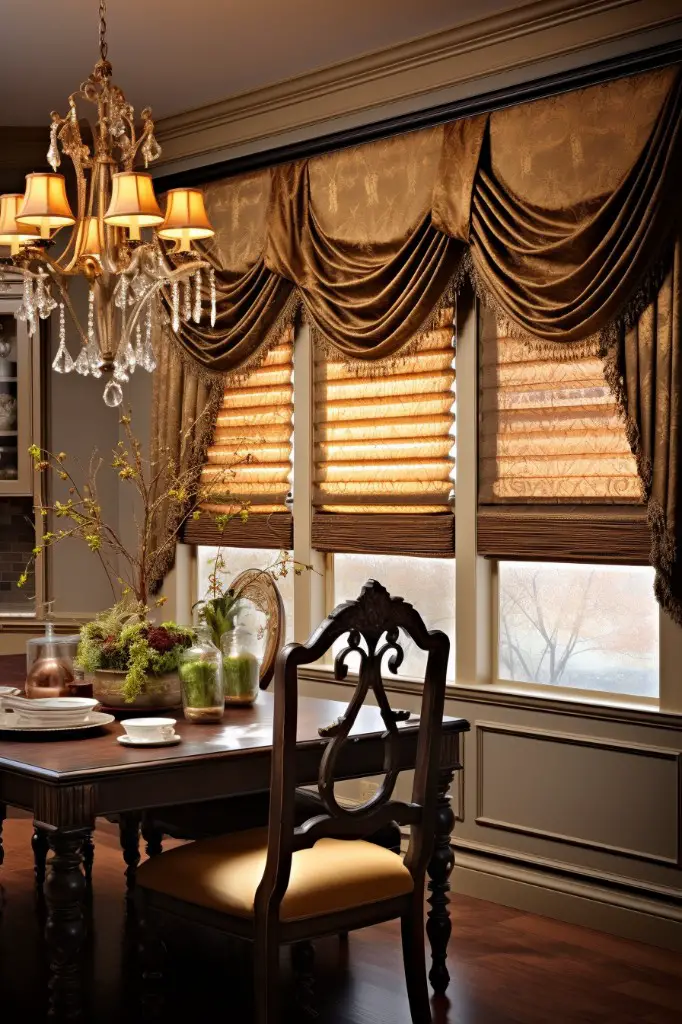 Layering: For added depth, consider layering the striped valance over a sheer curtain.
Mix and match: Don't hesitate to mix and match different stripe colors to complement room color schemes.
Lightning: Adjust room lighting to highlight the beautiful contrast of the vinyl blinds and striped valance.
Professional help: When in doubt, lean on the expertise of a professional decorator for perfect alignment and installation.
Micro Blinds With a Lace Edged Valance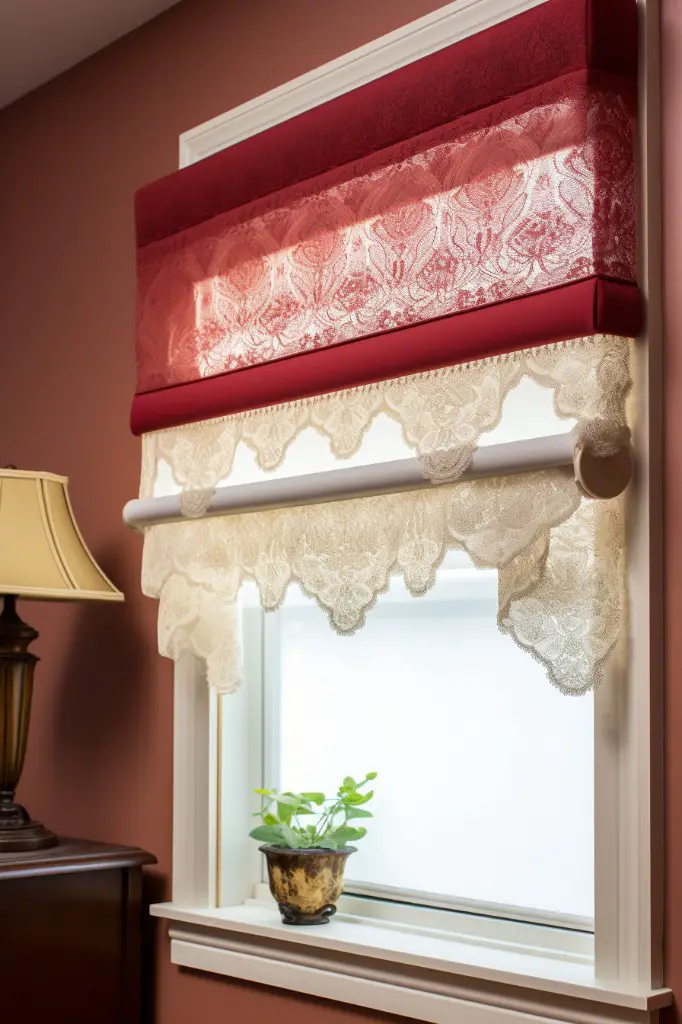 Opting for micro blinds instills a sleek, modern appeal due to their thinner slats. Combined with a lace-edged valance, an elegant and delicate flair is introduced that ensures your window dressing isn't just functional, but aesthetically pleasing as well.
Some key aspects to bear in mind when considering this option include:
Understanding micro blind dimensions: These blinds typically feature slats that are only half an inch wide. So, they work best on smaller windows or when minimalistic visual impact is desired.
Material options: Micro blinds are available in several finishes such as vinyl, aluminum, or faux wood. The choice largely depends on the desired look and budget.
Lace-edged valance installation: Though it can be created from any type of fabric, using a sheer, lightweight material like cotton or silk is recommended for lace. The lace-edging can be customized to your taste, with options ranging from intricate floral designs to simple geometric patterns.
Operating options: These blinds are usually operated via cords, but can be upgraded to cordless or motorized versions for ease of use and increased child safety.
Maintenance: Both elements are easy to clean. Micro blinds can be dusted or wiped with a damp cloth, while the lace valance can generally be machine washed and air dried.
The enticing blend of micro blinds with a lace-edged valance creates a window treatment solution that's both stunning and adaptable to many decor styles. It's a promising venture for those looking to combine modernity and elegance in their window styling.
Panel Track Blinds With a Layered Valance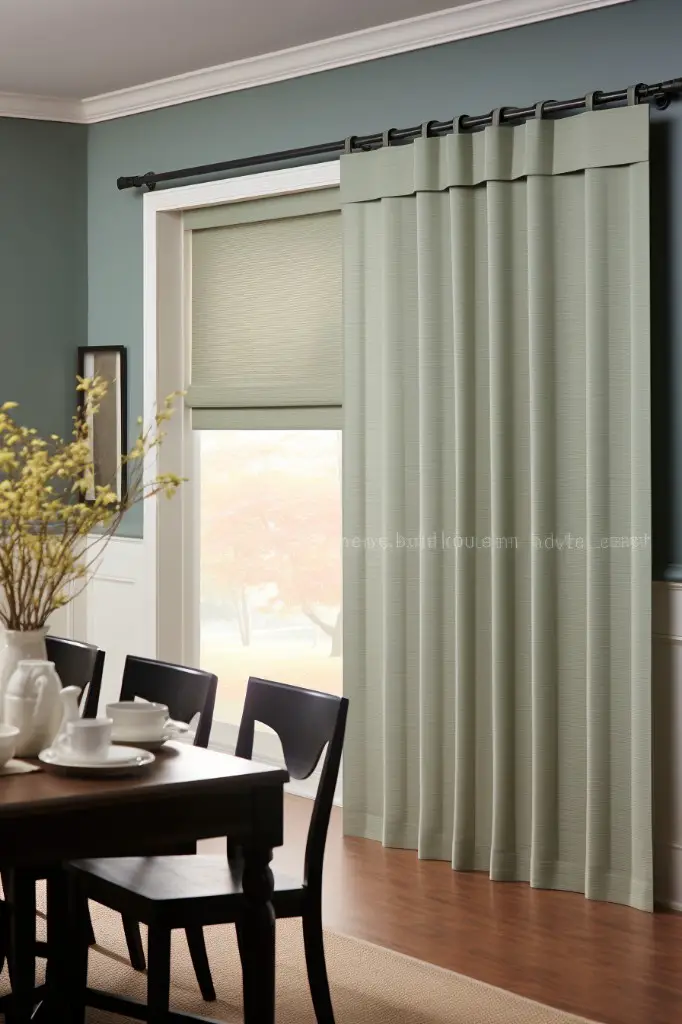 Panel track blinds offer a contemporary look and are often chosen for larger windows or patio doors. Opting for a layered valance with these blinds can lend an extra dimension to the overall aesthetic.
Here are a few key ideas to understand:
Layered valance design essentially involves two or more layers of fabric or material. This adds depth and accentuates the window.
Selection of the fabric or material used for the layers can significantly alter the atmosphere of the room. Pairing delicate sheers with thick, blackout fabric can allow for light control and versatility.
Choosing varied shades of the same color for the valance layers can give a harmonious appeal.
Alternatively, bold contrasting colors can create a statement look.
Design complexity can range from simple layered flat valances to intricate designs with ruffles, pleats, or gathers.
DIY layering of valance involves taking measurements, selecting fabrics, cutting the fabric to size, sewing the layers together, and attaching it to the track.
Pre-fabricated layered valances are available for less DIY inclined or time-constrained individuals.
Professional installation may be necessary for proper alignment and even layer distribution.
Routine maintenance might involve surface cleaning, vacuuming or washing, depending on the fabric or materials used.
Remember, every choice made should be guided by personal aesthetic preference, light control needs, and overall room design.
Privacy Blinds With a Metallic Finish Valance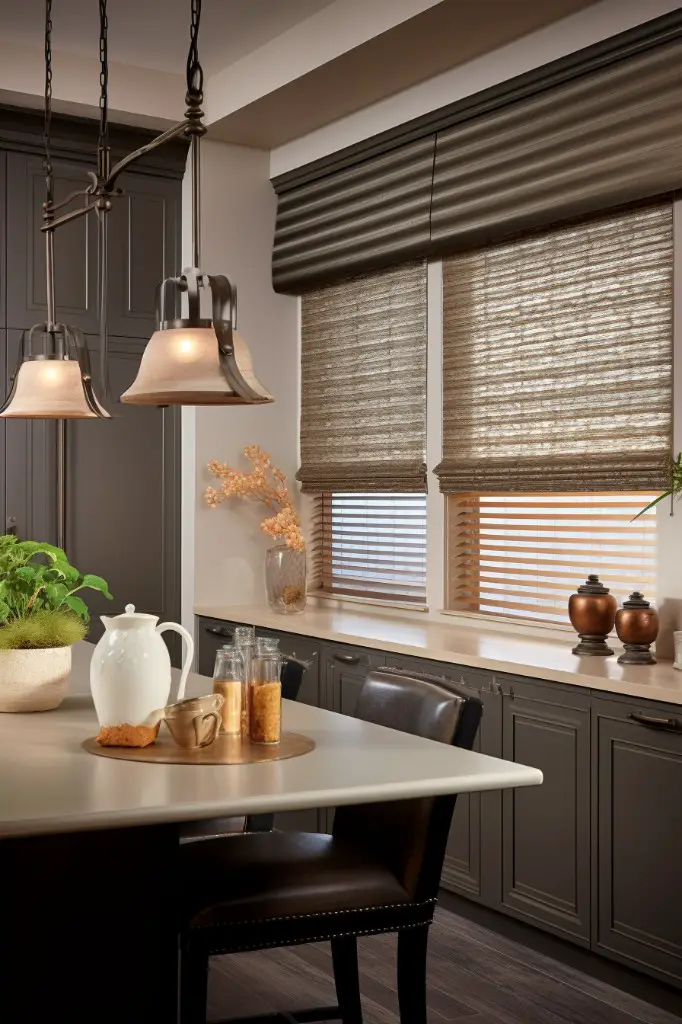 Privacy blinds are an excellent choice for those craving seclusion and tranquility. Designed to block visibility, they ensure maximum privacy while letting in ample light. Opting for a metallic finish valance can add an element of modern sophistication to this setup.
The metallic finish creates a sleek, contemporary look. Its reflective quality can also serve to amplify light within the room, adding a brightening effect.
Tailoring the valance to the precise width of the window provides a seamless and polished aesthetic.
Smart positioning can enhance the impact. Try setting it high above the window to create the illusion of extra height. This is particularly effective in rooms with low ceilings.
The selection of hardware is pivotal in the overall appearance. Choose brackets, rods, and rings in corresponding metallic tones to tie in with the valance and bring unity to the look.
A quick tip to maintain the sophisticated appeal is to clean regularly. Dust and grime can dull the metallic finish over time, so a light weekly dusting will keep it shining brightly.
Remember, the overall goal is not just to attain privacy but to do so with elegance and sophistication. Using the correct materials and implementation methods can make the metallic finish valance a statement piece in your decor.
Sheer Blinds With Floral Fabric Valance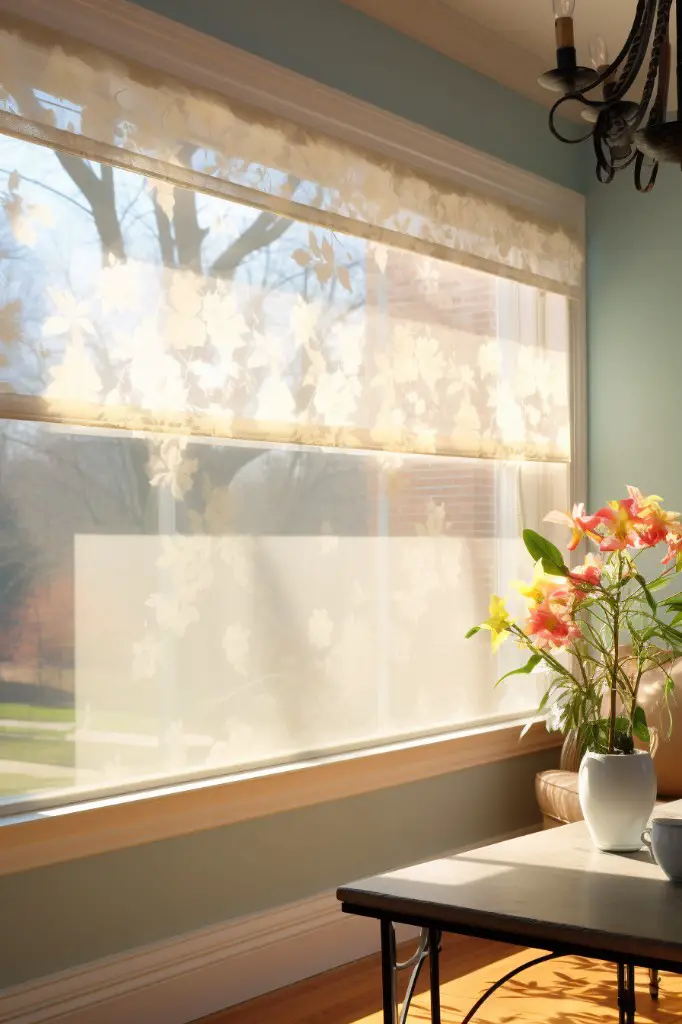 Sheer blinds, renowned for their soft lighting effect, pair remarkably well with a floral fabric valance. The semi-transparent nature of these blinds offers a gentle layer of privacy while still allowing natural light to permeate the room.
Consider a valance featuring floral prints, which can bring a touch of nature indoors. It can introduce vibrant colors and intriguing patterns, complementing a variety of interior styles from farmhouse chic to modern bohemian.
Choosing the floral fabric:
Have a color scheme in mind. Your valance's hues should tie in with your room's existing palette.
Opt for weather-resistant fabric if the window receives direct sunlight to prevent color fading.
If trying to achieve a vintage look, go for fabric with large, classic flowers such as roses.
For a subtler aesthetic, consider small, delicate floral designs.
Installing the valance:
Measure window width correctly for a well-fitting valance.
Decide on the valance depth – a large window may benefit from a deeper valance.
Use stout rods or tracks to bear the valance weight.
Ensure the valance doesn't interfere with the blind operation.
Maintaining the valance:
Regularly dusting or vacuuming will keep the fabric looking fresh.
If the fabric is machine washable, take it down periodically for a thorough clean. If not, consider hiring professional cleaners.
By choosing sheer blinds with a floral fabric valance, you effortlessly combine functionality with aesthetics, creating a captivating focal point in your room.
Dual Sheer Blinds With Jacquard Valance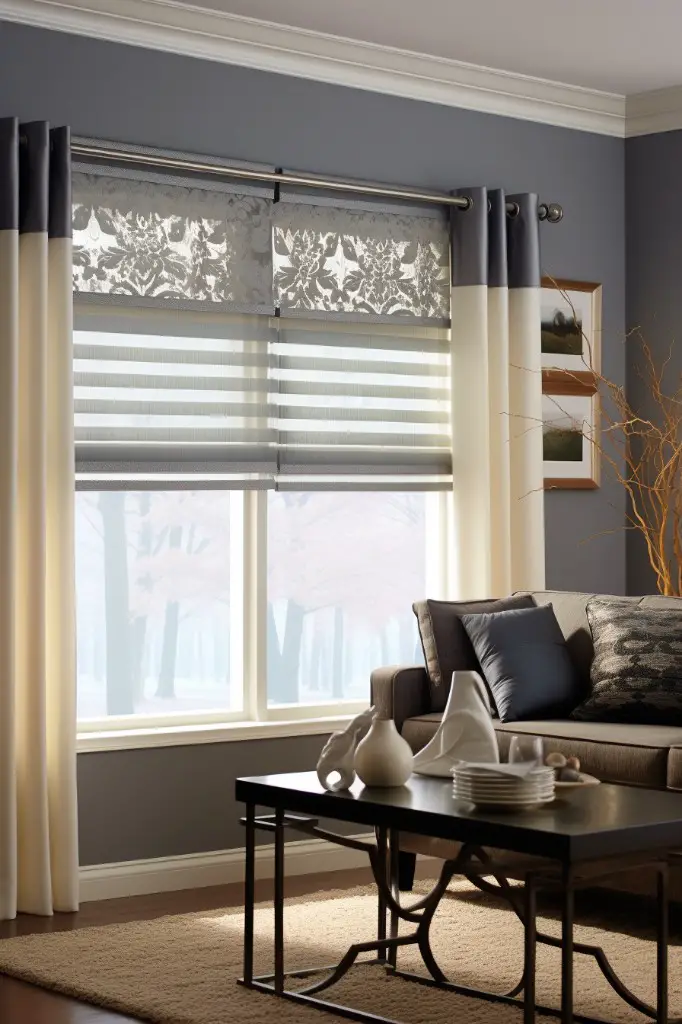 Expanding your decorating options, the dual sheer blinds combine two parallel fabric extents which create a veil-like effect. They offer a perfect blend of light control and privacy. The fabric's light diffusing characteristics enhance ambient indoor aesthetics, softly filtering daylight to create a cozy and comfortable ambiance.
On the other hand, a jacquard valance presents an impeccable finish above the blinds. Jacquard, known for its intricate patterns woven directly into the material, makes for a classy and plush selection. Using a jacquard valance can bring a sense of elegance and sophistication to the room.
Installation is a straightforward process. First, measure the window accurately to ensure the blinds and the valance fit perfectly. Next, install the brackets on the window frame or the wall above it. Then attach the dual sheer blinds, ensuring they hang down evenly and operate smoothly. Finally, secure the jacquard valance above the blinds.
The versatility of this combination adds a layer of complexity and depth to your décor, creating a visually appealing focal point in the room. To personalize further, consider adding decorative ends to the pull cord of the blinds.
To keep the blinds and valance in top shape, maintain a regular cleaning routine. Wipe the blinds using a duster and clean the valance gently with a cloth or vacuum it using the upholstery attachment.
This combination provides an unrivaled aesthetic look, making your windows the stars of your domestic décor sphere.
Light Filtering Blinds With Velvet Valance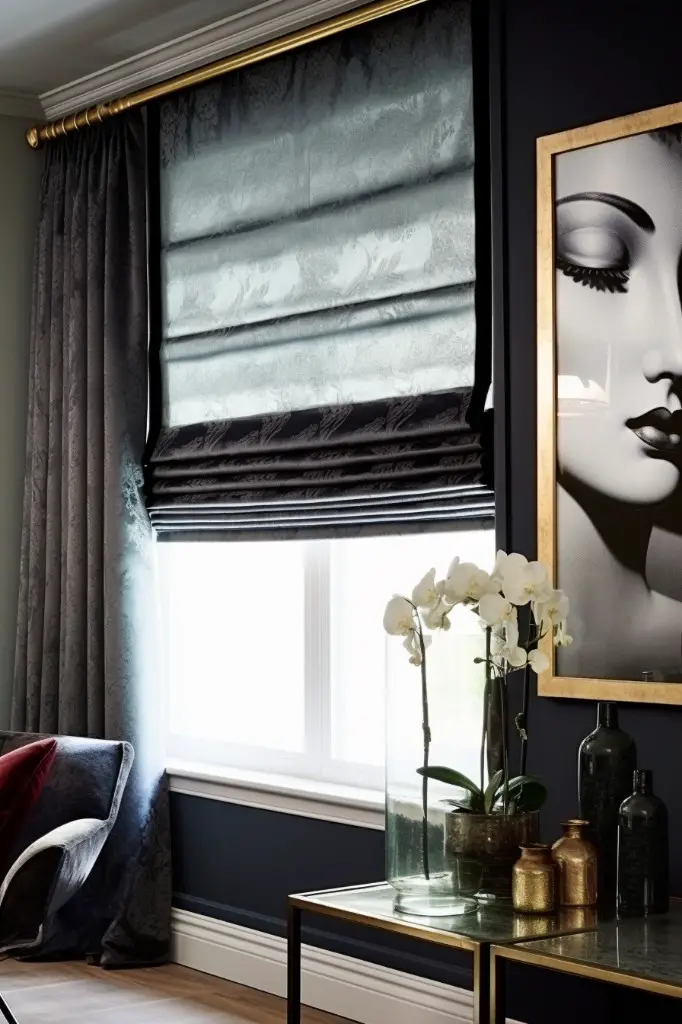 Velvet valance adds an elegance and richness to light filtering blinds, transforming your space into a stylish sanctuary. The luxe texture and sheen of velvet deliver a striking contrast to the light, airy fabric of blinds, creating a dramatic yet tasteful focal point in any room.
Here's how you can incorporate this trend:
Choose a velvet valance that complements your existing room decor. It could be a deep jewel tone for a traditional room, or a blush, teal, or grey shade for a more contemporary vibe.
Ensure the length of the valance neatly frames the top of your blind, offering a clean look without obstructing the function of the blinds.
Consider pairing the velvet valance with light filtering blinds in either warm, neutral tones for a cozy ambiance or light, bright tones to accentuate the natural sunlight streaming into the room.
To maintain this look, regular dusting of both the blinds and valance is required. Velvet material may require gentle cleaning with a soft cloth to preserve its plush texture and lustrous sheen.
For a seamless look, install the valance on the same hardware as the blind. This ensures that the pairing appears intentional and integrated, rather than as separate additions to your window.
While day-to-day operation of the light filtering blinds will remain the same, the impact on your room's aesthetic will be vastly improved, making this a low-effort, high-reward decor decision.
Integrating a velvet valance with light filtering blinds provides a gorgeous balance of style and functionality, effortlessly unifying the room's design while preserving the purpose of light control.
Motorized Blinds With a Digitally Printed Valance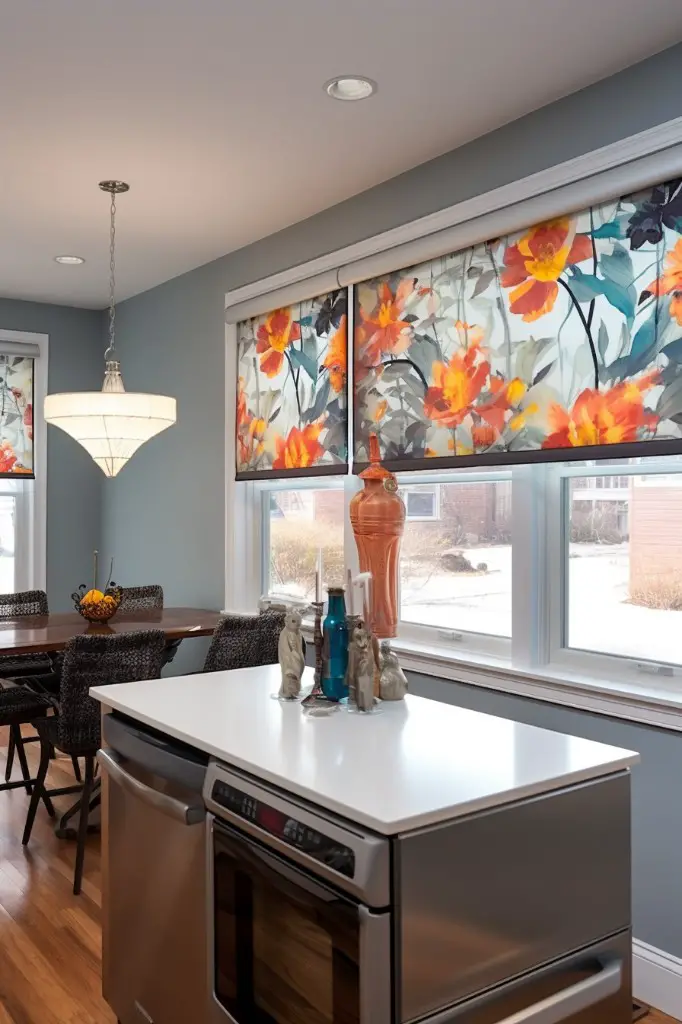 Motorized blinds offer a seamless blend of technology and design aesthetic, meeting both functionality and fashion requests. The digitally printed valance adds a highly customizable element, able to accommodate virtually any personal aesthetic or decor requirement.
Choosing this combination has its distinctive benefits:
Simplicity and convenience offered by at-the-touch button operation becomes a key asset, especially in hard-to-reach windows.
Predetermined schedules allow automatic adjustments throughout the day, maximizing energy efficiency and sunlight control.
The high customizability of digital prints on the valance provides a perfect opportunity to incorporate personal style or thematic elements into the room's decor.
The strong visual impact can be used to accentuate room features or as a statement piece in itself.
Digital print technology ensures durability and accurate color reproduction on the valance, contributing to a high-quality overall appearance.
Installing motorized blinds with a digitally printed valance involves several key steps:
Measurements for both the blinds and valance need to be precise to ensure proper fit.
The choice of digital print on the valance should be harmonious with existing decor.
Professionals recommend installation for motorized blinds due to the complexity of the mechanism.
Remember, care for this combination is minimal but requires attention. Regular light dusting for both blinds and valance is enough, with occasional gentle cleaning for the valance to maintain the vibrancy of the digital print.
Related Stories