Explore the diverse and inventive world of faux roman shades, a versatile window treatment that can transform any room into an oasis of style and comfort.
Faux Roman shades are a brilliant solution for those seeking the elegant look of traditional Roman shades without the complexity of cords and pulleys. This article delves into a variety of faux Roman shade ideas to enhance your home's aesthetic appeal.
From simple and chic designs to more intricate and bold patterns, these ideas will inspire you to transform your windows into stunning focal points.
Read on to discover how faux Roman shades can offer the perfect blend of functionality and style, with a detailed guide on different ideas and how to implement them.
What's Inside
Striped Linen Faux Roman Shade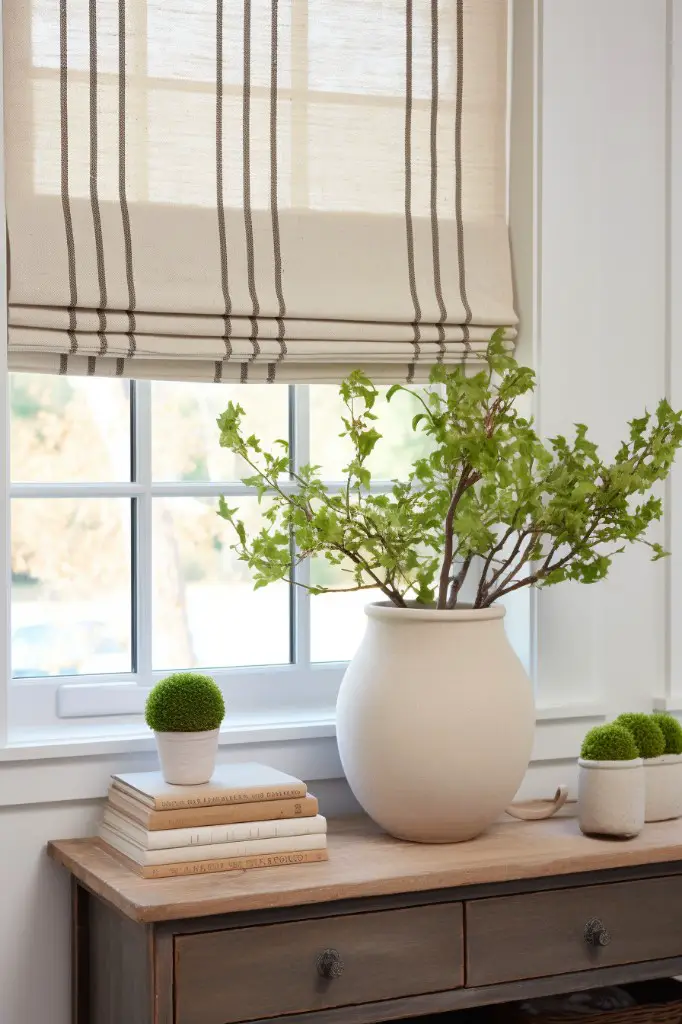 Selecting striped linen as your fabric choice can introduce a fresh, airy feel to any room. The vertical or horizontal lines, depending on your preference, can add a sense of dimension to your space. Furthermore, linen has the advantage of being a highly durable material which makes the shade long-lasting.
Consider the orientation of the stripes; horizontal stripes can make a window appear wider, while vertical stripes can give the illusion of height. Choose colors that complement your existing decor; muted colors offer subtlety whereas bold colors create an accent point.
Creating a faux Roman shade with striped linen involves cutting the linen to fit your window, ensuring enough material is left for seams, and to create the faux folds. Edge the fabric with a suitable adhesive hemming tape, then attach hook and loop fastener to the top of your shade and the corresponding part to your window or rod. Fabric glue can be used to create the appearance of folds.
Lastly, experiment with different stripe widths and colors until you find one that meets your aesthetic. With striped linen, customization is king.
Floral Fabric Faux Roman Shade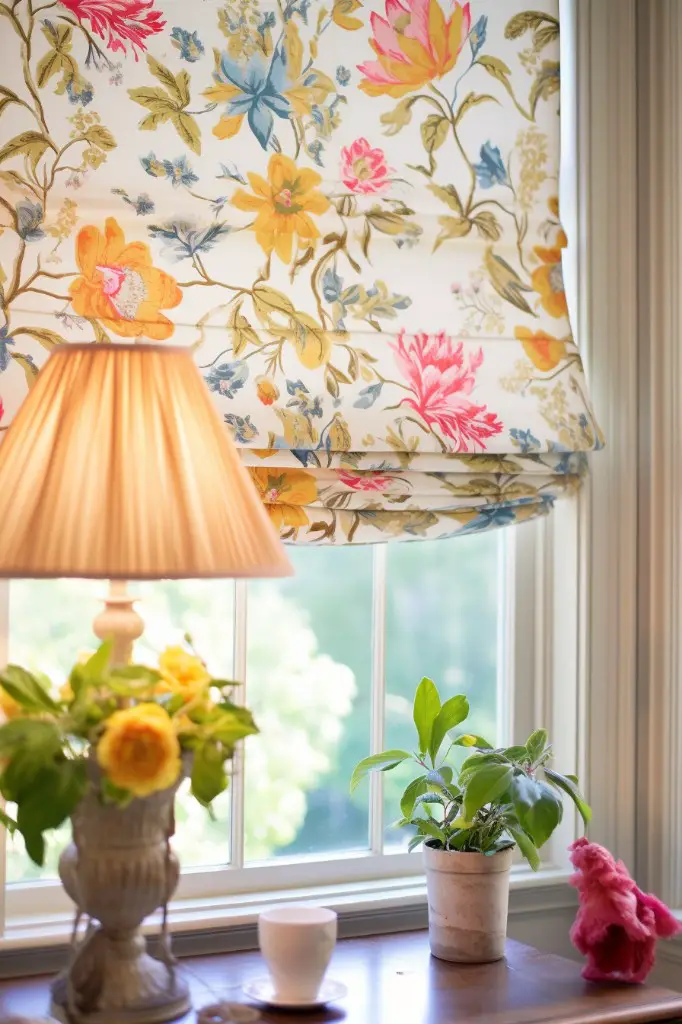 Creating a floral fabric faux Roman shade can revolutionize the aesthetic feel of your room, imbuing it with an air of elegance and charm.
Opt for bold, large prints to create a statement piece that stands out, or smaller, more delicate flowers for a subtler effect. The variety of colors in a floral print helps bring life to your room's color scheme and tie disparate elements together.
Certain materials complement floral designs better than others. Consider cotton, silk, or linen; all are great choices that add unique textures to your window dressing.
Select hardware that complements your chosen fabric. Whether it be brass, nickel or wooden, ensure it harmonizes with the overall look.
After choosing the fabric and the hardware, follow these key steps:
Measure your window accurately, making allowances for the folds of the shade.
Cut out the fabric according to these measurements.
Hem the edges of the fabric.
Create the faux fold lines or "ribs" by sewing or gluing evenly placed horizontal lines.
Attaching the fabric to the hardware, usually a mounting board or pole.
Install your customized floral faux Roman shade at the window.
With these points, creating a floral faux Roman shade turns into an easy, doable home project, giving your windows a personal, exquisite touch.
Plaid Faux Roman Shade for a Rustic Touch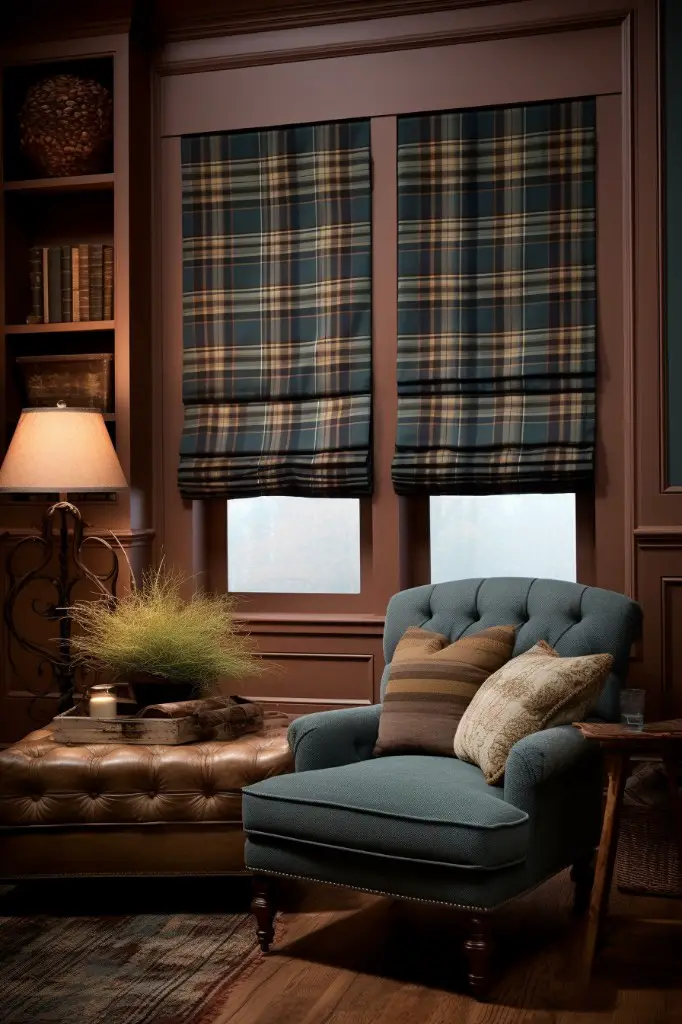 Creating a plaid faux Roman shade can cultivate a cozy and inviting environment. This style emanates a rustic charm that complements homes with a traditional or country aesthetic.
The warmth of the plaid pattern brings an earthy, homely feeling. Using materials in hues of red, brown, or navy can amplify this, creating an aesthetically pleasing, nostalgic allure.
Making your own plaid faux Roman shade involves a few key steps.
Choose Fabric: Ensure it complements the room's color scheme.
Measure Window: Custom-fit shades offer a seamless appearance.
Cut Fabric: Add extra inches for hems and folds.
Hem Edges: Use fabric glue or sewing machine for a clean finish.
Create Folds: Decide on the number of folds and evenly space.
Add Rods: Insert in-between the folds for the faux Roman shade effect.
Attach Shade: Use brackets or a curtain rod to install.
While the process may seem complex, every step helps towards achieving a personalized, well-designed faux Roman shade that provides rustic charm to your home.
Neutral-hued Faux Roman Shade for a Minimalist Look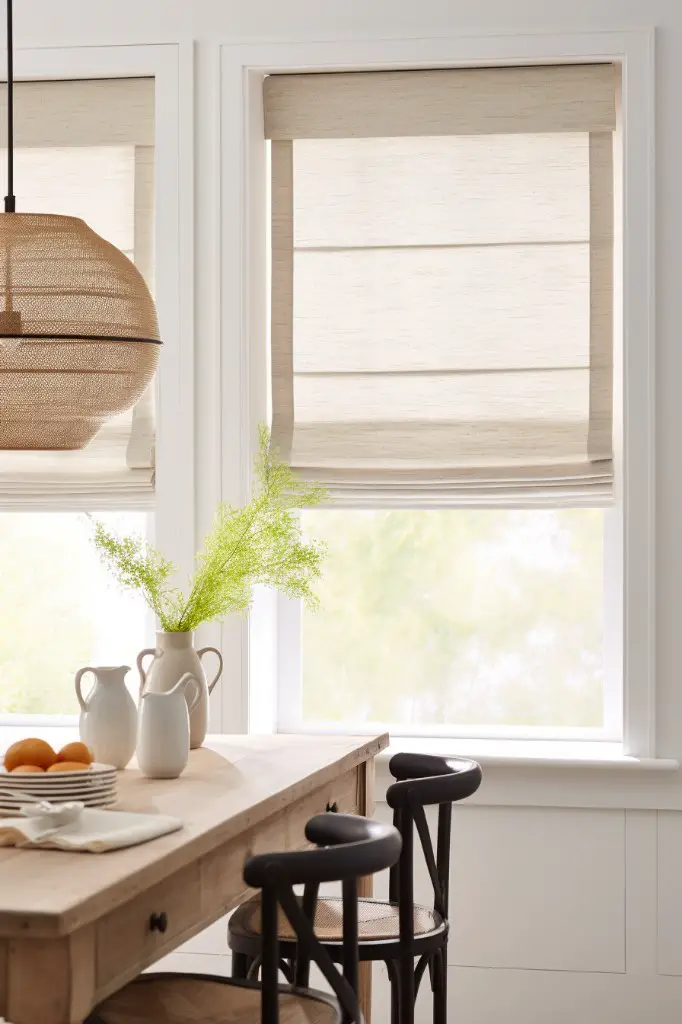 Neutral-hued faux Roman shades offer a clean, uncluttered appearance perfect for maintaining a minimalist aesthetic. These shades typically feature understated shades like white, grey, beige or taupe. This makes them the ideal choice for those who prioritize simplicity and functionality over ornate designs and vibrant colors.
Choose lightweight fabrics such as linen or cotton to allow enough natural light in while still providing privacy. The material selection is crucial for achieving the desired sleek, minimalist look.
To install a neutral-hued faux Roman shade, consider the following key steps:
Measure the window accurately. It's important to take precise measurements of the window's width and height to ensure the shade fits perfectly.
Choose the right fabric. It should align with the minimalist theme while providing the necessary light filtering and privacy features.
Secure the fabric to the window frame. This can be done using hooks, curtain rods, or even tension rods for convenience.
Regularly dust and clean the shade. This will keep it looking fresh and bright, enhancing its minimalist appeal.
Remember, the goal is to create a calm, serene environment. A neutral-hued faux Roman shade is an excellent way to incorporate minimalism into your window treatments.
Bright-coloured Faux Roman Shade for a Pop of Colour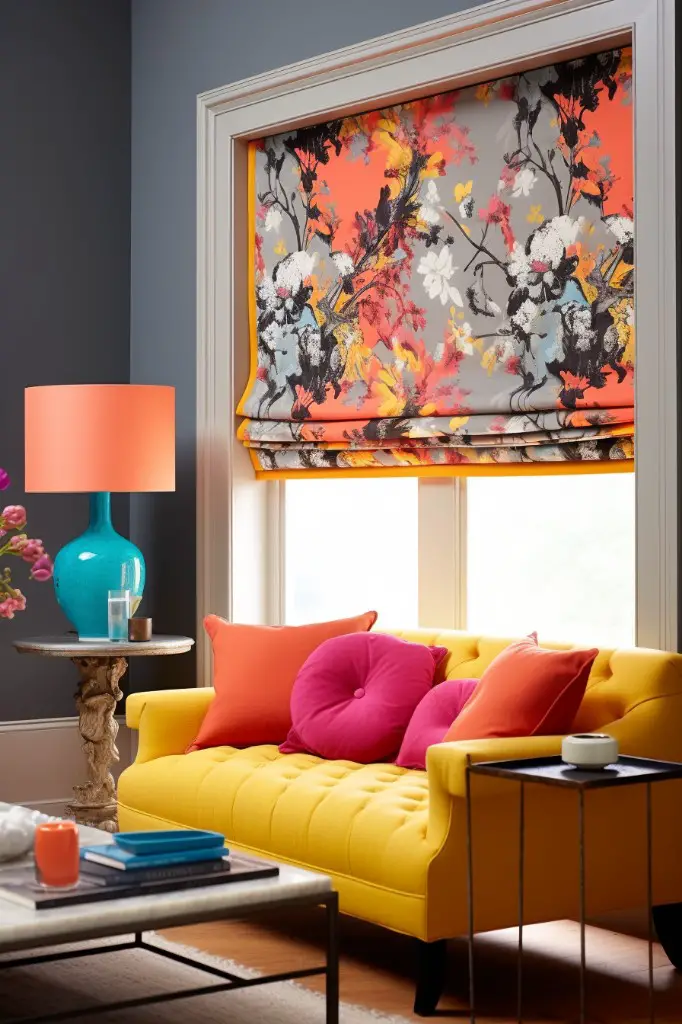 Using bold hues for a faux Roman shade can instantly transform a room from dull to vibrant. The flexible nature of this window treatment allows an array of colours, from fiery reds and deep blues to sunny yellows and emerald greens.
Pick the ideal shade: The colour selection should adhere to the room's overall aesthetic. Warm tones create a cosy feel, while cool shades enlarge a small space.
Fabric selection: Opt for a fabric that holds its structure well to maintain the crisp folds. Examples include cotton, linen, and blended synthetic fabrics.
Light control and privacy: Remember to choose a fabric thickness that best suits your light control and privacy needs. Brighter materials often tend to be less opaque.
Consider room use: Bright-coloured shades thrive in spaces meant for relaxation and creativity, such as children's rooms and craft spaces.
Complementary adornments: Having a vivid shade doesn't mean disregarding other decor. Consider matching throws, cushions, or rugs for a cohesive look.
Professional or DIY: Depending upon your comfort and budget, you can either hire a professional or take on the project yourself. Plenty of online tutorials are available for guidance.
The inclusion of a bright-coloured faux Roman shade serves as an impressive visual element that provides a balance between practicality and design aesthetics.
Geometric Print Faux Roman Shade for a Modern Feel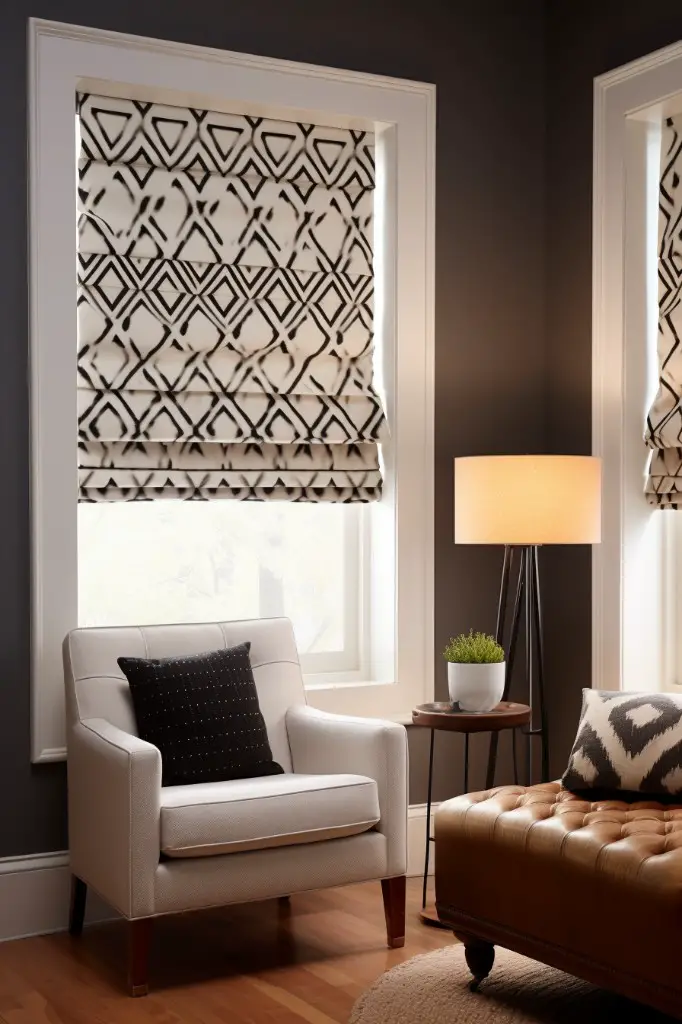 Geometric prints are a trendy choice. Not only do they break the monotony of solid colours, but they also offer a sleek, modern touch to your decor. When choosing geometric designs for faux Roman shades, consider matching it with the existing interior, or make it a focal point of your room. With their straight lines and symmetrical patterns, these prints add an intriguing visual structure.
Embrace contrasts. Use darker geometric print on a light-coloured wall or vice versa.
Consider size and spacing of patterns. Larger patterns with more space in between can make a room look bigger, while smaller, denser patterns can make it look cosy.
Evaluate your privacy needs. If you want more sunlight, pick a print on a lighter fabric. For privacy, go with a darker, thicker fabric.
Match it to other elements. If you have geometric elements in your room, like a rug or furniture, match your shade to those for a cohesive look. But be careful not to overdo it as it could lead to a visually overwhelming space.
Opt for easy installation. Most faux Roman shades come with installation equipment and instructions. It's an easy DIY project that can refresh your interiors in a snap.
Blend it with other window treatments. Geometric faux Roman shade can be paired with sheer curtains for a layered look.
Maintain properly. Regular dusting and occasional dry cleaning will keep your geometric print faux Roman shade looking fresh and elegant.
Bear energy efficiency in mind. Some faux Roman shades can act as insulators reducing your energy costs.
Remember that it's all about personal choice. The key is to pick a design you love and adds comfort and functionality to your space. Being current with trends is just a bonus.
Faux Roman Shade With Decorative Tassels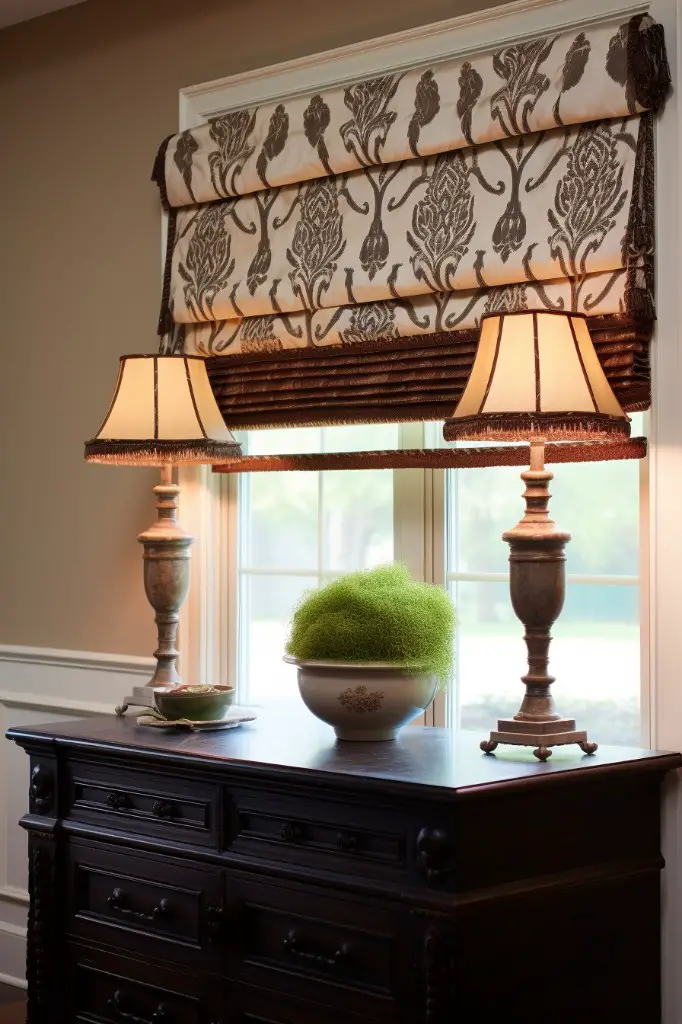 Once selection of a suitable fabric and tassel type is made, it's time to focus on the shade assembly. An easy way to affix the tassels is by either sewing or gluing them to the hem of the fabric.
Before committing fully, it's a good idea to hang the fabric temporarily and position the tassels to ensure the aesthetics work – remember, they not only add a decorative element, but also provide weight to help the shade hang well.
For a uniform look, the tassels should be evenly spaced; a regular pattern creates a sense of harmony. For a bolder statement, larger or more ornate tassels can be used. Alternatively, more delicate tassels may be incorporated for a subtle effect.
To achieve a cozy and informal ambiance, consider tassels in warm tones, or for a cool and relaxed feel, opt for tassels in blues and greens. For a more traditional or elegant look, gold or silver tassels may be the right choice.
Keep in mind that faux Roman shades with decorative tassels work best in rooms featuring complementary decor styles. The tassel design, colour, and pattern should harmonize with the overall theme of the room. Proper care should also be taken to keep the tassels dust-free and pristine – a simple wipe with a damp cloth can prove effective.
Finally, always remember to use tassels that are safe and not hazardous, especially if there are young children or pets in the house, as they may tend to pull on them.
Nautical-themed Faux Roman Shade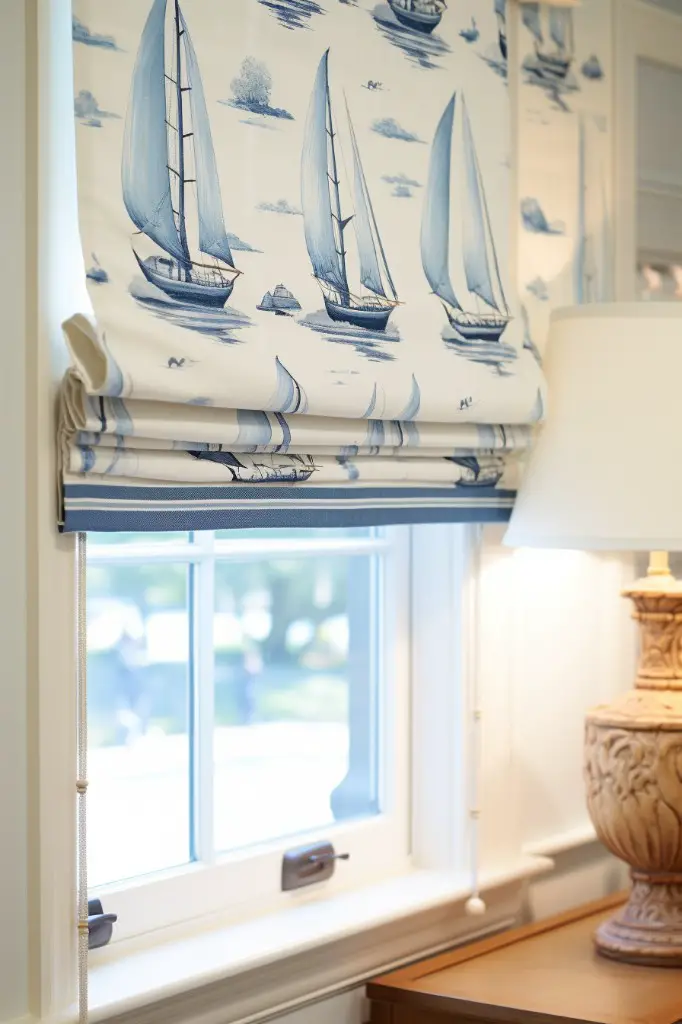 A nautical-themed faux Roman shade can bring an oceanic feel to your interior. This design typically features marine motifs, such as anchors, ropes, or shells, and is often dominated by blue and white shades, evoking the calming feeling of the sea.
Key Components:
Use fabric with nautical prints: This could include patterns with anchors, ships, ropes, or marine life. Cotton or canvas would be the right fabric choice considering their robustness and ability to handle intricate designs well.
Stick to cool-toned, marine colours: Blue and white should be your primary colours. They best represent the sea and the sky. Shades of beige could represent sand.
Pair with suitable décor to reinforce the theme: Complement your nautical shade with matching pillows or marine-themed décor items. A ship's wheel, a maritime clock, or maritime maps can highlight your window treatment.
Steps to Create:
Choose your fabric: Purchase a suitable nautical-themed fabric from a fabric store or online marketplaces.
Measure your window: Accurate measurements ensure a perfect fit.
Cut your fabric: Add an additional 1-2 inches on each side for seam allowances.
Sew or glue: You can use fabric glue if you prefer a no-sew method. For a more traditional approach, sewing would be the option.
Install: Attach your faux Roman shade to your window using a suitable method, such as a tension rod or mounting hardware.
Velvet Faux Roman Shade for a Luxurious Touch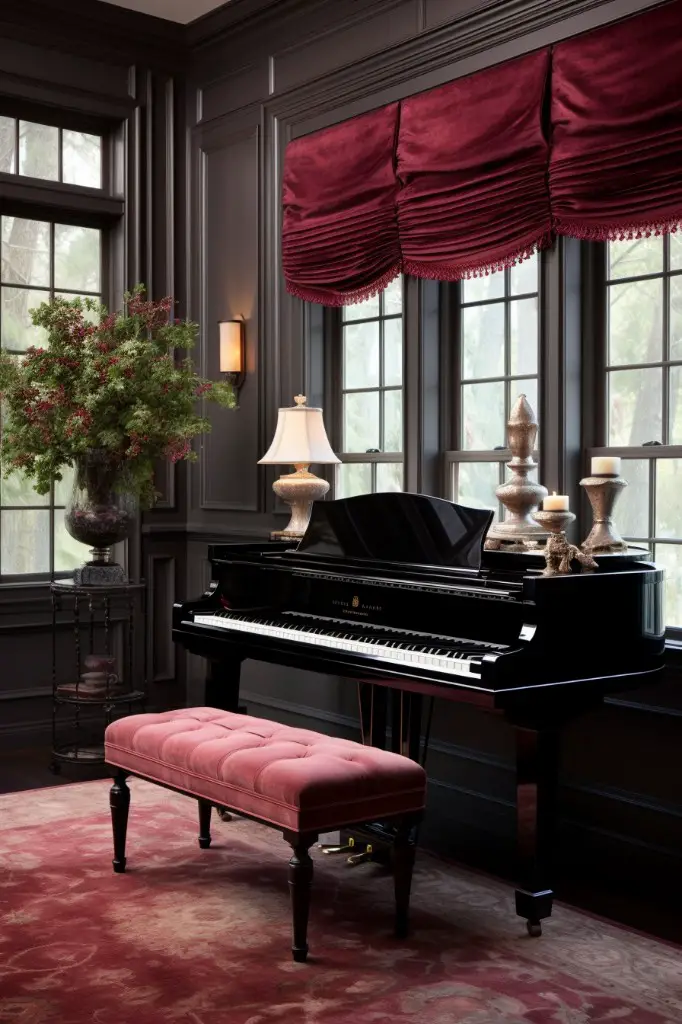 A Velvet faux Roman shade provides a lavish aesthetic that easily elevates any room's decor. This fabric's rich texture adds a layer of sophistication to your window treatment.
Key ideas about Velvet faux Roman shade:
Ideal for living rooms and bedrooms where a sense of warmth and luxury is desired.
Velvet's heavy fabric provides excellent light blocking capabilities†, making it perfect for rooms needing reduced light penetration.
They harmonize well with both classic and contemporary interior designs due to their timeless appeal.
Velvet shades are available in a wide variety of colors, from subdued earth tones to vibrant hues, catering to different aesthetic preferences.
Steps to incorporate a Velvet faux Roman shade in your decor:
Measure your window's dimensions accurately to ensure a perfect fit.
Choose a color that complements or contrasts with your room's color scheme.
Consider getting a lined Velvet shade for enhanced durability and better light control.
Opt for professional installation if you are unsure about mounting the shades correctly yourself.
Sheer Fabric Faux Roman Shade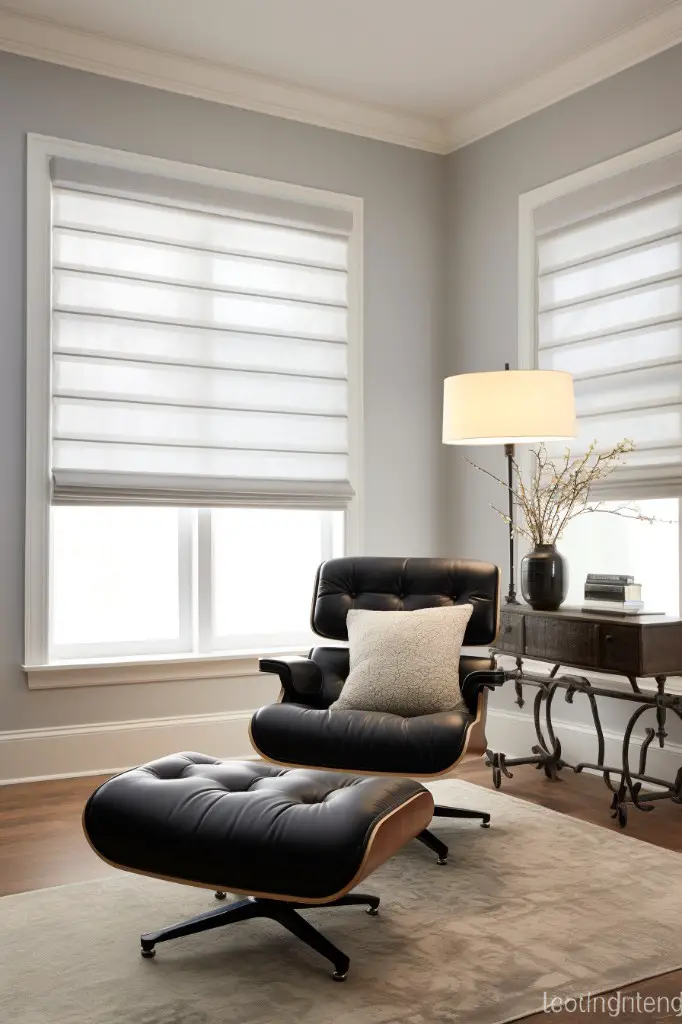 Sheer fabric provides a light, airy feel that can seamlessly blend with any interior design style. A faux Roman shade made from sheer material can help retain a room's natural brightness while diffusing harsh sunlight, offering an effective window treatment solution that does not compromise on aesthetics.
Select a high-quality sheer fabric based on the desired transparency levels. Fabrics like organza, voile, and chiffon work well.
Take accurate measurements of the window to ensure a perfect fit. Covering only the top half of the window lets in most of the light while maintaining privacy.
Consider adding a separate fabric lining if you want to increase privacy. This creates a dual-layer effect that is both functional and visually appealing.
Choose a neutral color like white or cream for a minimalist look, or a pastel shade for a soft pop of color.
Install using a tension rod or mounting brackets for an easy DIY project.
Keep the design simple. Allow the clean, crisp folds to become the focal point.
Maintain your sheer fabric faux Roman shade by dusting it regularly and washing it gently by hand or in the machine on a delicate cycle to keep it looking its best.
Layer your sheer faux Roman shade with other window treatments such as curtains or blinds for added depth and versatility.
Following these key steps and ideas will help you enjoy a beautifully presented window that offers a balance between natural light source and privacy control – thanks to your sheer fabric faux Roman shade.
Animal Print Faux Roman Shade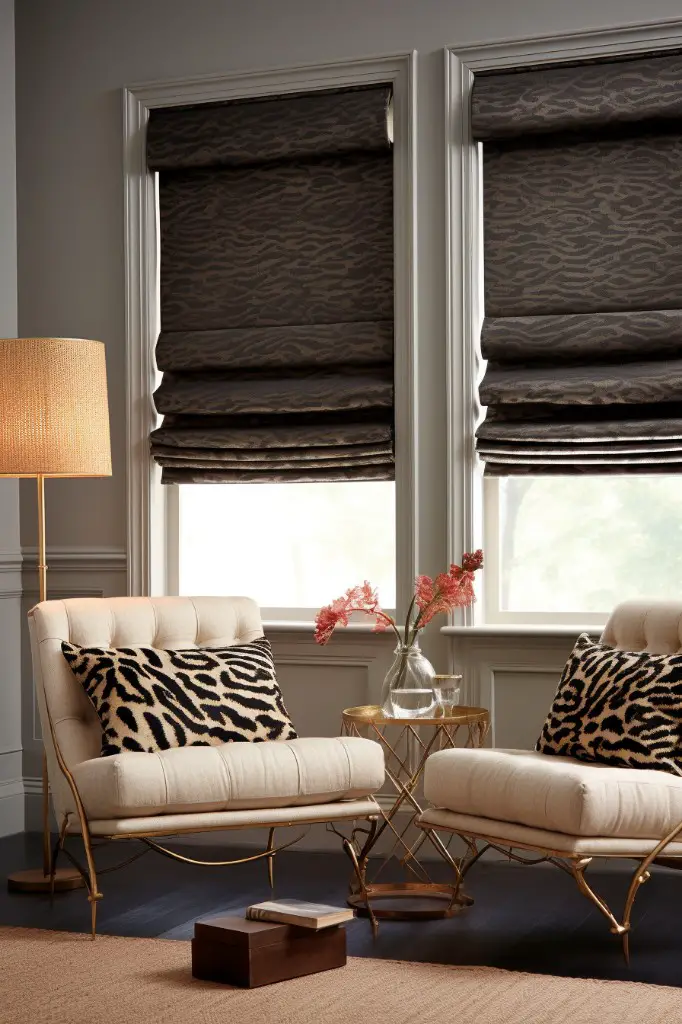 Animal print faux Roman shades add a bold touch to any room, making a statement while providing necessary window coverage.
Select the Animal Print: The first step is to choose the type of animal print that suits your decor, leopard, zebra, and tiger prints are the popular options.
Consider the Room: Make sure it works well with the existing decor in the room. Animal prints can be overwhelming, so they usually work best in spaces with a more neutral color scheme.
Fabric Choice: Opt for a light-filtering fabric to preserve the boldness of the print when the shade is drawn. A heavier material, like canvas or upholstery fabric, will give the shade structure and emphasize the boldness of the pattern.
Size Matters: The size of the animal print on your fabric will change the look of the room. Smaller prints feel more subtle, while larger prints can dramatically change the feeling of a room.
DIY or Professional: Decide whether to make the shade yourself or to have it professionally made. While making your own faux Roman shade can save money, it also requires a degree of skill and patience.
Hardware for Hanging: Ensure the correct hardware is used for hanging these shades. Their weight might require more robust hardware than a standard shade.
Care: Clean the shade carefully to maintain the vibrancy of the print. Handwashing or spot cleaning are typically best for these fabrics, but always check the manufacturer's instructions.
Incorporating an animal print faux Roman shade into your decor adds a daring layer of intrigue, transforming your window into a focal point of the room.
Lace-edged Faux Roman Shade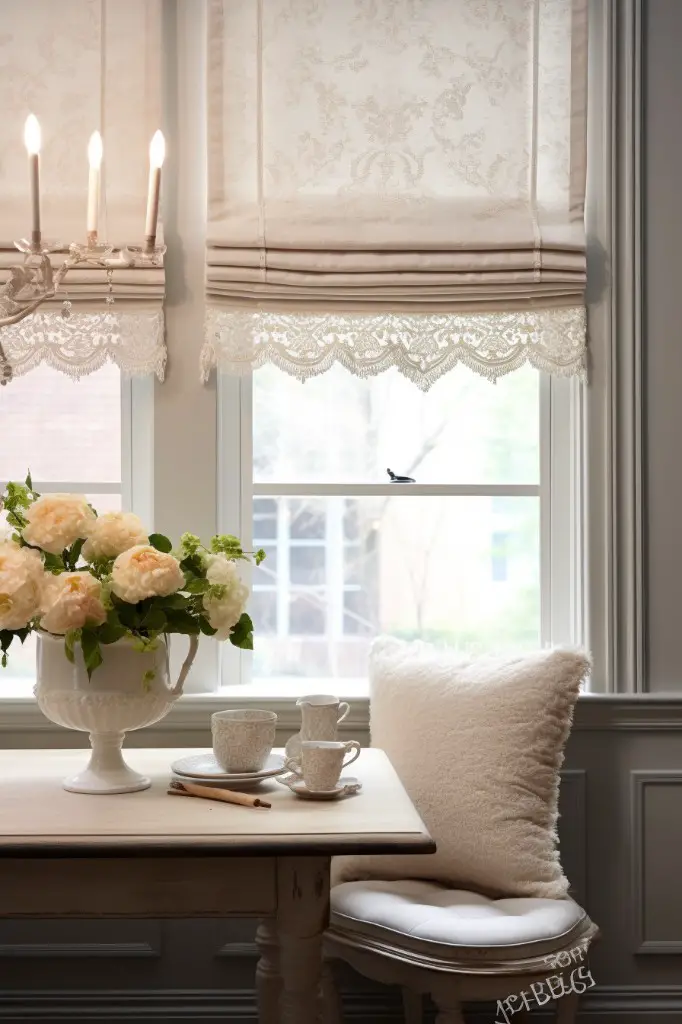 Lace-edged faux Roman shades create an air of elegance and softness. Their intricate detailing enhances any window, adding a touch of delicacy to even the plainest of spaces. Lace accents can be incorporated into a variety of fabrics, from cotton to silk, making these shades incredibly versatile.
A few key elements make this style stand out:
The lace edge: This is typically a scalloped design but can vary depending on personal preference.
Embellishments: Consider adding additional frills or beads along the edge to further enhance the elegance.
Fabric choice: Light, airy fabrics work well to make the lace detailing stand out, but bolder choices like silk or velvet can provide a luxurious backdrop to the lace.
To create a lace-edged faux roman shade:
Gather materials. You will need fabric of your choice, matching lace trim, adhesive (fabric glue or hot glue gun works best), and a base for the shade (mini blinds, tension rod, etc.).
Cut the fabric to size – make sure to factor in an extra inch all around for the edges.
Attach the base to the fabric.
Add the lace trim. Be sure to attach it securely with the adhesive, applying pressure until it's firmly in place.
Hang the shade. It's ready to grace your windows with their new, elegant look.
Patchwork Faux Roman Shade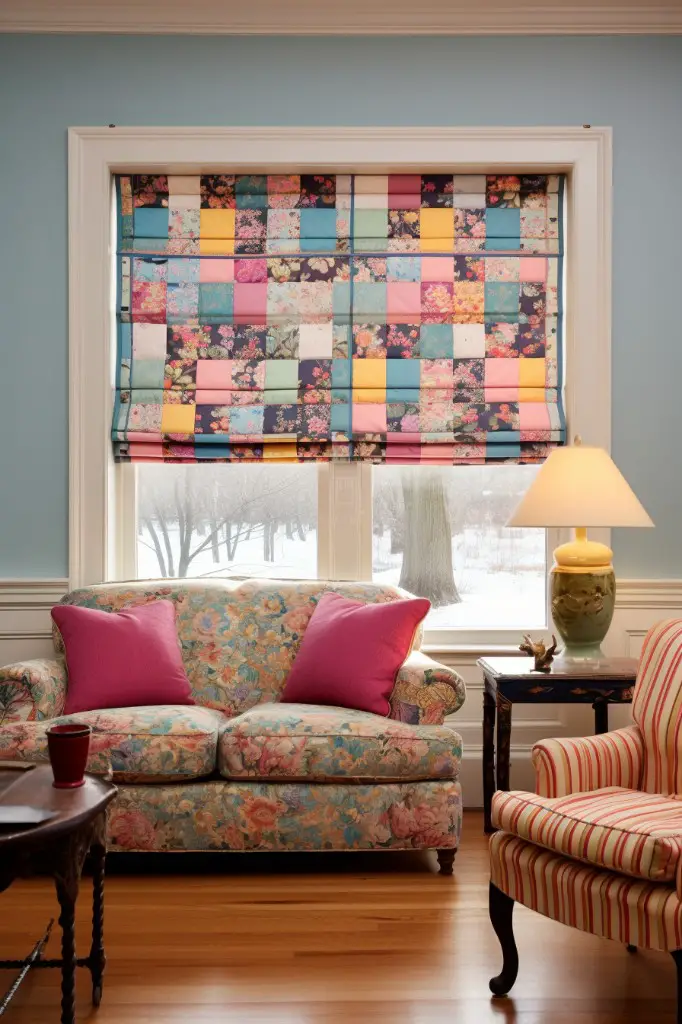 Creating a patchwork faux Roman shade requires careful selection of fabric patterns that complement each other. Start with a collection of fabric squares, combining various prints, stripes, and solids. These patches should be sewn together to form a large sheet of fabric, ensuring variety throughout the design.
Quilt the patches for stability and then mount to a fabric-covered board used for hanging. Attach adhesive Velcro to the top edge of the shade fabric and the underside of the board. This will allow for easy hanging and removal of the shade.
Adding a lining behind the patchwork not only gives the shade a clean look but also protects the fabric from sunlight, potentially extending the life of your creation.
Details can be added for additional character, such as decorative trim at the bottom or coordinating ties attached to the top to mimic the traditional look of a Roman shade when raised.
Remember this design allows room for variety and creativity. Each patchwork pattern is unique, meaning no two shades will ever be the same. Use this opportunity to infuse personal style into your space via the choice of fabrics, patch size, and additional details.
Polka-dotted Faux Roman Shade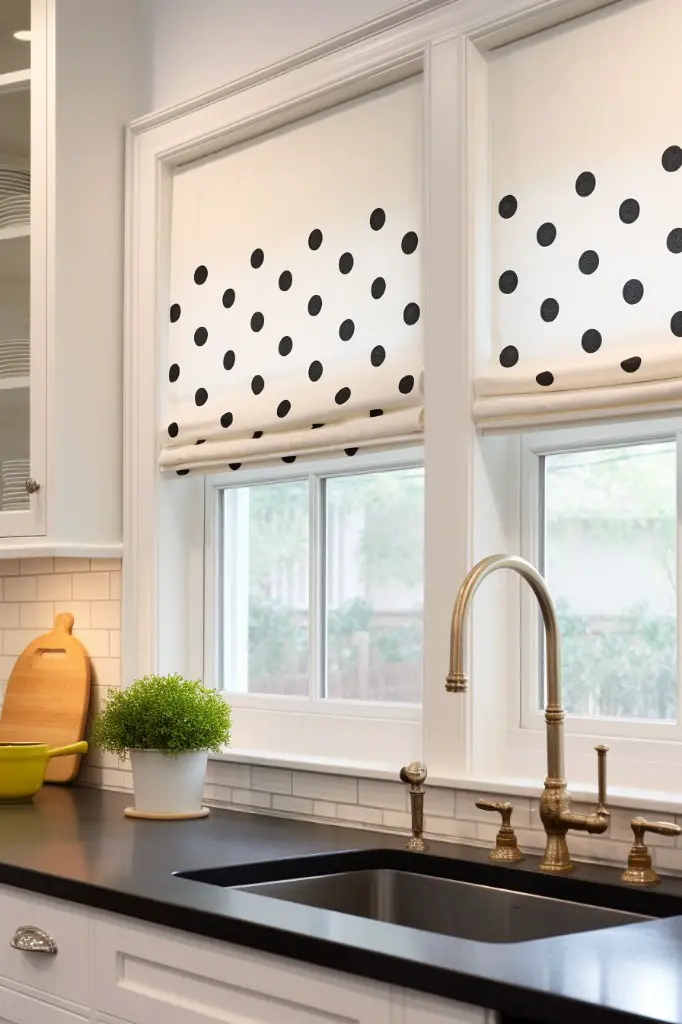 A diverse range of polka dot patterns and color palettes means this style can effortlessly brighten up any living space. It can range from bold, large-scale dots to subtle, tiny speckles, ensuring there's a perfect design for different tastes and decor styles.
Selecting a matching or contrasting base fabric colour can help exemplify the playful nature of this design, while also complimenting your existing decor. This also aids in introducing a touch of whimsical charm to your windows without overwhelming the overall aesthetic.
For those seeking a DIY approach to crafting your own polka-dotted faux Roman shade, the process involves a few key steps. Firstly, accurately measuring your window to determine the fabric size. Followed by carefully selecting and cutting your polka-dotted fabric. Next, iron down the edges for neatness and sew them up to create a clean-lined look. Then, fold the fabric in the desired Roman shade pattern and attach it onto a piece of wood that fits into the top of your window. Finally, hanging your beautifully crafted polka-dot faux Roman shade to transform your window space into a delightful visual treat.
Faux Roman Shade With Bows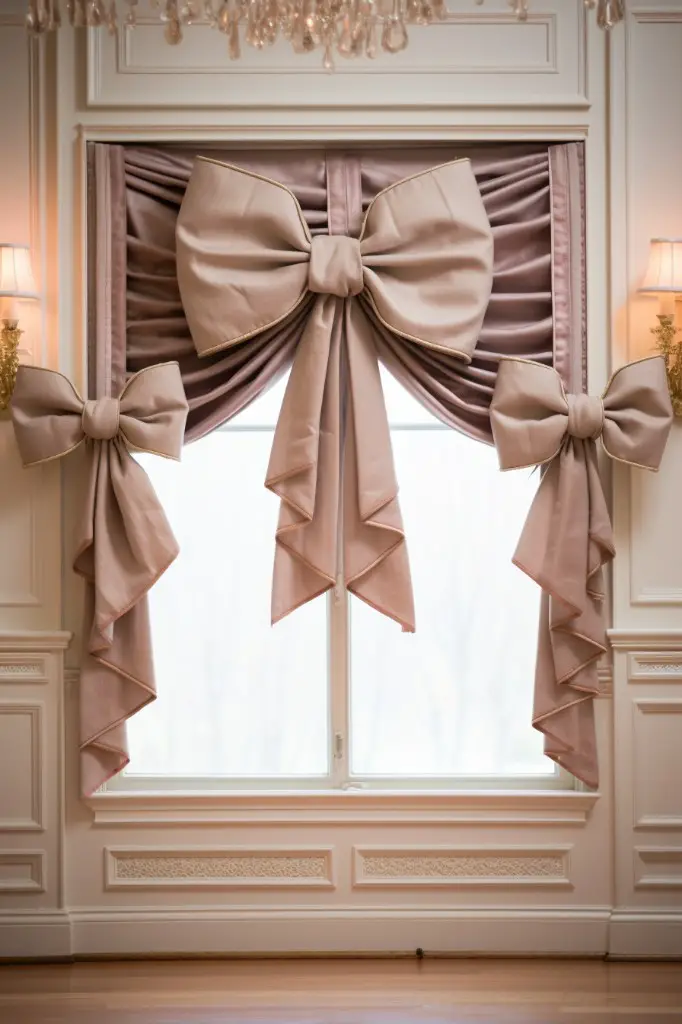 Introducing bows into your faux Roman shade brings a playful and whimsy aspect to your decor. Bow patterns can range from bold and large prints to smaller, more understated ones, depending on the style and scale of the room. They lend themselves particularly well to children's bedrooms, but can also be an unexpected, joyful touch in an otherwise formal living room.
Consider these key ideas:
When selecting a fabric with a bow pattern keep in mind the existing colors, patterns, and styles in your room. Ensuring color cohesion is essential for a balanced aesthetic.
For a neat and tidy look, consider regularly spaced bows along the length of the shade.
Alternatively, for a more relaxed and casual feel, go for a random bow placement.
Think about the size of the bows in comparison to the size of the window, smaller windows may suit smaller bows rather than large patterns which may overwhelm the space.
Choose a fabric that can tie in with the window's dimensions. Lighter fabrics drape well for larger windows, while sturdier fabrics can hold up well in smaller window settings.
Consider a professional to make your custom faux Roman shade if you don't feel comfortable sewing, or you can purchase pre-made ones online or in home decor stores.
Remember, the addition of bows is designed to draw attention, so it is important the result complements and enhances the existing design elements in your room.
Toile Fabric Faux Roman Shade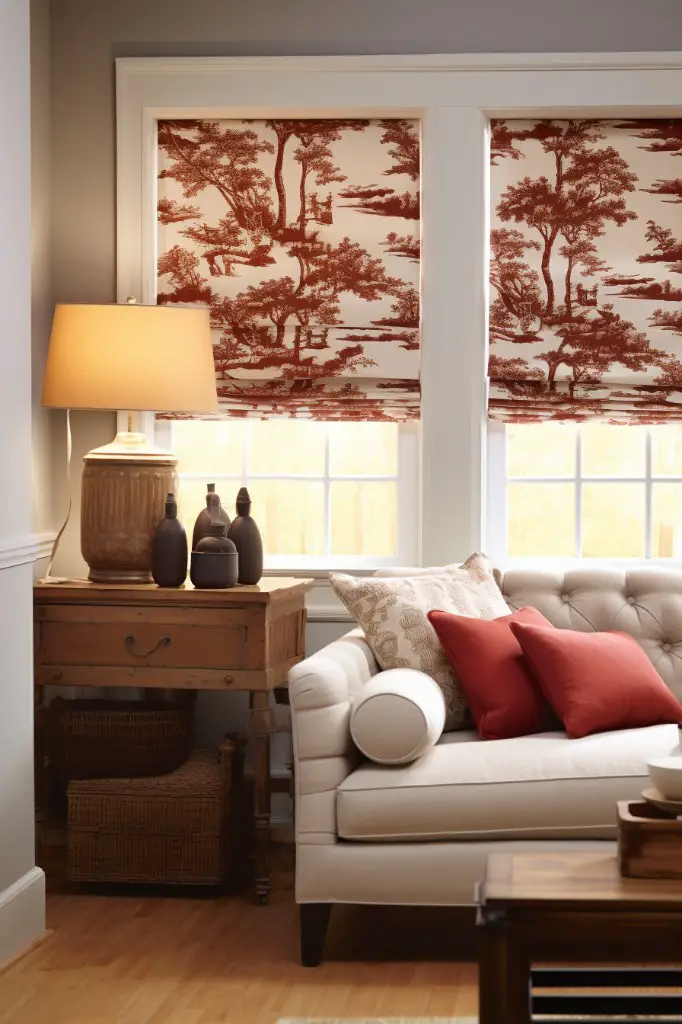 Toile fabric, renowned for its charming, intricate pastoral or colonial-era scenes, lends itself beautifully to faux Roman shades. Both elegant and visually engaging, it can serve as an exquisite focal point in your interior decor.
Factors to consider with a toile fabric faux Roman shade:
Fabric Choice: Opt for toile fabrics that match your room's existing color palette and thematic elements. Keep in mind that lighter hues provide a softer ambiance, while darker ones deliver a richer, more dramatic effect.
Customisation: With custom-sized faux Roman shades, you can ensure the perfect fit for your windows while showing off the toile patterns to their best advantage.
Combination: Pair your toile faux Roman shades with solid-colored draperies or curtains for an additional layer of texture and visual interest. This pairing can also help balance the elaborate patterns of the toile fabric.
Maintenance: Be sure to check the care instructions for your chosen toile fabric. Most require gentle cycle washing or professional cleaning to maintain their appearance and longevity.
Steps for creating a toile fabric faux Roman shade:
Measure your Window: Accurate window measurements are essential for a tailored final look.
Select your Toile Fabric: Choose a toile fabric that complements your space in terms of color and design.
Cut the Fabric: Cut your fabric according to your window measurements, allowing extra for hems and rod pockets.
Sew the Shade: Sew the hems and rod pockets, ensuring neat, even lines.
Install the Shade: Finally, hang your faux Roman shade using a suitable rod, ensuring it hangs evenly and provides your desired level of privacy and light filtering.
Remember, toile fabric faux Roman shades are not just window treatments; they can bring art, history, and a personal touch to your home decor.
Faux Roman Shade With Pom-pom Trim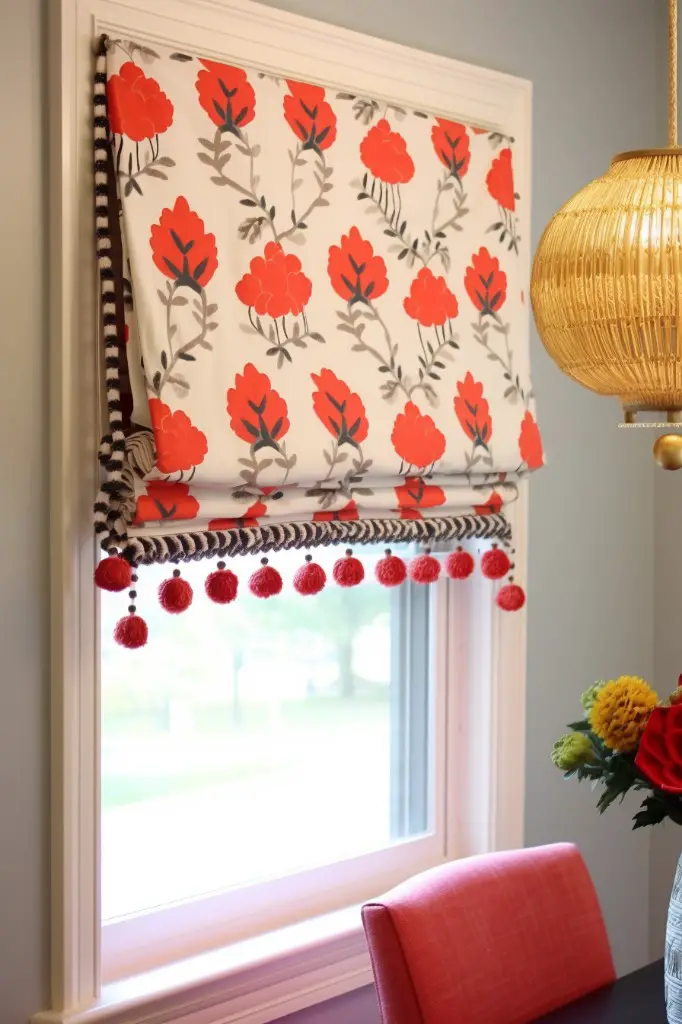 Adding a pom-pom trim to your faux Roman shade can bring extra charm and fun to your window treatment. Here are some important considerations and steps for using this design option:
Choose pom-pom trim in a colour that complements the shade fabric for a cohesive look. The pom-pom trim colour can be a direct match, a contrast, or a shade that blends subtly with the main fabric colour.
Emphasize the textured detail by using pom-pom trim along all edges of the shade or just the bottom for a more subtle effect.
Ensure the correct placement of the trim during the making of your shade. The trim should be sewn onto the back of the shade so that only the pom-poms are visible from the front.
Size of pom-poms matters as well. Larger pom-poms lend more of a dramatic effect, while smaller ones are more understated.
The trim can be attached to the curtain using a sewing machine or by hand stitching. Always secure the start and end points of the trim well.
For a simpler method, consider using adhesive fabric tape if your shade fabric is lightweight.
Remember, proper maintenance to keep the pom-pom trim looking its best is important. Most trims are durable and can be cleaned gently with a damp cloth if needed.
This playful touch can add an element of whimsy to your window decor, whether it's in a nursery, a living space, or a bedroom.
Faux Roman Shade Made of Burlap for a Farmhouse Look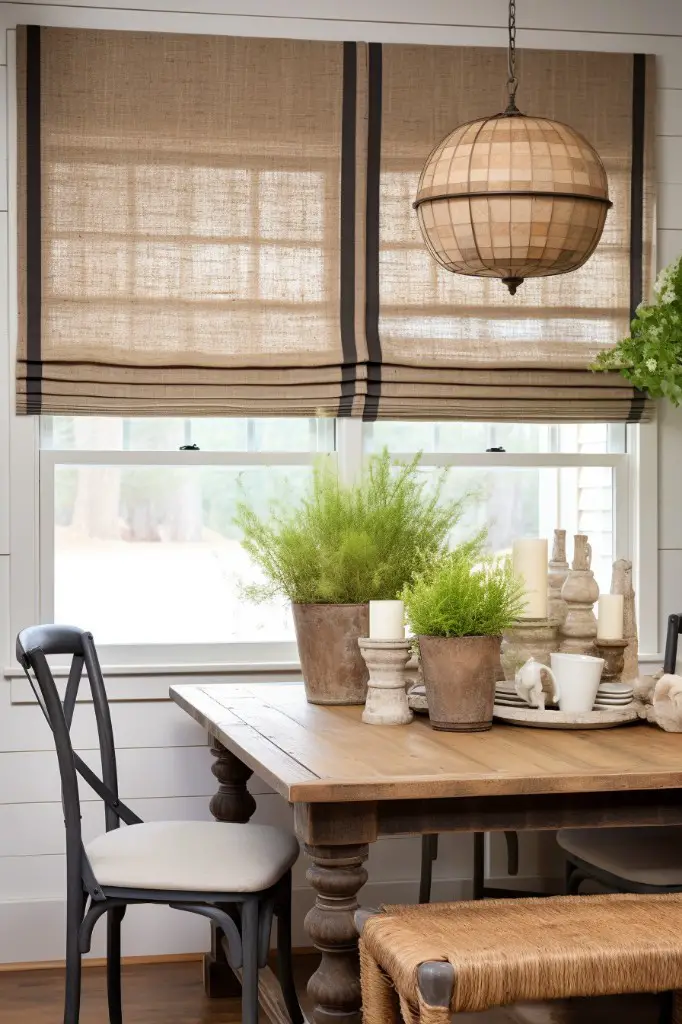 Crafted from a textile that exudes simplicity and rustic charm, a burlap faux Roman shade is the perfect addition to a farmhouse-styled interior. Its natural texture offers an organic, cozy ambiance, balancing beautifully with distressed wooden accents, shiplap walls, and vintage furnishings characteristic of farmhouse decor.
Creating your own burlap faux Roman shade involves a few simple steps:
Measure your window to ensure you attain the right size of burlap. Opt for a few inches of overhang on each side for a polished look.
Cut the burlap, leaving a small allowance for hems on all sides.
Iron the hems and secure them using fabric glue or a sewing machine. This will leave you with a clean, crisp edge.
If sewing, make sure to use sturdy thread that can withstand the weight of the burlap.
Attach adhesive Velcro strips to the upper edge of the burlap and the corresponding section of the window.
Stick the shade in place and adjust it to your preferred length.
Remember, you can embellish your shade with buttons, stencils, or other rustic elements for extra character. Maintaining such shades is effortless – a quick shake is often enough to free them from dust. In terms of durability, burlap is a sturdy material that holds up well against time and use, even in windows exposed to direct sunlight.
Chevron-painted Faux Roman Shade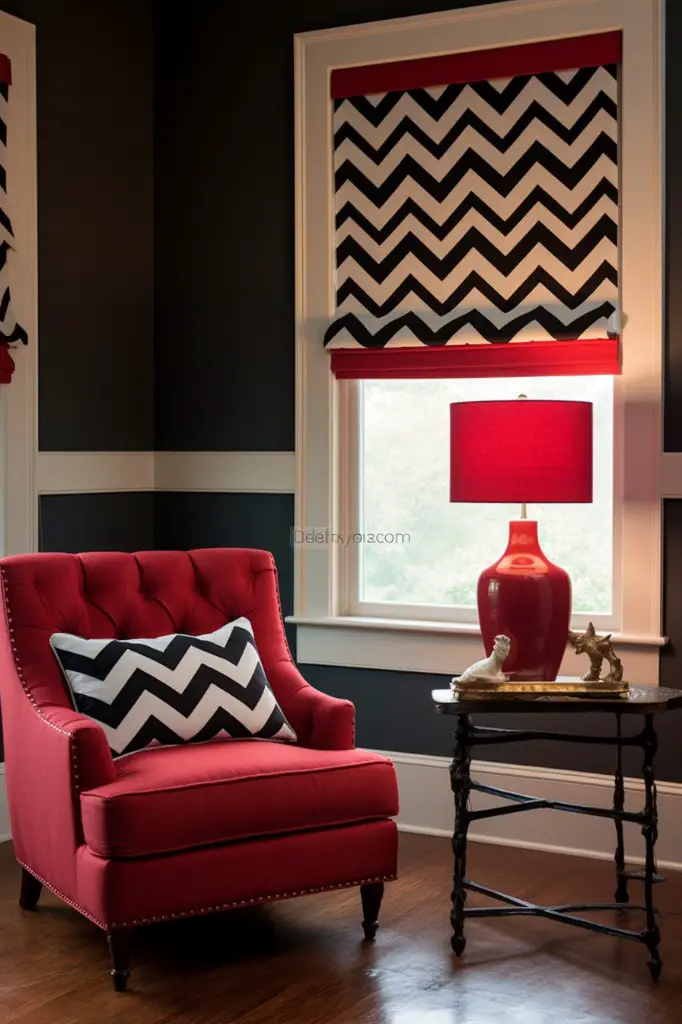 Creating a faux Roman shade with a trendy chevron pattern introduces a lively element to the decor. To accomplish this look, the following essentials need to be considered:
Start by choosing a suitable fabric, preferably white or a neutral colour, which helps to showcase the chevron design.
Decide on the colours of the chevron stripes. Dual-coloured stripes can be created, but keep in mind the contrast needed to have the pattern stand out.
Stencils can be procured or created for painting the chevron pattern. Stripes can vary in thickness for a unique touch.
Use a fabric-friendly paint for longevity and durability.
Let it dry completely before moving on to the sewing part.
Sewing a basic Roman shade becomes straightforward with accessible tutorials online.
Attach your finished faux Roman shade to the desired window using a tension rod or brackets for stability.
Follow these steps, and a Chevron-painted faux Roman shade will be gracing your window in no time.
Faux Roman Shade With Fringe Edge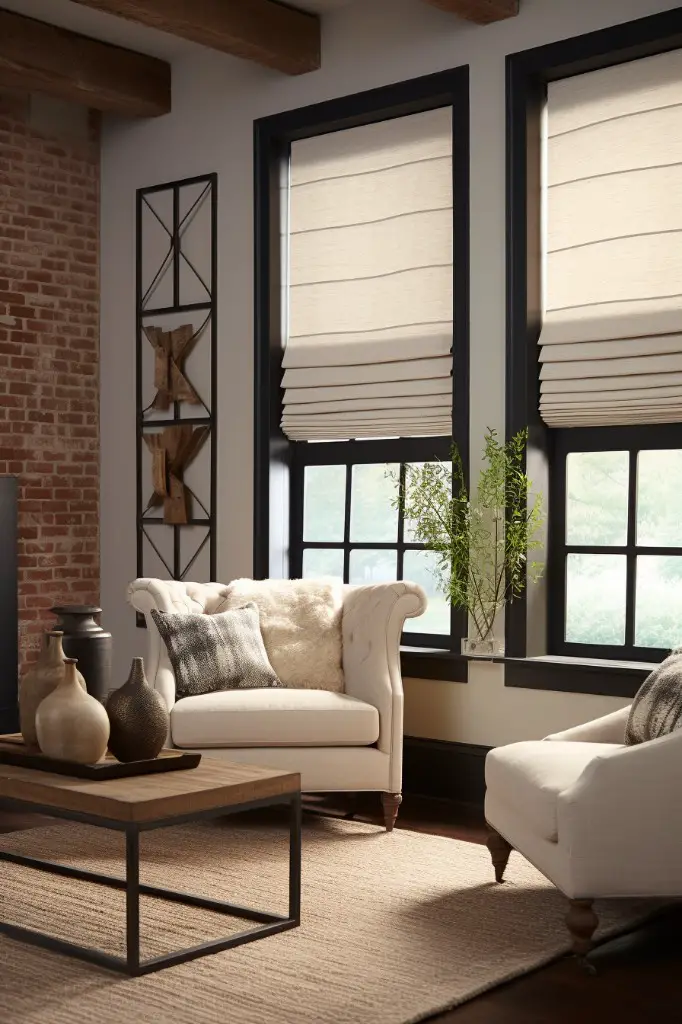 A fringe edge can add a unique, stylish touch to faux Roman shades. Incorporating it requires selection, preparation, and attunement to detail.
First, choose a high-quality fringe trim that matches or complements your shade fabric. The wide variety of options available on the market today, ranging from subduedly chic to flamboyantly vibrant, ensures that you'll find a perfect match.
Next, measure the width of your shade to determine how much trim you'll need. Never underestimate the importance of accurate measurements, which prevent errors down the line.
Now, it's time to secure the fringe to the fabric. A sewing machine is preferable for securing the fringe, but hand stitching is also an option. Ensure the fringe trim aligns with the edge of the fabric. Sew it from one side of the shade to the other, keeping your stitches neat and uniform.
As you work, remember that attention to detail and patience are your best allies. The process might feel tedious, but your beautifully constructed fringe-edge faux Roman shade will be well worth the effort.
Care instructions for fringed Roman shades: After the shade is installed, it's vital to clean it properly to maintain the fringe's look and longevity. Avoid vigorous scrubbing or the use of harsh chemicals, which could damage the fringe. Instead, opt for gentle cleaning methods and mild detergents. Regular dusting can also help keep the fringe looking its best.
Finally, always test cleaning methods on an inconspicuous area of the shade fabric and fringe prior to applying to the entire shade. This precautionary step helps ensure the longevity and appearance of your fringe-edge faux Roman shade.
Related Stories