Here are ten creative ideas for covering small bathroom windows, from curtains to blinds and shutters.
Small bathroom windows can be covered with a variety of window treatments that add style and privacy. Sheer panels, roller blinds, obscure window films, two-tone schemes, light filtering shutters, and windowsill potted plants are all options to consider.
Additionally, painting the walls and adding a new shower curtain can instantly update the look of any room without too much money or time. Roman shades made from fabric can also add an elegant touch to any powder room.
Follow us as we explore more creative ideas to make the uncanny tiny window look good.
What's Inside
Shutter Style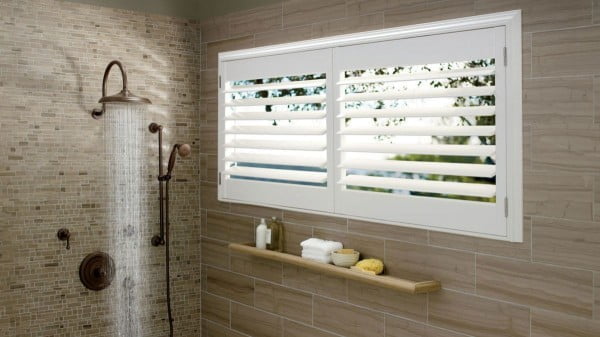 Source: realhomes.com
Real Homes presents a variety of window covering ideas for small bathrooms that can make an attractive focal point. These include sheer panels, roller blinds with dramatic florals, obscure window films, two-tone bathroom schemes, light filtering shutters, and windowsill potted plants.
Sheer panels are a great way to let natural daylight filter through while adding an ethereal and airy feel to the room. Roller blinds with dramatic florals add impact and color to the space while obscuring the view in and out.
Obscure window films are ideal for humid spaces like showers where fabric blinds or curtains would be subject to wetness and mold. Two-tone bathroom schemes bridge the gap between decor scheme and glass pane by matching wall colors or tiles with window treatments such as curtains or blinds.
Light filtering shutters provide privacy while also helping keep rooms warm during colder months. Finally, windowsill potted plants bring nature into the room while also acting as a modesty screen from outside views.
Mini Blinds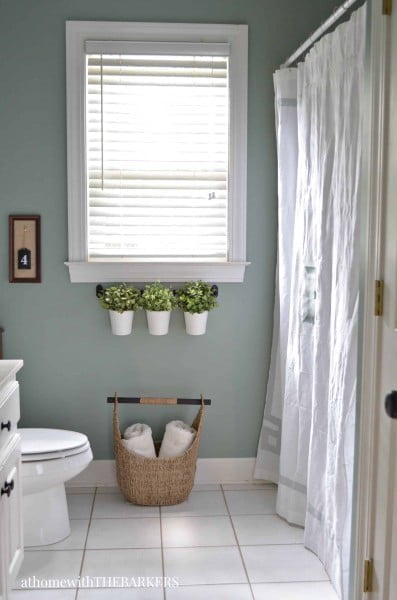 Source: athomewiththebarkers.com
Yes, mini blinds are still not out of style. Especially when it comes to small bathroom windows.
This story presents a decor idea of using blinds and wall paint to refresh a room. The author chose to use BEHR MARQUEE Interior Paint, which is a gray-green color.
To complete the look, they added a new shower curtain from Ballard Designs with a monogram B on it. This is an easy way to give any room an instant update without spending too much money or time.
To make use of this idea, you could choose your own shade of paint and add some window coverings, such as curtains or blinds, that match the color scheme for an even more polished look.
Floral Roman Shades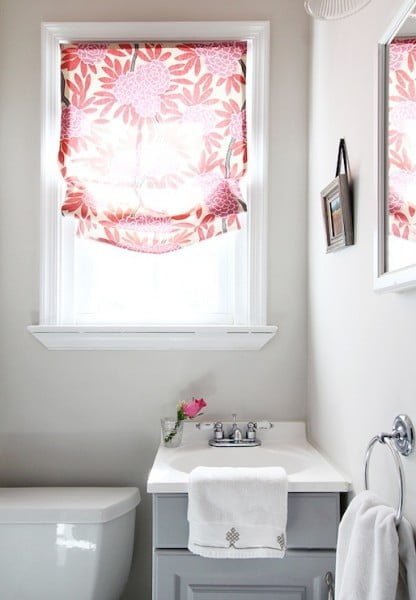 Source: decorpad.com
They are all the range right now, so why not use floral patterns to make that tiny window look better.
This story presents a chic powder room with a window covered in Caitlin Wilson Textiles Berry Fleur Chinoise Fabric roman shade. This decor idea is perfect for adding a touch of elegance and sophistication to any bathroom.
To make use of this idea, you will need to purchase the fabric from Caitlin Wilson Textiles and measure the window so that you can cut the fabric accordingly. Then, attach the fabric to a rod or track system above the window and hang it up using curtain rings or clips.
Finally, adjust the height of your roman shade as needed for privacy and light control.
Venetian Blinds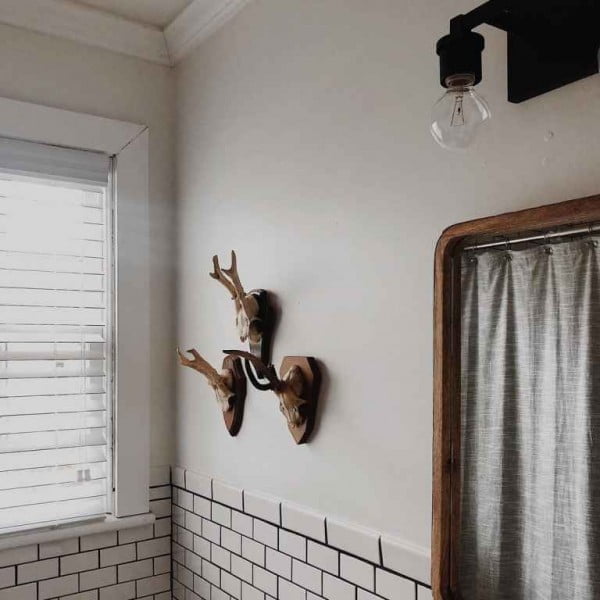 Source: blinds.com
Granted, you will need windows slightly larger than tiny to install Venetian blinds in the bathroom.
This story provides a great overview of the different types of window treatments that are best suited for bathrooms. Faux wood blinds, faux wood shutters, vinyl roller shades, woven wood shades, roller shades, and Roman shades are all recommended as they are resistant to moisture damage and easy to clean.
It also explains why certain materials, such as solar shades or real wood blinds, should be avoided in bathrooms due to their susceptibility to warping or cracking in high-humidity environments.
Striped Roman Shades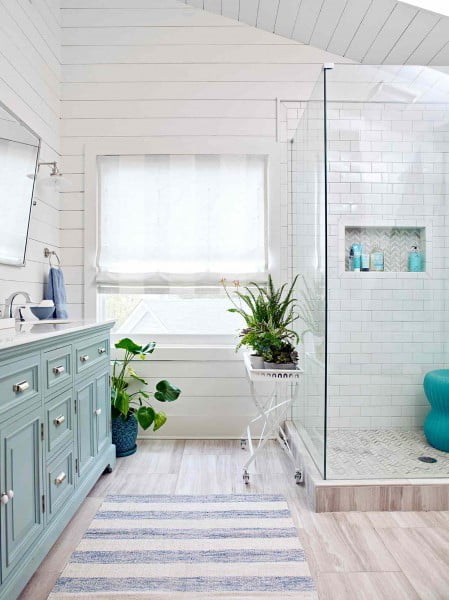 Source: bhg.com
BHG also provides a variety of ideas for bathroom window treatments that can add an element of softness, privacy, and style to the space. Some ideas include simple curtains, light-filtering fabrics, blinds or shutters, café curtains, Roman shades, roller shades, and plantation shutters.
To make use of these ideas in your own bathroom decorating project, you should consider the size and shape of your windows as well as the amount of natural light you want to let in.
Additionally, think about what type of fabric or material would work best for your space – whether it be something lightweight like cotton or linen or something more durable like vinyl or faux wood.
Finally, take into account any special features, such as blackout capabilities, that may be necessary depending on where your windows are located in relation to other rooms in the house.
White and Silver Shades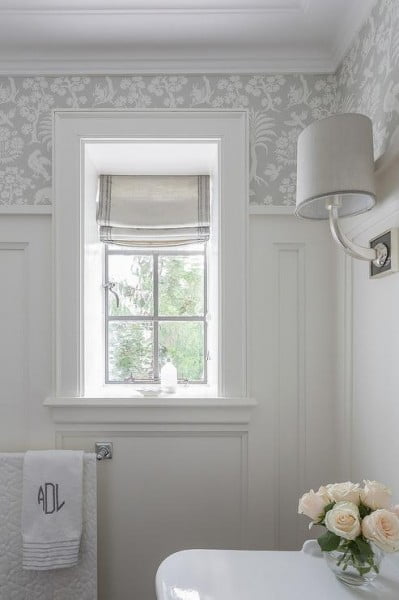 Source: decorpad.com
This story shows a decor idea for a powder room featuring a window dressed in a gray and white roman shade. The window is framed by a tall white board and batten trim, with white and silver wallpaper on the adjacent wall.
A polished nickel towel rack holds monogrammed towels, while the wall is lit by a wall-mounted nickel sconce.
This look can be achieved by purchasing or making the roman shade, installing board and batten trim around the window frame, adding wallpaper to one of the walls, installing a towel rack with monogrammed towels, and mounting a sconce on the wall.
Bamboo Blinds and Linen Curtains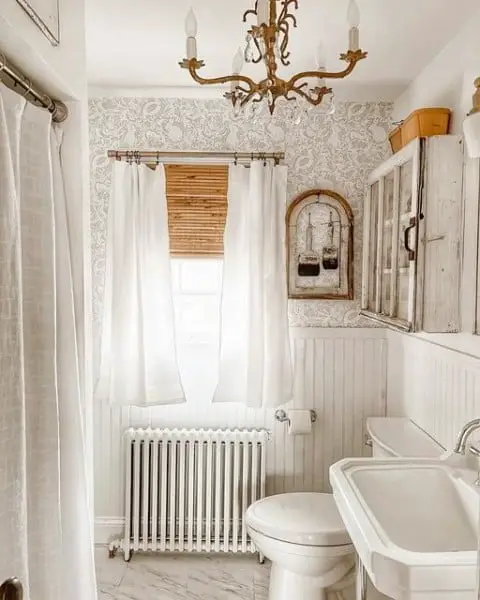 Source: instagram.com
This combination uses window coverings that are inspired by the cottage style of the home. This could be achieved by using light, airy fabrics such as linen or cotton for curtains and shades and adding a touch of rustic charm with wooden shutters or blinds.
To complete the look, add some natural elements like wicker baskets or dried flowers to give it a cozy feel.
Bold Textures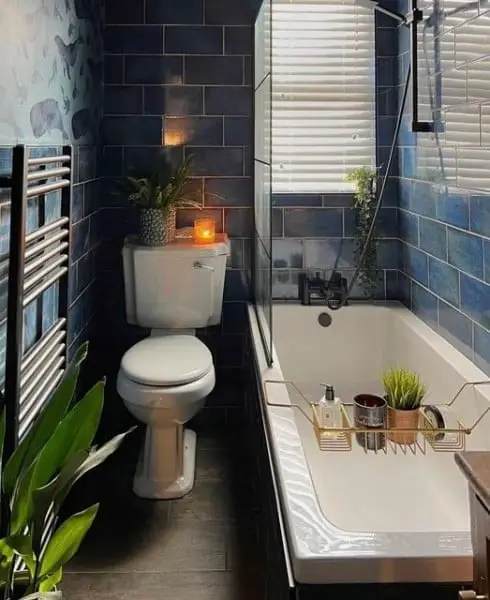 Source: instagram.com
Alicia shares a decor idea that focuses on creating a unique and stylish look for any home. This could be achieved by incorporating elements such as bold colors, interesting textures, and modern furniture pieces.
To make use of this idea, one could start by selecting a color palette to work with and then adding accent pieces such as rugs, artwork, or window coverings to bring the space together.
For example, you could choose curtains or blinds in bold colors that match the overall theme of the room or opt for more subtle shades if desired.
Add texture to the space with patterned fabrics or even incorporate natural materials like bamboo shades for a more organic feel.
Frosted Glass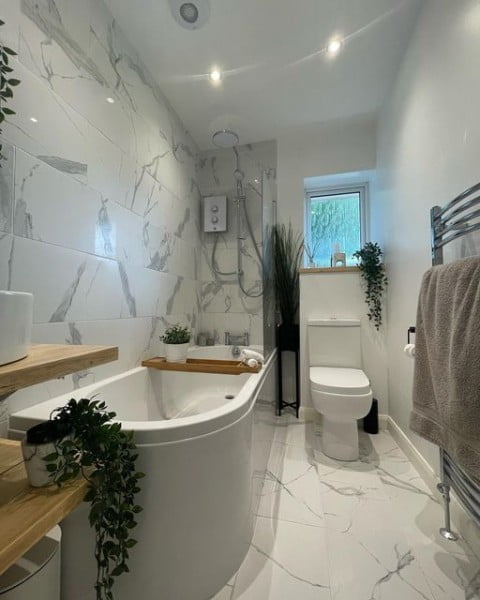 Source: instagram.com
Frosted glass is a common window design in bathrooms. To avoid being dull, use window decor ideas such as placing potted plants on the window sill to add more interest to the setting.
Leaded Glass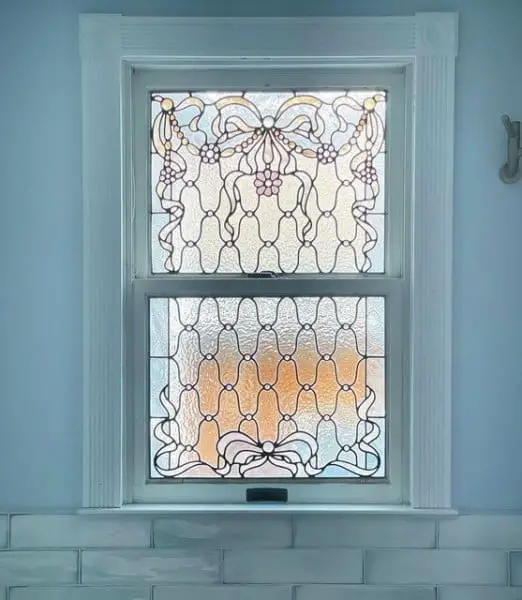 Source: instagram.com
Leaded glass, much like frosted glass in the bathroom, provides privacy and lets daylight in. But in this case, you have much more decor value.
Choose glass in intricate patterns and ornaments. Such window glass offers a lot of decor value and visual appeal by its self.
Related Stories