These are timeless window decor ideas implemented and tested by homeowners over the span of the last decade.
We know that you can decorate your windows in any way. This includes windows of all types, treatment of all styles, and accessories to boot it all.
Ideas come and go, one trend changes another. But some things remain classic. We've gone ahead and picked window decor ideas that seem to pertain over a decade and beyond.
These are the ideas that we saw back in 2012, and not surprisingly, we still see them alive and well today.
So get inspired by the all-time favorites.
What's Inside
Window Decor Accessories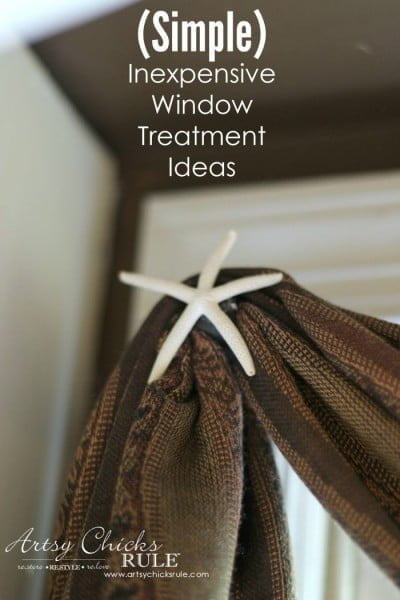 Source: artsychicksrule.com
Idea includes:
No sew curtains: You can make no sew curtains by using a hot glue gun to attach fabric to a curtain rod.
Fabric napkins: You can make fabric napkins by sewing a hem around the edges of a piece of fabric.
Belt: You can use a belt to create a unique curtain tie back by threading it through the loops of your curtains.
The idea is to use unique and thrifty ways to dress your windows. This can be done by using no sew curtains, fabric napkins, or even a belt!
Suncatchers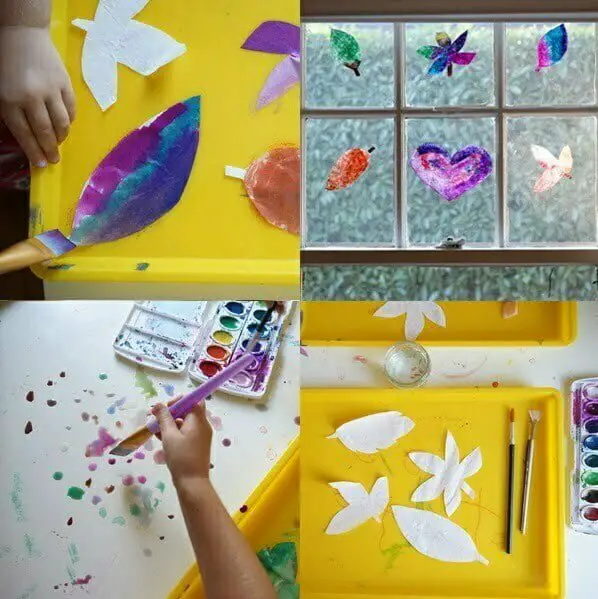 Source: tinkerlab.com
How to make:
coffee filters
paint
paintbrush
scissors
string or ribbon
This story describes a fall craft idea that involves painting coffee filter leaves and hanging them in a window. This would make for a beautiful and unique window decoration that would bring the colors of autumn to life.
DIY Window Privacy
Source: biggerthanthethreeofus.com
How to make:
Vinyl window film
Scissors
Measuring tape
Squeegee
This story describes a simple DIY window privacy idea that is both effective and stylish. A vinyl window film is used to create stripes on the windows, allowing light in while still providing privacy.
This project is fast and easy to complete, and it doesn't break the bank.
Custom Shutters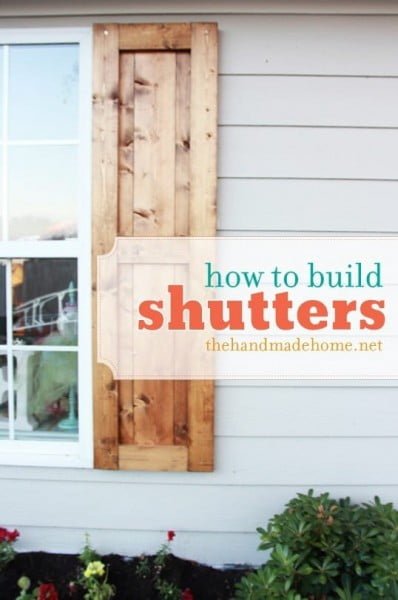 Source: thehandmadehome.net
How to make:
shutter boards
nails
hammer
saw
tape measure
chalk line
level
drill
screws
shutter hinges
paint or sealant
In this story, the author describes how to build shutters. They provide a list of supplies needed as well as measurements and cutting instructions.
They also explain how to attach the shutters to your house. Finally, they recommend a type of sealant to use in order to weatherproof the shutters.
Pom Pom Trimmed Valance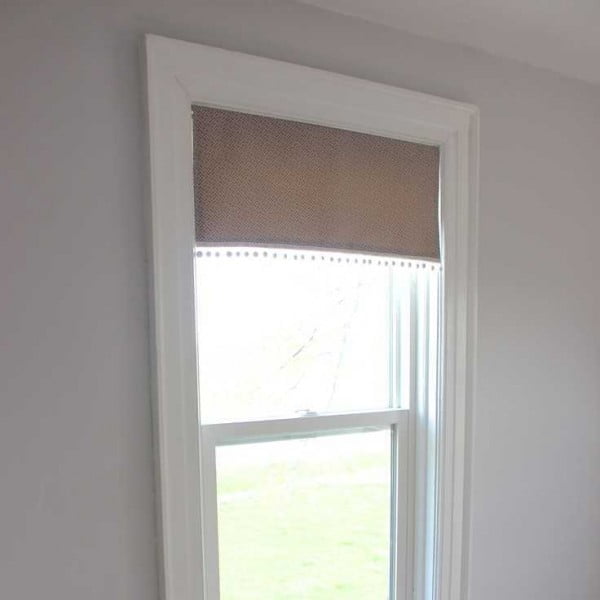 Source: kenarry.com
How to make:
Upholstery fabric
Canvas fabric
Thread
Sewing machine
Needle
Pom pom trim
Strip of wood
Staple gun
This story describes how to make a DIY pom pom trimmed valance. You will need upholstery fabric, plain canvas fabric for liner, coordinating thread, sewing machine and needle, pom pom trim, 3/4″ thick strip of wood, staples and staple gun.
First, measure and cut the fabric. Next, fold and pin the fabric.
Then sew three sides of the valance. Remove the pins and iron it.
Sew the pom pom trims on the bottom. Finally, attach the valance to the window frames.
Two-Toned Curtains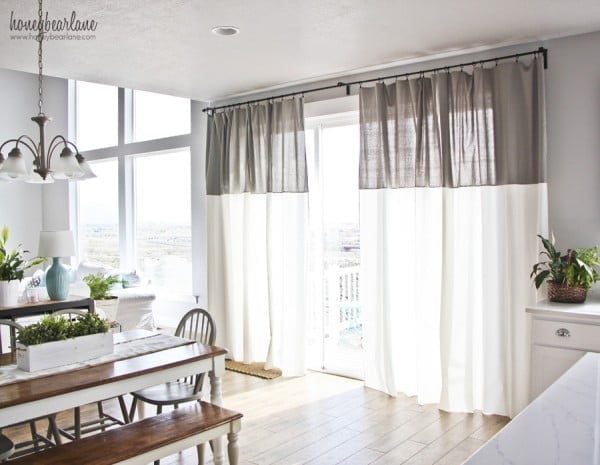 Source: honeybearlane.com
The window decor idea in this story is to add a band of fabric to the bottom of curtains in order to lengthen them. This creates a two-toned look that is both visually appealing and practical, as it helps to reduce the amount of sunlight coming into the home.
Custom Pattern Curtains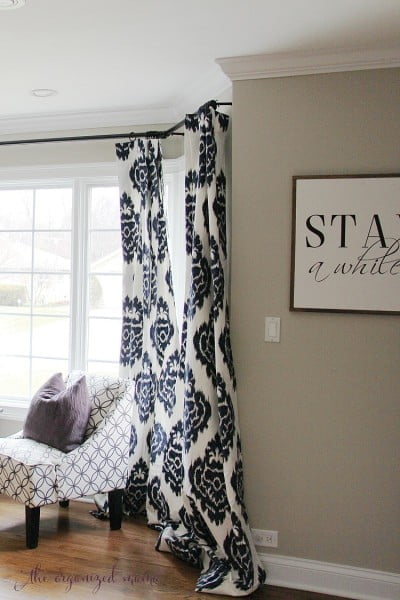 Source: theorganizedmama.com
This could be used, for example, to create a custom window decoration based on an image that is particularly meaningful to the person creating it.
No-Sew Drop Cloth Curtains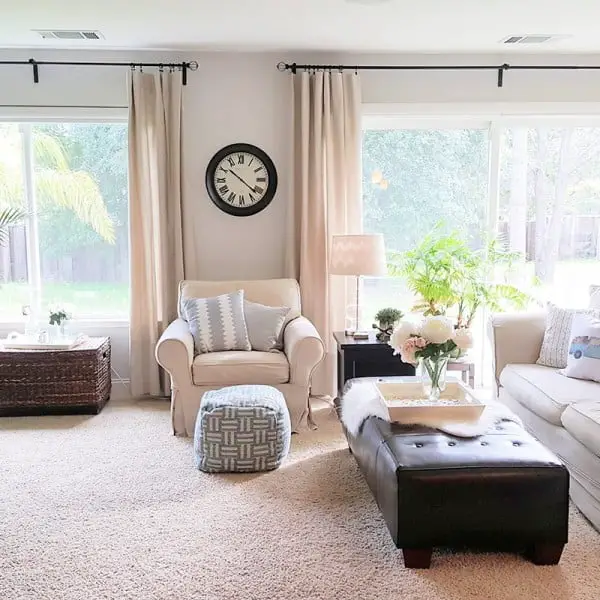 Source: thedesigntwins.com
How to make:
Iron or steam the drop cloths
Measure and hem the drop cloths
Attach clips to the drop cloths
Hang the drop cloths
The idea is to decorate your windows with drop cloth curtains. This is a budget-friendly project that is easy to do and can have a dramatic impact on the look of your room.
You simply need to iron or steam the drop cloths, measure and hem them, attach clips, and then hang them up.
Timber Frame Awning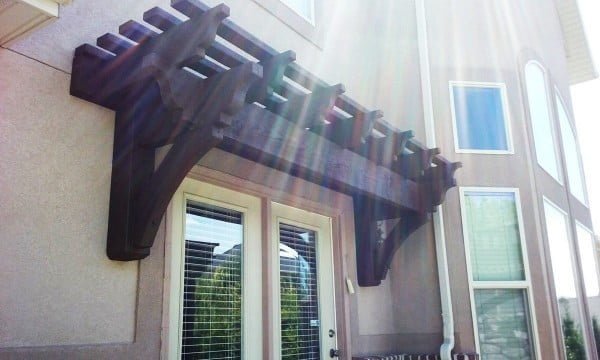 Source: westerntimberframe.com
This window decor idea is a timber frame awning over a doorway, garage or window. It adds an aesthetically pleasing touch, especially when combined with a timber frame pergola.
It also adds some protection from the sun and can save on energy costs.
Hang Art on Windows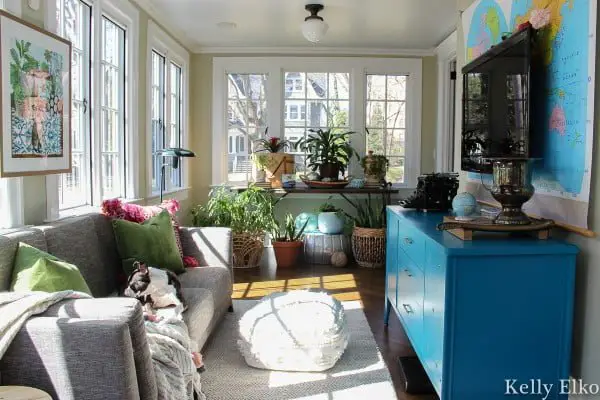 Source: kellyelko.com
How to make:
Hang art on windows
Add color and interest
Can be done with any type of window
This is a great way to bring in color and interest, and it can be done with any type of window.
Window Muntins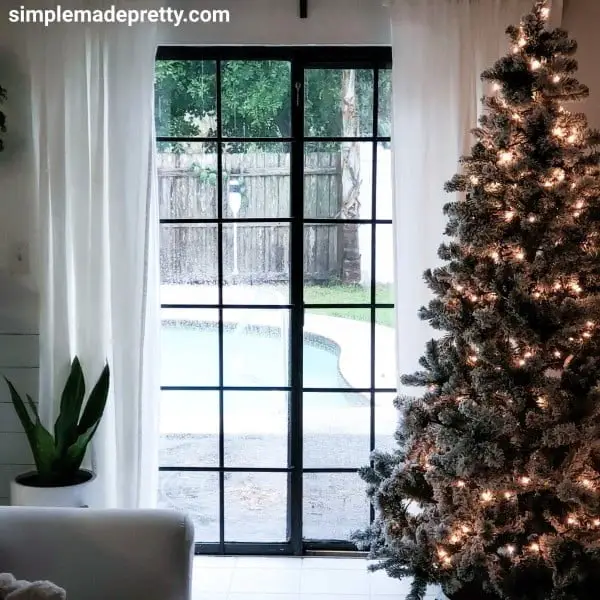 Source: simplemadepretty.com
This idea is perfect for those who want to add a touch of cottage charm to their home. The author provides a detailed tutorial on how to make your own window grids (or muntins) using wood trim and paint.
This project is relatively cheap and easy to do, and will definitely add character to your home.
Sewing Curtains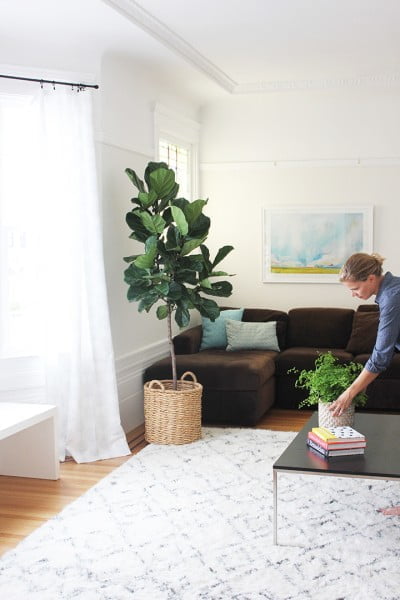 Source: aliceandlois.com
Hang a beautiful print or piece of artwork above the window.
Sew your own curtains using a light-colored, patterned fabric.
Use curtain rod clips or a rod pocket to hang the curtains on the rod.
Window Seat Storage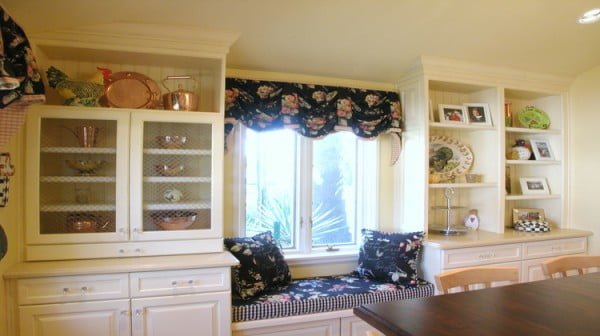 Source: diyprojects.com
How to make:
a drill
a saw
a measuring tape
a level
a hammer
nails or screws
plywood
cushions or pillows
The window decor idea in this story is to build a window seat with storage. This can be done by anyone, even if they are inexperienced, and only requires a few tools and materials.
The finished product will be strong enough to support children, and can be used for storing houseplants, microgreens, succulents, figurines, toys, or photo frames.
Color Pop with Curtains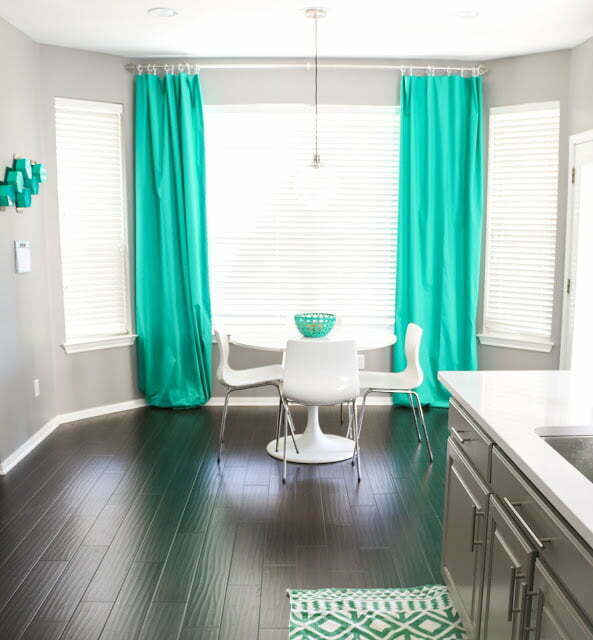 Source: akailochiclife.com
The window decor idea in this story is a simple yet elegant way to add a touch of class to any room. All you need is to add curtains in a popping accent color.
Under Window Bookshelf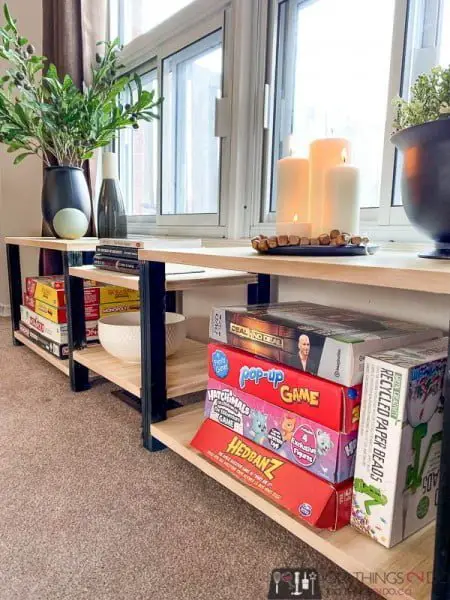 Source: 100things2do.ca
This story features a window decor idea that is perfect for anyone who has large windows that are difficult to furniture under. The under-window bookshelf is the perfect solution for storage and decoration.
This shelf is long and low, making it the perfect size to fit under a window, and it also has enough space to allow for ventilation. The shelves are also deep enough to hold plenty of games, books, or other knick-knacks.
Natural Woven Wood Shades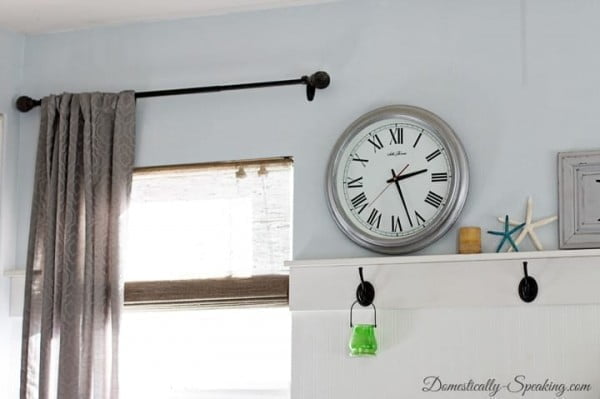 Source: domestically-speaking.com
Update the window treatments in a room to bamboo natural woven wood blinds. The author describes how the process was easy, and the results are beautiful light-filtering matchstick blinds that add to the room.
Breakfast Nook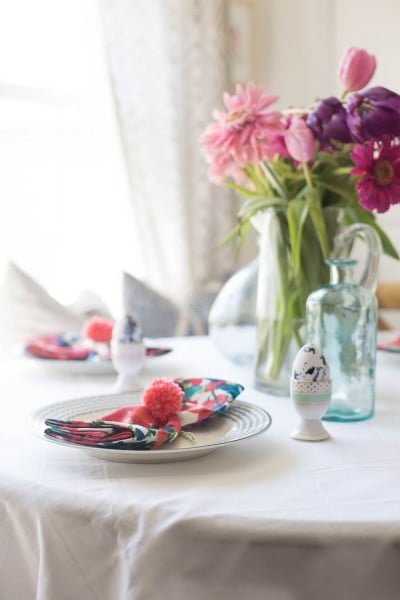 Source: makinghomebase.com
Creating a breakfast nook in front of the window is a great way to decorate it.
Make a simple but elegant spring tablescape. The table is set with a white tablecloth, blue napkins, and yellow placemats.
Yellow flowers are arranged in a vase in the center of the table, and eggs are placed in egg cups around the arrangement. A chalkboard sign hangs on the wall next to the window, listing the dessert of the day.
No-Sew Heat'n'Bond Hem Tape Curtain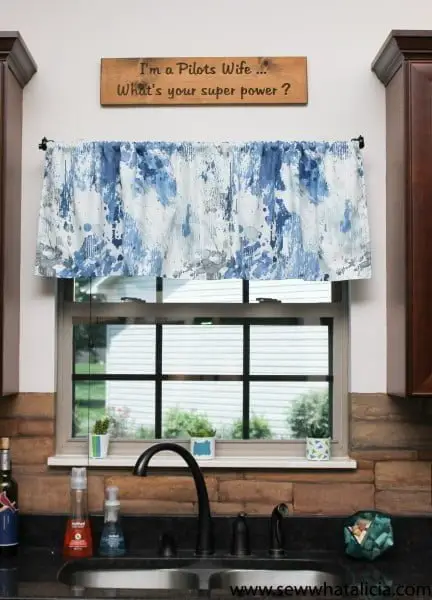 Source: blog.thermoweb.com
This story provides a tutorial for creating no-sew curtains using HeatnBond hem tape. The supplies needed are listed, as well as step-by-step instructions for how to create the curtains.
Photos are included to illustrate the process.
Backdrop Curtains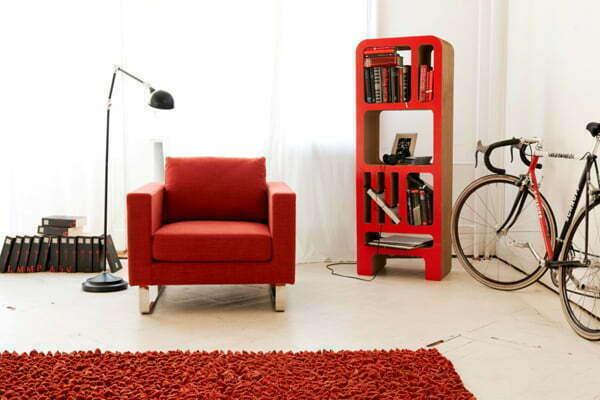 Source: orangenmond.at
You can use your curtains as a backdrop for your room's decor. This way plain curtains work to create an empty canvas for the rest of your decor features.
This particular window decor idea would be perfect for anyone who loves unique pieces and wants to add a bit of personality to their home.
Painting Around Window Panes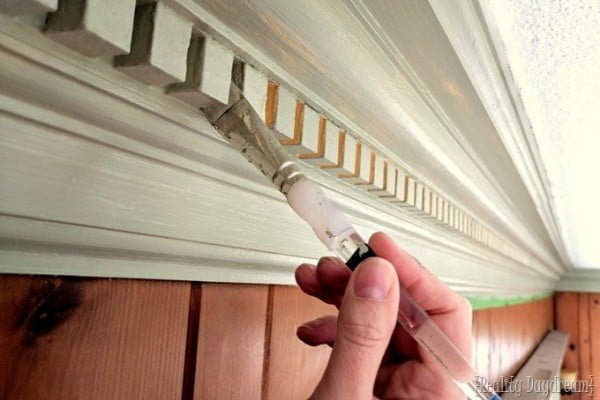 Source: realitydaydream.com
The window decor idea in this story is to paint the trim around the windows in a sage green color. This will help to brighten up the room and make it feel more cohesive.
Exterior Window Box
Source: howsweeteats.com
A window box on the exterior makes a beautiful curb appeal enhancer. Plant flowers in it to make use of this timeless idea.
Arched Windows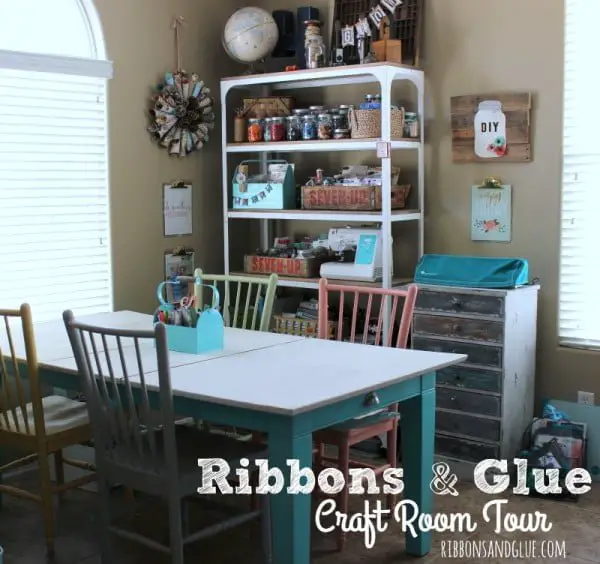 Source: ribbonsandglue.com
Decorating arched windows always poses a challenge. And this is one beautiful way to do it by creating a decorative display.
Decorate in front of the Window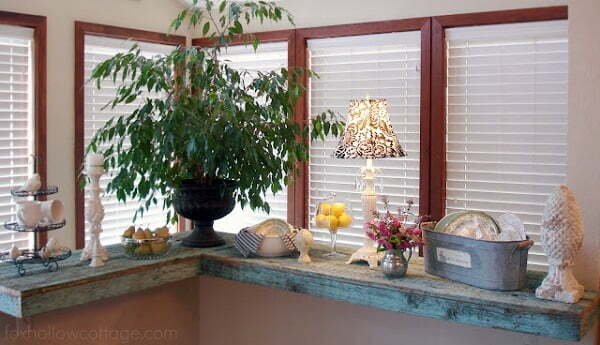 Source: redouxinteriors.com
This idea tells us not to be afraid to decorate our rooms in front of the window. The windows don't have to be wide open. In this case, they work as a backdrop providing natural light for the decorative display.
Bathroom Window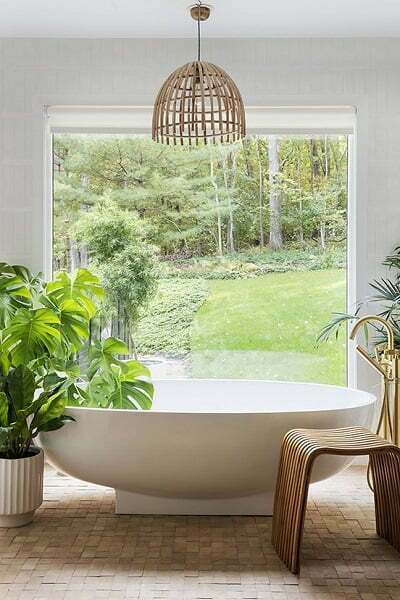 Source: sssedit.com
Big windows in the bathroom lend themselves to special treatment. For one, you need to ensure privacy is available (roller shades or blinds are excellent for this.) But also you can leave them open and enjoy the view.
Custom Valances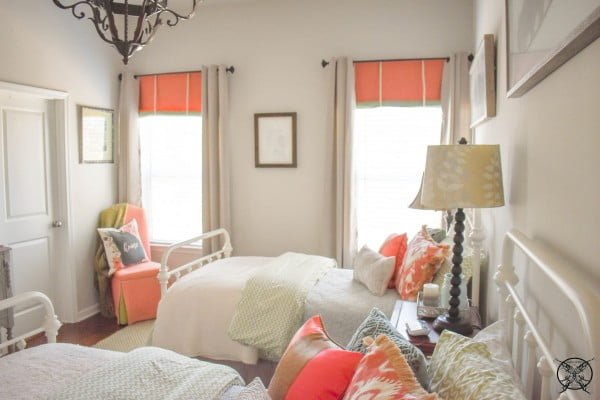 Source: jenron-designs.com
This story describes a DIY project for creating valance window treatments. The author provides detailed instructions for how to create the valances, including measurements and materials needed.
They also offer tips for installation.
Floral Valances
Source: virginiasweetpea.com
The window decor idea in this story is to use three different fabrics to create a new look for your dining room curtains. This is a great way to update a room without having to repaint or redecorate.
DIY Built-in Shelving Around Windows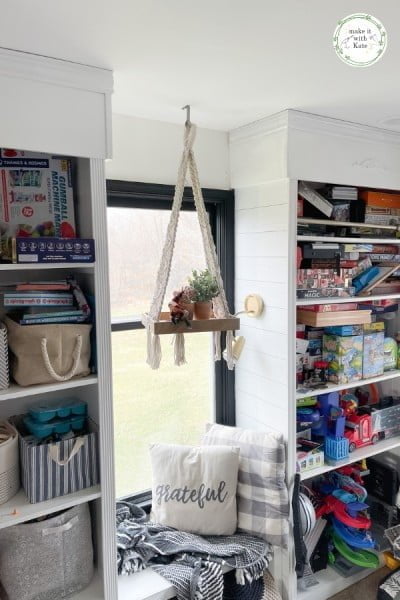 Source: makeitwithkate.com
This bookshelf is made to look like it was professionally done but is actually a DIY project.
The trim work and molding added to the shelving really make it stand out and look amazing.
Gold Painted Curtains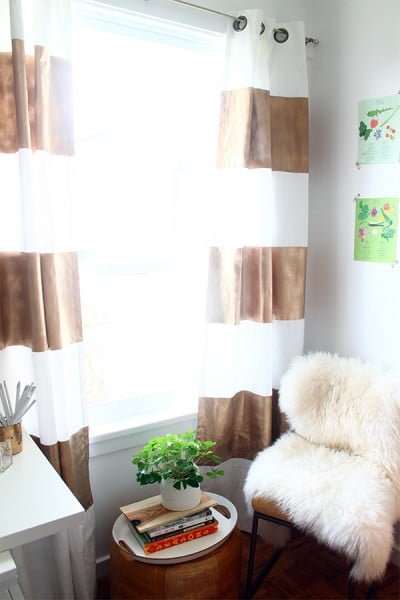 Source: squirrellyminds.com
How to make:
Paint
Paintbrush
Tape
White Curtains
Gold Paint
This window decor idea is a DIY project that involves painting stripes on plain white curtains. The finished product is a chic and glam gold striped curtain that adds instant glamour to any space.
Outfitting a Windowseat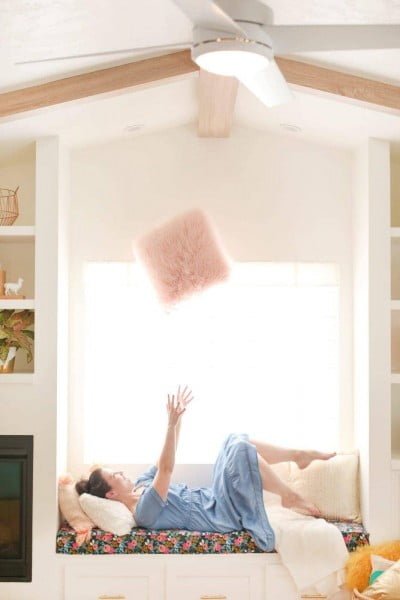 Source: lovelyindeed.com
The idea of this story is a DIY cushion for a window seat. The cushion is made from upholstery foam, cotton batting, and fabric.
The fabric is sewn into a box shape, with one side left open for the zipper. The foam is inserted into the box, and the cushion is then placed on the window seat.
Roman Shades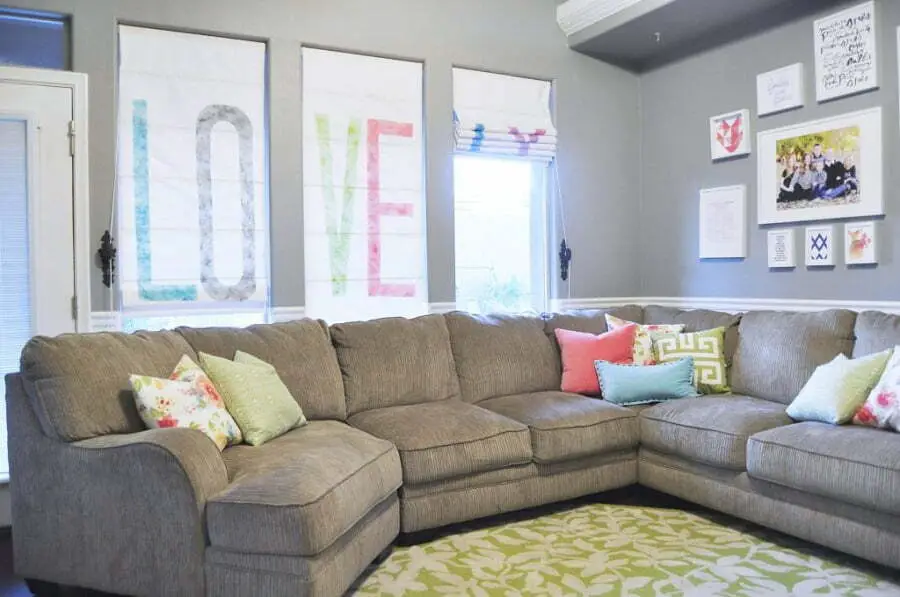 Source: allthingsthrifty.com
The tutorial explains how to make Roman shades the easy way, without any confusing math equations or mini blinds.
Pattern Curtain Panels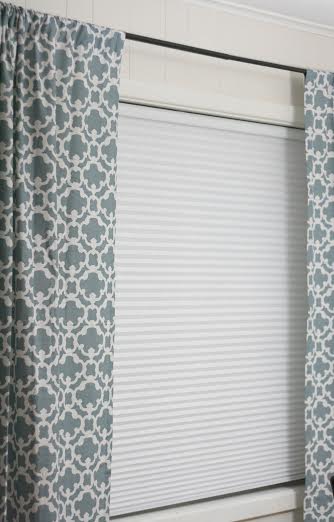 Source: momswithoutanswers.com
No matter what color you choose, the pattern curtain panels will always be a timeless classic. It's one of the rules of thumb in home decor that involves mixing and matching patterns as well as color tones.
Bamboo Woven Blinds and Curtains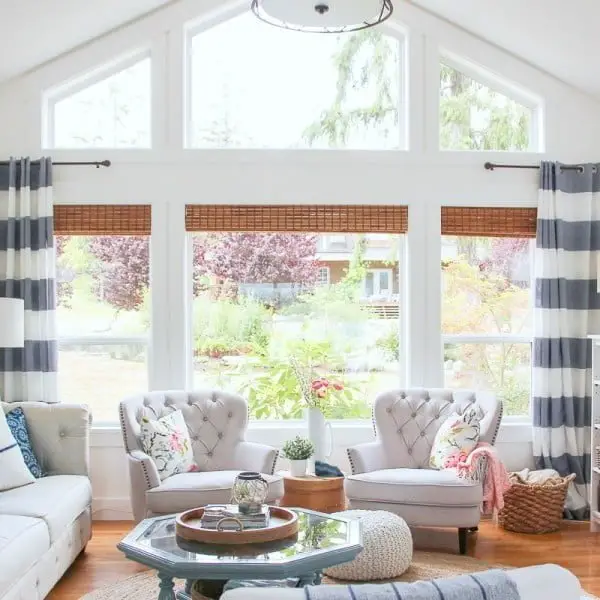 Source: thehappyhousie.com
Use bamboo woven blinds together with curtains to transform your living room. The author shows how easy it is to install the blinds and how they can make a big difference in the look of a room.
Themed Window Decor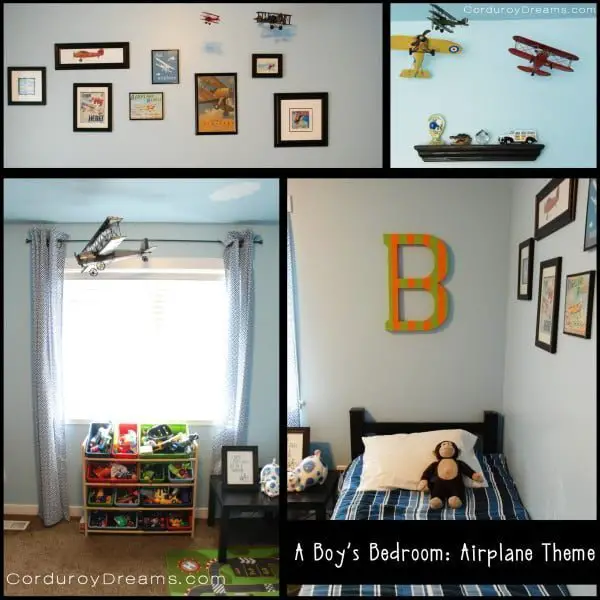 Source: thecreativemom.com
Themed window decor is the go-to idea when decorating a kid's room. You can use anything your child likes. We love the airplane theme and how well it's executed in this example.
Ruffled Shades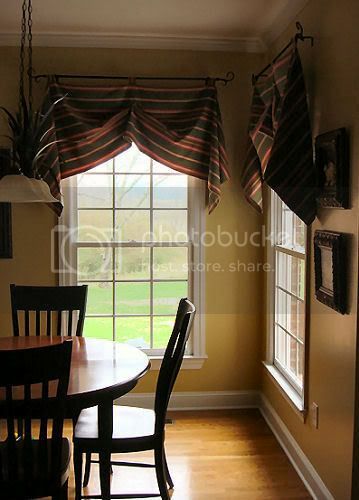 Source: makelyhome.com
This window decor idea is a simple, yet classy and unique way to dress up any window. It uses a strip of fabric 7″ wide and 8″ long, folded in half and seamed together at the sides to create a long rectangle with an open top.
Three small pieces 2 1/2″ wide and 4″ long are then glued to the top of the rectangle, spaced evenly apart, to create tabs for hanging the curtain from a rod. Finally, the top seam is closed with glue or stitches.
Macrame Window Treatments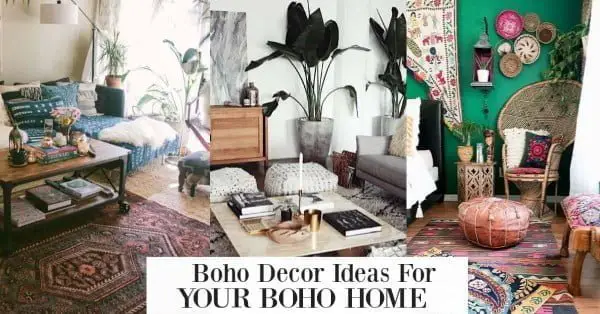 Source: hairsoutofplace.com
The idea in this story is to use macrame on windows that help maintain the overall boho theme of the room decor.
Wrap-around Curtains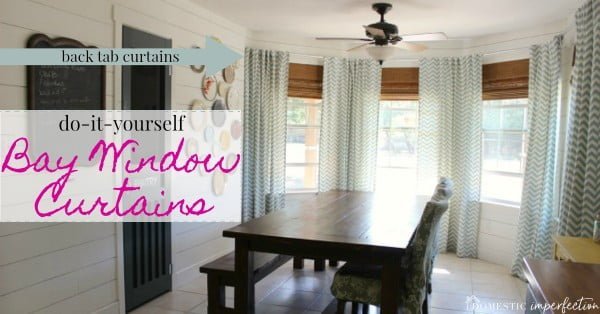 Source: wildfireinteriors.com
This story describes a window decor idea that involves using an electrical conduit to create a continuous curtain rod around a bay window. The author provides detailed instructions on how to measure, cut, and assemble the rod, as well as how to attach it to the wall.
She also offers tips on choosing fabric and making curtains.
Houseplants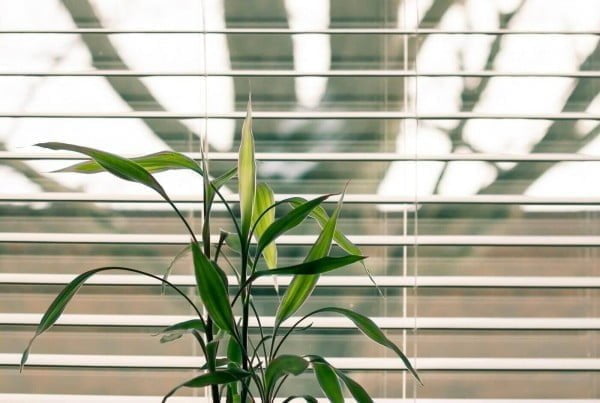 Source: greenhomegnome.com
Houseplants are usually an afterthought when it comes to window treatment. But this idea shows how you can use plants successfully to make the windows look better.
Garlands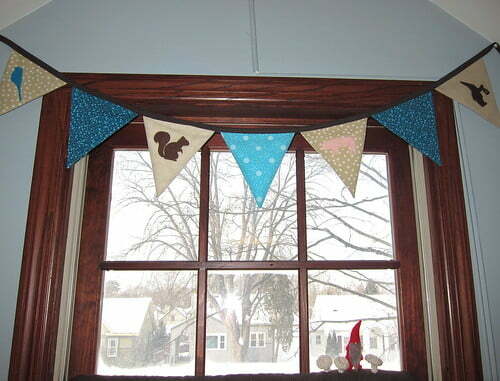 Source: justcraftyenough.com
This story describes a window decor idea that involves bunting or garland. The author provides instructions on how to make the bunting, including appliqueing some cute motifs onto some of the flags.
Related Stories