Explore these modern box valance ideas to enhance the aesthetic appeal of your house windows.
Box valances are a stylish and modern way to add character to any room. They not only provide an aesthetic appeal but also hide unsightly hardware of your window treatments. From simple and minimalistic to bold and dramatic, the design possibilities are endless.
This article explores a variety of modern box valance ideas that can transform your space. Whether you're looking for a sleek, contemporary design or a more traditional look, we've got you covered. Stay tuned as we delve into the world of box valances, offering detailed information on different styles, materials, and tips on how to incorporate them into your decor.
What's Inside
Velvet Box Valance in Jewel Tones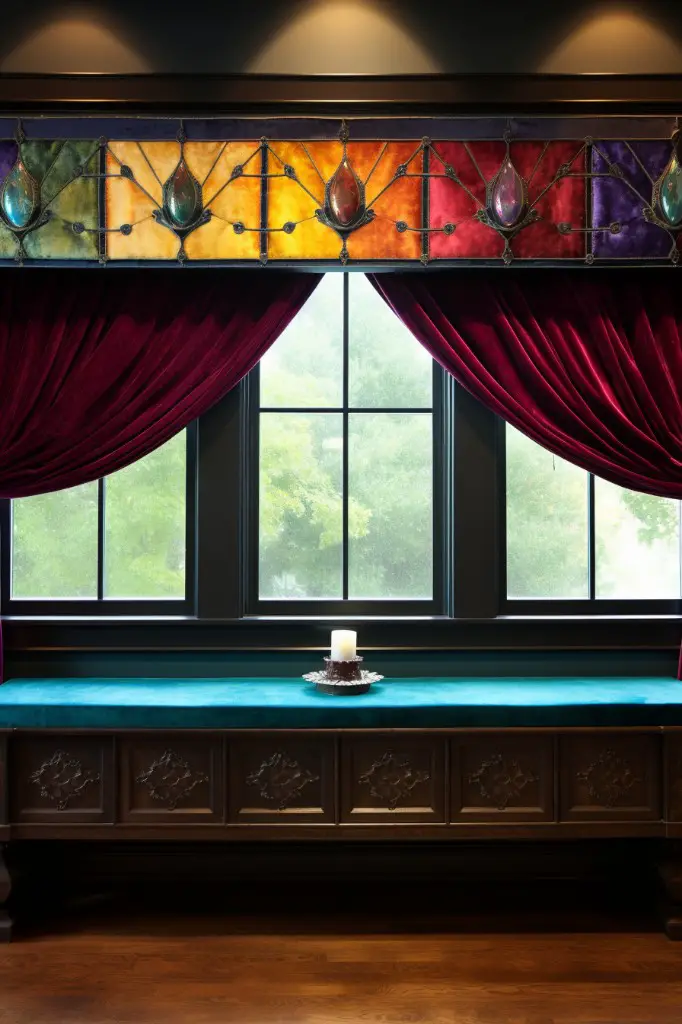 Velvet, a luxurious fabric, brings a richness to your window treatment that's further enhanced by jewel tones such as emerald, ruby, or sapphire. Ideal for bedrooms and living rooms where a touch of elegance is needed, this style can complement a variety of home decor themes from opulent to minimalist.
Enhancing Room Palette: Select a jewel tone that complements the color scheme of your room to create a well-coordinated look.
Light Control: The density of velvet adds substantial light blockage, which is perfect for media rooms or bedrooms where minimizing light is desirable.
Temperature Regulation: Velvet's thickness can help insulate windows, potentially conserving energy.
Care and Maintenance: Keep in mind that velvet fabrics will require careful cleaning to maintain their luster and avoid damaging the material.
Mastering Proportions: Remember that with the heavier fabric and darker color, it's critical to balance the window treatment with the rest of the room. A large window or high ceiling can handle the weight of a velvet box valance.
DIY or Professional: Depending on your comfort level with DIY projects, you could attempt to sew your own, or hire a professional to ensure the valance fits perfectly.
Remember, a velvet box valance in jewel tones can add warmth, style, and function to your space with the right planning and execution.
Box Valance With Geometric Patterns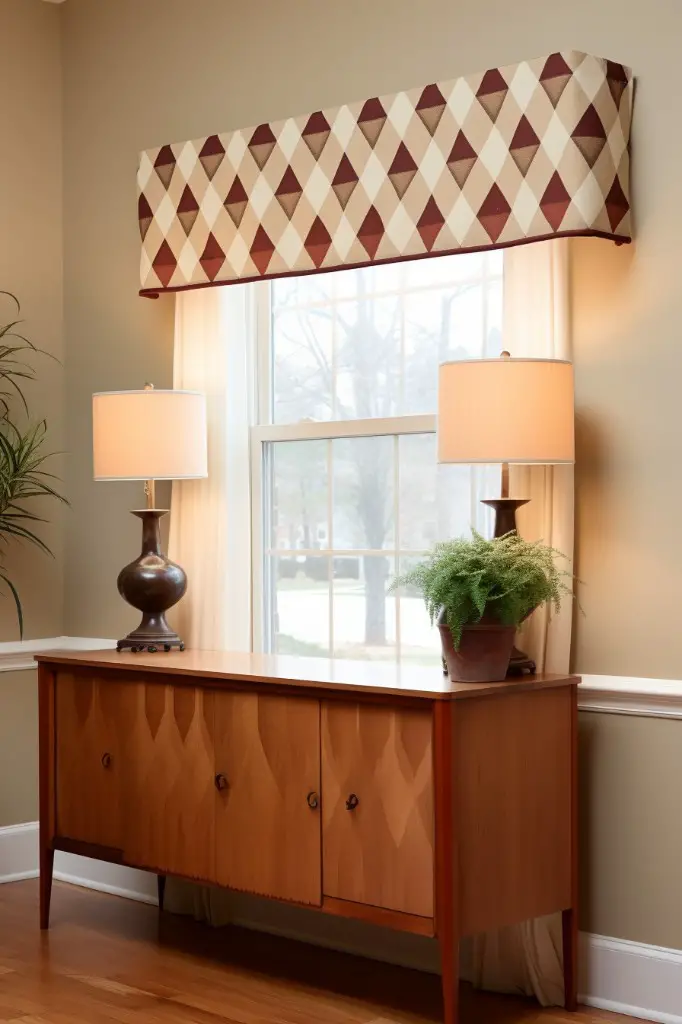 For those seeking a contemporary feel, opting for geometric patterns can give your box valance a vibrant edge. The sharp lines add a robust and dynamic element to window treatments, giving a room a sense of movement and energy.
Select from patterns such as circles, squares, triangles, or even more complex configurations like honeycombs and polygons. This option is perfect for the trend-forward homeowner, as it immediately modernizes any space.
When picking out your fabric:
Pay close attention to color; warmer shades infuse coziness while cooler tones inspire tranquility.
Balance busy patterns with simple, neutral-colored decor elements throughout the rest of the space to avoid visual clutter.
Opt for a fabric that is durable to keep the rigid shape of the box valance and withstand regular cleaning.
Consider the overall theme of your room. Harmonize the box valance pattern with other patterns present within your interior design.
Remember, the goal is to create a visually intriguing space without overwhelming the overall aesthetic. The interplay between shape, color, and pattern affords a modern charm that your geometric pattern box valance will provide.
Linen Box Valance in Neutral Tones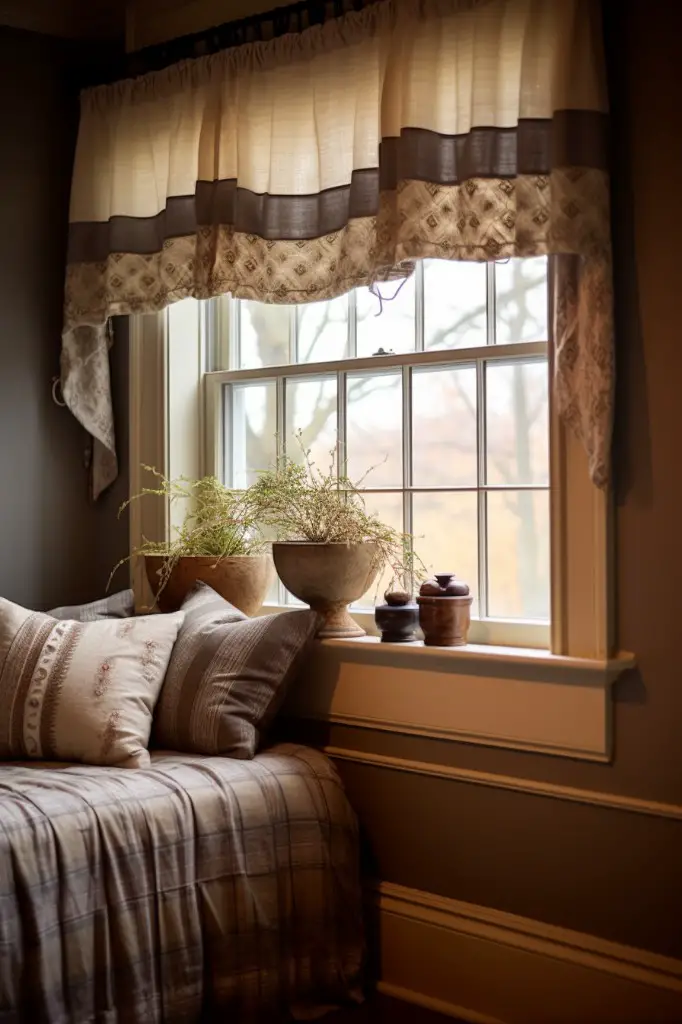 Choosing a linen fabric brings in a natural, casual, and airy feel to your space. In neutral tones such as beige, cream, or taupe, it seamlessly blends with the room's color palette. It doesn't clash with existing decor, making it an excellent choice for homeowners who prefer a minimalist, understated aesthetic.
Opting for a ready-made linen box valance can be an easy and hassle-free option. They are available in various styles and sizes to fit your window perfectly.
A custom-made valance demonstrates personal touches. Choose a fabric, measure your window, cut the fabric accordingly, secure it into a box shape, and install it. Remember to leave some extra length for the seams.
Maintenance is simple. Most linen fabrics are machine washable, but do read the care instructions. Frequent washing may cause slight shrinkage and softening of the material.
Lighting plays a crucial role. Linen diffuses light beautifully, giving your room a warm, inviting ambiance. Check the orientation of your window to harness natural light to the fullest.
Layering can enhance the look. A sheer curtain behind a linen box valance can add depth and charm to your window treatment.
Experiment with textures. Linen comes in variations from smooth to coarse, choose the one that suits your overall decor scheme best.
Finally, consider lining your box valance. It provides a cleaner look, helps maintain the shape, and prevents the linen from fading if the window receives direct sunlight.
Striped Fabric Box Valance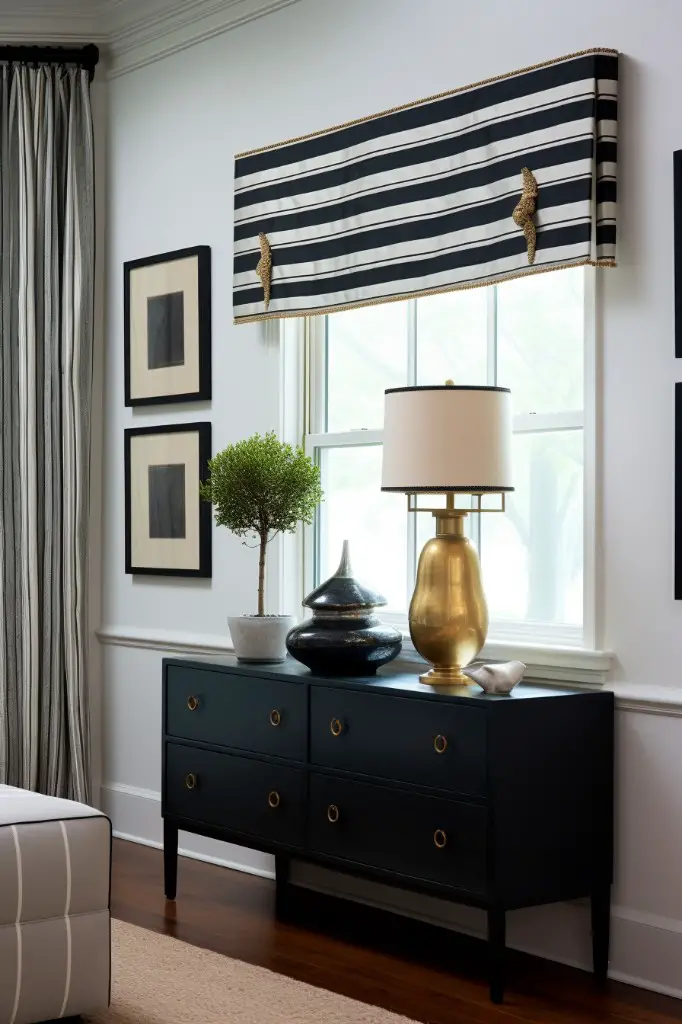 Incorporating a striped fabric box valance can add a subtle touch of elegance to your space. The parallel lines create a streamlined look, offering both a sense of movement and stability. Whether vertical or horizontal, stripes can make a striking addition to your window aesthetic.
Selecting the Right Fabric: Light to medium weight fabrics, such as cotton or linen, are ideal for this type of valance due to their ease of maintenance and durability.
Choosing Stripe Orientation: Vertical stripes tend to add height to a room, giving a lofty, spacious feel. Conversely, horizontal stripes may widen the space visually.
Understanding Stripe Types: Broad stripes make a bold statement, suit larger windows better while narrow stripes provide a quieter, more relaxed atmosphere, suitable for smaller windows.
Color Selection: Choosing stripe colors that match the overall color scheme of the room creates a cohesive look. Bold contrasting stripes stand out more, while subtle tonal stripes blend seamlessly.
Constructing the Valance: Constructing a box valance is simple. Cut the fabric to the desired size, leaving room for seams. Sew in a straight line, adding hardware for hanging once complete.
Installing the Valance: Simple curtain rods or track systems work well for hanging. Secure these above the window frame, then attach the valance.
Maintenance: Regular dusting and cleaning according to fabric instructions will keep your valance looking fresh and vibrant.
Box Valance With Floral Print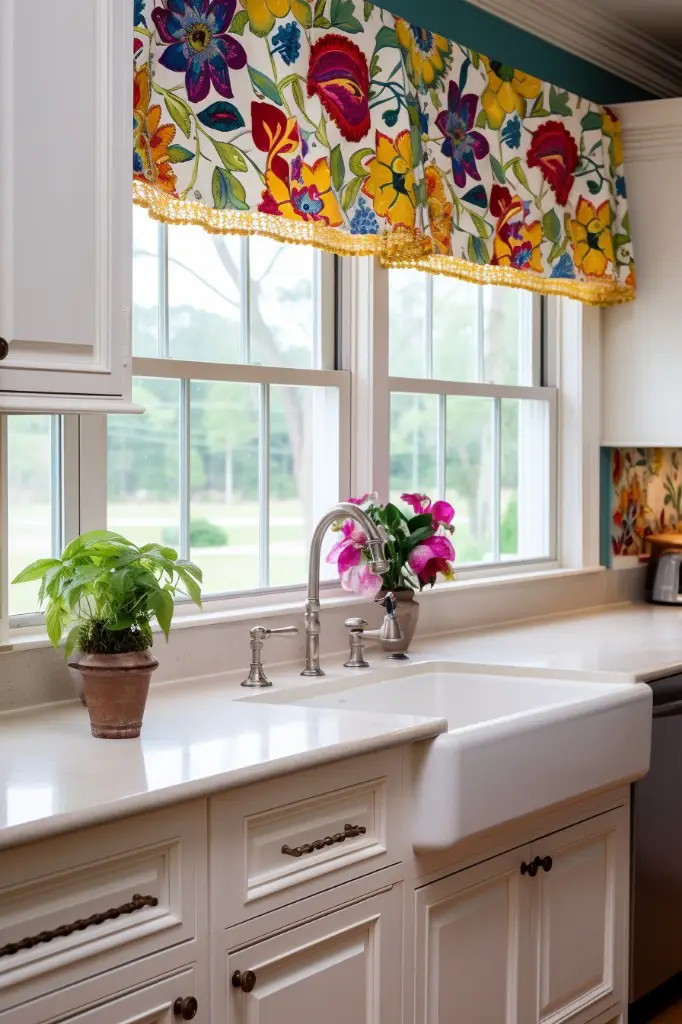 Delicate and beautiful, a floral print can add elegance to any box valance. Choosing the right floral pattern is crucial. Take into account the other patterns and colors in your room. Opt for harmonious color matchings, or dare with contrasts for a bolder style.
– Consider the size of the room: Larger, busier prints can overwhelm a small space, while smaller, subtler prints might disappear in a larger room.
– Spring-inspired florals bring brightness and energy into the room, while vintage-inspired floral prints give off an old-worldly charm.
– When choosing fabric, remember that ones featuring a good combination of large and small floral patterns appear more balanced and aesthetically pleasing to the eye.
– Go for florals with a white or cream background for a fresh, light feel. Ones with a dark background can create drama and sophistication.
– To install, ensure the valance is hung high up, at the top of the window frame. It should extend a few inches beyond the width of the window to trick the eye into perceiving the window is larger than it actually is.
– Remember to trim any frayed edges from the fabric, sew in a straight line, and press seams open for a professional finish.
– Engage a professional if sewing isn't your forte, getting the box valance perfectly right can make a huge difference in the final result.
Creating a floral print box valance can be a fun and rewarding process. By following these suggestions, you can add a touch of the garden to your interiors, brighten your space, and give it a new, refreshing look.
Chalkboard Paint Box Valance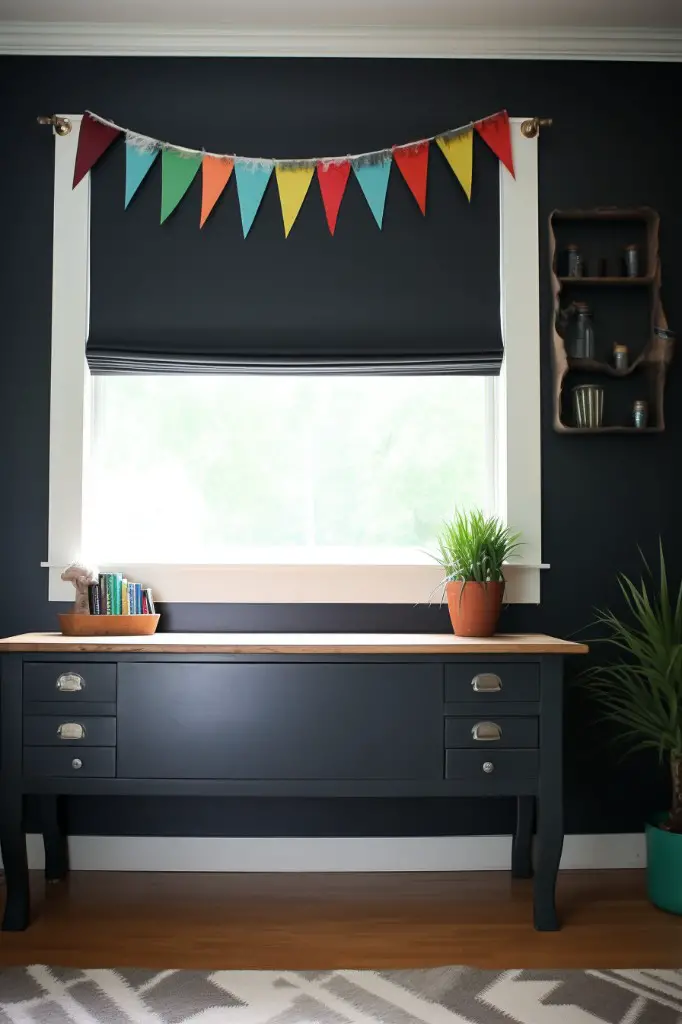 Chalkboard paint offers an innovative and exciting way to elevate the aesthetic appeal of your box valance. This material provides adequacy to express creativity and personalization which can be fun for both adults and kids.
The first step involves selecting the chalkboard paint of your choice. Black is the default favorite, but this paint is readily available in a variety of colors to suit your decorations and moods.
Proper application is paramount. After removing the valance and creating a suitable workspace, you will need to sand the area lightly. This preparation makes it more receptive to the paint.
Once sanded, you can begin the transformation. Apply multiple coats of paint with a brush or small roller, ensuring that each layer is fully dry before adding the next one.
Finally, let your creativity flow once the final layer is dry. You can utilize the chalkboard for drawings, writing inspirational quotes, weekly menus, or reminders. This kind of box valance doubles as a dynamic piece of functional art, transforming your window spaces into interactive canvases. Remember, any chalk drawings can be easily wiped away and replaced when the mood takes you.
Box Valance With Metallic Accents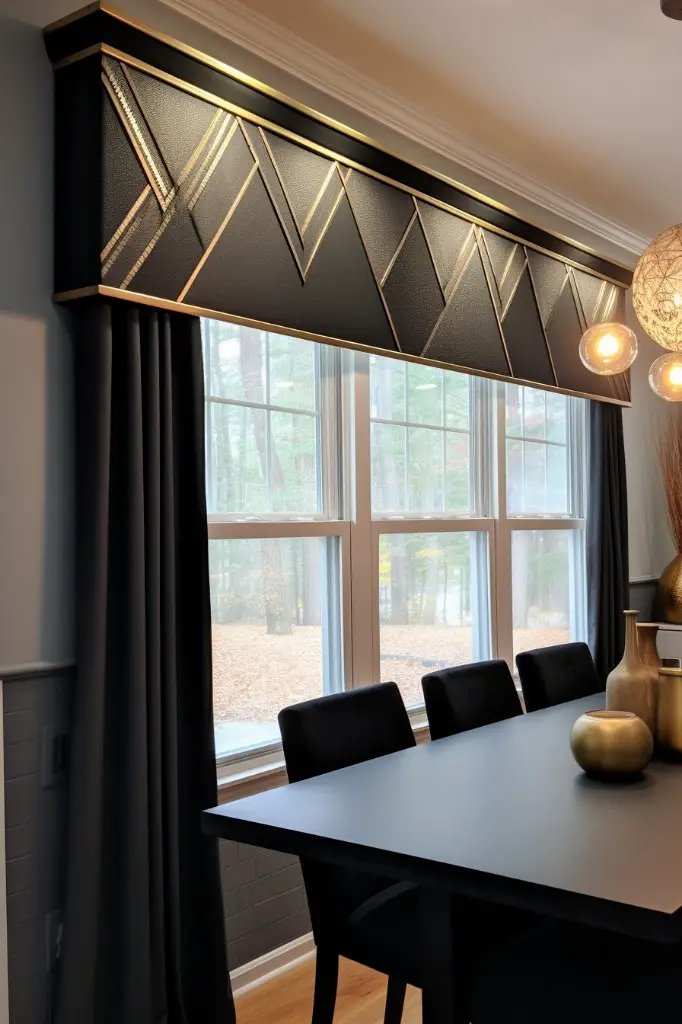 Incorporating metallic accents into your box valance can add a sophisticated and glamorous touch to your décor. Here's a breakdown of key ideas and DIY steps:
Comprehensive Choice: Opt for fabrics with metallic sheen, shiny threads, or sequins to achieve the desired effect.
Color Coordination: Blend your metallic accents with the room's existing color scheme. Silver accents work well with cool tones while gold perfectly complements warm hues.
Style Compatibility: Be sure that a metallic valance fits well with your existing décor – contemporary spaces can handle a more polished look, while rustic interiors may favour a patina finish.
DIY Steps: Start by measuring window width and depth for accurate fabric size. Add the metallic element – sew on sequins, attach a strip of metallic fabric, or hand paint metallic accents onto a plain valance. Finally, install onto your window with brackets aligned to window frame.
Maintenance: To maintain the gleam of metallic accents, dust regularly and avoid direct sunlight that may tarnish the metal over time.
Wood Box Valance for Rustic Touch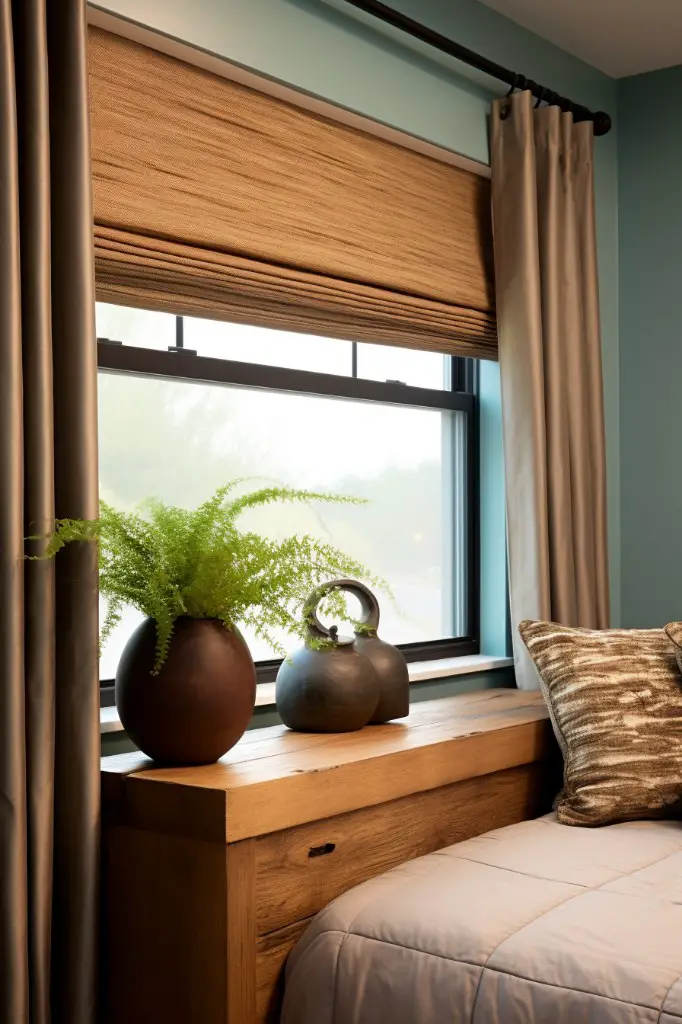 A wood box valance can instantly bring a cozy, warm, and rustic vibe to your room. To achieve this look, there are several key elements to keep in mind:
Choose reclaimed wood: This type of wood, often derived from old structures, has a worn and distinct look that highlights the rustic character.
Consider a distressed finish: By sanding the edges and surfaces, you can give your valance an aged look that adds to its rustic charm.
Opt for natural stains: Colors like walnut, cherry or honey can enhance the natural beauty of the wood while matching with ye-olde-inspired interiors.
Integrate iron hardware: To complete the rustic theme, consider adding iron brackets or nails. These contrast beautifully with the wood and enhance the antiquated appearance.
Try DIY: If you are handy, building your own wood box valance can be an enjoyable and rewarding project. Obtain the wood, cut it to the desired length, and secure the pieces together. Sand, stain, distress, add the hardware and mount it to your window frame.
Remember, when measuring for your valance, include extra length on both sides, typically 1-3 inches beyond the window frame. This will allow your valance to extend past the window, providing optimal coverage and style.
Box Valance With Lace Trim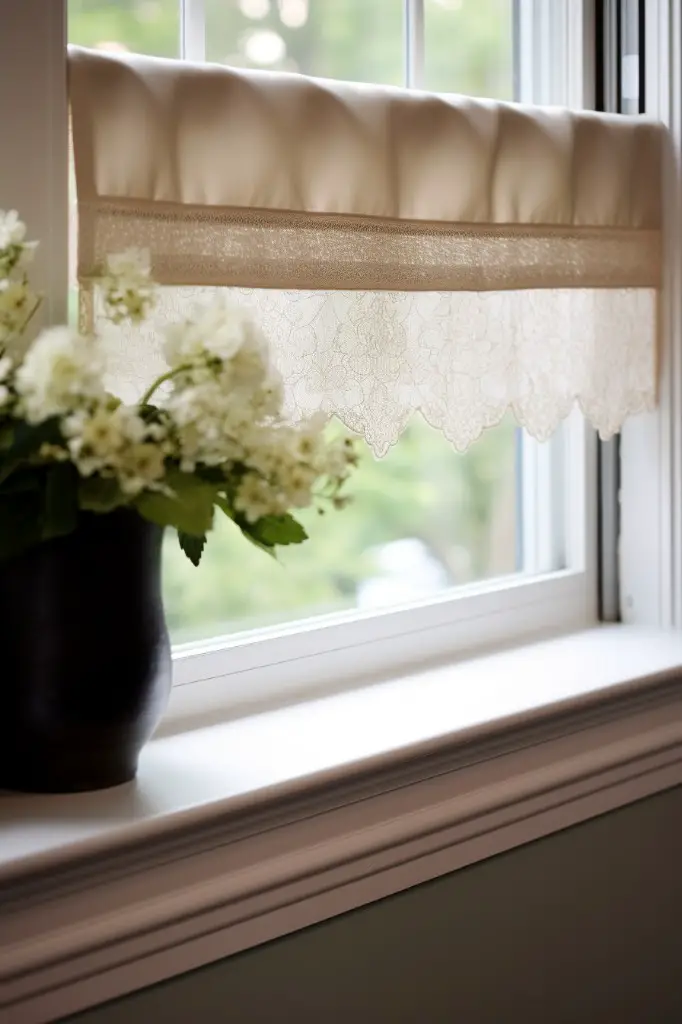 Adding a lace trim to a box valance introduces a delicate and romantic vibe to the window treatment. This is particularly appealing for bedrooms or any space within the home that commands a softer touch.
Key considerations include:
Choosing the Lace: A myriad of possibilities exist, from intricate floral designs to simpler geometric patterns. The selection highly depends on the interior style and personal preference.
Color Matching: Often, lace is white or off-white. However, colored lace can make an exciting contrast or an extra layer of visual interest.
Attachment Methods: The lace can be sewn directly onto the bottom of the box valance, glued for an easy non-sew option, or attached with Velcro for easy removal and cleaning.
Lace Length: The lace can either slightly protrude from beneath the box valance for a subtle impact or hang a few inches down for a more pronounced effect.
With a box valance with lace trim, the average window transforms into a focal point, subtly exuding elegance and sophistication.
Tropical Themed Fabric Box Valance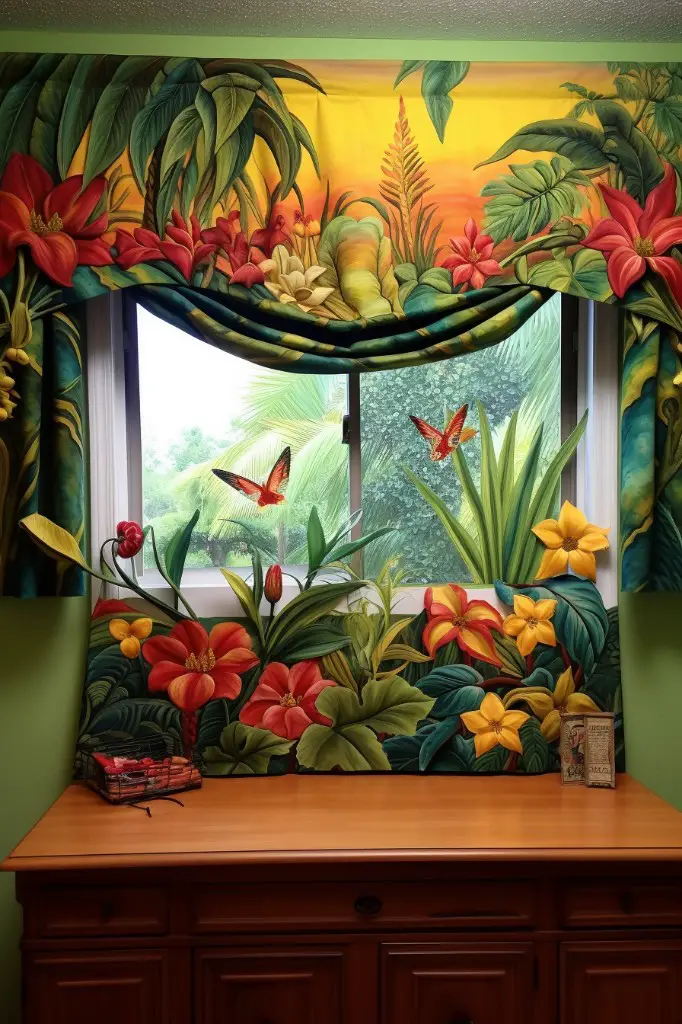 Creating a tropical themed fabric box valance presents an opportunity to add a refreshing, vibrant touch to a room's overall decor.
Choose fabric with quintessential tropical elements: Exotic flowers, vividly colored birds or palm leaf patterns are excellent choices.
Find the right textile: Select a lightweight, airy fabric that emulates the relaxation of tropical climates, such as linen or cotton.
Deciding on size: Traditional box valance dimensions hover between 12 to 16 inches, depending on window size. Opting for a larger size may enhance the tropical feel, particularly in a larger space.
Alignment: Align the fabric design correctly. If the design is directional, make sure it flows the right way.
Installation: Hang your finished valance above the window using brackets or a curtain rod for best visual effect.
Remember, the aim is to capture the attraction of a tropical getaway, so vibrant colors and tropical patterns are your best friends when working on this project.
Color Block Box Valance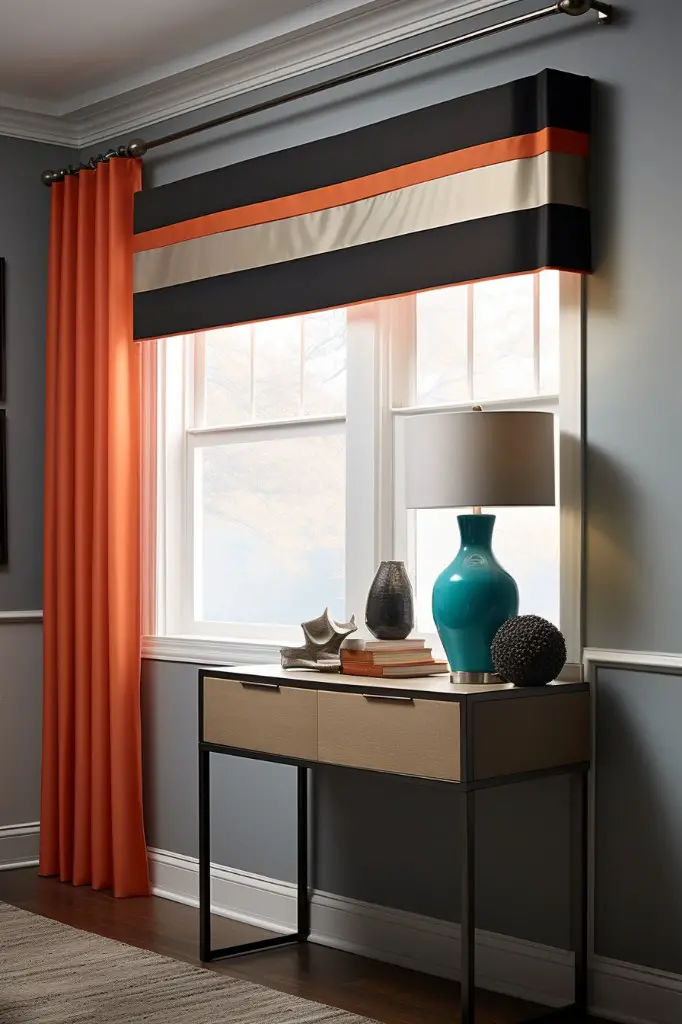 In the realm of fashion-forward window designs, the color block technique offers a striking aesthetic. This style employs two or more distinct shades, frequently bold and contrasting, to create a look that is both modern and impactful.
For a start, choose two or more favorite colors; bold contrasts work well. Contrast adds pop to your window dressing, as seen in popular combinations like tangerine and turquoise, or cobalt and chartreuse.
Next, consider the existing decor in your room. Select colors that resonate with your current interior design or offer a modern counterpoint to the overall tableau.
Finally, construction might require the assistance of a professional seamstress or upholsterer, as the fabric sections must be carefully measured, cut, and sewn to achieve a seamless look. However, those skilled in sewing should find the project manageable, as it mostly involves straight stitching.
Remember: Balance is key. Split the valance evenly between the chosen hues or opt for an asymmetrical look, but repeat the pattern on each window for visual harmony.
Experiment with different fabric textures within the same color block pattern for a richer look. Try combining a flat color with a pattern, or a glossy fabric with a textured mate to create interest.
For maximum impact, extend the colors from the valance to other elements in the room. This could be in the form of throw pillows, art pieces or a feature wall, unifying the space with the window treatment.
With careful choice of colors and smart distribution of shades, a color block box valance can invigorate your room, adding a modern, sharp and high-impact look to your windows.
Leather Box Valance for Modern Look
Incorporating a leather box valance brings an unexpected texture into the room's design. Recognized for its sleek and sophisticated allure, leather adds a distinctive modern touch to your window treatment.
Choosing the right color is crucial. Opt for dark hues like espresso or black for a striking contrast against lighter walls. Alternatively, a light tan or cream-colored leather valance can make a subtler statement.
Size is another important consideration. Ensure your valance extends two to three inches past your window's width on either side. This dimension provides an appealing visual frame without overwhelming the window.
Consider incorporating accent stitching to lend a more customized and refined appearance. White stitching on black leather, for instance, provides an appealing contrast.
Installation practices differ slightly for leather. It's worth consulting a professional if you're not accustomed to working with leather materials.
Keep it clean and maintained. Regular dusting with a soft cloth helps safeguard the leather's natural sheen. Specialized leather cleaning products can be used for more thorough bi-annual cleanings.
Lastly, pairing your leather valance with other window treatments can add visual interest. Full-length drapes, paneled blinds or even simple sheer curtains can complement the valance and enhance the overall ambiance of your space.
Box Valance With Tassel Fringe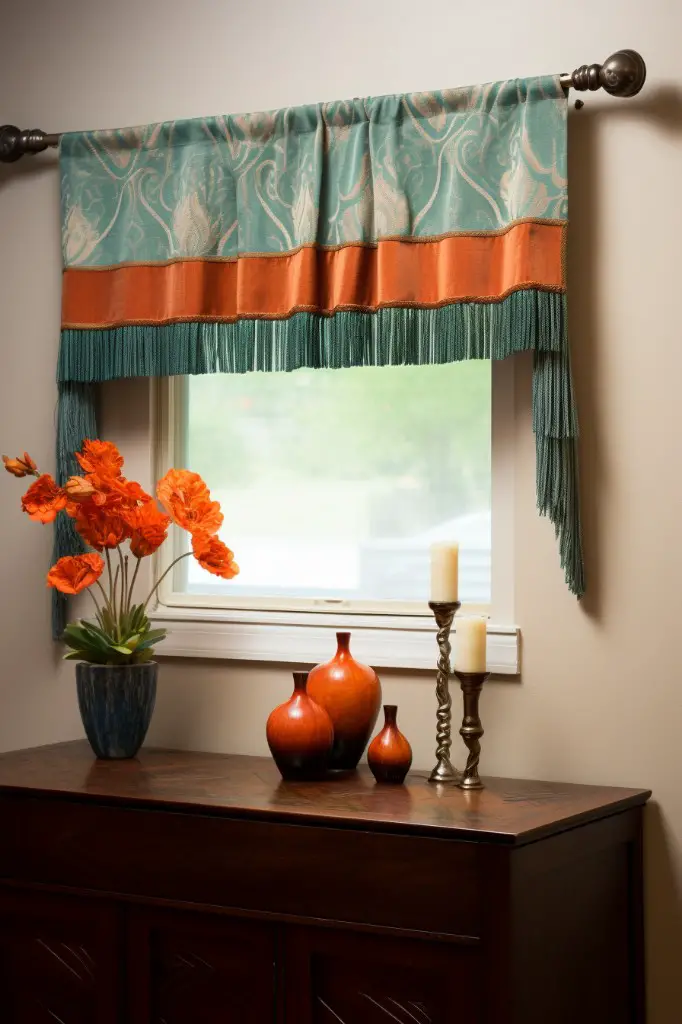 Choosing the right fabric is a crucial first step. Caution should be exercised to ensure the fabric complements the room's existing décor. Use a fabric with a durable weave, such as damask or jacquard, to offer a premium look while enduring daily wear and tear.
Creating tassel fringe is the next phase. There are numerous tassel types available, from simple designs to intricate, multi-tiered ones. The style should be in harmony with the overall aesthetic of the room.
The tassels will need a sturdy attachment to the valance. The use of a hot glue gun or hand-sewing, depending on the weight of the tassels, will suffice.
Measuring the window is an essential step. The size of the valance should be equal to the window's width plus a little extra for the returns. Care should be taken to ensure the valance doesn't impede the opening or closing of the window.
Once the valance is installed, periodic refreshment is needed to maintain its attractive appearance. Light dusting or gentle vacuuming on a regular basis can keep the valance clean and fresh.
These are guidance to keep in mind when incorporating a tassel fringe to a box valance. Take the time to consider each step to create a box valance that not only adds charm but also a palpable sense of luxury to any room.
Painted Box Valance in Bold Colors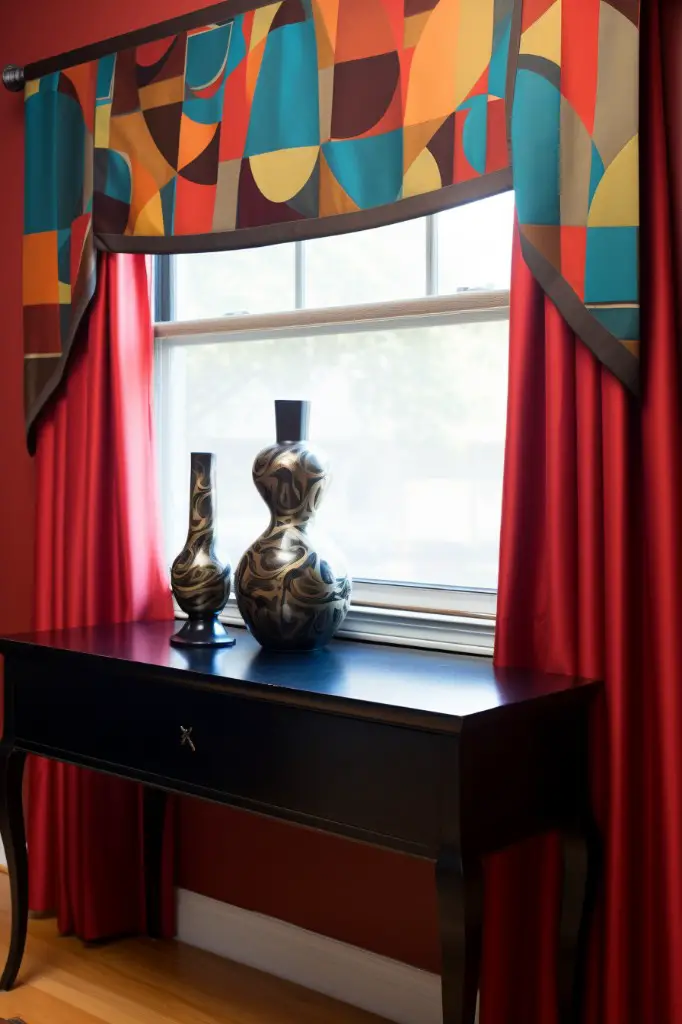 Transitioning from neutral and subtle shades of box valances, it's time for a vivid splash of color to instantly liven up your home decor. That's where bold and eye-catching painted box valances come into the picture.
The first step is picking a strong hue that complements the existing color scheme. Whether it's a vibrant red, ocean blue, sunshine yellow, or rich purple, the aim is to add a pop of color and cheer.
Using acrylic or latex paint is a smart choice, owing to their durability and wide range of color options. Remember to apply a primer before painting to help the color adhere better and appear more vibrant.
If you're the DIY type, stencils might be a good option. This allows for creating intricate designs in contrasting colors for a more personalized touch.
Considering the room's lighting is equally significant as well-lit spaces can handle darker tones, whereas dim rooms fare better with lighter shades.
To further accentuate the look, try painting the window trim in a slightly darker or lighter shade for high contrast.
Despite the bold choice of color, the trick is to balance with softer furnishings and window treatments.
Chevron Pattern Box Valance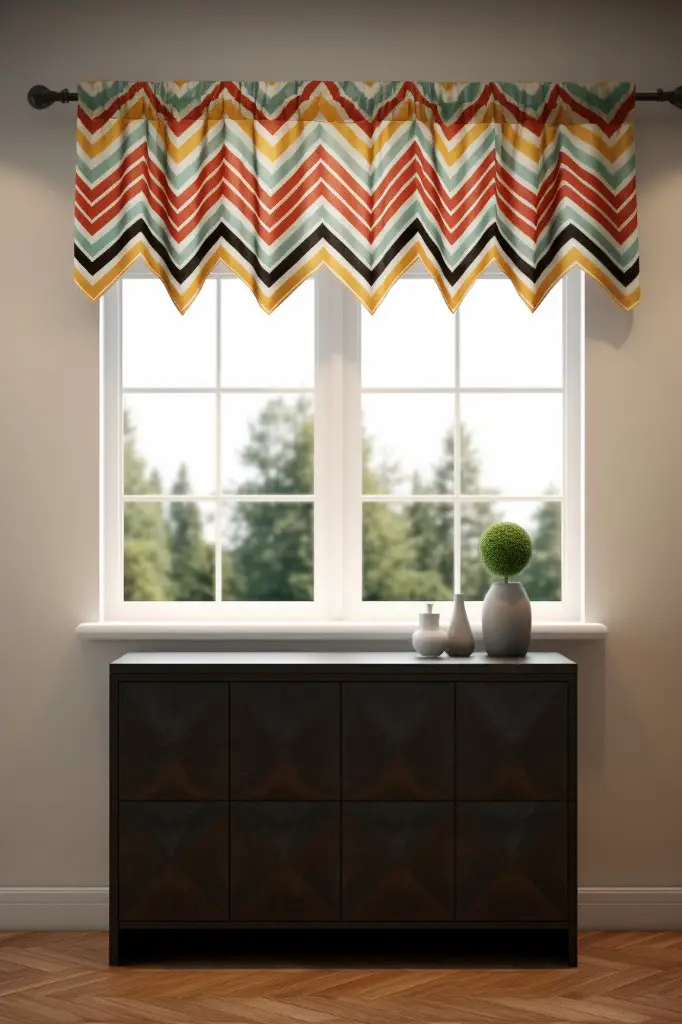 Chevron patterns incorporate a bold, graphic vibe into the décor, creating a dynamic focal point. These zigzag lines can range from classic black and white to an array of colors, depending upon personal preference and existing interior design.
When choosing a fabric with a chevron pattern for a box valance, a key decision will be the scale of the pattern. A larger scale can create a dramatic effect, while a smaller, more refined chevron may be more appropriate in a room with many different patterns or a minimalist design style.
Find fabric: Look for chevron pattern fabric. Any fabric type can work, but durable types like cotton or polyester are commonly used.
Transform: Cut the valance in the desired dimensions, considering the window size and how much of the window you want the valance to cover.
Finish: Sew or hot glue the edges of the valance to give it a professional and clean look.
Install: Use appropriate hardware like a curtain rod or mounting brackets to install your box valance. Make sure it's level and securely fastened to prevent any potential falls.
Remember, a chevron pattern box valance can be a fun and stylish addition to any room. The pattern's boldness, color selection, and the style of display can all be customized to suit individual taste and blend seamlessly with existing decor.
Box Valance With Greek Key Detailing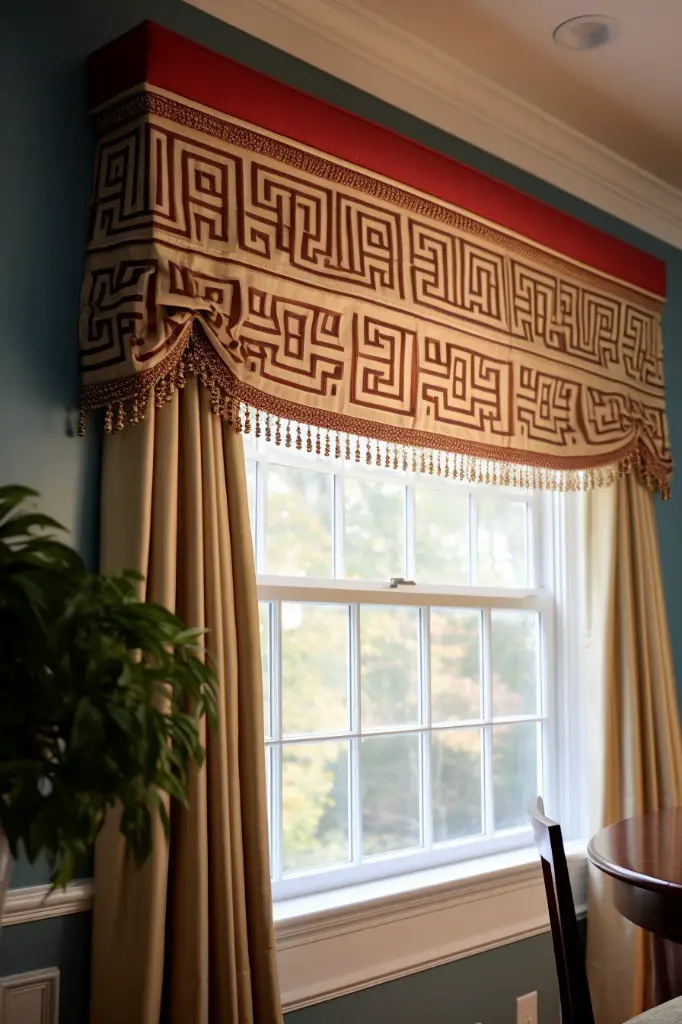 Greek key detailing, a classic decorative motif, infuses your box valance with an air of sophistication. The design, originating from ancient Greece, comprises a continuous line, shaped into a repeated motif. This detail serves not only as decoration but an extra layer of bordering on your window dressing.
Choosing the right fabric and color is crucial. A bold, contrast color can invite attention to the design while a subtler hue maintains a more subdued appeal.
Creating this look involves adding the Greek key pattern as a trim. This can be done by:
Purchasing a Greek key patterned trim. Consider the width of the pattern as it should be proportional to your box valance dimensions.
Measuring and marking the placement of the trim. A common place is near the bottom edge.
Ensuring the trim is straight by drawing a guide using a ruler or straight edge.
Applying fabric adhesive or sewing the trim onto the valance fabric.
Remember, the Greek key pattern can also be incorporated in the main fabric design itself. Whether applied as a trim or chosen as the main design, the Greek key detail offers a classic touch to any box valance.
Distressed Finish for Cottage-style Box Valance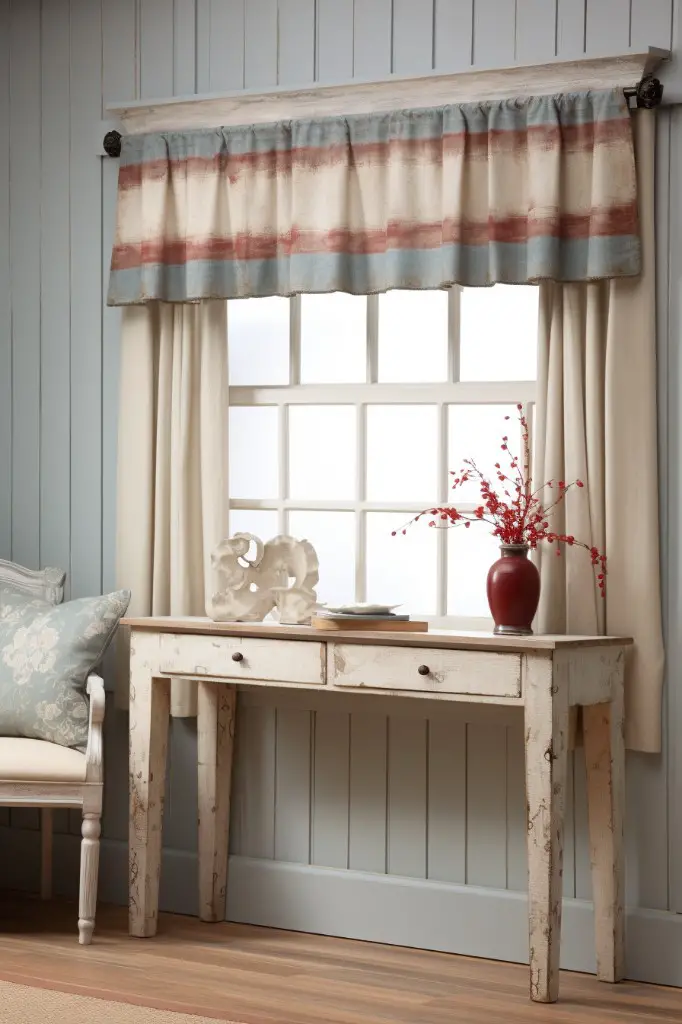 In achieving the distressed look for your cottage-style box valance, consider the following:
Opt for materials like salvaged wood, which tend to display the worn texture desired in distressed pieces.
Select paints in two distinct shades, one as a base color and the other for highlighting the distressed areas. Traditional cottage color schemes favor pastel or muted hues.
The sandpaper technique is excellent for creating distressed looks. After painting the valance with the base color, lightly sand the corners and edges with coarse-grit paper. Then, apply the second shade. Once the paint dries, sand again strategically to reveal the base color underneath.
A coat of matte finish or varnish helps to protect the paint job and gives the box valance a seasoned, shiny touch.
In a cottage-style decor, adding antique or rustic hardware to the valance, such as rough-hewn brackets or rustic nails, can enhance the distressed aesthetic.
Remember, the charm of a distressed finish lies in the imperfections, so there is no need to aim for a perfectly even finish or symmetrical placement of the distressing. Plus, it's a do-it-yourself style you can modify to your taste.
LED Light-up Box Valance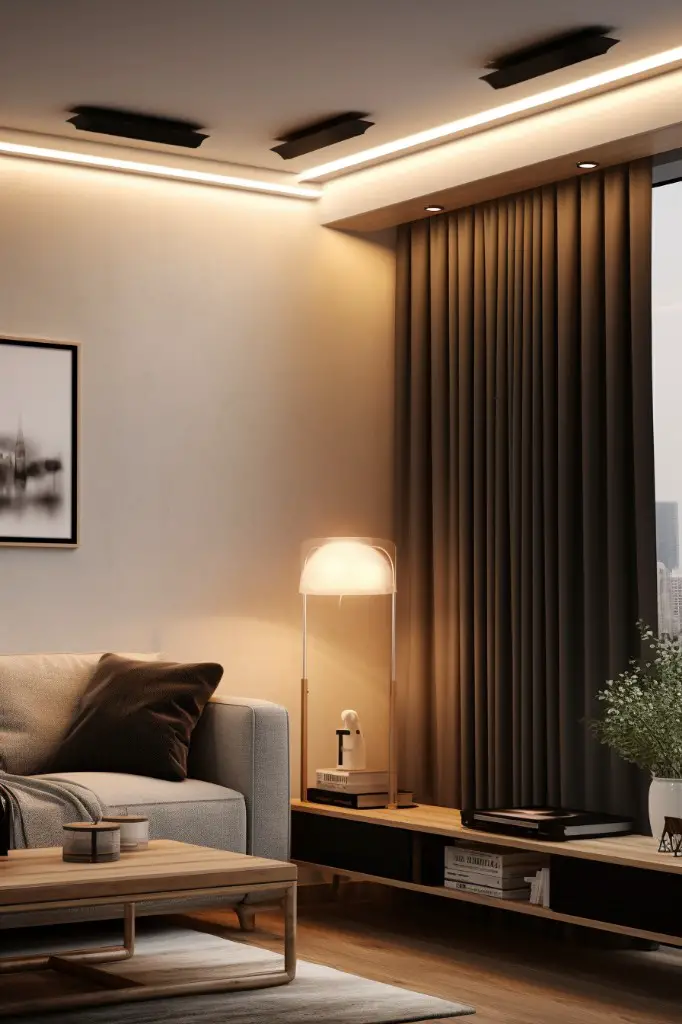 Integrating LEDs into a box valance creates a unique aesthetic that combines functionality and innovative style.
Select LED strips that match the length of your valance for a full light-up effect. Ensure to choose energy-efficient LEDs.
Consider choosing RGB LED strips. They offer a range of colors and can be adjusted to match your room's mood or theme.
Installation requires appropriate electrical components and wiring. If unsure, consult with an electrician to safely embed these into the valance.
LED Dimmers can be used to adjust the brightness level of your valance. This is particularly useful to set ambient lighting.
Hide the wires and strips effectively to maintain a clean look. This could be done using a translucent material for the valance or a cleverly designed duct system.
A remote control or a smartphone app can be used to switch the lights on or off, and change the colors if you are using RGB LEDs.
Remember that LED strips may produce heat, so ensure the material of the valance is heat resistant, and there is ample air flow to disperse any generated heat.
Maintenance of your LED light-up box valance is simple. LED lights have a longer shelf-life, but in case of replacement, make sure the model is easily available. Regular cleaning of the valance will keep it dazzling in the long run.
In case of any issues, professional help must be considered for resolving electrical or functional problems rather than attempting DIY fixes to avoid hazardous situations.
Nautical Themed Box Valance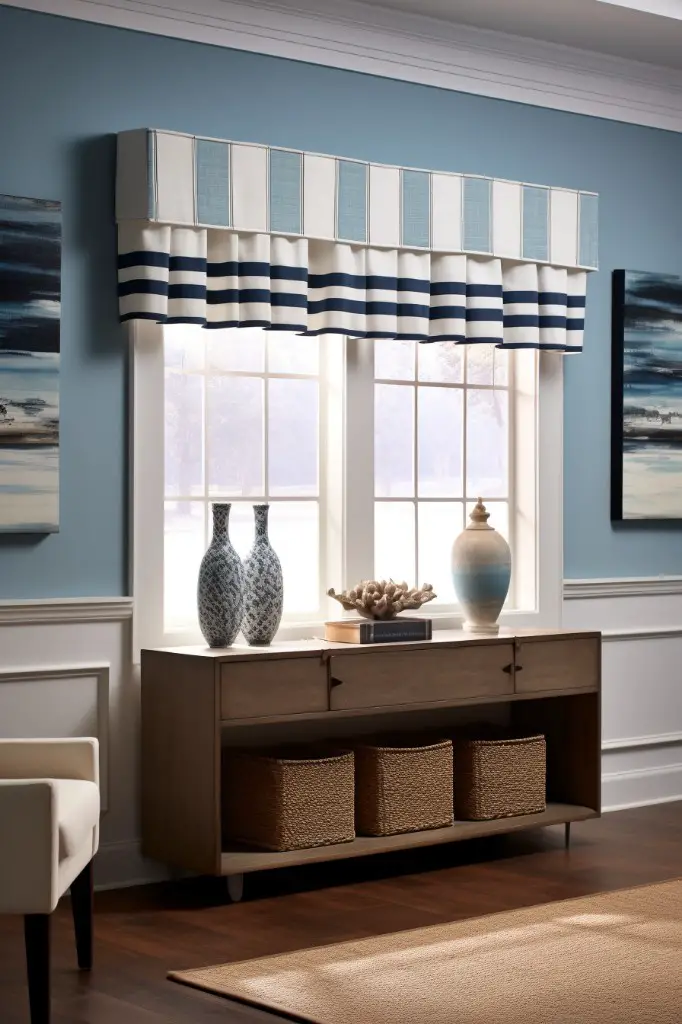 Anchoring a breezy, coastal charm into your home, a nautical-themed box valance rides the wave of beachy chic design. Thoughtfully infused elements can transport you to the ocean's shore, right in your living room.
Consider materials in shades of blue, white, and tan, mirroring the sea, clouds, and sand. Displaying prints or patterns such as anchors, ships, and seashells can further enhance the maritime appeal.
Choose light, airy fabrics like linen or cotton for their excellent light-diffusing properties and a look that's more Cape Cod than kitschy.
For the construction, try a straightedge design, drawing parallels to neat ship lines. Add emphasis to corners by combining rope in knots or using shell-adorned tiebacks.
To create a solid visual anchor, play with repeat patterns, and consider an underlayer curtain of solid color fabric to balance your window treatment.
Finally, don't underestimate the potential of accent elements like vintage navigational maps or lighthouse sketches, working thoughtfully into your overall design.
Box Valance With Attached Curtains for Full-window Treatment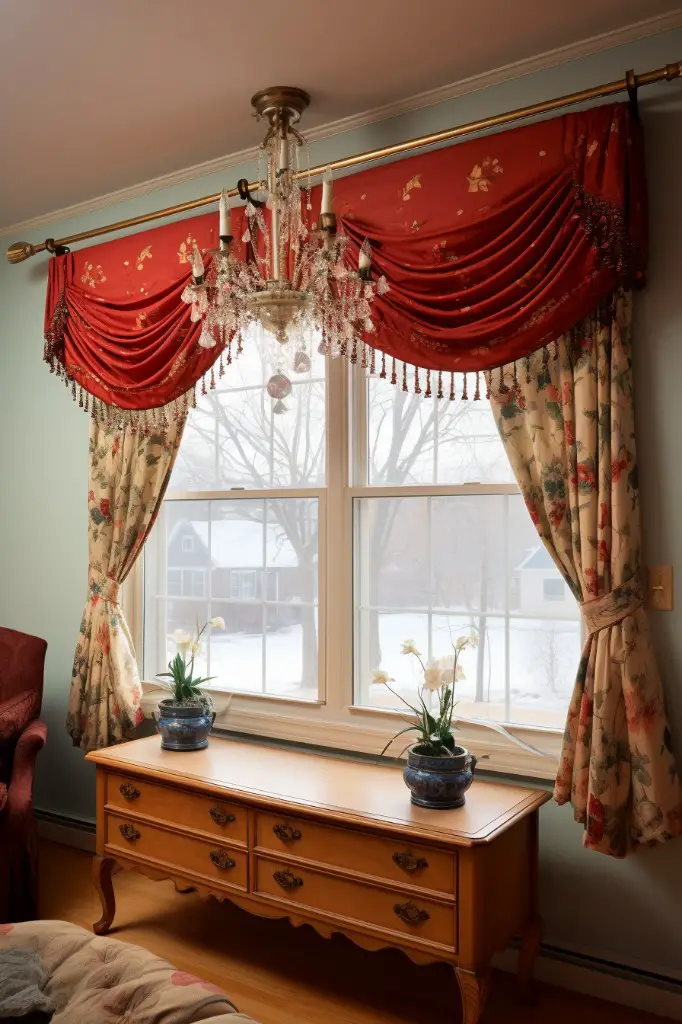 Creating a full-window treatment using box valance with attached curtains involves a three-part process:
Select fabric in a pattern and texture that complements the interior décor. Solid colors or simple patterns often work best to create a cohesive aesthetic. High-quality materials will ensure durability without sacrificing style.
Choose a box valance design. This will be the decorative, rigid box that tops the window, hiding the curtain rod. The box valance can match the curtain fabric or contrast, depending on personal preference.
Attach the curtains to the underside of the box valance. The curtains should be long enough to cover the window completely when closed, and they can be opened with tiebacks or curtain holdbacks.
Implementing this setup not only adds a stylish finish to the room décor but also provides greater control over light and privacy. More importantly, it offers a seamless look that makes the window appear larger and more impressive, drawing eyes towards this feature.
While this is a simple DIY project, it may be helpful to hire a professional to ensure proper fit and installation, particularly for large or uniquely shaped windows.
Related Stories