Exploring various valance styles can drastically transform the aesthetic of your house windows, adding an element of sophistication and elegance to any room.
Valance styles are a crucial aspect of interior design, adding an aesthetic appeal to your house windows while also serving practical purposes.
The beauty of valances lies in their versatility; they can be tailored to suit any decor style, from traditional and classic to modern and minimalist.
This article will delve into the various valance styles available, discussing their unique characteristics, installation procedures, and how they can enhance your space.
Whether you're looking to create a dramatic statement or a subtle accent, this comprehensive guide will provide you with all the necessary details to make an informed decision.
Key takeaways:
Valances can transform windows with sophistication and elegance.
Balloon and London Valance styles add a regal, billowing look.
Board-Mounted Valances offer structure and formal appeal.
Flat and M-Shaped Valances suit minimalist and traditional designs.
Rod Pocket and Tab Top Valances are easy to install and versatile.
What's Inside
Balloon and London Valances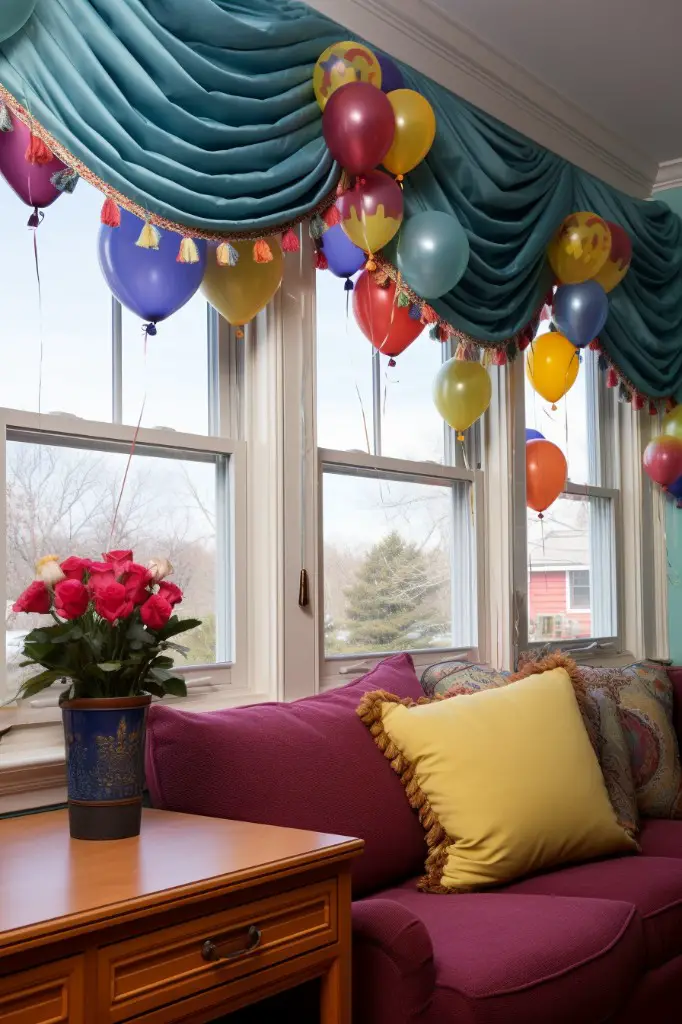 These styles offer an organic, full look. Both the standard Balloon and London variants have soft, billowing sections, adding a regal sense of elegance to any room.
The Balloon variant has a puffed structure, similar to an inflated balloon, held up by a rod at one end while the other end hangs loosely. A great choice for bedrooms and formal dining areas.
The London variant, on the other hand, adds an extra flair with the addition of a tail on each side, gently cascading down to add depth and character. Ideal for living room spaces where you want to make a statement.
For installation, the following considerations will help:
Choose the appropriate fabric. Lightweight fabrics ensure a fluffy, full appearance, while heavier ones may hinder the volume.
Measure carefully before cutting or purchasing fabric, accounting for the billow and tail lengths.
Consider professional installation to achieve the best look. While a more complex design means higher costs, the aesthetic payoff is significant.
Don't forget valance rods or tracks suited for the weight and style of your chosen material.
Board-Mounted Valances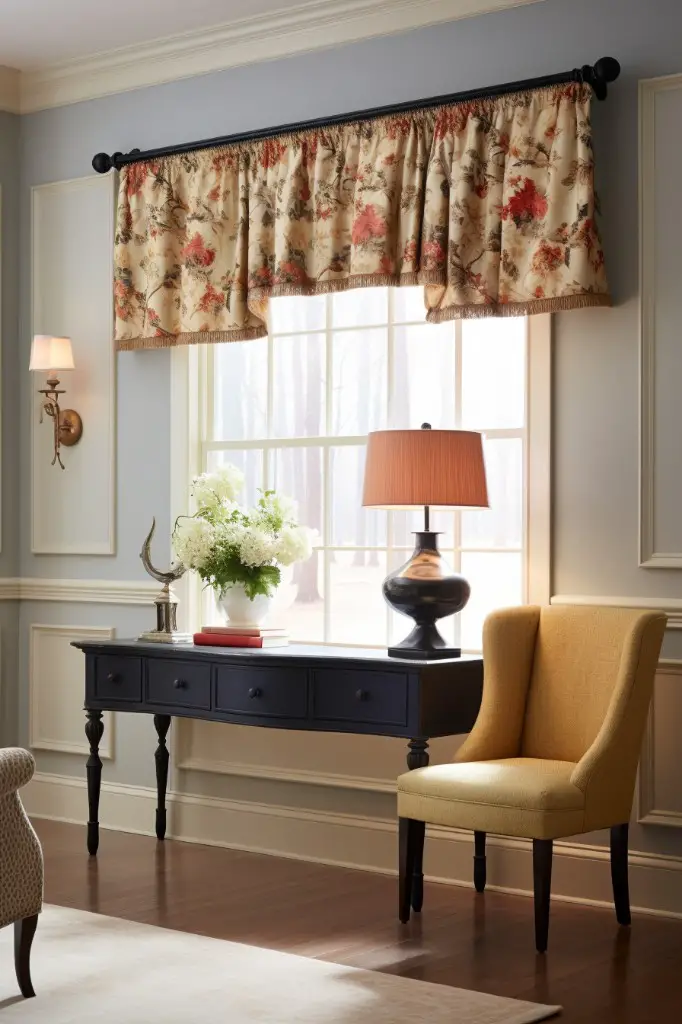 With board-mounted valances, the fabric is stapled or otherwise fixed to a straight board. This type of valance produces a structured, formal look and can have varying lengths, typically extending anywhere from one-fourth to one-third the height of the window.
Key points to consider with board-mounted valances:
They are suitable for windows where curtains or blinds are not required, as they can stand-alone on their window.
Great flexibility in design choices, with the ability to incorporate pleats, shirrs, swags or jabots or to keep it simple and straight.
It requires careful installation, usually onto a fixed piece of the frame, and the board must be cut to the precise width of the window.
The fabric selection for board-mounted valances has an impact on the end look; heavy fabrics create a formal, dramatic appeal, while lighter fabrics are more casual.
Maintenance advise:
Dry cleaning is typically recommended for these valances since the fabric is fastened to a board.
Dusting with a soft brush is your everyday maintenance option.
It's recommended to remove these valances annually for a professional deep clean to preserve its quality and longevity.
Flat and M-Shaped Valances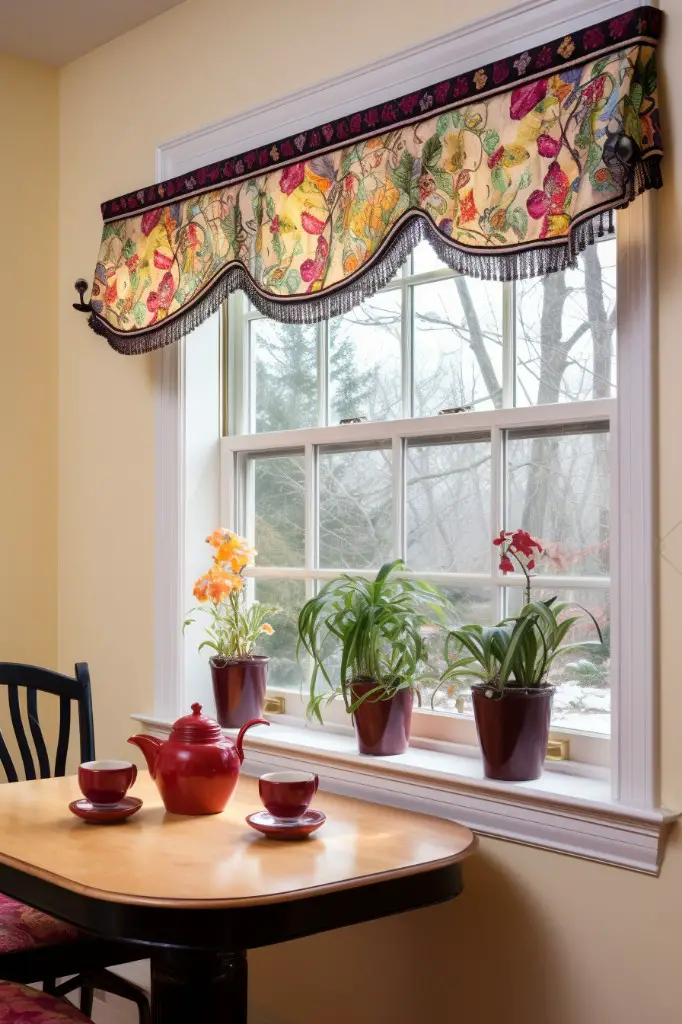 Flat valances maintain a straight, clean line across the top of your window, making them ideal for minimalist and contemporary designs. They offer a relaxed yet polished feel, perfect for both formal and informal settings.
On the other hand, M-shaped valances are characterized by their unique M shape, with two upward curves and a downward dip in the middle. This offers a stylish and sophisticated flair to any window. It is highly suitable for traditional or transitional home design.
To install these valances, here are key points to consider:
Find the appropriate size – First, you have to measure the width of your window, then add an extra 2 to 3 inches on either side for the optimal look.
Choose the right material – Next, pick a fabric that complements your interior. Both flat and M-shaped valances work well with a variety of materials.
Decide on additional elements – Consider whether or not to add decorative features such as trims or tassels to enhance the overall look. For M-shaped valances, one could play with the lining's color to draw attention to the unique shape.
Remember that flat and M-shaped valances are versatile; they can stand alone or be paired with curtains or blinds for a more layered look.
Rod Pocket Valances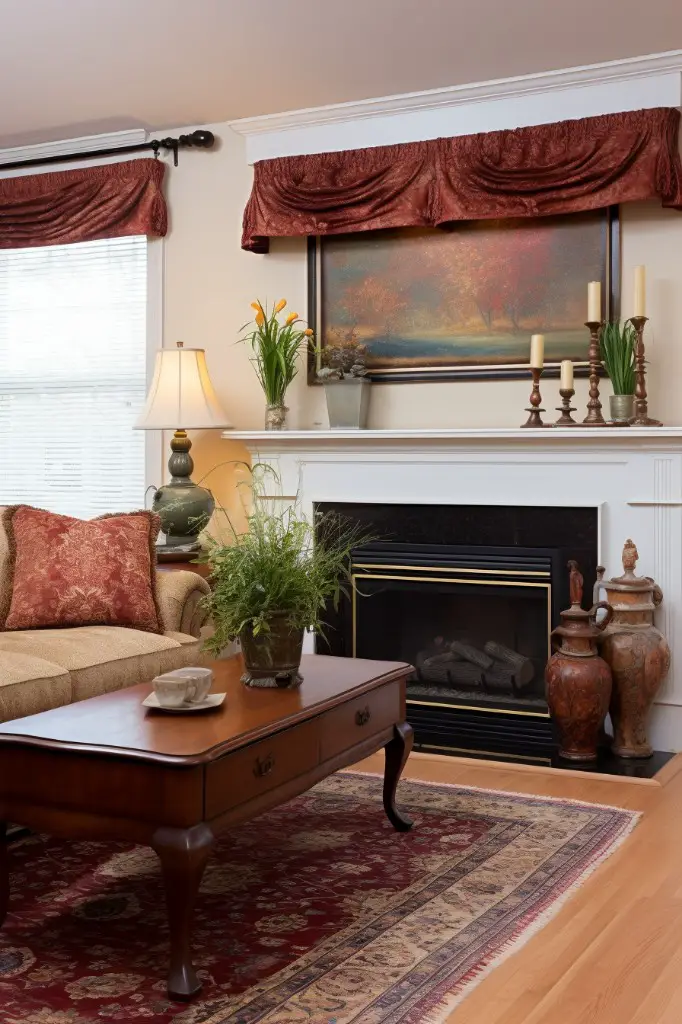 A defining feature of rod pocket valances is the broad casing at the top that fits in a curtain rod. This leads to a neat, gathered effect perfect for traditional decor.
Advantages include:
Ease of installment. Once the rod is in place, the valance is simply threaded onto it.
Versatility. They work well with most window sizes and shapes.
Variety. Offered in a multitude of materials and designs.
For the careful DIYer,
Measure the window's width accurately. The valance needs to be about twice this size for an adequate gathering effect.
Choose a rod diameter that's harmoniously scaled to the window size and the fabric weight.
In this style, the length of the valance is an important consideration. For those preferring a trim, tailored look, aim for a valance length that equals about 1/6th the total height of the window. However, for a more dramatic statement, longer lengths can produce an opulent cascading effect.
For this customization, the following are crucial:
A taller rod bracket. Ensure it's installed high enough to accommodate longer valances.
The material chosen should drape well to enhance the flowing effect.
And, importantly, double check measurements before cutting any fabric.
Like most window treatments, rod pocket valances need regular care to keep them looking their best. Light dusting, gentle vacuuming, or careful laundering dependent on the material used, can ensure they're looking crisp and clean at all times.
Tab Top Valances
Tab top valances are characterized by loops, or 'tabs', which are sewn across the top edge. The rod slips through these loops for hanging, giving the valance a ruffled or pleated look at the top. This style can work wonderfully in both casual and formal settings depending on the fabric used.
Simplicity: Tab top valances offer a simple, uncluttered look, making them suitable for minimalist decor styles.
Fabric Flexibility: They work well with a broad range of fabric weights and types.
Easy Installation: With their tab design, installation is a breeze – simply thread the curtain rod through the tabs.
Light Control: By choosing a sheer or semi-sheer material, light can filter in around the tabs while providing some privacy and shielding from direct sunlight.
Personal Touch: The simplicity of tab top valances makes it easy to add a personal touch. Consider adding buttons, trims, or embroidery on the tabs for a truly custom look.
Remember, it's important to choose the right curtain rod – a decorative or chunky rod will enhance the casual, relaxed look of a tab top valance, while a slim, sleek rod will add a touch of elegance suitable for a more formal setting.
Faux Roman Shade Valances
Faux Roman Shade Valances simulate the appearance of traditional Roman blinds, but they do not possess the same functional characteristics. Unlike their genuine counterparts, these valances cannot be raised or lowered, as they are primarily used for aesthetic purposes.
Highly versatile in design, they can be customized to match any kind of home decor.
They are easy to install; many feature a rod pocket at the top that slips over an existing curtain rod.
They offer a layered look which can add depth to the window treatment.
A cost-effective solution, they provide the elegance of Roman shades without the expense.
Care is quite simple, most can be cleaned with a vacuum cleaner's soft brush attachment.
Remember, while they're stylish and easy to maintain, they do not provide the functionality of actual Roman shades. Before choosing Faux Roman Shade Valances, consider your needs regarding light control and privacy.
Tailed Balloon Swag Valances
Embodying elegance, Tailed Balloon Swag Valances imbue an exquisite vintage charm to any room. Here's what makes them stand out:
Fabric choice is paramount. Rich brocade, velvet, or jacquard weaves typically add a touch of opulence. Breezy cotton or linen will offer a more casual, rustic appeal.
Valances can reach varying lengths. For a striking cascade effect, a "tailed" version extends longer on the sides, short at the center.
Punctuations with pleats and tucks at regular intervals contribute to the "balloon" effect. These can be tailored to proportional requirements according to window size.
These valances require sturdy rod selection to take the weight of their heavier fabric. Opting for stylish decorative rods will add to the overall aesthetic appeal.
Remember, this type can be used alone, showcasing their artistic design or layered over sheer curtains for a complete look.
Installation may require professional helping hands. Yet, a DIY approach is feasible with step-by-step tutorials. Expertise in sewing will be advantageous here.
Maintenance needs to be timely. Their intricate design is prone to dust collection, therefore, regular cleaning is recommended to maintain their regal look. Most can be vacuumed gently or spot-cleaned, but check fabric care instructions first.
Creating a sophisticated window treatment with a Tailed Balloon Swag Valance requires thoughtful consideration of the above aspects. A well-planned approach will ensure a rich outcome enhancing your home décor.
FAQ
Are valances still in style 2023?
Yes, valances are still in style in 2023 as they offer a classic, nostalgic feel and add depth and warmth to a room, especially one with tall windows.
Are valances in style anymore?
While not universally popular, window valances maintain a timeless style depending on homeowners' choice and care in selection.
What is a modern valance?
A modern valance is a window treatment characterized by clean lines and minimal fabric, designed to enhance a contemporary room aesthetic.
What are the trending materials for valances in 2023?
In 2023, the trending materials for valances are natural fibers such as linen, cotton, and bamboo, as well as sustainable synthetic materials.
How are contemporary interior design trends influencing valance styles?
Contemporary interior design trends lean towards minimalism and natural light, steering valance styles towards light, neutral colors with sleek lines.
What are the best valance colors for a minimalist room?
The best valance colors for a minimalist room are neutrals like white, beige, and gray.
Related Stories