Explore the aesthetic world of coastal valance ideas, as we delve into different designs that can transform your windows and enhance your beach-inspired home decor.
Coastal valances can bring a refreshing, beachy vibe to your home, regardless of your proximity to the sea. The key to achieving this look lies in choosing the right materials, colors, and patterns that embody the coastal spirit.
From nautical stripes to seashell prints, there is a wide range of options to explore. This article will delve into various coastal valance ideas that can transform your windows, providing a comprehensive guide on styles, fabrics, and installation techniques.
Whether you're a fan of the classic Cape Cod style or prefer a more tropical, Caribbean-inspired look, you'll find all the inspiration and details you need right here.
What's Inside
Nautical Striped Valance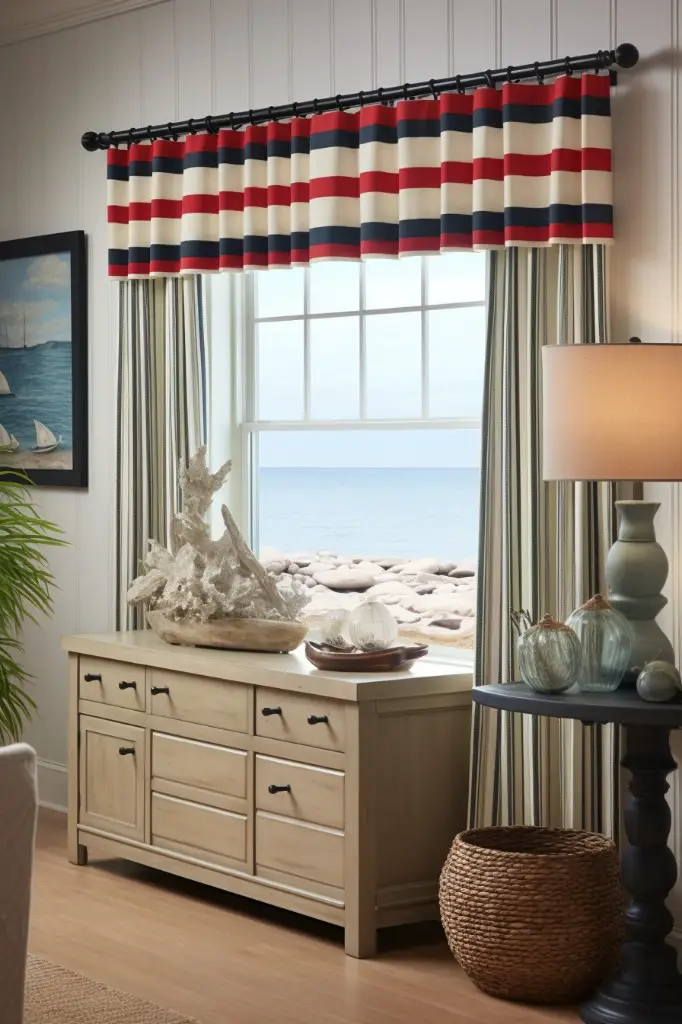 Emphasized by the boldness of stripes, a nautical valance can transform a room into a seaside retreat. The classic white and navy blue striped pattern is a popular choice, often associated with maritime design. The stripes can run vertically, adding a sense of height to small windows, or horizontally, imparting a relaxed beach-hut feel.
If looking to add a splash of color, consider incorporating red or turquoise, both renowned shades in nautical decor.
To further enhance the maritime aura, pair the valance with a neutral or sand-toned curtain. Opt for natural fibers, such as linen or cotton, bearing in mind the light and airy atmosphere commonly found at the coast.
Hardware choices are important too. Driftwood or rope-style rods tie nicely into nautical themes.
Remember, don't limit the nautical striped valance to just the living room or kitchen, it also makes a peppy addition to a bathroom or bedroom, maintaining consistency in the decor while preserving the coastal vibe.
Starfish-themed Valance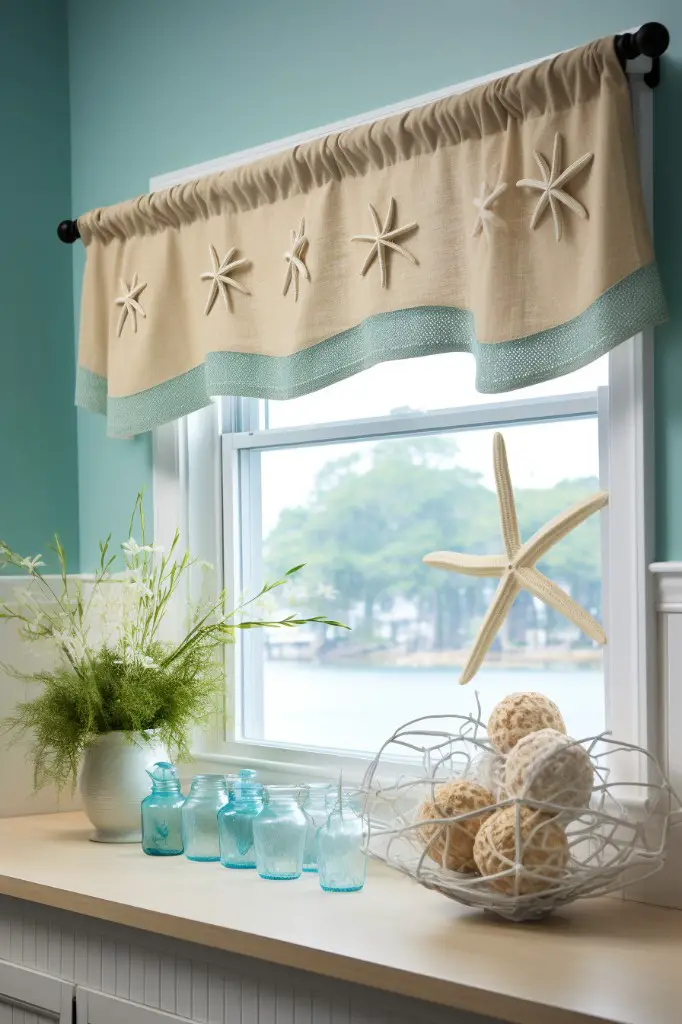 A starfish-themed valance is a splendid choice for coastal decorating, adding a beachy feel right in your space. With this design, subtle oceanic elements are infused into the detailing of the valance.
Look for a fabric with starfish prints. These could be subtly blended in or designed as large, noticeable prints.
Consider color schemes that coordinate with your room. Blues, whites, and creams often create a calming for a coastal theme.
Think about the required size of the valance to perfectly fit your window. This requires accurate measurements of your window.
Look for a valance lined with a color that complements the pattern of the starfish print for an enhanced appeal.
Consider the type of design – scalloped, straight, gathered, pleated or rod-pocket styles can all add different dimensions to your space.
Know whether you would prefer a fabric that is easy to machine wash or if a more luxurious, dry-clean only textile suits your lifestyle.
Choosing a starfish-themed valance provides a fresh and inviting vibe that truly embodies coastal living.
Light-blue Seascape Valance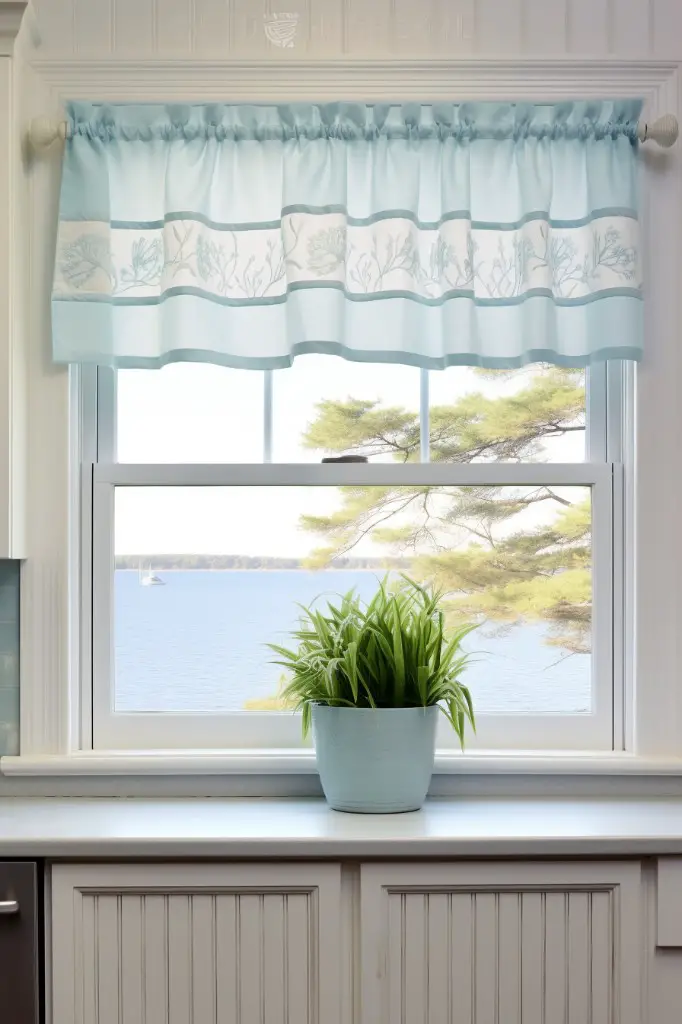 A light-blue seascape valance can evoke the tranquility of gently rolling waves right into your living space. Choosing one with a subdued gradient can enhance this effect. Consider fabrics that capture the light, such as satin, to reflect the hues of the ocean throughout your room.
Key ideas to take into account:
Select a hue that matches the desired vibe. For a soothing atmosphere, opt for softer shades of blue, while more vibrant tones can energize the space.
Pay attention to the fabric choice. Light-reflecting materials like satin or silk can create a shimmering seascape effect.
Consider the overall design. Valances featuring sea motifs such as whales, ships, or anchors can add a more overtly nautical style to your décor.
Harmonize with the room décor. A seascape valance can serve as a centerpiece, so ensure other elements complement it for a coherent seaside-themed ambiance.
Make sure to measure your window before purchasing a valance. It should cover the top portion of your window without obstructing too much light.
Installation of your valance can be managed with basic tools such as a drill, ruler, and level. If installing yourself, ensure the rods or tracks are securely fixed and level for a professional-looking finish.
Ultimately, integrating a light-blue seascape valance can provide a charming coastal touch to your home.
Seashell-print Valance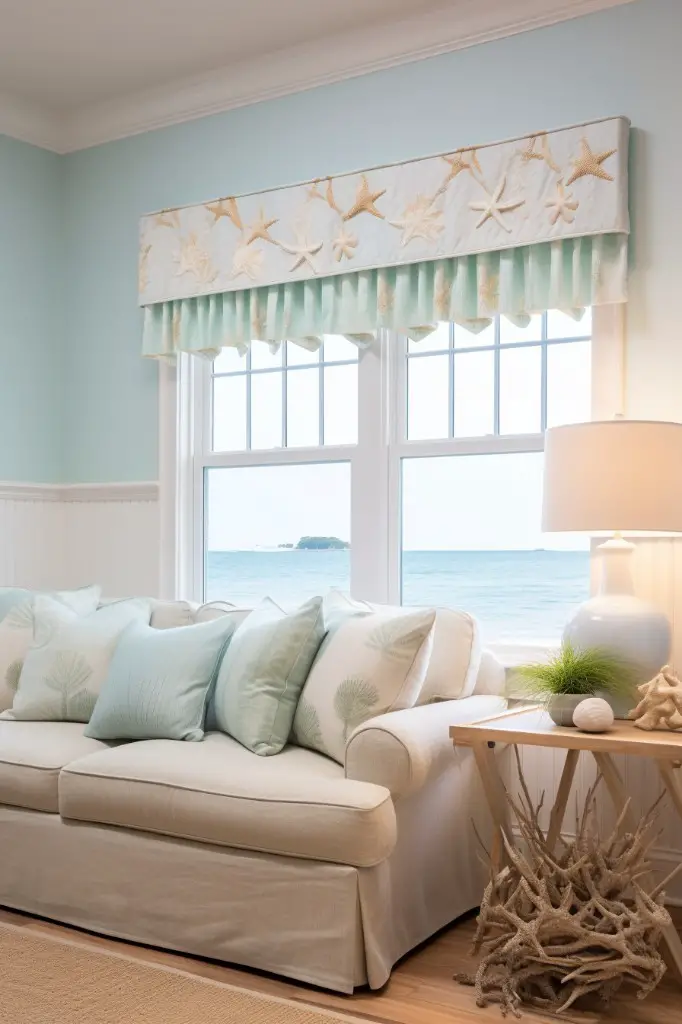 After the successful selection of your seashell-print valance, consider the following key ideas and actionable steps that ensure the perfect finish:
Look for color variations in the seashell print to match room décor. Some common colors include various shades of blue, beige, and off-white.
Choose the right fabric quality. Thicker, more durable fabrics could last longer, often an ideal choice for frequently used rooms or homes with children.
Pay attention to the hanging method. Rod-pocket, grommet, or back-tab styles are classified under the common hanging methods for valances.
Ensure the right length. The valance should be proportional to the window size to create visual balance.
Use daylight to your advantage. Hang the seashell-print valance in a room with good natural light for best effect.
Consider a blackout lining if sunlight is overly intrusive. This allows the seashell-print to stand out, acting as a functional and aesthetic feature.
By following these ideas and steps, your seashell-print valance can enhance the coastal theme while adding elegance and charm to your room.
Beach Hut Design Valance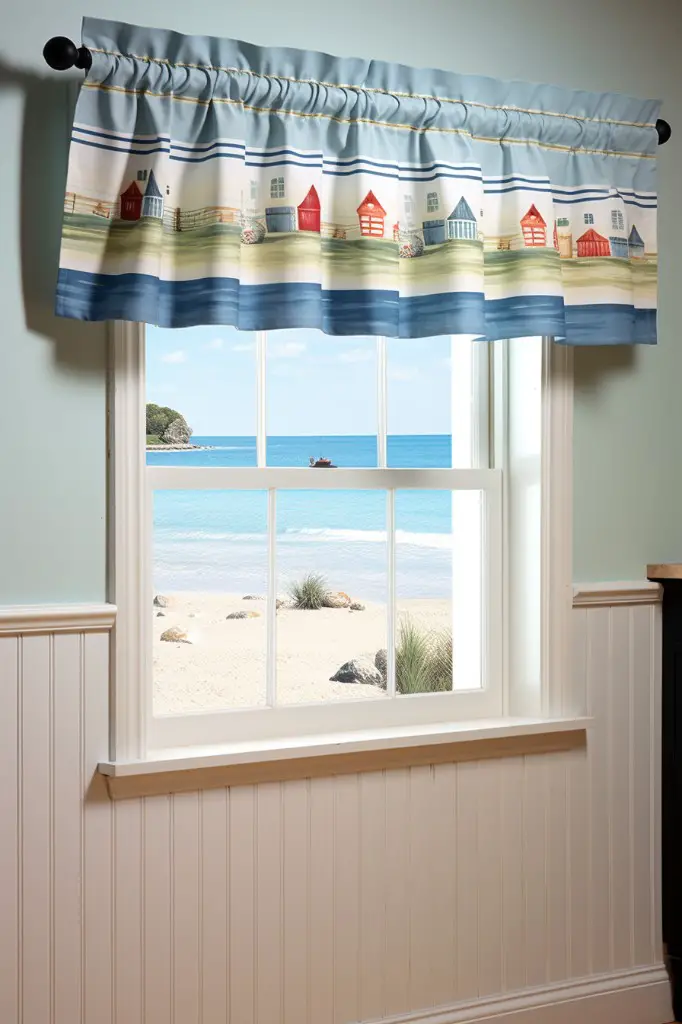 Envisage to spruce up your windows with a cheerful, coastal vibe, a beach hut design valance capturing the laid-back essence of coastal living establishes a delightful mood.
A typical beach hut design fuses pastel colors like sky blue, sandy beige, or sunset pink, reflecting the seaside scenery. Various patterns might be adorned, from tiny parasols and deck chairs to miniature beach huts and waves.
To achieve this look, focus on the following guidelines:
Ensure the fabric selected has a bright and airy feel to it, imitating the light and breezy coastal atmosphere.
If implementing the design yourself, use stencils or appliques to achieve elaborate beach hut patterns.
Match your valance with sunny yellows and calming blues found in beach hut illustrations to maintain the warm and soothing aesthetic in the rest of the room.
Utilize a sizable rod pocket when sewing the valance for easy assembly and curtain rod sliding.
Remember that beach hut designs work best in casual living spaces, kids' rooms, or bathrooms aiming for a fun nautical theme.
Overall, a beach hut design valance seamlessly brings the charm of the seaside into your home, irrespective of your proximity to the coast. It delivers not merely a design, but an entire lifestyle, on your window.
Burlap Coastal Valance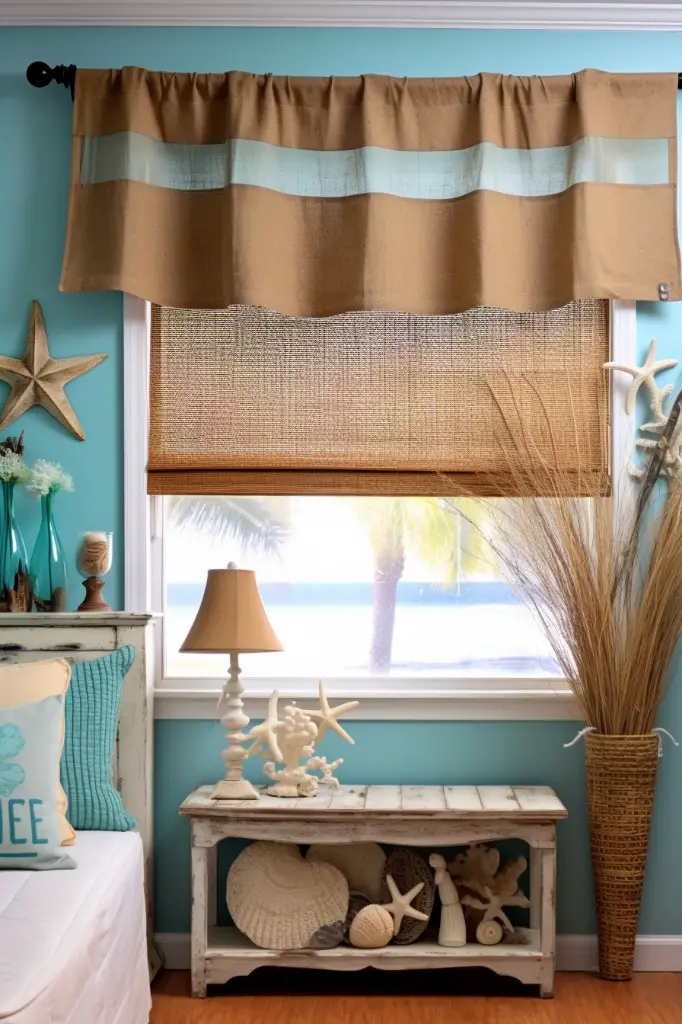 Burlap, a durable and heavyweight fabric, mirrors the rustic charm of the coastal lifestyle. Its natural and earthy tone complements a beach-themed aesthetic perfectly.
For a more personal touch, consider a DIY approach to crafting a burlap valance.
Start by sourcing high-quality, tightly sewn burlap. This ensures longevity and resistance to fraying.
Accentuate the rugged texture of burlap with details such as seashells or starfish glued along the bottom edge.
For a unique twist, try stenciling words or designs (like a sailboat or seahorse) onto the fabric.
Attaching the burlap to an appealing driftwood rod can merge in an organic touch.
If DIY isn't your style, seek out professional artisans. They can create custom-made burlap valances tailored to your preferences.
Remember to measure your window accurately before starting any project or placing any orders. This avoids any installation problems and ensures a perfect fit. Also, be sure to hang the valance high enough to not obstruct the view, but low enough to add a stylish look to the room.
Seagull Painted Valance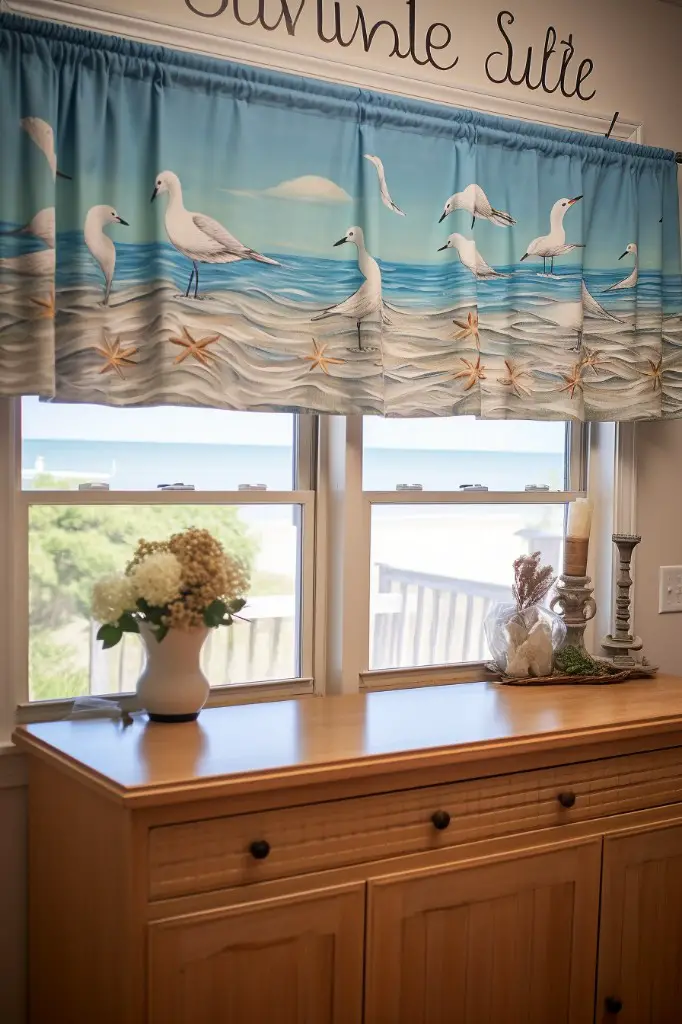 A seagull painted valance can effortlessly channel seaside vibes into a home. Sporting intricately designed seagulls in mid-flight or perched atop the water's edge, these valances bring a touch of the sea right into your living spaces.
Here are some key elements to consider:
Material: A linen or cotton fabric is ideal for this design. Their light and airy texture mimics a beach scene, while also allowing for beautiful artwork.
Color Palette: Think of the sea and sky. Colors like soft blues, whites, pastels, or even luminous grays work well. The seagull design can be in a contrasting color to make it pop.
Painted Details: The artistry comes in here with detailed seagull painting. It could be a solo bird or a flock, but keep the design subtle to maintain elegance.
Complementing Decor: Pair the valance with matching or complementary curtains or blinds. Neutral tones or a matching painted design would create a cohesive look.
Placement: Ideal for rooms with a beach or nautical theme. Kitchens, bathrooms, or even a cozy reading nook could benefit from this design element.
Customization: If you're creative, consider painting the design yourself. It can be a fun DIY project.
The seagull painted valance adds an artistic touch, reminding you of the serenity and beauty of coastal life every time you look at your windows. Its charming appearance is sure to draw in compliments from house guests.
Driftwood-inspired Valance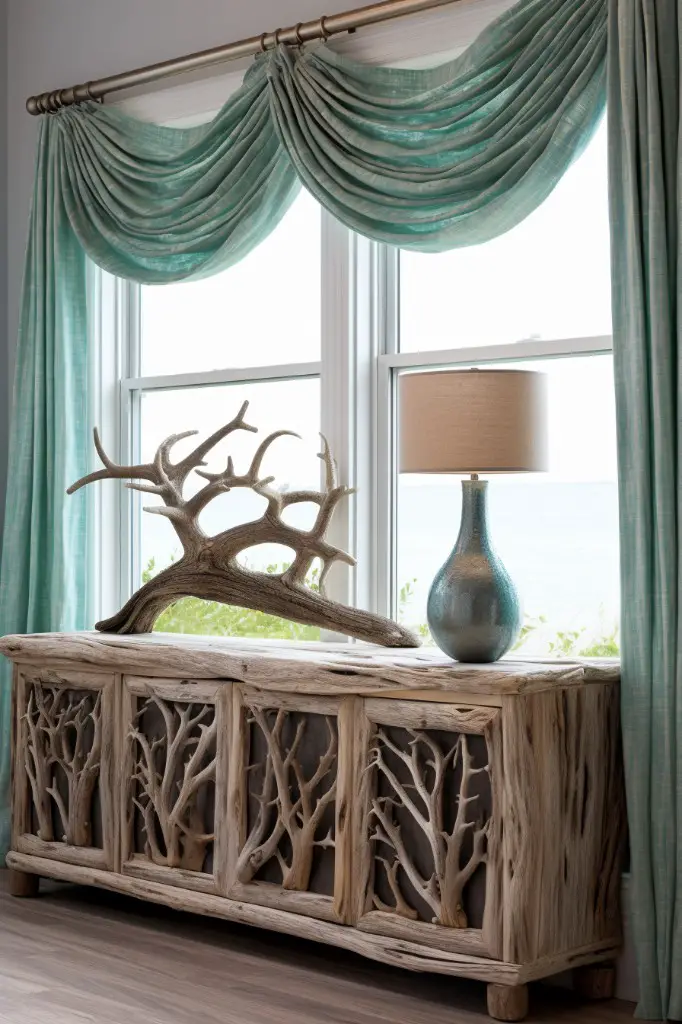 Drawing inspiration from the raw beauty of nature, a driftwood-inspired valance evokes a dramatic, rustic aesthetics.
Here are some essential key points to consider:
Opt for durable materials mimicking the look and feel of actual driftwood, typically in hues of grey and beige.
Incorporate textures and patterns that invoke the weathered appearance of driftwood washed ashore.
Consider layering a driftwood valance over a curtain reflecting the coastal palette for a heightened feel of the seaside environment.
Appliqué or screen-printed driftwood patterns are popular ways to create this effect. They maintain the simplicity of design, necessary for easy maintenance and long-term use in coastal homes.
For a more rustic touch, actual pieces of driftwood can be strung together to form a unique and personalized valance. It's an ambitious DIY project that can yield stunning results.
Pair this nature-inspired valance with other seaside elements like seashells or woven baskets to harmonize the coastal theme in the room.
Marine Knot Patterned Valance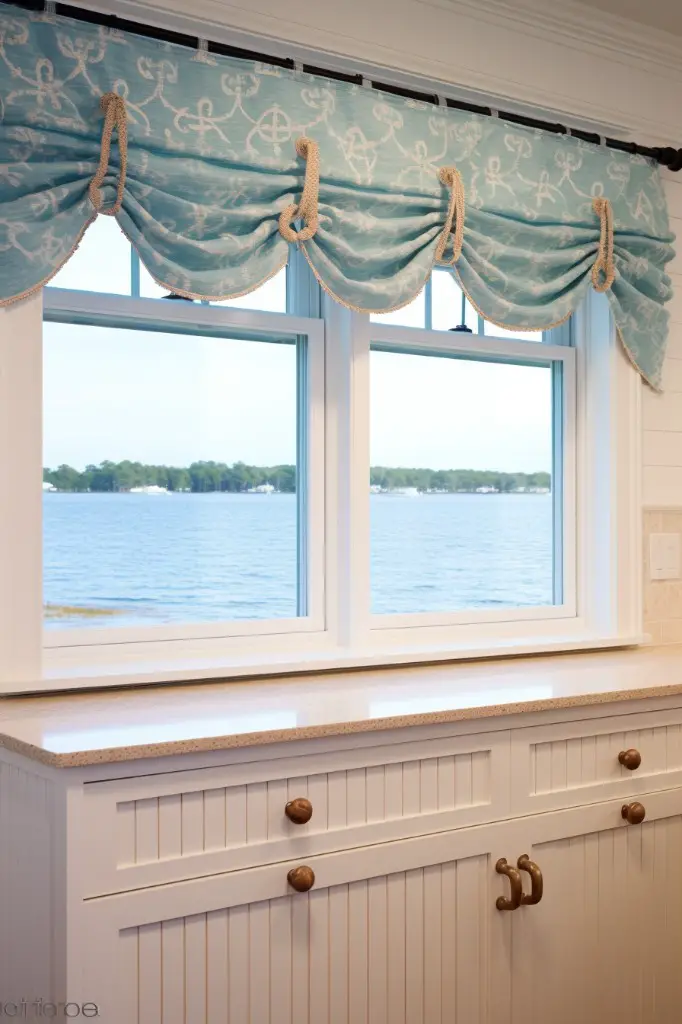 Marine knot patterned valances add an authentic nautical touch to any window. They infuse your space with elements of the sea in a subtler way than images or direct symbols.
Here are a few key ideas to consider:
Recognize that the variety of marine knot patterns is vast, including bowline, sheet bend, or the sailor's hitch. Go for a pattern that aligns with your overall decor.
A monochromatic or two-tone color scheme often works best for these patterned valances, ensuring the intricate knot designs stand out.
Consider the fabric. Cotton or linen are great choices for a marine knot patterned valance, offering a casual, coastal feel.
Avoid too many other patterns in the room to have the Knot pattern as the focal point attention.
DIY marine knot patterned valances can become fun and engaging projects. Use marine rope to create an actual textured knot design on a simple valance, enhancing the nautical theme.
Remember the design rule, less is more. The marine knot patterned valance will attract plenty of attention, so keep the rest of your interior design relatively understated.
Whale-print Valance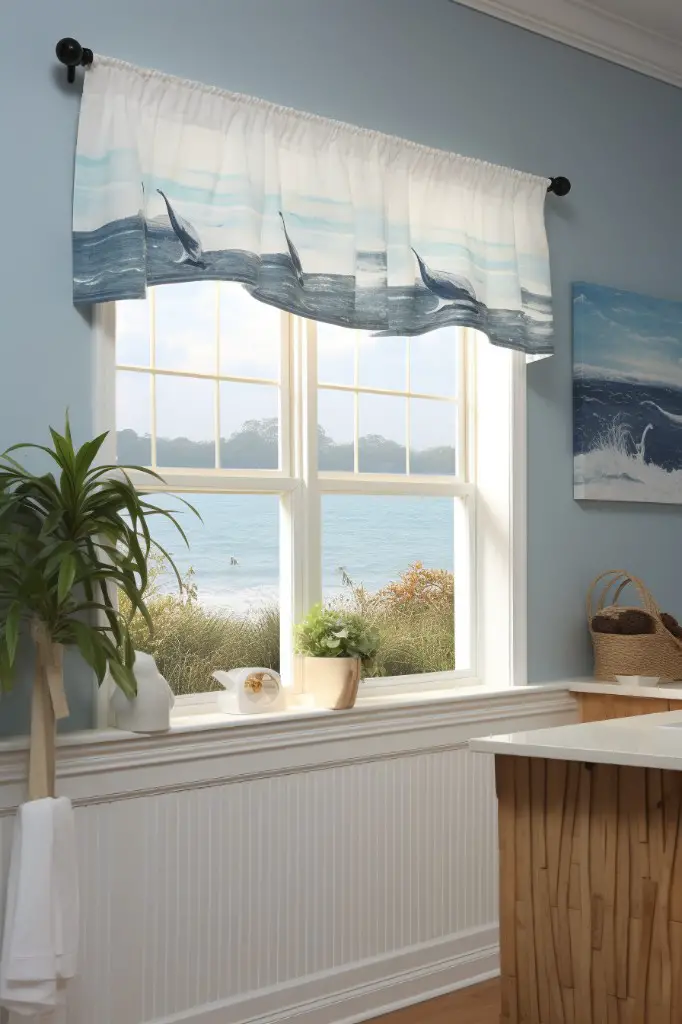 A whale-print valance can infuse a sense of playful maritime charm to your coastal home. This motif is perfect for homes that hold a deep adoration for the oceanic giants or spaces that seek to add a touch of whimsical marine beauty. The designs range from intricate and realistic details to simple, abstract representations.
To maintain an adult contemporary aesthetic, consider a whale-print valance in monochromatic shades.
For a cheerier, youthful room, opt for a valance featuring colorful whale cartoons.
A design with whales swimming amid subtle waves can create a calming effect.
Incorporating other sea elements like anchors or marine creatures can add depth to the whale-themed valance.
Ensure the whale prints blend with the overall color scheme of the room for aesthetic consistency.
Fabrics can vary from lightweight cotton to heavier linen, depending on the balance of light and privacy desired.
Ensure the valance fits well with the window frame for a sleek look.
Valances are typically easy to install with a rod pocket or rings, adding to their appeal for DIY enthusiasts.
Maintaining these fabrics is generally straightforward with machine washable options available.
Remember, the key lies in harmonizing your love for whales with your home decor sensibilities.
Pineapple Motif Valance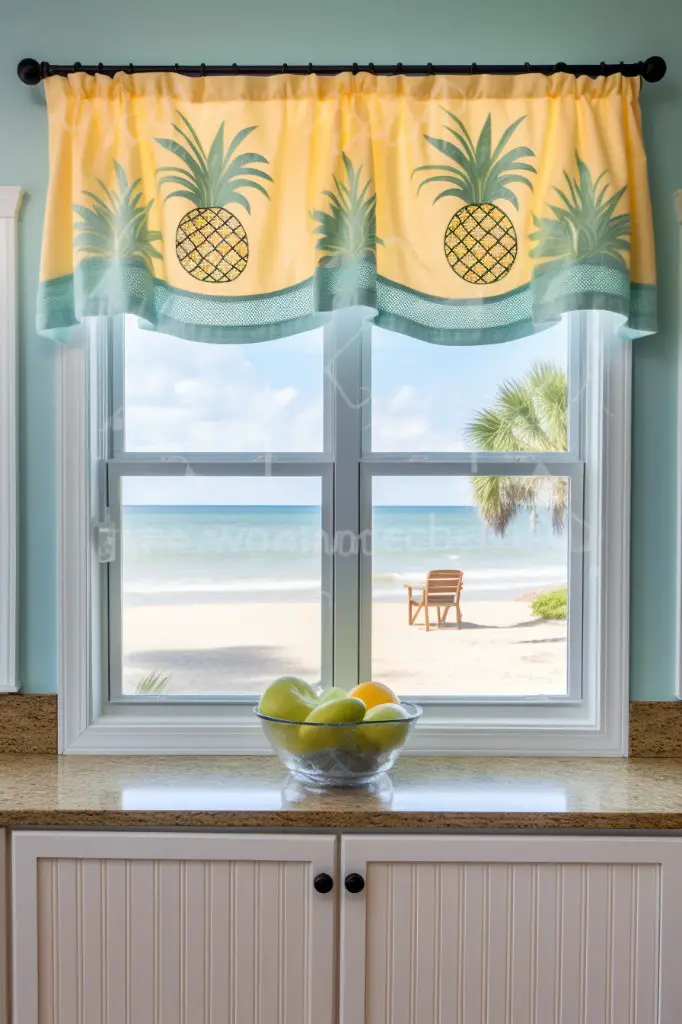 A pineapple motif valance can add a tropical twist to your coastal design. This design takes its inspiration from tropical fruits, specifically pineapples, which are widely recognized as symbols of welcome and hospitality in various cultures.
Consider the following ideas while incorporating this design:
When choosing your pineapple pattern, opt for designs with minimalistic pineapple prints to keep it from overwhelming the rest of your decor.
Combine it with soft coastal colors like seafoam green, baby blue or sandy beige for a balanced design. Don't shy away from a bit of sunny yellow to match the pineapple motif.
Cotton or linen are excellent fabric choices for this valance. Both are breathable and appropriate for a coastal environment.
Pair with rattan or bamboo window fixtures for an organic, natural look that complements the pineapple theme.
If the window is large, you can consider using a lined valance. This adds a layer of protection against the sun and helps the valance maintain its shape.
Remember, it's all about creating a flow in the room that makes it feel crisp, fresh, and reminiscent of a tropical coastline.
Tropical-patterned Valance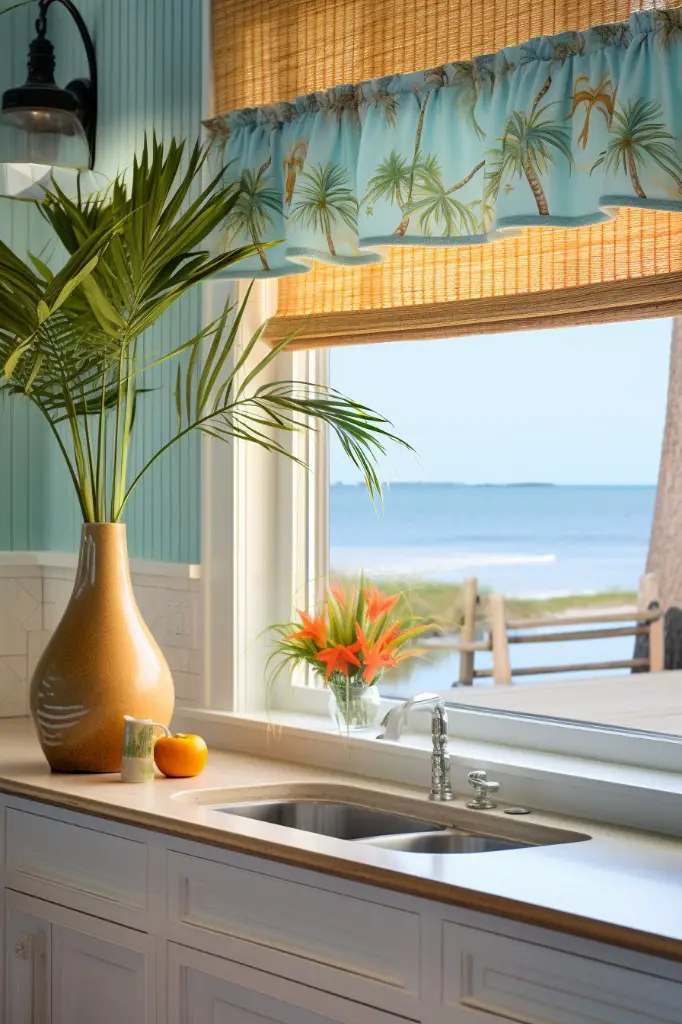 The allure of Tropical-patterned valances lies in their ability to beautifully mimic the fresh, vibrant, and lush aesthetic of seaside flora. They typically exhibit patterns full of stunning palm leaves, exotic flowers, or vibrant birds.
The key ideas and actionable steps of this style include:
Selecting the Design: Look for patterns that command attention – large palm fronds, vivid hibiscus blooms, or parrots can make your windows stand out.
Choosing the Color Scheme: Maintain a tropical look by sticking to the natural hues found in the tropics – think deep greens, sunset oranges, vivid yellows and ocean blues.
Fabric Choice: Opt for materials with a natural texture like cotton or linen that will allow light to filter through, replicating the feel of a sunny beach location.
Pairing with Curtains: Complement your valance by pairing them with simple, solid color curtains that enhance rather than distract from the pattern.
Hanging Technique: Install the valance higher on the window to create a sense of height and grandeur.
Integrating these elements successfully into your valance design will convey the relaxation and luxury of a tropical seaside escape right in your own home.
Coral Reef-infused Valance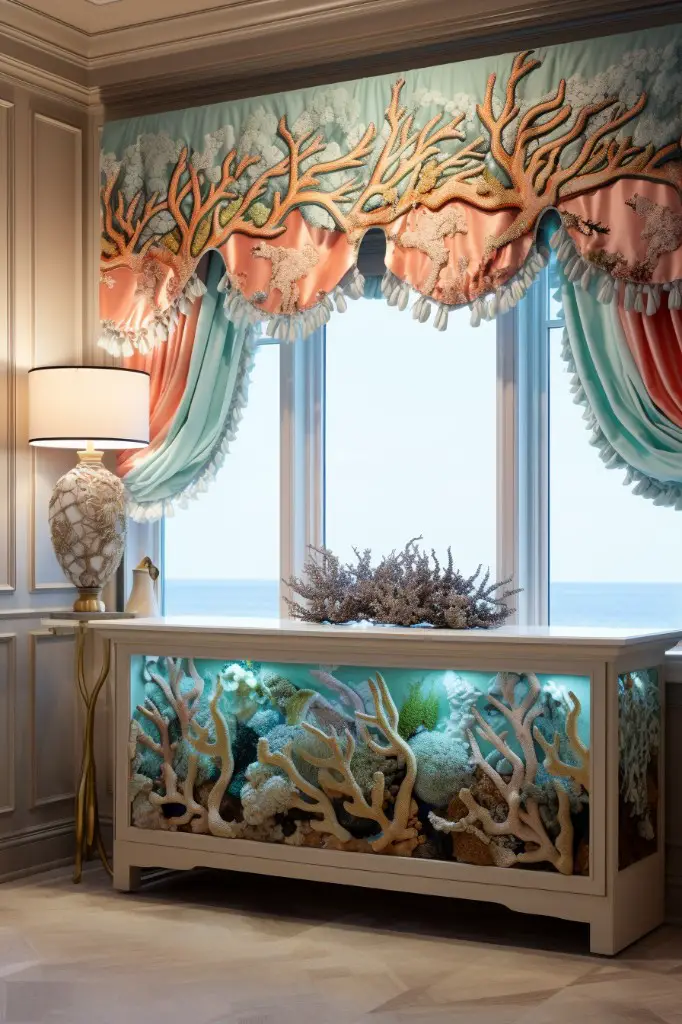 A coral reef-infused valance boasts a vibrant, rich design that can inject seaside charm into a room. This style displays various elements found in a coral reef: colorful reef formations, distinctive marine creatures, and the occasional diver or shipwreck for a whimsical touch.
1. Source the Material: Look for material that emulates an underwater scene. Cotton or linen is a good option for a simple, breezy window accessory.
2. Choose the Design: Opt for fabric patterns displaying different coral species and marine life. Consider having it in bright colors to convey the diversity of a reef.
3. Custom-Made or Store Bought: Deciding between a custom-made or store-bought coral reef valance depends on your budget and design preference.
4. Coordinate with Room Decor: Make sure the valance complements the rest of the room's decor to create a harmonious seaside ensemble.
5. Installation: Installation is usually straightforward. A simple rod pocket design can slide onto a curtain rod easily. Alternatively, loops or tabs can add an extra decorative dimension. Remember, it's crucial to measure your window accurately before purchase or creation to ensure a good fit.
6. Maintenance: Regular washing according to the fabric's care instructions will keep the valance looking fresh and vibrant. Excessive light exposure should be avoided to prevent the colors from fading.
Vintage Map Valance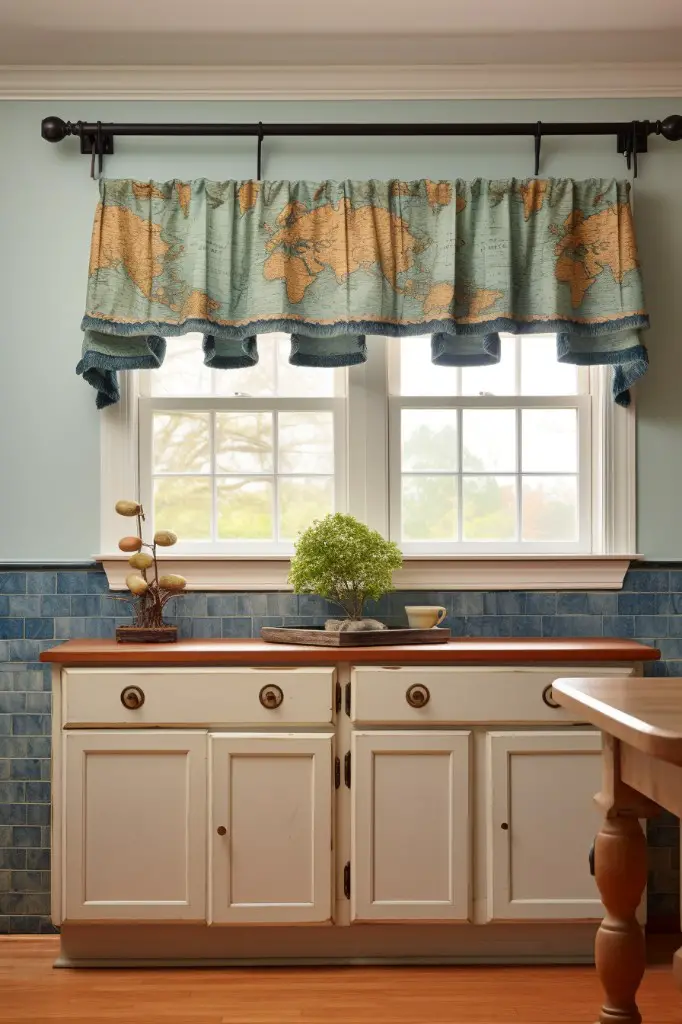 A vintage map valance brings the charm of cartographic history to your windows. It compels an air of exploration and discovery, while keeping with the coastal theme by highlighting historic sea routes and legendary islands.
Choosing the Right Map: The map printed on the valance should preferably be of a coastal region or a well-known sea route. Areas with lots of islands, such as the Caribbean, Greek Isles, or Polynesian Islands, make for particularly appealing designs.
Picking the Fabric: The valance's fabric should be a durable material, such as canvas or a heavy-duty cotton blend. These fabrics can handle the detailed printing of a map design and handle the regular wear and tear of a valance.
Size of the Valance: The size of the valance depends upon the size of your window and how much of it you want to cover. It should not completely obstruct the view but provide a pleasing aesthetic to the window.
Installation: You can either use standard curtain rods or use attachable clips, depending on the style of the valance. Make sure the rod or clips support the weight of the valance.
Maintenance: The valance should be easy to remove for cleaning. Most fabric valances can be machine washed on a gentle cycle, but always consult the care label before cleaning.
Following these ideas can help transform your windows with the addition of an adventurous vintage map-style feature, calling attention to the global connections of your coastal theme.
Coastal-color Gradient Valance
This valance draws its aesthetic cues from the palette of the seaside itself. Implementing a gradient effect using colors of the coast progressively can create a serene and captivating window treatment that mirrors the subtle transformations of the ocean, sand, and sky.
A few key points to consider:
Start with a range of fabrics in serene coastal colors: This could range from deep sea blues, through to turquoise and pale seaglass green, into sunset pinks and corals, and finally into pale beachy creams or sands.
Plan the gradation: Arrange the colors in the pattern you want to see. For a more dramatic look, start with the darkest color at the top and let it gradually lighten. For a softer effect, place the lightest color at the top with colors progressively deepening.
Measure and cut your fabric: Ensure your measurements are accurate to fit your window. The gradient effect is achieved by connecting these color-divided sections.
Sew together to create the gradient effect: Connect the pieces color by color, ensuring each transition is smooth to maintain the subtle gradation.
Hang your valance: Last but not least, install your valance. Choose a curtain rod that complements your beach them as a bonus.
This style of valance is not only calm and refreshing but also provides a stunning visual element that can be the showpiece of your room.
Sand Dollars Printed Valance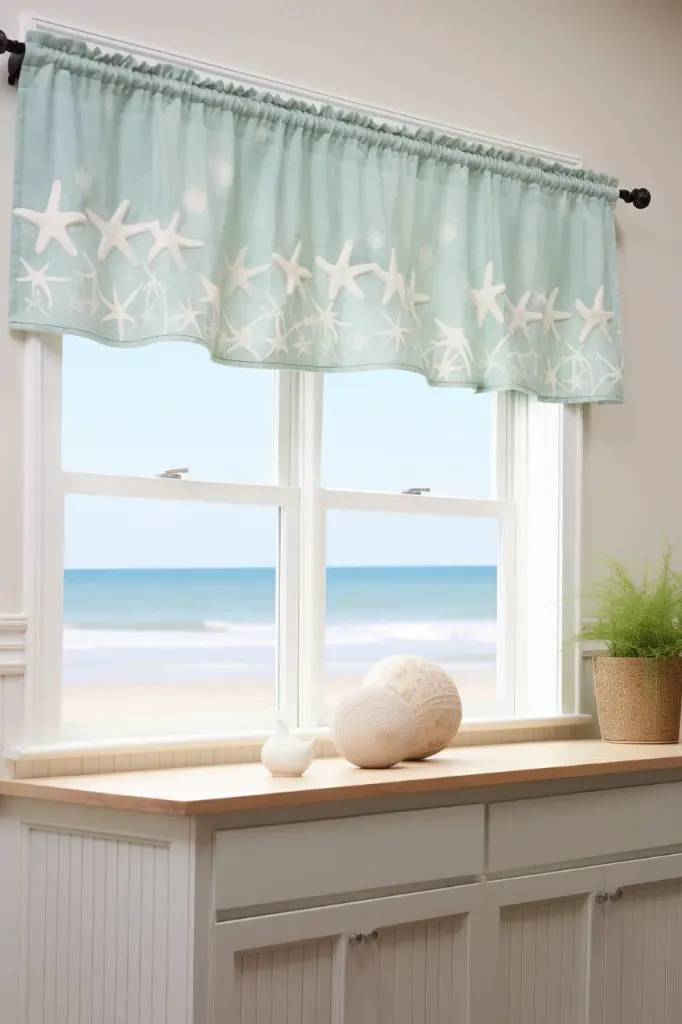 A sand dollars printed valance takes inspiration from the fascinating creatures found on seashores, providing a subtle seaside touch to your window décor. The prints, typically in series along the fabric, feature a level of detail that mirrors the entrancing patterns of sand dollars.
Key ideas and elements of a sand dollars printed valance:
Its neutral color palette: The common hues for this type of valance range from sandy beige to light blues and grays. Other variants might include hues like navy or sea-green for a more vibrant color splash.
Fabric choice: The fabric used for this kind of valance is typically light, allowing natural light to filter softly. Linen, cotton, or poly-cotton blends are often used because of their airy feel and easy maintenance.
Suitable environments: This style of valance fits perfectly with a coastal or beach-themed room. It is also ideal for someone wanting to bring a subtle element of the coast into any other style of decor.
Combination with curtains or blinds: In terms of styling, the valance can be used alone for a minimalist effect or layered with curtains or blinds.
Variety in design: Not all sand dollar patterns need to be realistic. Some may present a stylized, more abstract version of the creature, incorporating geometric elements, while others may lean towards a softer, more illustrative approach.
DIY option: Feel free to consider a DIY project. You can print sand dollars patterns on a plain valance yourself. Fabric paints or dyes are easily available and provide plenty of room for customization, letting you choose and mix your preferred colors.
Seaweed and Fish Patterned Valance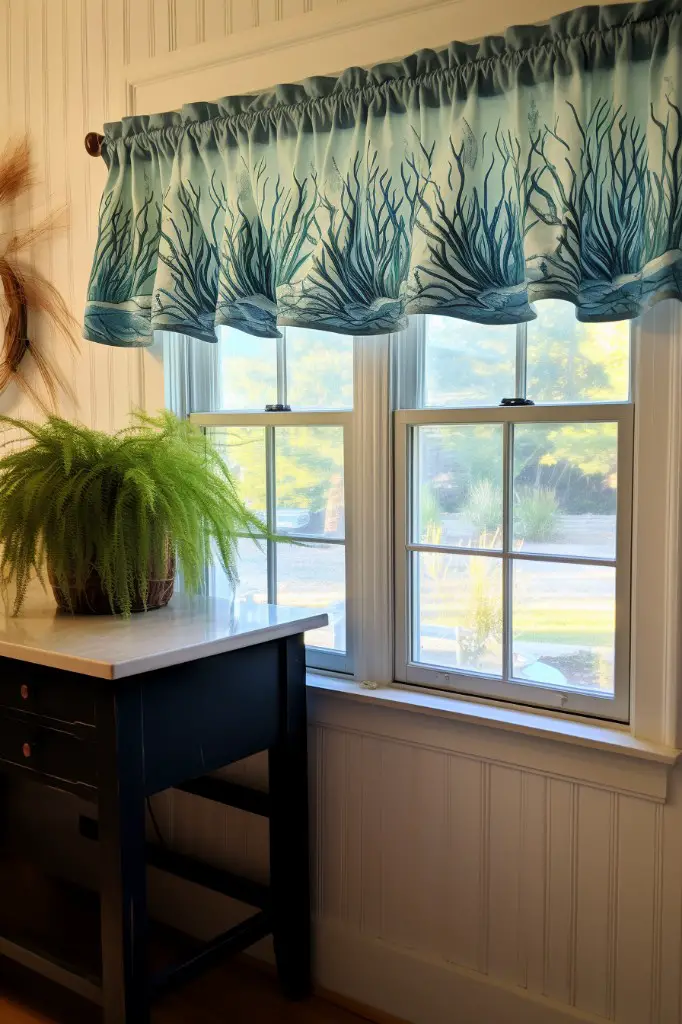 Creating a seaweed and fish patterned valance brings a lively, marine feeling to your space.
Start by selecting fabric that features distinct fish and seaweed designs. Diverse species and colors add visual interest, while also highlighting the beautiful array of life found underwater.
Next, measure your window to ensure you have enough material. When estimating, account for both vertical drop and the gathers.
Choose a style that suits your window and existing décor. A straight or scalloped hem may work well depending on the room.
Creating a lining for the valance with a solid-colored fabric can enhance the overall look and add depth. This will also aid in blocking out excess light.
Lastly, installation can be a breeze with a standard curtain rod or a piece of driftwood for additional coastal flair. Attach the valance using clips or sew on loops, depending on your chosen rod.
Remember to iron your valance for a neat appearance. This design is a surefire way to bring a touch of the ocean into your home, creating a serene coastal atmosphere.
Palm Leaf Patterned Valance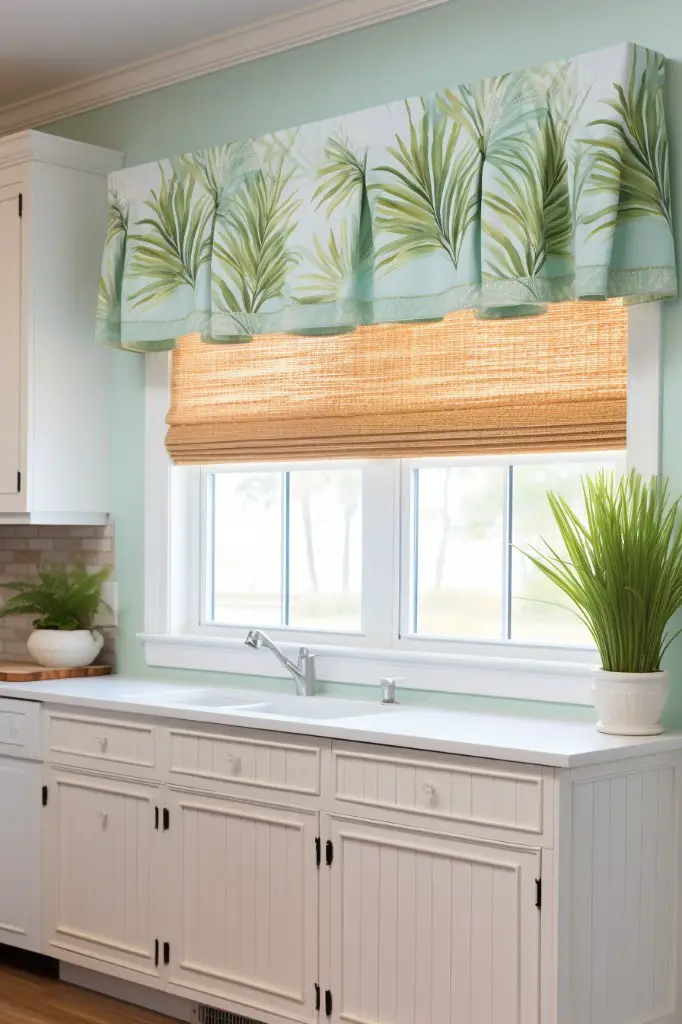 Palm leaf patterned valances capture the quintessence of tropical charm elegantly. Its vivid visual appeal comes from the leaf patterns, adding a natural, breezy vibe to your coastal-themed living space.
Some key aspects to consider include:
The selection of color: Look for hues that resonate with tropical environments. Green, for example, can mimic the vibrant shades of palm leaves, while the brown veining can capture depth and realism.
Material Choice: Choose fabrics that are fade-resistant and hold the pattern well, such as cotton or linen.
Pattern Scale: Opt for a medium to large scale palm leaf pattern. This maintains the authenticity of the theme and maximizes visual impact.
Layering: Consider pairing your palm leaf-patterned valance with solid colored curtains in neutral shades like beige or cream to create a balanced look.
Installation Height: Mount the valance high on the wall, above the window frame. This arrangement creates an illusion of higher ceilings, enhancing the tropical, airy feel of the decor.
Remember to always ensure the color, material, and pattern align with the overall coastal theme of the room. Beyond the visual appeal, these valances should be easy to install, maintain, and clean for practical daily use.
Anchor-themed Valance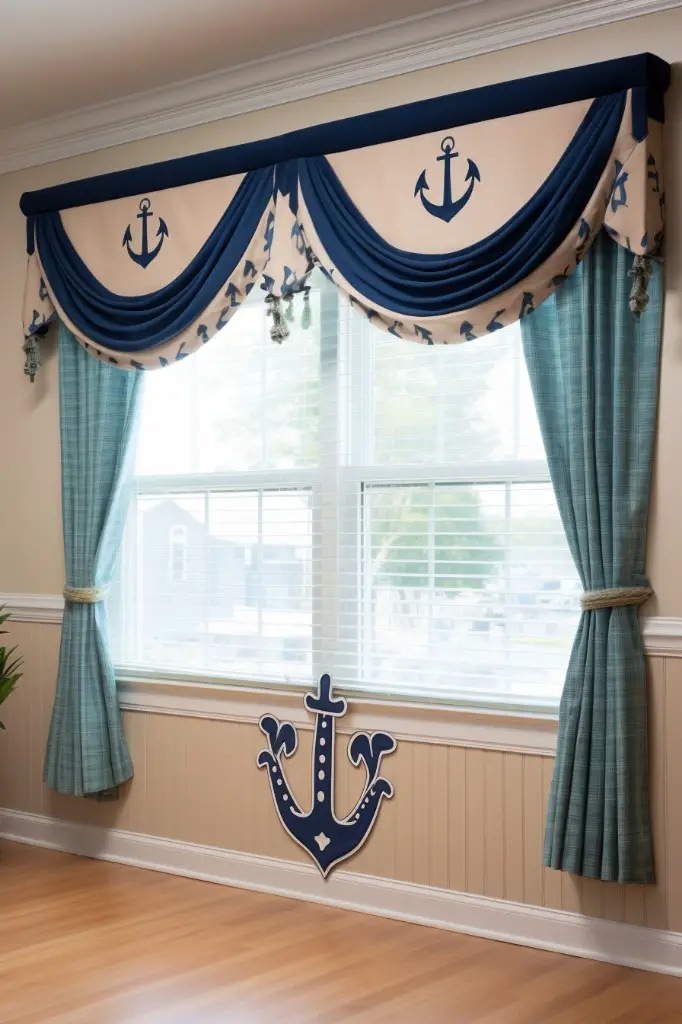 An anchor-themed valance captures a quintessential element of the coastal vibe – the anchor, providing a strong nautical touch to window treatments. It's an ideal choice for those wishing to imbue maritime charm into their living area.
Often, anchor patterns are found on authentic navy blue or crisp white backgrounds, enhancing the seaside ambiance.
When choosing this style, consider the following:
Material: Opt for durable materials, like cotton or polyester blends, which can withstand direct sunlight and occasional dustings.
Design: While some may prefer large, noted anchor patterns, others may choose subtle, mini-anchor patterns that blend seamlessly into the fabric.
Color combination: The traditional navy blue anchor on a white background works best for a classic nautical look. However, gray and lighter shades of blue can present a softer coastal aesthetic.
To install an anchor-themed valance:
Ensure your window is wide enough: If you have narrow windows, the repeated anchor pattern might look crowded.
Consider layering: Pair the valance with matching coastal blinds or solid colored curtains for a cohesive look.
Match the hardware: Use brushed nickel or weathered bronze hardware, mimicking marine metals to complete the look.
Enhancing your interior decor, an anchor-themed valance serves as an excellent tool to infuse subtle coastal vibes into your home.
Lighthouse Design Valance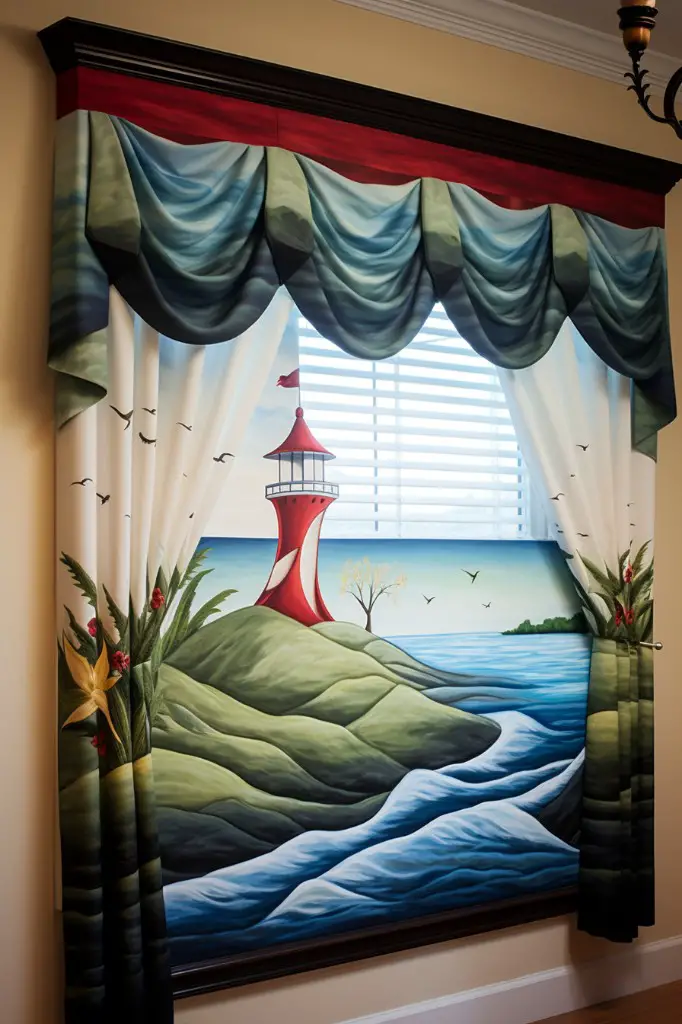 Drawing inspiration from coastal navigation's guiding light, the lighthouse design valance perfectly embodies the seaside spirit. This design typically uses images of lighthouses, possibly accompanied by other nautical elements such as seagulls or ships, exuding a maritime charm.
When selecting a lighthouse design valance, consider the color scheme. Opt for hues reminiscent of the sea, sky, or sand, such as blues, whites, grays, and beiges. This ensures the design syncs well with a coastal interior.
Another key point is the material. Lightweight, breezy fabrics like cotton, linen, or polyester often work best, implying the openness and airiness of the coast.
Installation-wise, these valances fit well with both traditional rod-pocket and contemporary grommet styles. Picking the one that suits your existing décor and window type is crucial.
Lastly, don't forget to measure your window accurately before purchasing or creating your valance. This way you ensure a perfect fit.
In terms of actions you can take:
Look out for lighthouse-patterned fabrics in coastal color schemes.
Choose lightweight materials like cotton or linen for a breezy feel.
Decide on the preferred installation: traditional rod-pocket or contemporary grommet style.
Measure your window accurately to ensure the perfect fit for your valance.
Related Stories