Discover how window display companies can boost your business and enhance the visual appeal of your storefront in this comprehensive guide.
When it comes to attracting customers and increasing foot traffic, one of the most powerful marketing tools at your disposal is an eye-catching window display. A beautifully designed display can make all the difference in drawing potential customers into your store, telling a story about your brand, and leaving a lasting impression that will keep them coming back for more.
However, creating an effective window display requires a unique blend of creativity and engineering – both of which are expertly handled by professional window display companies. In this blog post, we'll take a closer look at these specialist firms and examine how they can help you make the most of this valuable marketing opportunity.
What's Inside
Retailworks Inc
Facebook page: Facebook
Services and products:
Design and maintain powerful window displays
Create one-time displays
Create seasonal displays (generally 5x/year)
Surprise and delight customers with displays
Draw conspicuous attention to businesses
This Window Display Company prides itself in creating unique and creative displays that will attract attention, entertain, inspire, and ultimately sell their clients' products and services. With talented display artists ready to design one-time or seasonal displays, clients can expect game-changing window designs that get people talking about their brand before they even enter the store.
DAC Products
Services and products:
Innovative and modern window displays
Showcasing the quality, integrity, and structure of windows
Design and manufacturing of window displays for showrooms and retail spaces
Helping customers visualize and appreciate the quality of windows
Building one-of-a-kind product displays for windows
DAC Products is a leading window display company that specializes in creating modern, innovative and durable showcases for windows. The company understands the importance of exhibiting the quality of your windows, ensuring customers experience their fabrication and integrity while visualizing your business brand story.
If you're looking to create thoughtful and unique displays for your retail space or showroom, DAC Products has a range of forward-thinking design solutions that can help showcase your products like never before.
Lee Display
Facebook page: Facebook
Services and products:
Custom and unique retail store window displays
Artistic and attention-grabbing designs
Development of creative concepts and designs
Manufacturing and installation services
Consultation with a team member for a short 5-minute session
Lee Display has been in the business of creating unique and custom retail store window displays for over 70 years. With a focus on making bold statements and attention-grabbing designs, they bring your imagination to reality with their manufacturing and installation services.
Book an appointment today to see how they can showcase your store's message and attract the right kind of customer.
MNK Studio Art
Company: mnkstudioart.com
Services and products:
Bespoke window displays that tell a brand's story
Award-winning window displays that elevate the customer experience and create valuable social media content
Commissioned displays using found objects to create artful installations
Window displays in empty storefronts to showcase revolving products from stores within a mall
Custom-designed window displays for specific areas of a store, such as home decor and lifestyle sections.
MNK is an award-winning window display company that specializes in creating bespoke displays to tell a brand's story. Their creations not only elevate the customer experience, but generate valuable social media content as well.
Examples of their work include artistic installations for The Buffet at The Wynn Casino, revolving product displays at WESTFIELD TOPANGA, and custom designs for Anthropologie's flagship store.
VSL Print
Facebook page: Facebook
Services and products:
Window graphics and signage
First and second surface vinyl graphics
Cad cut signage
Poster displays
Light boxes and custom signage
VSL is a full-service Window Display Company that offers various types of Window graphics and signage, including dynamic retail signage for changing storefronts. Their team of professionals provides expert guidance from design to installation ensuring the best results for each location.
They specialize in printing and production, distribution and fulfillment, all the through installation and set up.
Woodland Manufacturing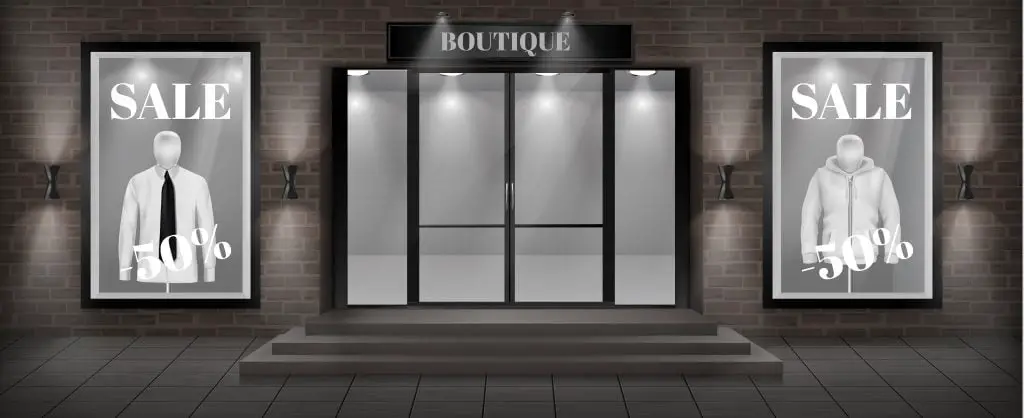 Company: woodlandmanufacturing.com
Facebook page: Facebook
Services and products:
Custom window display design
Creation of small pieces to full custom sets
Unique and attractive designs
10-year indoor guarantee
Indoor rated and made in the USA
This is a custom window display company that specializes in creating unique designs catering to the needs of retailers and storefronts. They offer high-quality indoor-rated products with a 10-year guarantee and are made in the USA.
They take pride in their attention to detail and can provide customized lettering based on specific requirements.
Federica Pellazza
Company: federicapellazza.com
Services and products:
Retail design for luxury brands
Window display concepts
Interior design concepts
Set design concepts
Product design concepts
Federica Pellazza is a highly specialized retail designer that focuses on window displays, store design, and product installations for luxury brands. They have an impressive portfolio of projects for clients such as Bulgari, Nike, and Starbucks.
VM Works
Company: vmworkssf.com
Facebook page: Facebook
Services and products:
Visual merchandising
Window displays
Installations
Consultations
Workshops
VM Works is a visual merchandising company that specializes in creating window displays for businesses. They understand the importance of making a great impression on customers and work closely with their clients to ensure that their displays are consistent with their goals and attract the right clientele.
Their focus is not just on making visually appealing windows, but also driving sales and getting customers through the door.
VelementWW
Company: velementww.com
Facebook page: Facebook
Services and products:
Window displays that define a location and attract potential customers
Marketing expertise to create effective displays
Cutting-edge print technologies for high-quality displays
Custom fabrication of visual elements to spread brand message
Use of durable polyester materials and eco-friendly, odorless ink for displays.
Velement is a leading company that offers high-quality window displays to transform your store into premium advertising space. Their cutting-edge print technologies and marketing expertise help you spread your brand message to attract potential customers.
With vibrant, full-color designs using durable polyester materials and eco-friendly ink, their custom fabricated visual elements will surely enhance your storefront. Contact them now through phone or email to get started!
Window Display Props Factory
Company: windowdisplayfactory.com
Facebook page: Facebook
Services and products:
Visual merchandising solutions
Window display project solutions
Project consultation
Customized display design
Installation and maintenance services
Window Display Factory is a reliable company that offers visual merchandising and window display project solutions. Their global marketing manager invites you to discuss your next project with their team.
Business Signs & More
Facebook page: Facebook
Services and products:
Detailed Questionnaire
Consultation Call
Mood board including themes, color and inspiration images/products
A list of all items needed to complete display
Written guide for installation and display
This company is a window display provider that offers a detailed questionnaire, consultation calls, mood boards, and installation guides to help clients create beautiful displays. They also provide a 10% discount on future purchases and offer various payment options.
Their website includes comprehensive information about their policies and contact information as well as social media links for easy engagement with the company.
Prop Studios
Facebook page: Facebook
Services and products:
Crafting innovative and engaging window displays
Developing show-stopping retail window displays and visual merchandising schemes
Creating bespoke installations or multi-store roll-outs
Acting as brand guardians to ensure an authentic connection between brand and consumer
Providing a portfolio showcasing services, shop window design inspiration, and creative process.
This company is a highly experienced and creative window display and visual merchandising service provider. With over four decades of experience, their bespoke installations and multi-store roll-outs are sure to create an authentic connection between your brand and consumer, leaving a lasting impression on potential customers.
Their work has been praised for its high quality standards by various clients, making them the go-to choice for future campaigns.
Ms Biz
Company: teacherspayteachers.com
Contact phone: (610) 520-1677
Facebook page: Facebook
Services and products:
Hands-on business marketing projects for students
Shoebox window display project instructions, rubrics, and exemplars
Company research sheet to gather background information
Business marketing lesson and activities
Bundle package including class slides, article graphic organizer, UBD lesson plan, and business project in MOS PowerPoint & Word and Google Drive Link.
Zip specializes in offering a unique hands-on business marketing project that allows students to create retail window displays in shoeboxes. The company provides comprehensive resources, including instructions, rubrics, exemplars, and a research sheet for a seamless learning experience.
With an emphasis on promoting creativity and enhancing skills like analysis and higher-level thinking, this business marketing lesson makes learning fun and meaningful for everyone involved.
The London Display
Services and products:
Highly visually engaging shop window display design
Bespoke shop window displays for companies of all sizes
Unique and completely customized shop window displays
Expertise in retail window design with over 25 years of experience
Turning client's shop window display ideas into reality
This Window Display Company has over 25 years of experience in creating bespoke shop window displays for companies of all sizes. Their designers use their expertise to turn clients' ideas into reality, ensuring that the retail display stands out and draws attention from prospective customers on the street.
With a highly visually engaging shop window display, this company believes it can make all the difference in converting passersby into actual customers.
Formroom
Services and products:
Window display design and production
Bespoke installations for a wide range of briefs and clients globally
Use of tools such as industry insights, 3D visualisation, market research and more
Extraordinary window display ideas and designs
Future-focused outlook and innovation in the retail design space
Formroom is an experienced and innovative retail window display agency that specializes in creating bespoke installations to showcase campaigns and products in creative, original, and unexpected ways. With over 40 years of experience under their belt, they leverage tools such as industry insights, 3D visualization, and market research to deliver theatre and delight to IRL shopping.
Whether it's for a small local business or a global brand looking to innovate in this space, Formroom provides extraordinary window display ideas for all clients.
JUSTSO
Contact phone: (214) 748-3647
Services and products:
Shop window display design
Tailored service
Brand story communication
Christmas window display design
Innovative and unique seasonal window dressings
JUSTSO is a renowned shop window display company that has earned an exceptional reputation for its outstanding design work. With a focus on luxury brands across fashion, fine jewelry and luxury cars, JUSTSO specializes in creating some of the most prestigious window displays within the industry.
Their fully tailored service ensures effective communication of brand messaging through stunning and innovative designs.
WindowsWear
Facebook page: Facebook
Services and products:
Digital marketing, social media, advertising, products data & analysis
Brick-and-mortar, window displays, pop-ups, virtual / augmented reality, packaging & more
Creative Directors, Brand Managers, Digital Marketers, Social Media Creators, & Specialists
WindowsWear Awards, Member Events, & Networking
Supporting Educators & Students with Scholarships, Conferences, Mentorships & Internships
WindowsWear is a leading one-of-a-kind online resource for brands, designers, vendors, and academic institutions worldwide that provides competitive research, information, insights and trends for visual creatives in physical and e-commerce environments. With extensive databases covering digital marketing, social media campaigns and analysis of the industry's leading players; you have everything you need to take your campaigns to the next level.
Join now for free!
Samsung Display Solutions
Company: displaysolutions.samsung.com
Contact phone: (201) 812-1117
Facebook page: Facebook
Services and products:
Samsung Window Display OMN
Samsung Window Display OMN-D
Promotion of content with exceptional clarity
Digital window signage
Cost-efficient and fast content updates for multiple displays
This is Samsung's Window Display Company, offering digital displays such as the OMN and OMN-D for clear content promotion. They specialize in providing cost-efficient, visually stunning solutions to replace traditional paper posters with flexible and easy-to-update digital signage.
GHR Rental Boutique
Company: ghrrentalboutique.com
Facebook page: Facebook
Services and products:
Window Displays and Décor Rental
Social Media Content Prop Rental
Photography Prop Rental
Prop Rental for Social Media Content
Creative Content Photography Prop Rental
This company is a one-stop-shop for all your window display and décor rental needs. With a vast array of products available, from prop rental for product photography to window display and social media content rentals, this company specializes in design and installation that will create a lasting impression.
Displays2go
Company: displays2go.com
Contact phone: (702) 605-3225
Facebook page: Facebook
Services and products:
Visual merchandising fixtures
Signage
Mannequins
Videos
Props of any kind
This Window Display Company helps retail businesses to attract more customers through creative and effective advertising. With a wide range of tools such as mannequins, videos, props, and signage, they provide tailor-made solutions and customizable display systems that fit any storefront size.
From clothing shops to real estate agencies or restaurants and bars, this company helps businesses showcase their products effectively with personalized themes that drive sales.
Design4Retail (D4R)
Contact phone: (458) 992-2286
Services and products:
Creating visually striking window displays
Using shopper insights to understand customers' shopping missions and flow around the store
Designing bespoke solutions that embody the unique spirit of the brand
Designing impactful visual merchandising to draw attention to specific products and promotions
Providing a Stella Mainline toolkit to aid in telling a compelling story and bringing it to life.
Design4Retail is a leading window display company known for creating visually striking and unique displays that capture customers' imaginations and drive foot traffic in-store. Their bespoke solutions are tailored to each brand's unique spirit, making customers feel engaged and guided while they shop.
Their recent collaboration with Adidas showcased their ability to create a fashion-focused display using contemporary movement, clever lighting, and innovative mirror effects to highlight the elegance of the Stella Mainline toolkit shoes.
SignSite.com
Company: signsite.com
Contact phone: (386) 487-0265
Facebook page: Facebook
Planarama
Services and products:
Extensive knowledge and experience in window display design industry
Design, production, and installation of award-winning windows
Customized and distinctive window displays
Services for small boutiques and global roll-outs
Collaboration with clients and experienced designers
This window display company has over 20 years of experience designing, producing and installing award-winning displays for small boutiques to global roll-outs. Their experienced designers work with clients to create distinctive window displays that stand out from the crowd.
They have worked with a range of luxury brands including Jo Loves, Penhaligon's and Diesel in locations such as Bond Street, Oxford Street and Mayfair in London.
Fit Small Business
Facebook page: Facebook
Services and products:
Store layout guide download
Retail sales analysis
Merchandising and buying guidance
Retail sales and marketing across platforms
Expertise in retail and ecommerce
This window display company is an expert in retail management with a team of experienced writers and specialists. They provide valuable resources, such as store layout guides and tips for optimizing your window displays to help businesses make the most out of their space and attract customers.
Their knowledge on merchandising, sales analysis, and marketing makes them a reliable choice for retailers looking to enhance their brand image.
BoDecor Vietnam
Facebook page: Facebook
Services and products:
Luxury window display decoration with outstanding themes
Artistic, eye-catching, and unique window display design
Focused on brands, showrooms, products, buildings, and trade centers in Vietnam
Unique creations to help accomplish marketing goals and bring the brand closer to customers
Extensive portfolio of word-of-mouth and prestigious repeat customers in fine jewelry, fashion, and luxury car industry.
Bo Decor is the ultimate destination for brands seeking a luxury window display decoration that truly impresses their clientele. Specializing in unique, eye-catching designs, this reputable Vietnam-based agency has helped countless clients achieve coveted marketing goals and skyrocketed sales with its impressive creations.
Bo Decor boasts an extensive portfolio of word-of-mouth and prestigious repeat customers from the fine jewelry, fashion, and luxury car industries.
Cushing Window Display Company
Contact phone: (312) 266-8228
Facebook page: Facebook
Services and products:
Vinyl window graphics installation
Block out graphics installation
Union and non-union graphic installation services
Material and idea recommendations
Large gallery of window graphics to browse
This Window Display Company specializes in using vinyl graphics to increase business and draw customers. With thousands of installations under their belt, they provide both union and non-union installation services nationwide.
Their MaEX Method ensures a successful project while you focus on your business growth.
Fortuna Visual Group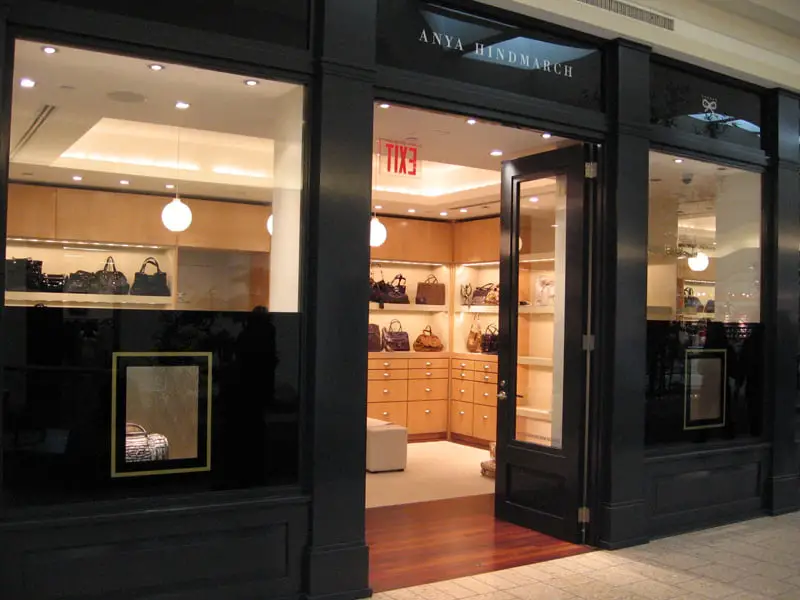 Company: fortunavisual.com
Facebook page: Facebook
Services and products:
Store window display design
Christmas windows in NYC
High-quality retail window dressing
Durable material
Quick installation
Fortuna Visual Group is a top-notch Window Display Company that helps businesses in NYC to attract more customers with heartwarming Christmas windows, and incredible retail window dressing. They offer durable high-end retail display materials, affordable prices, quick installation, and vibrant full-color printing.
If you want to improve your sales with creative visual merchandising displays or window signs that promote your brand image effectively, call Fortuna Visual Group now for a free consultation.
View Smart Windows
Services and products:
Smart windows that adjust to maximize daylight and views
Immersive displays that transform smart windows into digital, interactive surfaces
The Smart Building Cloud that optimizes every aspect of new and existing buildings
Differentiation of portfolio by making buildings with View more desirable and easier to operate
Increased profitability and energy efficiency with View's solutions
View is a leading Window Display Company that transforms buildings into responsive environments. With their suite of smart solutions, including View Smart Windows, VIEW Immersive display, and The Smart Building Cloud, they optimise every aspect of new and existing buildings.
Their innovative technology enables clients to differentiate their portfolio, increase profitability and meet ESG goals while accelerating digital innovation. Trusted by leading real estate owners for delivering modern working environments that prioritise employee wellness and green living.
Fine Print NYC
Services and products:
Eye-catching visuals and messages for business/event promotion
Time-sensitive project delivery on demand
Perforated vinyl for first surface, second surface, and fade-resistant display
Window cling material for easy installation and removal
Unified retail theme creation for short or long term installation.
Fine Print NYC is a window display company that can help you promote your business or event with eye-catching visuals and messages. They specialize in delivering time-sensitive projects on demand, making them the perfect choice for flagship stores, pop-up shops, and seasonal installations.
With perforated vinyl and window cling material options available, Fine Print NYC makes it easy to create a unified retail theme for short or long-term installation. Contact them anytime to get started!
TDF (The Displayers Factory)
Services and products:
Exhibition production
Product displays
Window displays
Fixtures
Packaging
TDF is a global window display company with over 30 years of experience in creating amazing visual merchandising concepts. With a wholly-owned manufacturing plant based in China and a team of over 250 artisans and engineers, TDF delivers high-quality projects for luxury brands worldwide.
Their seamless 5-step process ensures that each production step of the VM concept is implemented based on ISO9001 standards to bring your vision to life.
The Look Company
Facebook page: Facebook
Services and products:
Design and creation of custom window displays
Installation and maintenance of window displays
Consultation and collaboration with clients to create effective displays
Use of innovative technology and materials to enhance displays
Seasonal and holiday-themed displays to attract customers and increase sales.
The Look Company is a reputable window display company that helps businesses make a lasting impression with their customers. With extensive experience in creating eye-catching displays, they understand the importance of visually appealing storefronts and the role they play in driving foot traffic and sales.
Trust them to elevate your brand's first impression with creative, unique displays that spark curiosity and influence purchase decisions.
Pioneer Theatre Company
Facebook page: Facebook
Services and products:
Festive Winter Holiday-themed window displays
Animated and lighted windows
Enjoyment of theatre during extended intermission
Social distancing and mask requirements
Box Office window for questions, mask, or Holiday Scene Shoppe purchases
Pioneer Theatre Company is a creative and innovative window display company that provides seasonal displays with interactive themes. Their Holiday Windows 2020 production "Let It Show: PTC's Perfectly Pandemic Productions" offers intriguing lighted displays for theatre-lovers to enjoy during the extended intermission period.
Pioneer Theatre Company also offers online productions of A Christmas Carol and concert presentations.
Super Color Digital
Facebook page: Facebook
Services and products:
Large and grand format printing
SEG graphics
Illumination solutions (lightboxes)
Custom fabrication
Vinyl graphics
Super Color Digital is a leading large format print shop that provides visual solutions for brands and organizations. Their team offers custom fabrication, illumination solutions, vinyl graphics, and more at their Los Angeles and Las Vegas locations to make your brand stand out while adhering to eco-friendly certification standards.
Related Stories