It depends on personal preference. Facing a window can provide natural light and inspiring views, while others may find it distracting. Consider individual needs and work habits to determine the best desk orientation.
As we spend more and more time working from home, the layout of our workspace has become increasingly important. One question that often arises is whether or not your desk should face a window.
On one hand, it can provide natural light and a view to help reduce stress. On the other hand, it can be distracting and lead to decreased productivity.
So which option is best for you? In this blog post, we'll explore the pros and cons of facing your desk towards a window so you can make an informed decision about your workspace setup.
Key takeaways:
Natural light improves mood, reduces stress, and increases productivity.
Glare and outside distractions can be a drawback of facing a window.
Noise distractions from outside and inside the house can affect concentration.
Personal preferences and work habits should be considered when deciding on desk orientation.
Privacy concerns and space utilization should also be taken into account.
What's Inside
Benefits of Natural Light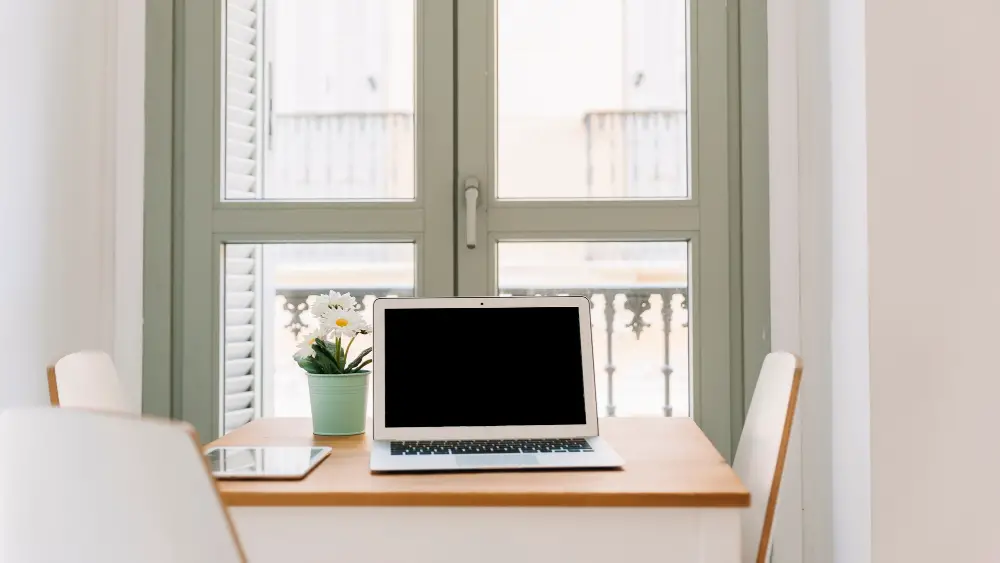 It can help to improve mood, reduce stress levels and increase productivity. Studies have shown that exposure to natural light can also regulate our circadian rhythms, which helps us maintain healthy sleep patterns and wake cycles.
When your desk faces a window, you are more likely to receive an adequate amount of sunlight throughout the day. This not only benefits your physical health but also has positive effects on mental well-being by reducing symptoms of depression and anxiety.
Natural light provides better color accuracy than artificial lighting sources such as fluorescent bulbs or LEDs. This means that when working with colors or designs on your computer screen or paper documents at your desk facing the window will give you a clearer view of what you're working on.
Health Benefits and Eye Strain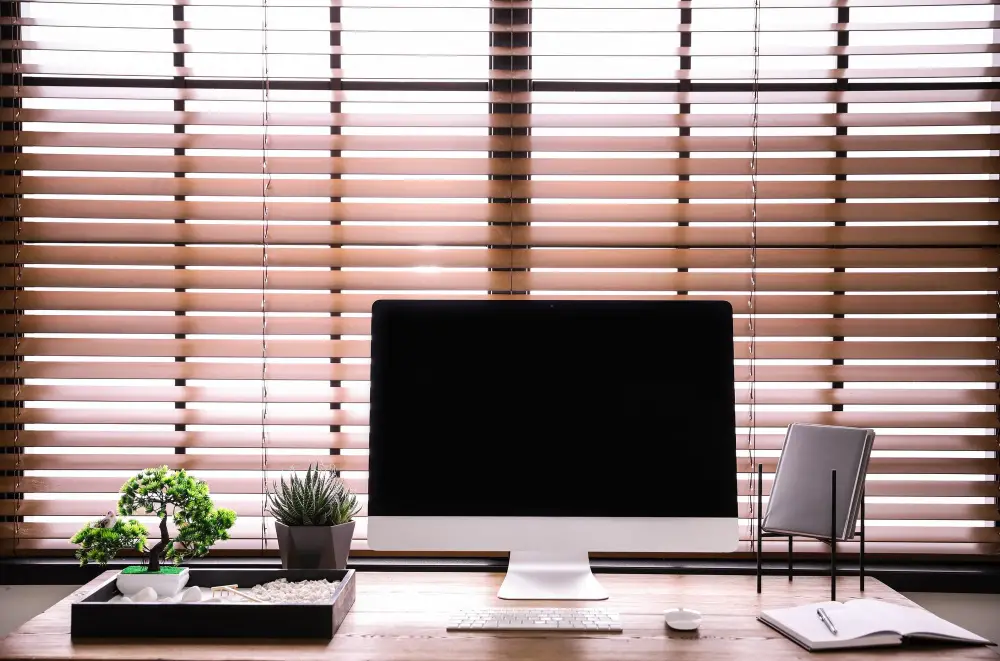 When facing a window, you may experience glare from the sun or reflections that can cause discomfort and even headaches. However, natural light has been shown to have numerous health benefits such as improving mood and reducing stress levels.
To avoid eye strain while still enjoying these benefits, consider using blinds or curtains to control the amount of sunlight entering your workspace. Investing in an anti-glare screen filter for your computer monitor can help reduce any reflections that may be causing discomfort.
Taking regular breaks to rest your eyes by looking away from screens every 20 minutes is also recommended by optometrists to prevent digital eye strain caused by prolonged use of electronic devices like computers or smartphones.
Distractions From Facing a Window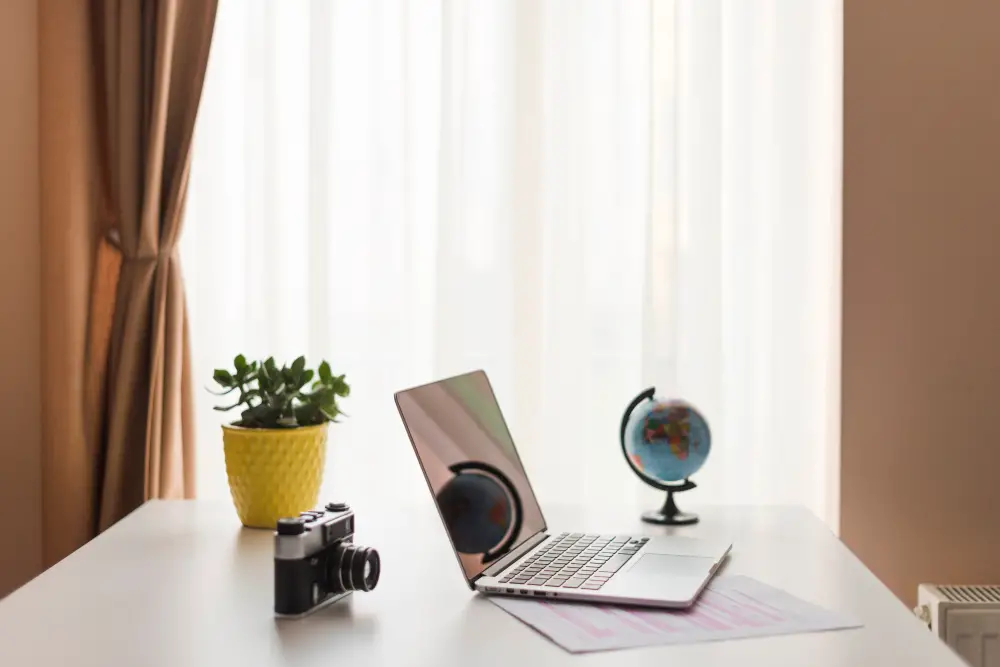 If you're someone who is easily distracted by movement or noise outside, then having your desk face a window may not be the best option for you. The constant flow of people walking by or cars driving past could disrupt your concentration and make it difficult to focus on work tasks.
If there are any construction sites nearby or other loud noises that come from outside, this could further add to the distractions. It's important to consider these factors before deciding whether or not to have your desk face towards a window.
One way around this issue is by installing blinds or curtains that can block out some of the visual distractions while still allowing natural light into space. Alternatively, you might want to consider positioning yourself in such a way that allows for peripheral vision without being directly in front of the window.
Noise Distractions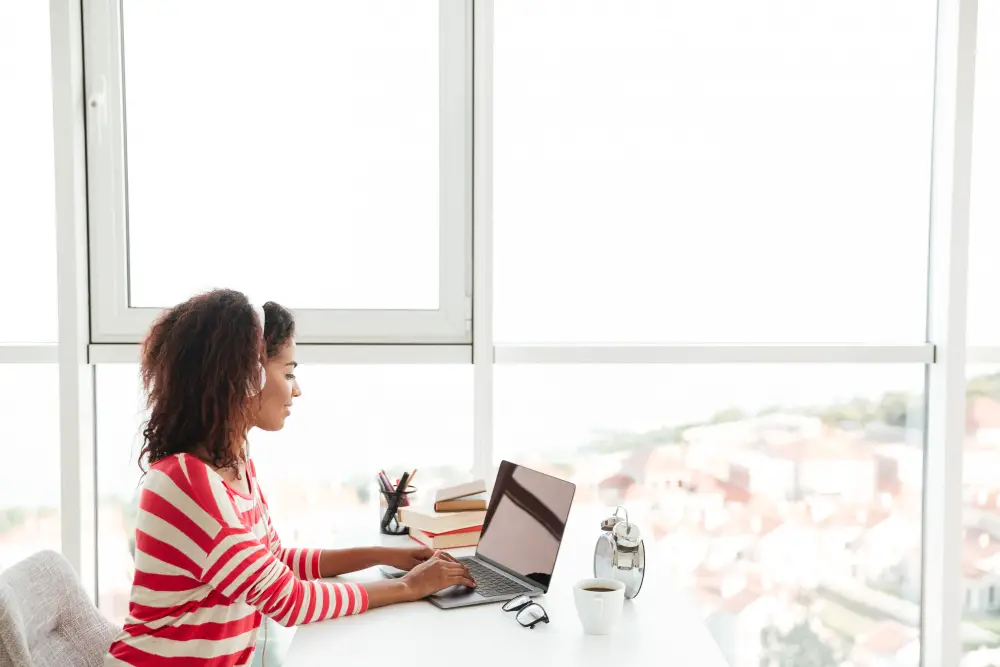 One of the most significant drawbacks is noise distractions. If you live in an area with heavy traffic or construction work, it can be challenging to concentrate on your work when there's constant noise outside.
Even if you're not dealing with external noises, facing a window means that any sounds from inside the house will also reach you more easily. For example, if someone is watching TV in another room or cooking dinner nearby while you're trying to focus on work tasks.
If this is something that concerns you and affects your productivity negatively, consider investing in soundproof curtains or installing double-paned windows for better insulation against outside noises.
Effect On Productivity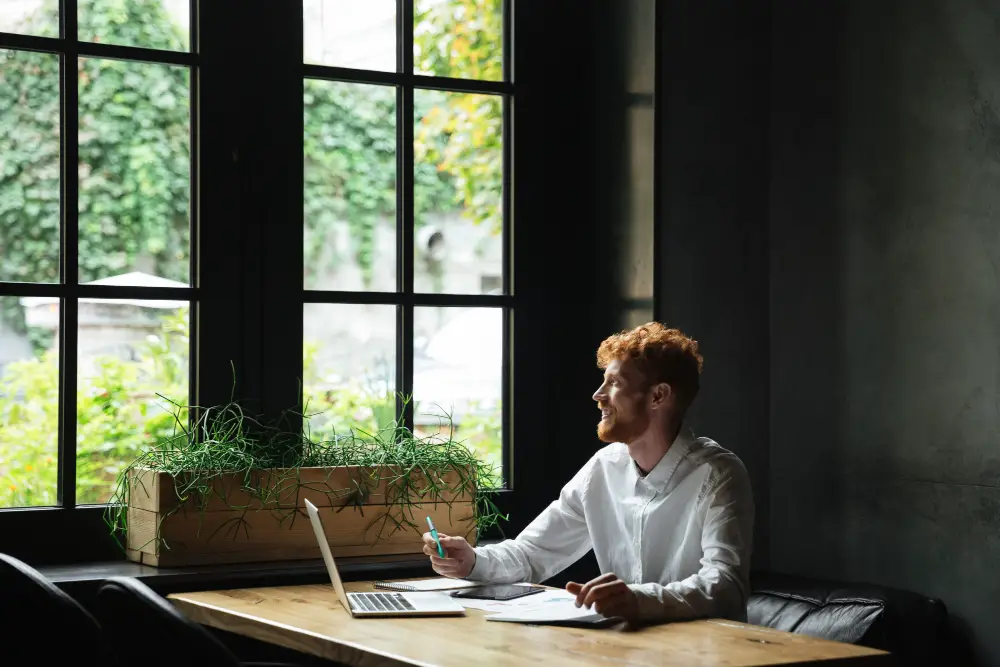 The view outside can easily become a distraction, especially if it's an area with high foot traffic or noise pollution. Glare from the sun or reflections off of nearby buildings could cause eye strain and headaches that ultimately lead to decreased productivity.
However, some people find that having something pleasant to look at during work helps them stay focused and motivated. If you're someone who enjoys looking out of windows while working but finds it distracting at times, consider positioning your desk so that you have a partial view rather than full exposure to what's outside.
Ultimately though when deciding whether or not your desk should face towards the window in terms of productivity is dependent on individual preferences and work habits.
Impact On Concentration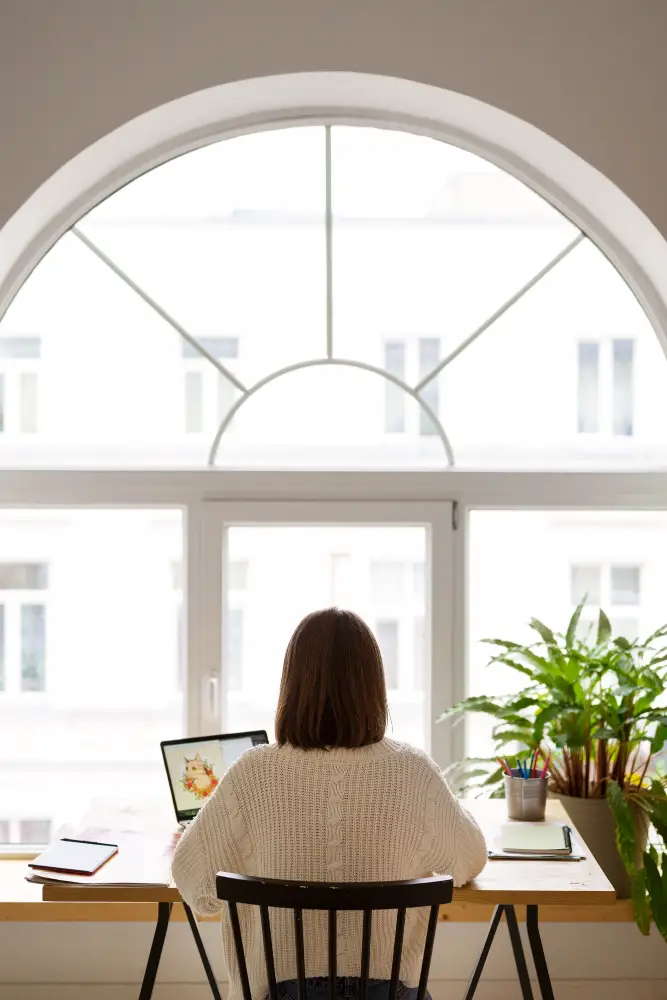 Depending on your work style and personality, you may find that having a view outside is too distracting and makes it difficult to focus. This is especially true if there are frequent movements or activities happening outside your window.
If you're someone who needs complete silence and minimal distractions in order to concentrate effectively, then facing away from the window might be best for you. However, if you enjoy having some visual stimulation while working or find that looking out at nature helps reduce stress levels during long work hours – then facing towards the window could actually improve productivity.
Privacy Considerations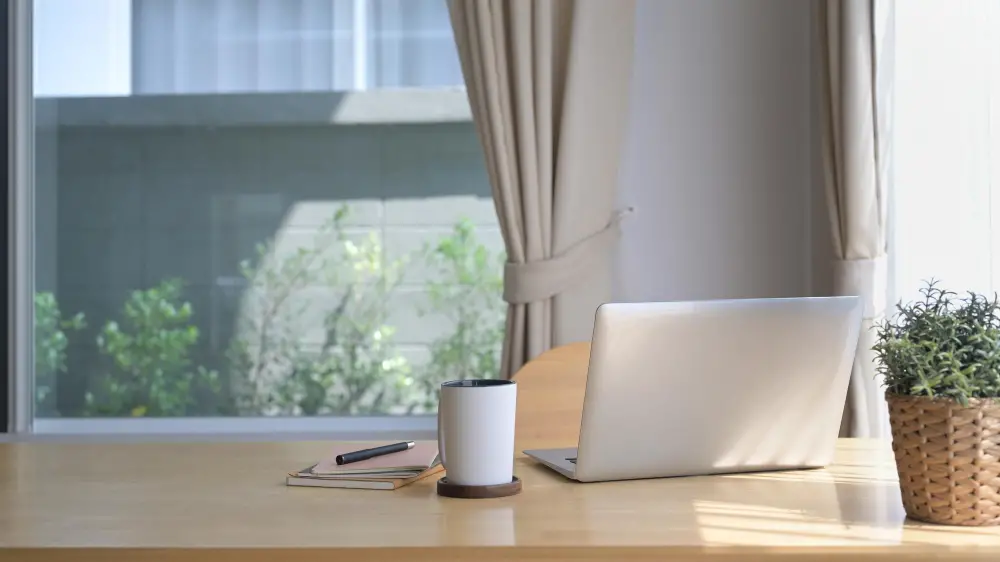 Depending on the location of your home or office, you may be concerned about people being able to see inside. This can be especially problematic if you work with sensitive information that needs to remain confidential.
If privacy is a concern for you, there are several options available. One solution is to install blinds or curtains that can be closed when needed.
Another option is frosted glass film which allows natural light in while obscuring the view from outside.
It's also worth considering the time of day and direction of sunlight as this can impact visibility into your workspace from outside sources. If privacy concerns persist despite these measures, it may be best to consider an alternative desk orientation altogether.
Space Utilization and Room Layout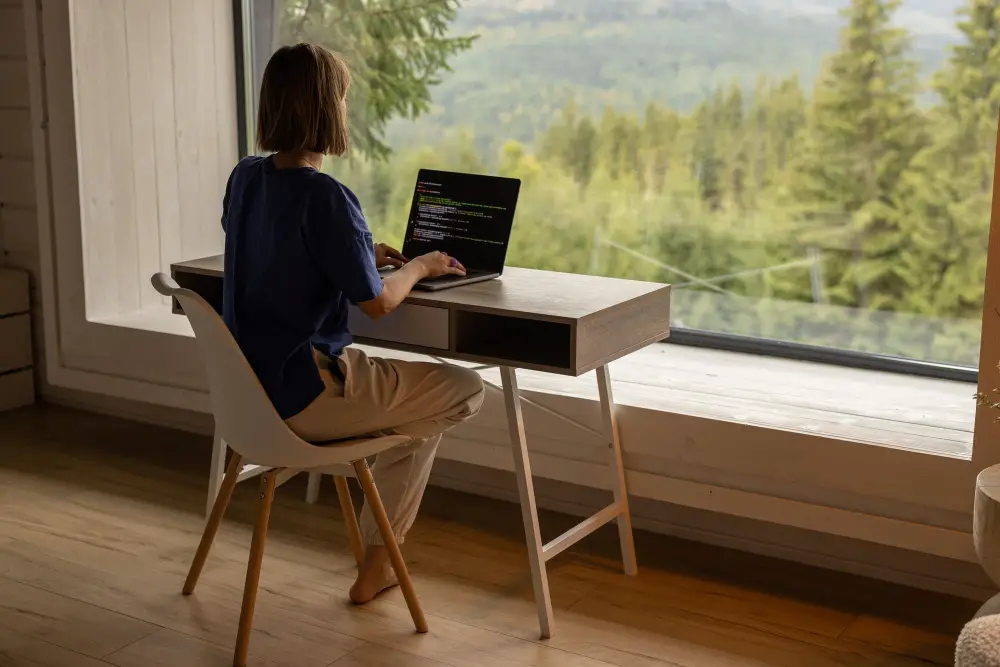 If you're considering facing your desk towards a window, take into account how this will affect other aspects of your space utilization and room layout. For example, if you have limited wall space due to windows or doors on either side of your desk, it may be difficult to add additional storage or decor elements such as artwork or shelving.
On the other hand, if you have ample wall space and are able to position furniture in a way that maximizes natural light while minimizing glare and distractions from outside noise sources like traffic or construction sites nearby – then facing your desk towards a window could be an excellent choice for improving productivity levels throughout long workdays.
Ultimately though there's no one-size-fits-all answer when it comes down deciding whether not having access views out onto nature outweighs potential downsides like increased eye strain caused by sunlight reflecting off computer screens during certain times day (e.g., early morning).
Indoor Plants and Natural Views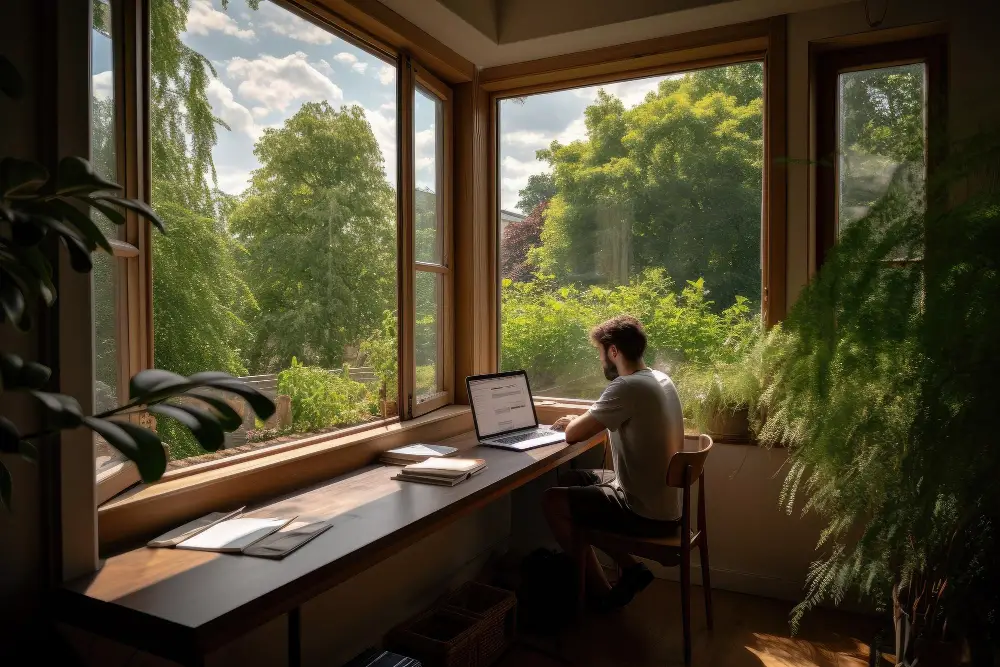 Studies show that having greenery in the workspace can reduce stress levels and increase productivity. Plants also help purify the air by removing toxins, which is particularly important for those who spend long hours indoors.
If you're lucky enough to have a window-facing desk with a view of nature, take advantage of it! Research suggests that looking at natural scenes can improve cognitive function and mood. If your view isn't ideal or if you don't have access to windows in your workspace, consider adding some indoor plants to bring some life into the room.
When choosing indoor plants for your workspace, look for low-maintenance options such as succulents or snake plants that require minimal watering and care. You could also opt for hanging planters or wall-mounted planters if space is limited on your desk.
Climate and Glare Control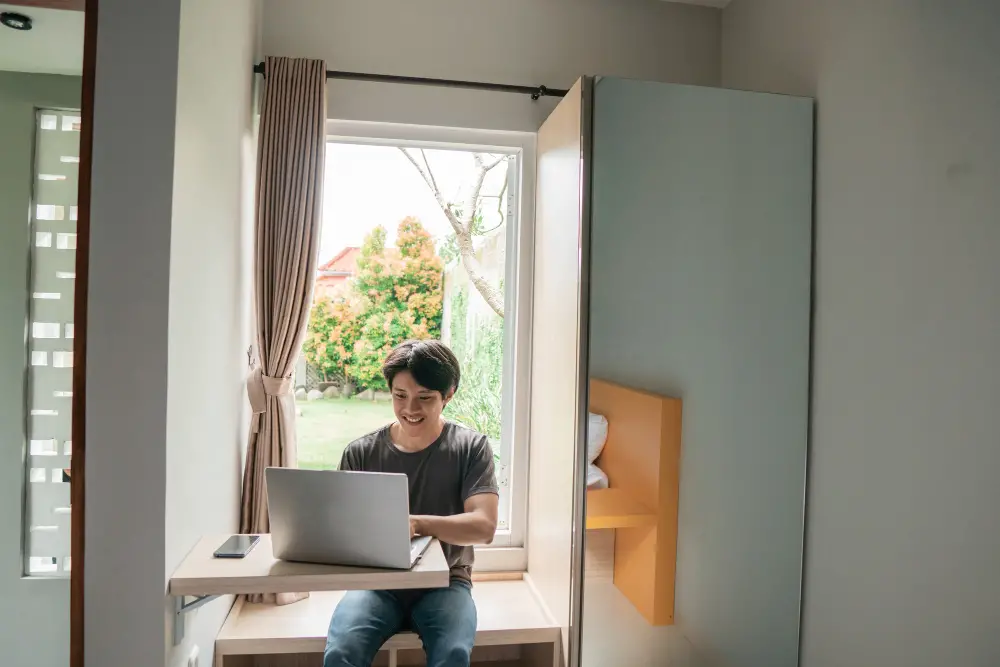 Depending on where you live, direct sunlight can be an issue during certain times of the day or year. This can cause uncomfortable heat and glare that may affect your productivity.
To combat this problem, there are several options available. One is to install blinds or curtains that allow you to adjust the amount of light entering the room as needed throughout the day.
Another option is tinted windows which reduce glare while still allowing natural light in.
If you're concerned about energy efficiency, consider installing double-paned windows with low-emissivity coatings (low-e). These types of windows help regulate temperature by reflecting heat back into a room during colder months and blocking out unwanted solar radiation in warmer months.
Controlling climate and reducing glare are essential factors when considering whether or not facing your desk towards a window is right for you.
Alternatives to Window-facing Desks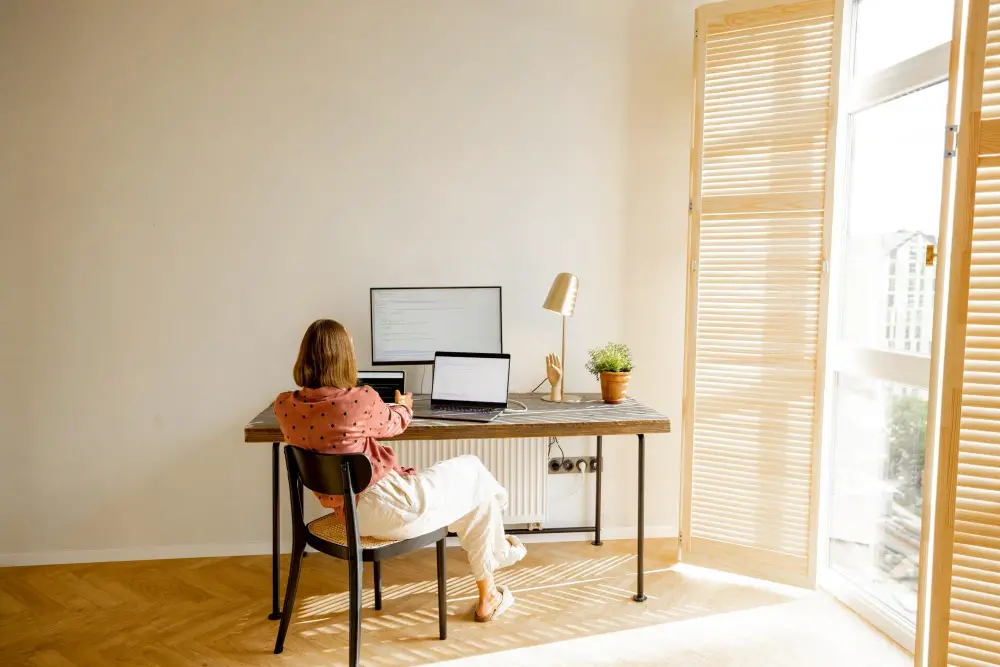 One option is to position your desk perpendicular to the window so that it still receives natural light but doesn't face directly towards it. Another alternative is placing your desk against a wall with art or photographs hung above it, providing visual interest and inspiration without the distraction of outdoor views.
Another option is using room dividers or screens to create a separate workspace area in an open-concept living space. This can help reduce noise distractions and provide privacy while still allowing for natural light from nearby windows.
If none of these options work for you, consider investing in high-quality artificial lighting solutions such as task lamps or overhead lights designed specifically for workspaces. These can mimic natural daylight and provide ample illumination without any distracting glare from outside.
Ultimately, finding the right workspace setup depends on individual preferences and needs.
Feng Shui and Desk Position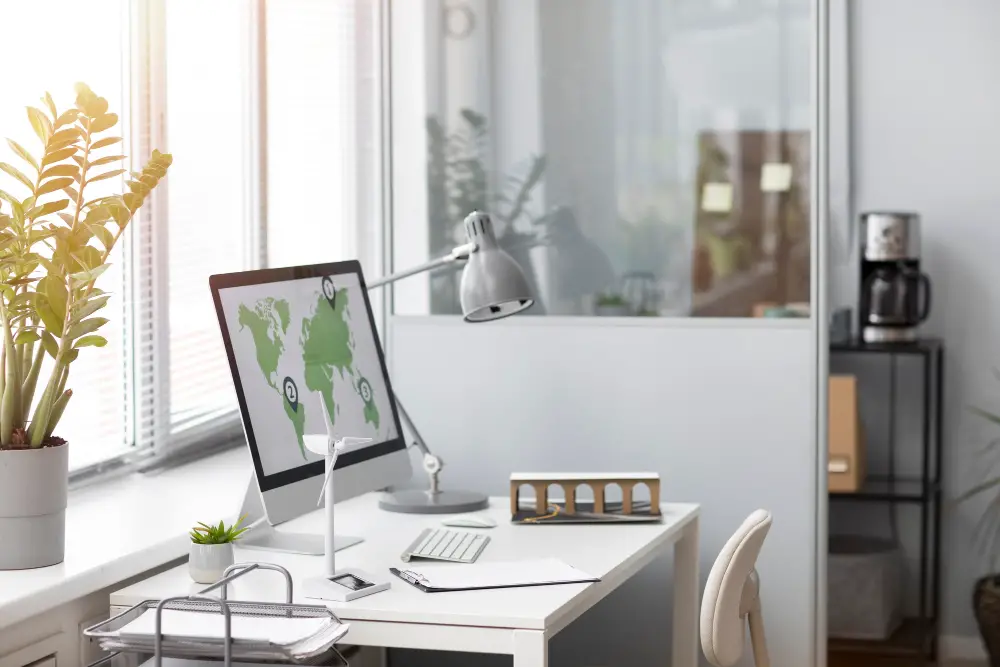 According to Feng Shui principles, the position of your desk can have a significant impact on your productivity, creativity, and overall well-being. In general, it's recommended that you place your desk in a commanding position where you can see the door but are not directly facing it.
If you choose to face a window while following Feng Shui principles for office layout design then there are some things to consider. For instance, if there is any negative energy coming from outside like sharp corners or poles pointing towards your window-facing desk then this could affect productivity negatively.
How to Follow Feng Shui for A Desk Facing A Window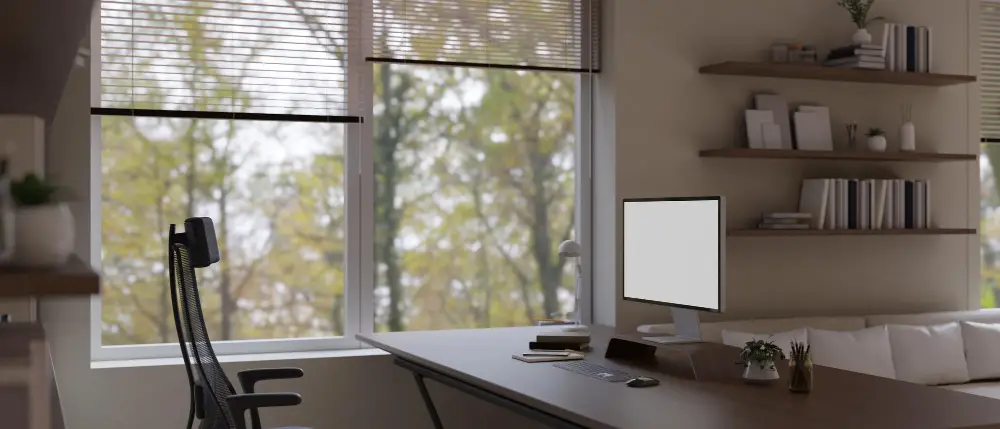 According to Feng Shui, the ideal position for a desk facing a window is diagonally across from the window rather than directly facing it. This allows for natural light and views while also providing some distance from potential distractions.
Another important consideration is what's known as the "commanding position." In this case, that means positioning your desk so that you have a clear view of anyone entering or leaving the room but aren't directly in line with the door. This can help create feelings of security and control while working.
Be mindful of any clutter around your workspace as well as how you decorate it. According to Feng Shui principles, keeping things clean and organized can help promote productivity and reduce stress levels while adding elements like plants or artwork can enhance creativity.
Desk Placement Recommendations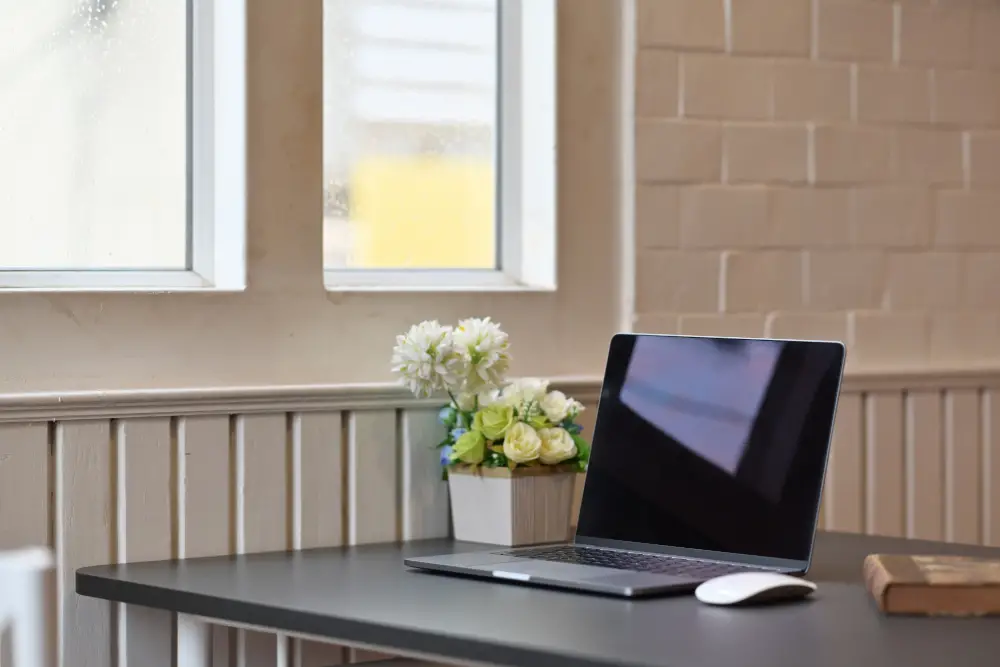 First and foremost, consider the position of your desk in relation to natural light sources. If possible, place your desk perpendicular to windows rather than directly facing them.
This will allow for natural light without causing glare or eye strain.
Another important consideration is noise levels in your workspace. If you work from home with family members or roommates around, try positioning your desk away from high-traffic areas like hallways and common spaces.
Think about the layout of the room as a whole when deciding where to place your desk. Consider factors such as traffic flow and furniture arrangement so that you can maximize space utilization while still creating a comfortable working environment.
Customization and Personal Preferences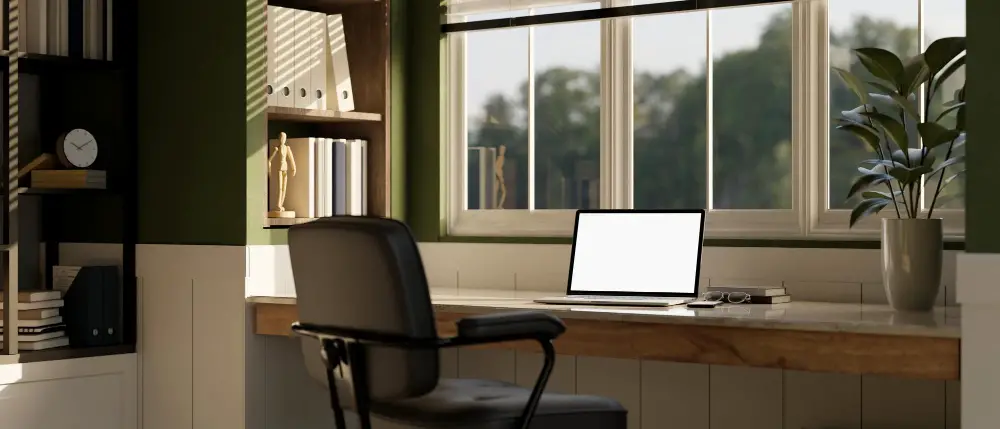 While some people may find facing a window distracting, others may thrive in this environment. It's essential to consider individual needs and work habits when deciding on the best desk orientation for you.
For example, if you're someone who enjoys natural light but finds the view outside too distracting, consider adding blinds or curtains that can be easily adjusted throughout the day. Alternatively, if noise is an issue in your workspace due to traffic or construction outside of your window-facing desk area, invest in noise-canceling headphones or add soundproofing materials around your workstation.
Ultimately there is no one-size-fits-all solution when it comes to choosing whether or not to face a window while working at home.
Window-facing Desks for Creatives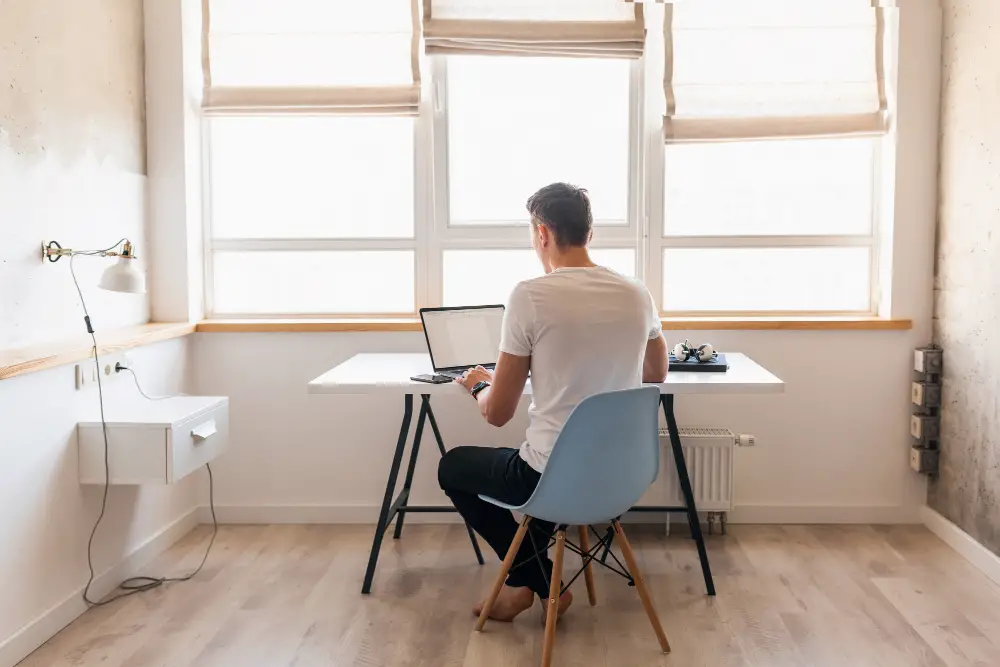 The natural light and changing scenery outside can help spark creativity and provide new ideas for projects. Many artists, writers, and designers prefer to have their desks facing windows to take advantage of this benefit.
However, it's important to consider the potential distractions that come with a window-facing desk. If you find yourself getting too caught up in the view or constantly distracted by outdoor noise or activity, it may not be worth sacrificing productivity for inspiration.
If you're a creative who wants to try out a window-facing desk but is worried about distractions affecting your work output negatively; there are ways around this issue. You could use curtains or blinds on your windows when necessary so that you can control how much natural light comes into space while still enjoying the benefits of having an inspiring view.
Things to Consider If You HAVE To Keep the Desk Facing the Window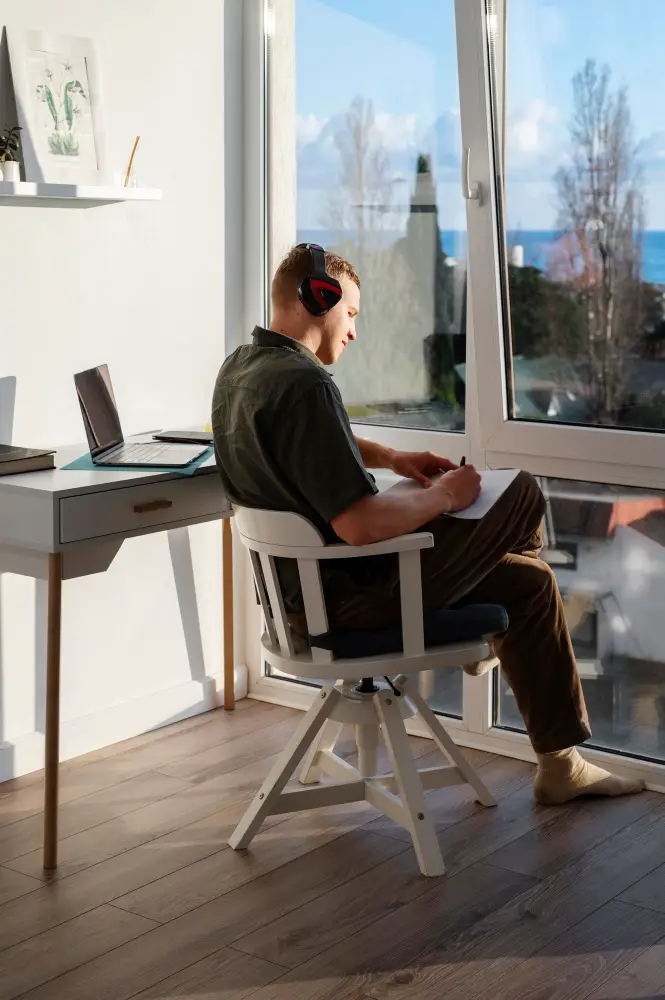 One option is to invest in noise-cancelling headphones or earplugs if outside noise is an issue. Another solution could be installing blinds or curtains on the windows for better glare control and privacy.
It's also important to consider the time of day when working at a window-facing desk. If direct sunlight causes too much glare, try adjusting your work schedule so that you're not sitting at your desk during peak sun hours.
It's worth experimenting with different layouts and furniture arrangements within the room itself. Sometimes simply moving around other pieces of furniture can help create a more conducive workspace environment even if facing towards a window.
Adjustments for Potential Distractions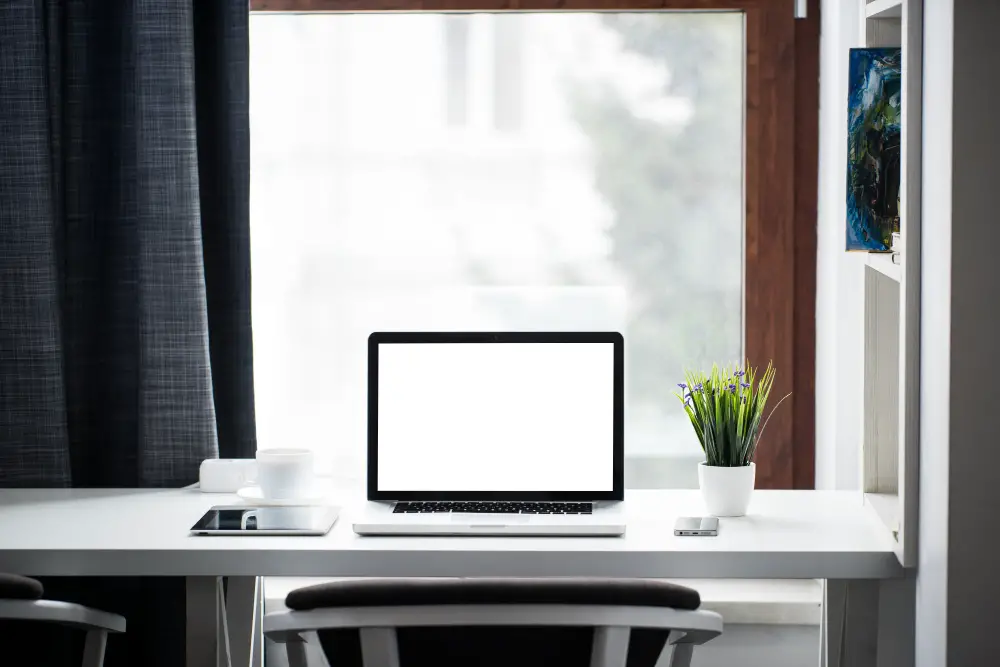 One option is to install blinds or curtains that can be closed when needed. This will help reduce glare and distractions from outside movement while still allowing natural light into the room.
Another adjustment is to position your desk at an angle so that it's not directly facing the window. This way, you can still enjoy natural light without being too distracted by what's happening outside.
You may also want to consider using noise-cancelling headphones if external sounds are disrupting your concentration. These headphones work by blocking out background noises and creating a more peaceful environment for working.
FAQ
Should I face my desk out the window?
While facing the window may provide a beautiful view, it is often more productive to have your back to the window, as it can minimize distractions and prevent limited visibility due to sunlight.
Should I put my desk in front of the window or beside?
Place your desk in front of the window for a good view and easier short breaks, as long as it doesn't conflict with facing the entrance door.
Which direction should your desk face?
Your desk should face the south-west direction with your position in the northeast during work, ensuring less stress and increased concentration.
Can a desk face a window in feng shui?
In feng shui, it is not a good practice for a desk to face a window, as it allows qi to escape and may lead to distractions.
What are the benefits and drawbacks of having a desk facing a window?
Benefits of a desk facing a window include natural light and views that can boost mood, while drawbacks involve potential glare, outside distractions, and increased screen visibility for others.
How does natural light affect productivity and focus at a desk near a window?
Natural light boosts productivity and focus at a desk near a window by creating a better work environment, improving mood, and reducing eye strain and fatigue.
How can I optimize my desk setup for both aesthetic and functional purposes while considering window placement?
To optimize your desk setup for both aesthetic and functional purposes, considering window placement, place your desk near the window for natural light, ergonomics, and a visually pleasing arrangement.
Related Stories